Since Fifa took control over Caf in 2019, the confederation's economy has collapsed. Now they are on the verge of bankruptcy.
By Philippe Auclair
In November 2019, obeying orders from Fifa, Caf abruptly put an end to the 1 billion US dollars contract they'd signed with media rights giant Lagardère, which was meant to be the confederation's main source of income for the decade to come.
The consequences of that cancellation have been catastrophic for Caf, as its new audited accounts, to which Josimar has had access, show in shocking detail. Drawing from its fast-disappearing cash reserves, with a diminishing income, yet spending more than it ever has, Patrice Motsepe's Caf is all but bankrupt.
Of all of the decisions which the Confederation of African football (Caf) took since Fifa effectively took control of its affairs for good three years ago, none has caused more controversy – and arguably more harm – than its abrupt termination of the media rights contract it had signed with French sports and entertainment giant Lagardère in 2016. Fifa secretary general Fatma Samoura, seconded by some of Gianni Infantino's closest advisors, had become the de facto regent of African football in August 2019. Three months later, that deal was dead; or, rather, it was killed.
This contract, worth 1.02 billion US dollars over a twelve-year period, was the brainchild of Caf's former president Issa Hayatou and was intended to provide the Confederation with a rock-solid financial foundation until 2028. Instead, with no warning, Hayatou's successor Ahmad Ahmad brought this partnership to an end, using a disputed point of Egyptian commercial law – Caf is headquartered in Cairo – to justify his action.
Ahmad, of course, had very little room for manoeuvre. Picked out of nowhere and supported by Infantino's Fifa to usurp Hayatou's position in 2017, the 'silent man' of Caf's executive committee was not just bound by gratitude towards those who had put him on the throne. He knew that Fifa's Ethics Committee had enough evidence in its possession to ban him from all football activities if it so desired. As revealed by Josimar several months previously, the Madagascar FA president had been embroiled in the highly irregular purchase of 4 million US dollars of football equipment by Caf from a French company, Tactical Steel, which had zero expertise in this field and happened to be owned by a close friend of Ahmad's closest advisor Loïc Gérand. Ahmad had also diverted Caf money to pay for a private and very costly visit to Mecca for Muslim Caf ExCo members and himself. He had to do what he was told; he'd been told to sever links with Lagardère; and so he did (*).
"Comprehensive loss"
But the Lagardère saga is far from over, and not just because Caf is struggling – a euphemism – to find new partners who would be ready to step in and bring in comparable revenue. Though the subject is strictly off-limits for Caf, Lagardère, now fully owned by US investment firm HIG Capital, is seeking compensation for breach of contract. According to industry sources, the company is asking for 80-100 million US dollars, a colossal sum which the confederation simply hasn't got the means to pay, as Caf is heading for bankruptcy.
Josimar has seen the audited Caf Financial Statements which will be submitted to the confederation's 44th ordinary general assembly on 10 August in Arusha, Tanzania; and wherever one looks, the figures are appalling, starting with a 'comprehensive loss' of 44.7 million US dollars, a 400 percent year-on-year increase – and 700 percent increase compared to 2019, and more than double the deficit which Caf had anticipated before Motsepe purged his administration after his election in March 2021 (*).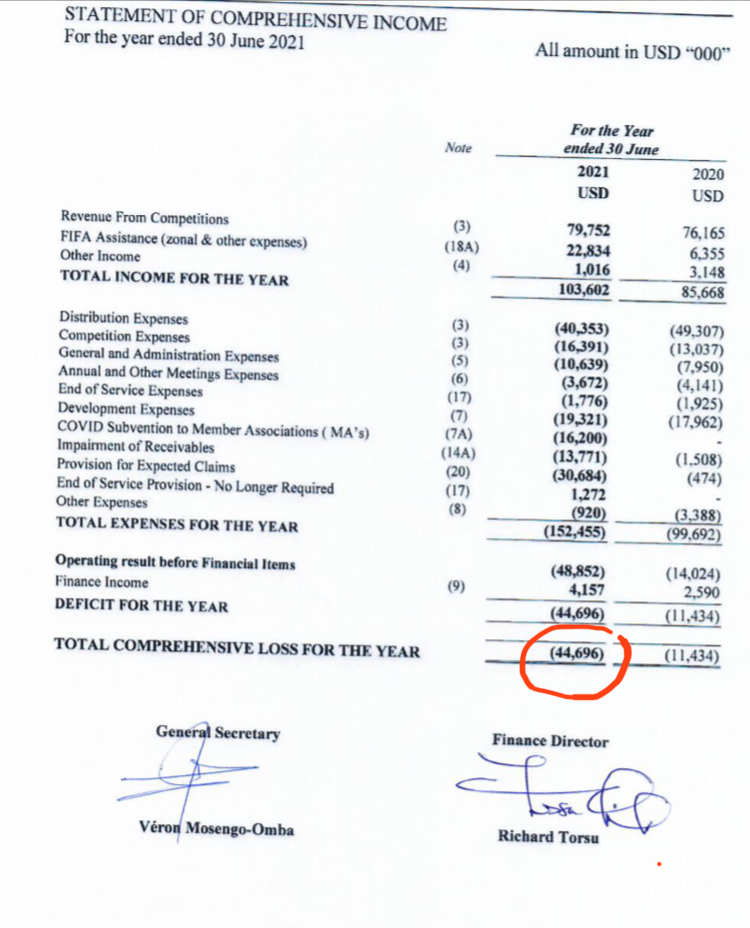 Caf's reserves, which amounted to 131 million US dollars when Issa Hayatou was replaced by Ahmad Ahmad, have almost halved since June 2020, to dive under 50 million US dollars.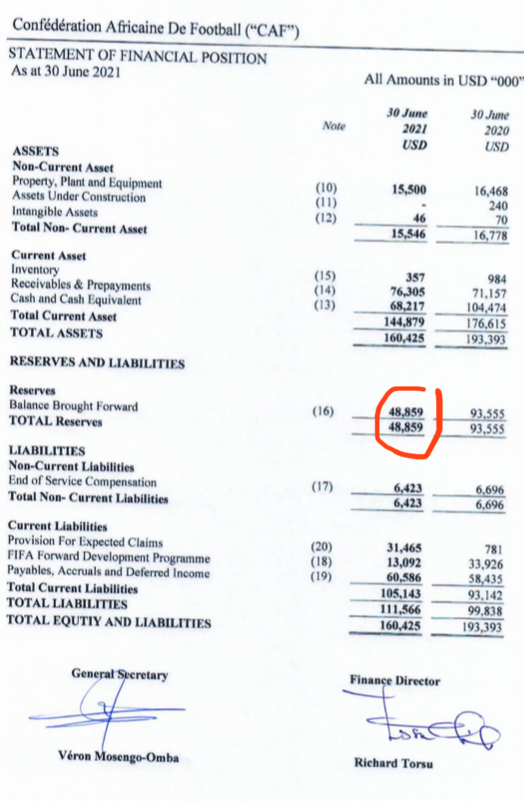 In the meantime, over 36 million dollars of Caf's cash has vanished in a single year.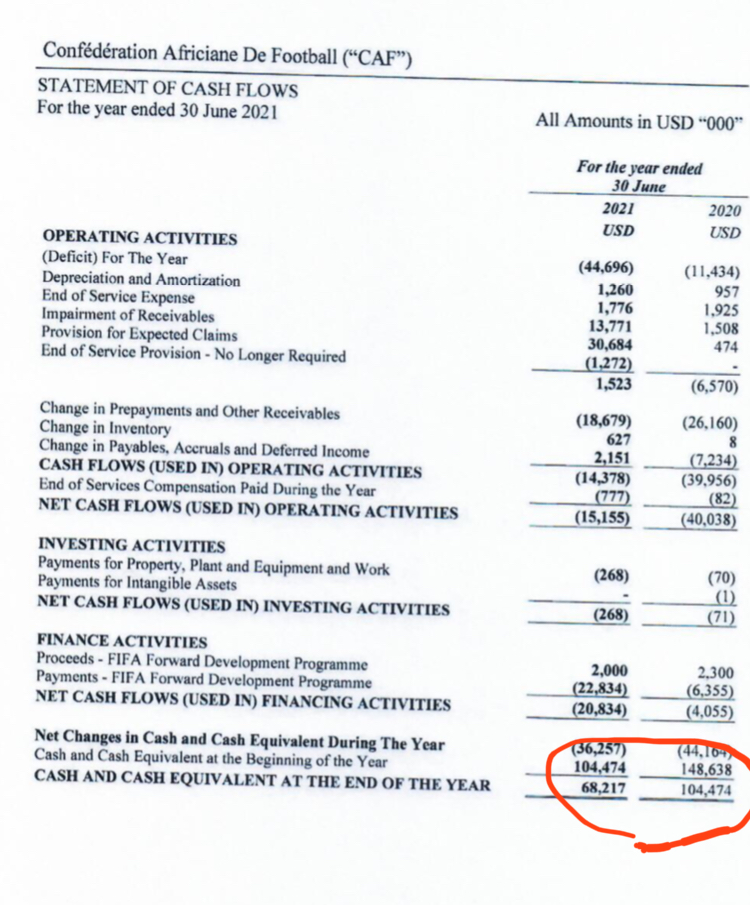 What is also striking is how undetailed some essential parts of this financial statement are. There is no breakdown of the income from media, marketing and broadcasting rights to be found anywhere, in contrast with previous Caf financial statements, which outlined how much each Caf competition had brought or would bring in. Maybe Caf sought to simplify its statement; or perhaps it was embarrassed, as the Lagardère contract guaranteed a minimum revenue of 72.5 million dollars for the 2021 African Cup of Nations, money that Caf could well do with right now.
This hasn't prevented Caf from increasing some of its administrative costs. Salaries and 'other employees' benefits' have risen from 4.7 million US dollars to 6.6 million dollars from 2020 to 2021, despite the fact that the numerous Fifa advisors who were brought in since 2019 to do a sizeable part of Caf's work are still paid by world football's governing body. However, Josimar was told that their considerable expenses were not. For example, Sandra Latorre, the chief of staff of Caf secretary general Véron Mosengo-Omba, is said to have been living in a luxury Cairo hotel for months now, when her African-born colleagues are expected to seek and find lodgings in the Egyptian capital by themselves; and pay for the rent as well.
How Caf can possibly survive in these circumstances is unclear. There have been no genuine cost-cutting initiatives from within, quite the opposite in fact. As reported by Josimar, when the Zambian FA came up with a plan to reduce the ruinous operational costs of the Confederation's Executive Committee (estimated to be close to 50 million US dollars over four years), Caf's response was to move their motion off the agenda of the forthcoming General Assembly, for political reasons.
Neither has Caf amended the remarkably generous terms granted to members of its Executive Committee when they come to the end of their tenure, as is shown by the provision which appears in this year's financial statement, which guarantees a 500,000 dollars bonus for the outgoing Caf President, and a significant portion thereof for his cohorts.
To think that Caf is also supposed to find a way to finance its president's Patrice Motsepe's grandiose plans for an African club Superleague, plans which are wholeheartedly supported, if not inspired by Gianni Infantino.
The net result of Caf's mismanagement over the past five years is that, right now, the confederation is living off its savings, savings which, if the haemorrhage is not stopped, will be reduced to zero within a maximum of two years.
In these circumstances, it is only to be expected that a number of rumours should take hold, the most disturbing of them being that Caf had started using FIFA 'Forward' grants – which are intended to be distributed to the confederation's 54 Member Associations – to pay for its day-to-day operations, something which Josimar has been unable to verify.
It has also turned to dubious sponsors to pump some money into its coffers, choosing the 1Xbet brand as its official 'betting partner', despite overwhelming evidence that this Russian operator, which is banned in countries such as France and the United Kingdom, is involved in numerous illegal activities and has even faked sporting events in order to attract gamblers and facilitate money-laundering).
The question is now whether the 54 Member Associations which make up Caf are willing to seek answers from Patrice Motsepe and his administration or not. Could they, for once, look beyond their own personal interests? The forthcoming General Assembly in Arusha would be the perfect place for them to do it.
Because, as the figures show, to wait any longer would be like waiting for the bomb to drop, knowing full well where it will fall.
(*) Ahmad still received a five-year ban from Fifa in November 2020, later reduced to two years, just in time to prevent him from standing for re-election to the presidency of Caf, thereby freeing the way for Patrice Motsepe.
(*) Official documents seen by Josimar, which were validated by Caf, clearly state that Caf's losses over the 2020-21 exercise were expected to be 21.9 million US dollars.