Order your copy now.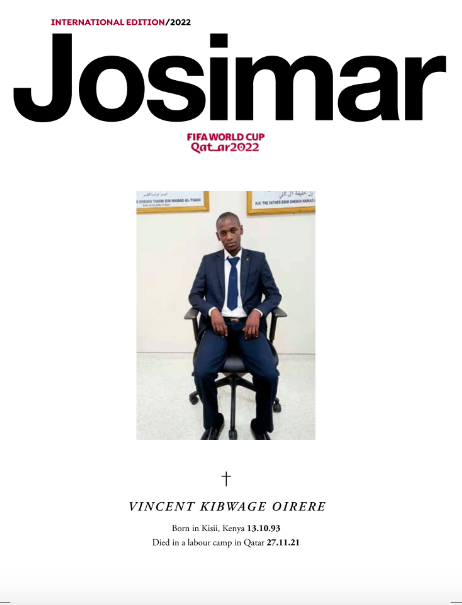 For our 2022 World Cup issue, we have not profiled the 32 qualified teams. Instead we have profiled 32 migrant workers – people who work and live in dire conditions, for very little money, and make a World Cup in Qatar possible.

Order your copy below. Choose the number of print copies in the dropdown menu – or choose digital version and a PDF file will be sent to your email within 24 hours of placing the order. Then choose payment method

READ MORE ABOUT THE PROJECT IN THE ISSUE'S EDITORIAL


IMPORTANT IMFORMATION
When ordering the print issue, please double check that the correct address is registered with PayPal. 
If an order is placed to a wrong or previously held address, please contact us immediately on post@josimar.no and we will change the address before shipping the order.

If you have any issues or questions regarding an order, do not hesitate to contact us using post@josimar.no. Any issues wil be resolved quicker than contacting us through PayPal.
Print copy prices:
1 copy – 16 EUR, plus 14 EUR postage.
2 copies – 32 EUR, plus 14 EUR postage.
3 copies – 48 EUR, plus 28 EUR postage.
4 copies – 64 EUR, plus 28 EUR postage.

Digital copy price:
16 EUR