Politicians, leading academics and international trade unions have praised Qatar for its reforms since they were given the hosting rights to the 2022 World Cup in 2010, following a corrupt process. But how are things really on the ground?
Are the reforms for real? In March, five journalists from Josimar travelled to Qatar.

Nearly everyone you'll read about in this issue has taken a huge personal risk by talking to us. With one exception, all interviewees have been anonymised for their own safety. Qatar is a police state without freedom of expression, freedom of the press or freedom to organise. It's a dystopian society where many migrant workers, and some citizens too, live in fear. One of the interviews was done by telephone shortly before we went to print.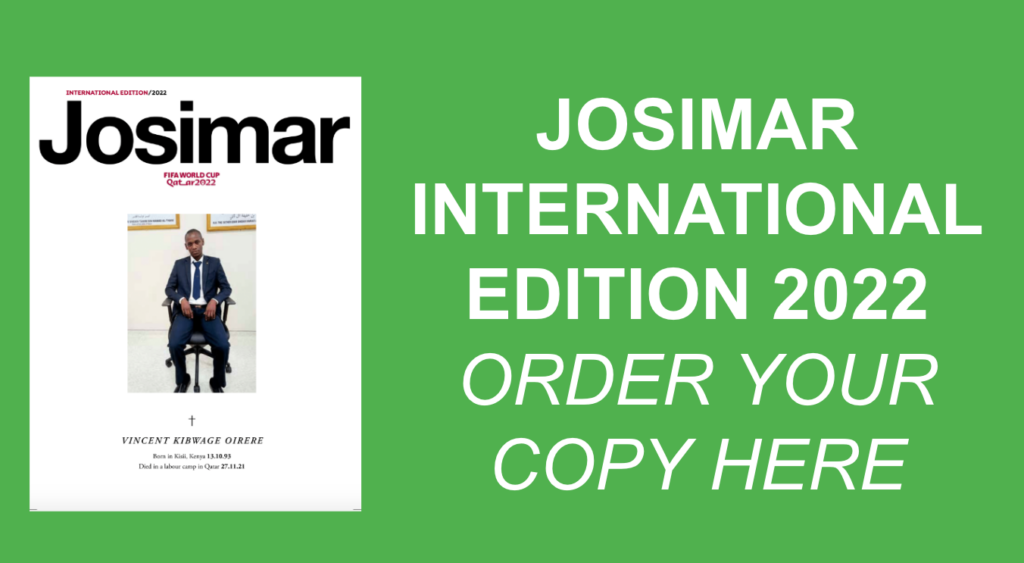 You can also donate to our work HERE.

Working as a journalist inside Qatar is difficult. We travelled there on tourist visas. After getting through immigration and customs at Doha's international airport, we quickly deleted Etheraz, the smartphone app mandatory for every visitor. The app was introduced as a Covid-19 tracing tool, but it also has a number of properties that can be used for surveillance and manipulation. We brought extra phones that were not smartphones and we never used wifi. 
We spent our days in labour camps for migrant workers. We went there without applying for permission. We knew any applications would have been rejected.
At the same time as Fifa president Gianni Infantino shouted Qatar, Qatar, Qatar, Fifa, Fifa, Fifa from a stage in a luxury hotel in Doha, we were in a nameless labour camp in the desert outside of the city. Here we met Joseph, who, about 15 years ago, reached the final of Norway Cup, one of the world's largest youth football tournaments, with Kenyan team Mathare United, and dreamt of a future as a professional footballer. Joseph is now unemployed in Qatar.
Language barriers were an issue during some of the interviews. The workers have told their stories in what English they had and in some instances, where they have answered "yes" or "no", we have written full sentences. For example, when we asked if they paid recruitment agents to come to Qatar to work (and the vast majority answered 'yes'), in print the sentence can appear like this: "Yes, I paid a recruitment agent in Kenya to be able to come to Qatar for work."

Mostly, though, their stories are written the way they were told. We have not corrected mistakes in grammar or syntax, in order to preserve their personal voices.

Outside a luxurious residential area in Doha, a Nigerian security guard told us that the reforms have benefitted him. He had long working hours, true, but his employer treated him well and he was paid decently. But, he added, for the people he had arrived in Qatar with, it was different. They still live in dirty labour camps with uncertain working hours, no health benefits, no possibility of changing jobs without their current employers' permission, for a minimum wage of less than 300 euro per month.
Outside the Education City World Cup stadium, we talked to a crew of Indian workers who live in one of the most notorious labour camps, Al-Shahaniya, work eight hours every single day washing, sweeping and scrubbing the stadium and its surrounding area squeaky clean. They were trapped in Qatar, their passports confiscated by their company. Changing employer was not possible as their superiors refused to issue a No-Objection Certificate (NOC).
According to reforms from 2020, workers in Qatar no longer need a NOC to change employers.
A young man from Bangladesh who'd travelled to Qatar in the hope of creating a better future for his poor family back home had worked on a construction site without guidelines or security measures. He fell two floors. He fractured his leg badly. His employer did not take any responsibility, neither did the Qatari authorities. On Fridays, in a wheelchair, he begs outside Doha's mosques, hoping to collect enough money for a flight home. When he has enough, he'll return a cripple – not a breadwinner, but a burden to his family.

The common theme for the 32 people profiled in this issue is the systemic breaches of the introduced reforms: a minimum wage, the right to change employer, the law against working outside in the hottest periods of the year. The list goes on.

Josimar is in possession of text messages between two central figures in the World Cup organising body, The Supreme Committee For Delivery And Legacy (SC).
The messages reveal that the committee's own employees – unlike Fifa, for example – are not at all convinced by the so-called reforms, and worry about the workers' basic rights.

"Even [World Cup supremo] Hassan [Al-Thawadi] said that the WPS [Wage Protection System] is a massive failed system."
"It's getting harder and harder to talk about it from a personal and moral perspective."
"How hard is it to make sure that they are paid […] they treat them in bulk like they have no names or IDs."
"I know. Some of the employers are just the biggest bastards in the world."
"Most of them."
"99,9%"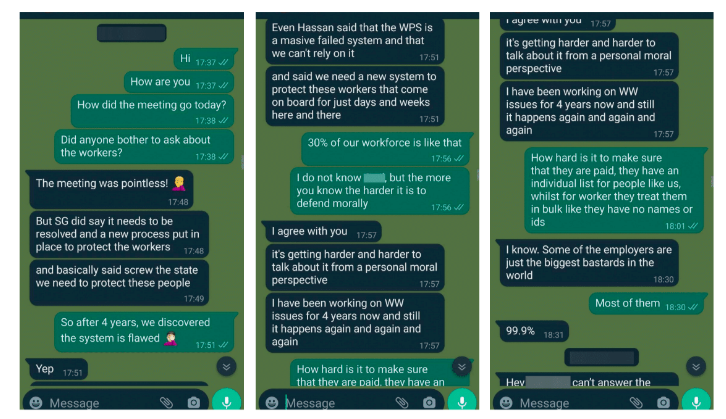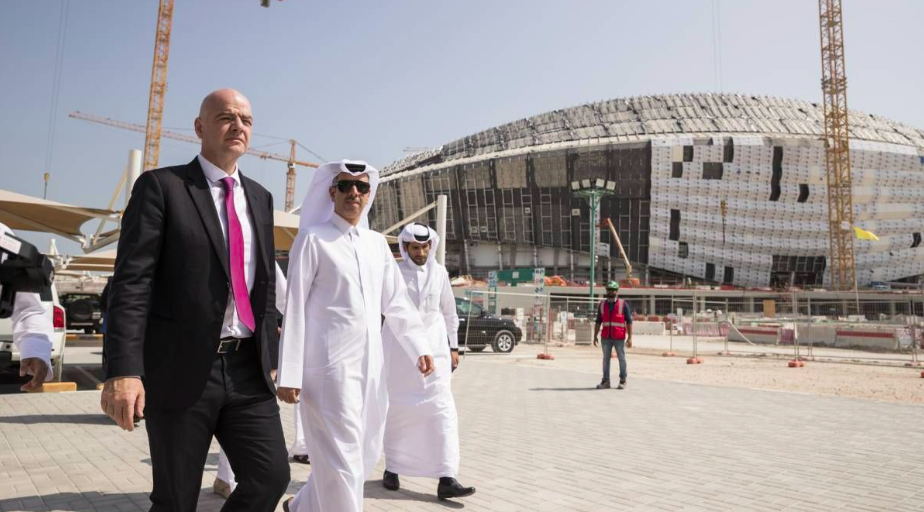 Still, the United Nations entity International Labour Organization (ILO) claims reforms have been implemented. ILO has been present in Qatar since 2018 and their presence is fully financed by the Qatari regime. In June 2021, according to ILO, about 70 000 workers had changed jobs as a result of the recent reforms. In November the same year, this number had suddenly risen to 240 000. If true, 170 000 migrant workers had changed jobs in four months. But the majority of the workers we met told a different story. They said that they had to pay their employer to receive a NOC – usually between 1000 and 1500 Euro. If the worker protested, referring to its abolishment, the employer would tell the worker he would call the police and say he is a troublemaker.
In mid-October 2022 the number was still 240 000, which, if true, meant that not a single migrant worker had changed employers in almost a year.
ILO's figures are the Qatari authorities' figures. Josimar has repeatedly asked ILO and the Qatari authorities to document these figures. We are still waiting for that documentation. How ILO operates is dubious. ILO has confirmed to Josimar that the source for the 240,000 figure is the Qatari Ministry of Labour even though the statistic is cited as an ILO figure. They are supposed to be in the country as an independent monitor, to make sure reforms are implemented. Instead they have become spokespeople for an authoritarian regime, taking their figures at face value.
A war for the truth is taking place.
ITUC, the world's largest international federation of trade unions, originally one the fiercest critics of the Qatar World Cup, whose General Secretary Sharan Burrow had said that "more workers will die building these stadiums than players will play in them", has u-turned to such a degree that the same Burrow is now criticising human rights agencies who highlight the plight of migrant workers. "It's a little distressing […], because these are good people wanting to take a stand against human rights abuse," she recently told AFP. "But for whatever reason, they're not hearing the story of change, (of) incredible progress." The voice of ITUC has become the voice of Qatar.
What is more credible? The stories of the people on the ground, backed up by high-ranking members of the Supreme Committee or statements and figures from the central government of a dictatorship?
Nobody knows how many migrant workers have died in Qatar since the country was awarded the hosting rights of the World Cup in December 2010. The debates about the number of deaths have turned into an escalating information war. According to an Amnesty report from August 2021, with Qatari authorities as source, 15021 non-Qataris died between 2010 and 2019. 9405 (63%) of these deaths were Asian nationals and of these, the vast majority (87%) were men. Amnesty estimates that as many as 69% of those deaths are unexplained.
How many of those worked directly on World Cup related projects?
What we do know is that the number of migrant workers doubled from about one to about two million in that period. It's reasonable to believe that many, if not most, of the new arrivals worked on infrastructure that was vital for Qatar to host a tournament of this magnitude.

For Josimar it was never an option to cover the sporting tournament that is about to take place in Qatar. It is the latest in a long line of shameful events in football. The World Cup in Brazil was in a way a world championship of corruption, where a small number of Brazilians (read: politicians and businessmen) and Fifa shared the vast income. All that the common people were left with was an even more dire economic situation. Josimar wished to give as little exposure as possible to the 2018 tournament in Russia. We justified that with the fact that the country had been awarded the hosting rights through corruption, and that it was already clear at that stage that Putin was a war criminal and would use the World Cup as a tool to suppress his own citizens even further. The year before, Josimar had exposed the use of North Korean slave labour on Russia 2018 construction sites.
With Fifa at the wheel, football has steered towards a head-on collision with its most important value, fair play. Let there be no doubt about it, football's public enemy number one goes by the name of Gianni Infantino. And already now, five months before the next Fifa congress in Kigali, Rwanda, he has secured his reelection. That means only one thing:
We're nowhere near the bottom.