Players, prosecutors, F.A. leaders and club officials reveal the unprecedented scale of match-fixing in Moldova. Josimar spoke to players who took part in the fixes and they tell a hallucinating story of how football corruption killed the beautiful game in Europe's poorest country.

By Emanuel Rosu and Dumitru Garcaliuc

In 2014, a cumulated 1 billion US dollars disappeared from Moldova's three largest banks. The investigation on what really happened is still ongoing and involves some of the most powerful oligarchs, bankers, and political figures in the country. It is believed that more than 40 people either benefited or facilitated the fraud. Former prime minister Vlad Filat was jailed, as well as other businessmen and public workers. Much of the money was transferred through the UK and Hong Kong registered companies with unknown owners, but there were traces in Cyprus, China and Switzerland too. Facts around the "theft of the century", as it is referred to in Moldova, are far from being clear seven years after the investigations started. Around 13 percent of the country's GDP disappeared. The International Monetary Fund and the European Union stopped their aid, while the national currency, the leu, hit low records, with inflation growing to more than 10 percent.
With a GDP per capita of just 4 512 US dollars in 2020, Moldova leads the unwanted table of poverty in Europe. In comparison, Norway has the fourth-highest GDP per capita on the continent, with 69 989 US dollars. And football in Moldova is just another faithful image of the society it represents.

BECOME A PATRON AND SUPPORT JOSIMAR'S JOURNALISM. CLICK HERE.
A match-fixing addiction
In December 2020, 11 people were held on match-fixing allegations. Club officials, players, and coaches coming from five of the 10 teams in the Moldovan first league were under investigation. Europol, the EU's law enforcement agency, alongside UEFA, was involved in the inquiry which was conducted by the Moldovan Anti-Corruption Department (CNA). According to official documents, match-fixing started in 2017. And the scale of it was unprecedented. Players were instructed openly to manipulate results. Before the games started, they were told about the bet that was placed on the game. Sometimes coaches even told players to do the best they could for a few minutes, then, once live odds changed, to pay attention to the match 'password' they had set before the match or to a certain gesture. Official sources claim a club usually won between 12 000 to 25 000 dollars for a fix. Prosecutors believe that only between July 2020 and December 2020 no fewer than 20 games in the Moldovan league were fixed. Profits for those involved? More than 700 000 dollars.
Five of the people initially held for hearings were detained for 72 hours and ultimately released. Based on the Moldovan penal code, if found guilty, the match-fixers risk getting a fine or a prison sentence of between two and six years. It's not the first high-profile match-fixing scandal in Moldova. In 2015, the U21 national team players were offered money to lose a game against Belgium.
"We have it in our blood, I believe. It was always like this in Moldova," a former player of a club involved in the current match-fixing scandal tells Josimar. Under the protection of anonymity, two players accepted to open up to the magazine. And what they told us is shocking. You're either good enough to play abroad or accept to be involved in match-fixing. "I believe Moldovan football will disappear in two or three years," S.V., one of the players we had access to, says with a huge sigh.
Just how did everything start? Who 'pushed the button' and how? Things were done openly. As clubs told their players they were terribly poor and couldn't pay salaries, many found themselves in an impossible situation.
"Before fixed games, we usually trained on gravel or in a park," B.T., the other player who spoke to us revealed. "We trained harder than usual. We asked ourselves why we needed such an intense training session the day before the game or even on matchday."
Salaries in the Moldovan league don't get over a few hundred dollars per month. Not even those were paid on time.
"We always had to ask for our wages. They never paid. I left the club I was with at the time. They still owe me money," S.V. says.
A fix was 'priced' between 300 and 400 US dollars per player. "We sometimes didn't get those on time either," B.T. reveals.
No fear of getting caught
The games in the Moldovan League and the Moldovan Cup were broadcast on TV, Facebook and Youtube. Online, the Football Association in Moldova was showing them live. It didn't deter clubs from getting involved in match-fixing.

"Before games, someone in the staff told us about the 'password'. Sometimes the password was 'let's play quicker' or 'pass the ball' or 'get out of defence' a shout to some colleague. The sign was never the same, it sometimes involved a staff member putting on clothing of a different colour, an assistant getting off the bench instead of the coach or someone shouting a certain word, things like that", the players tell Josimar.
At the fixes S.V. and B.T.'s team took part in, the 'plan' was announced shortly before the game. "They sometimes told us we were at a game to make money, not to win points or qualification in something," they say. "We knew from the speech before the game that something was going to happen. That's when the details were set." Both players claim they only knew of a few games that were staged. "But I'm sure there were way more. I guess that the foreigners in my team knew about it. I think that some clubs only exist as businesses to make money from match-fixing, not for playing football," B.T. judges.
If a player had something to say about the fix, coaches would usually get him out from the team. Simple as that. "I confronted the club and tried to do everything I could do to play well. I mean… I was an offensive player, so I passed the ball, tried to score, things like that. I didn't want to make mistakes because I wanted to have a clean name," S.V. explains. Both S.V. and B.T. have changed clubs in the past year. They say they made sure their new employers aren't a tentacle of the 'betting octopus' in Moldova.
Asked if they saw suspect people around the team, in training camps, at the hotel or if they were ever approached or intimidated by an external figure, the two players say everything related to betting happened through the club. "We were told the president decided this and we must help him because we are not doing well financially, so we must act in support," B.T. responded.
Moldovan website Jurnal.md indicates one of the games that were fixed. In October 2019, Codru Lozova had all to play for against Speranta Nisporeni, in a Moldovan Cup quarterfinal second leg. After 2-2 in the first match, Codru's players were told they needed to lose the game and forget about playing a semifinal. Codru ended up losing 5-0. The errors leading to goals were atrocious. Codru was also down to ten men after a player intentionally stopped the ball with his hand in the box. Codru's manager also decided to substitute his keeper in the first half.
Sometimes, fixes happened with only one team on the pitch knowing about it. There were times when both clubs were playing for the same result.
In the 2019 season, played from spring to autumn, Lozova didn't win a single game throughout the 26 rounds of the league. They finished last, with five points, but they didn't get relegated, as the league expanded from eight to 10 clubs. Now, they also find themselves last, with just one win in 31 games.
Prosecutors are still gathering evidence in this case. "For the time being, the Penal General Direction and the investigative officers are doing their job in finding more evidence," the anti-corruption department in Chisinau told Josimar.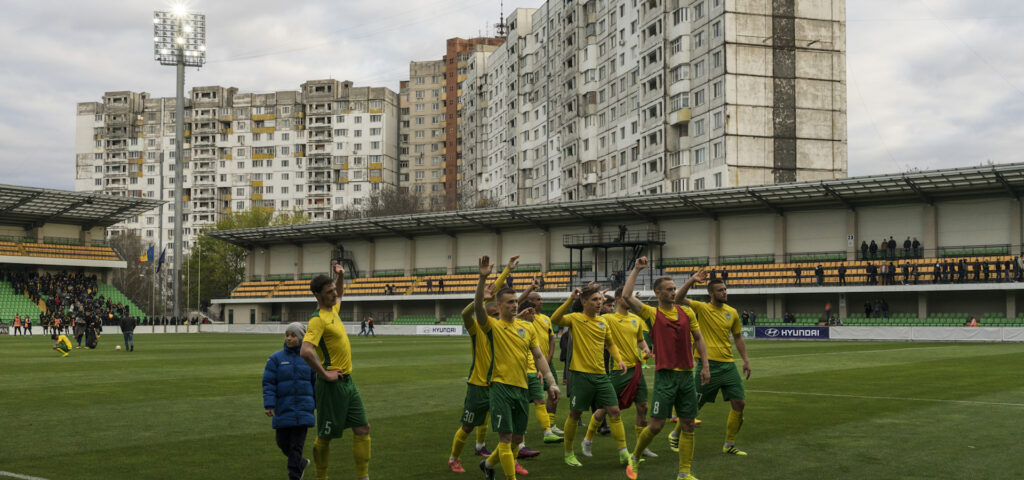 A wall of silence
"Most of the people who were questioned refuse to work with us," a CNA spokesperson said. According to the prosecutors, Codru Lozova, FC Dinamo Auto, FC Sfintul Gheorghe, FC Floresti, and CSF Speranta Nisporeni were all involved in match-fixing. None of them suffered any consequence and are still part of the first league. "We don't know if match-fixing is still happening," CNA states. Four of the clubs involved firmly deny any wrongdoing when contacted by Josimar. FC Floresti couldn't be contacted to comment.
"The games were broadcast online. The Football Association had suspicions related to many of the games. We watch every game in the integrity department and we also collect information on each match day," Eugen Zubic, the Moldovan FA (FMF) Integrity Officer, says.
Apart from working together with the state's authorities, FMF made 'adjustments' to its rules and regulations to help combat match-fixing.
"Our internal investigation on six games that we thought were fixed ended with reports sent to the Ethics Body inside the FMF. They will decide on the sanctions imposed. We conducted interviews with players and club officials, we collected evidence ourselves, we offered reports from international betting experts and players' performance analysis," Zubic revealed.
"We also worked with the anti-corruption prosecutors, we offered reports and official information, but we kept in contact at an informal level too," the official added. "We weren't surprised by this inquiry. But we were surprised by a press release on the CNA website which spread wrong information to the media. It was something meant to influence the elections at the FMF."
FMF has an anti-match-fixing hotline dedicated to fighting the phenomenon. The FA affirms that the investigation from the state authorities started based on a plea made by them, who are in full support of the fight against 'match result trafficking'.
Attendances in Moldova were insignificant even before the pandemic. Football, despite being the most popular sport in the country, is failing to excite the people.
"Match-fixing affects our image. It destroys competitiveness, it encourages corruption, it destroys the essence of football. It's basically directing the new generations the wrong way. It also discourages sponsors and it alienates fans from the stands," Zubic argues.
"Unfortunately, even after we started disciplinary action against them, clubs continue to manipulate games. These things will only stop if those guilty of coordinating them will be held responsible by the national courts and the football tribunals we have in Moldova," Zubic says in despair.
The Moldovan national team has never been to a major football tournament. The country became independent in 1992, after 52 years in the Soviet Union. The Soviet Socialist Republic of Moldova was formed in 1940 after a large part of neighboring Romania was annexed. The biggest players in the country's Soviet history are Pavel Cebanu and Igor Dobrovolski. The first never played for the USSR team but was nicknamed 'Pelé', then 'Ze Maria' for his fantastic skill. Cebanu is a legend of the defunct Nistru Chisinau, for whom he played during his whole career. The former forward acted as president of the FMF until 2019.
On the other hand, Dobrovolski made a name for himself at Atlético Madrid, Marseille, and Genoa and played for both the USSR team, then Russia for a combined period of 12 years. Still, Cebanu is regarded as the biggest player by the romantics. Nicolae Simatoc, born in 1920 on what is today Moldovan territory, is also a cult name for football lovers. The midfielder went on to play for clubs in Romania and Hungary, then at Inter and FC Barcelona, before moving to Australia, where he died in 1979.
Bleak future
As an independent country, Moldova's club football lived through the rivalry between Sheriff Tiraspol and Zimbru Chisinau. Sheriff, based in the much-disputed autonomous region of Transnistria, only lost the national title once in the past 20 years. They are on the verge of winning their 19th title and their ninth in a row. Sheriff has some of the best training facilities in Eastern Europe and currently has players of 16 different nationalities in its squad. The aim is to play European group-stage football every year. They did it on four occasions, all in the Europa League, with the last one coming in 2017. The national team, which recently appointed former Napoli and Parma midfielder Roberto Bordin as its manager, just got beaten 8-0 in Denmark at the end of March. This defeat in the qualifiers of the World Cup in 2020 is the heaviest in the history of Moldova at the international level.
"I have a good friend who was part of the U21 national team at the same time I was there. He was demotivated and stopped playing to go work in England. He hadn't played for three years, then got back to Chisinau because he had made a new girlfriend and she wanted him close. He started playing again as nothing happened. This is football in Moldova. You can stop for years and then be at the same level. This is not professional football, it's a joke," S.V. smiles.
B.T. found a team himself. "I wanted to make sure nothing dodgy happens. I was straight with the people there, they knew where I was coming from. So they said I should leave the match-fixing in my past so I could concentrate on the future. They appreciated that I was honest with them," the player tells Josimar.
Moldova will probably never get its billion dollars back. Where football is concerned, they can at least hope to. But at the moment things look bleak.
"We can't stop them from going on with match-fixing," says Eugen Zubic of the Moldovan football association.