The hunger striking whistleblower Abdullah Ibhais has been denied salt by his prison guards. Meanwhile the Supreme Committee has asked his lawyer to step down and, if not, warning him that representing Ibhais will damage his career.
By Håvard Melnæs and Lars Johnsen
Former media manager at the Supreme Committee of Delivery & Legacy (SC), the organisation responsible for the World Cup 2022 in Qatar, Abdullah Ibhais, has been on a hunger strike for three weeks, losing more than 10 kilos of weight. A married man and the father of two young boys has also been deprived of salt, which medical experts Josimar has contacted say will make him develop serious health issues soon.
Early Monday morning on 15 November, Abdullah Ibhais was arrested and imprisoned just hours before an interview appointment with Norwegian state broadcaster NRK. Ibhais immediately started a hunger strike, telling family and friends that he would continue the hunger strike "until I am proven innocent or I'd rather die". In a recent conversation with family members, Abdullah Ibhais described his situation as "hell". He shares a cell with no less than 25 inmates, and for the last few nights he has been forced to sleep on the concrete floor.
Earlier this year, on 29 April, Abdullah Ibhais was sentenced to five years in prison with no evidence against him presented in the court case. The judge also denied Ibhais' lawyer the right to present his defence in court.
As Josimar reported earlier, Abdullah Ibhais was arrested following heated discussions on the SC's Crisis Comms group on WhatsApp, where he stood up for striking migrant workers. Workers who hadn't been paid for months, workers who were starving and without their ID, including workers who were involved in SC's stadiums projects. While Hassan Al-Thawadi, the Secretary General of the SC, wanted his media team to "put a spin on it" and communicate that this strike was not SC related, Abdullah Ibhais argued against this approach because SC workers were indeed involved. Following the discussions, Ibhais was soon marginalised within the SC and a few weeks later he was arrested, following an internal investigation into a tender process, in the offices of the SC at the Al Bidda Tower.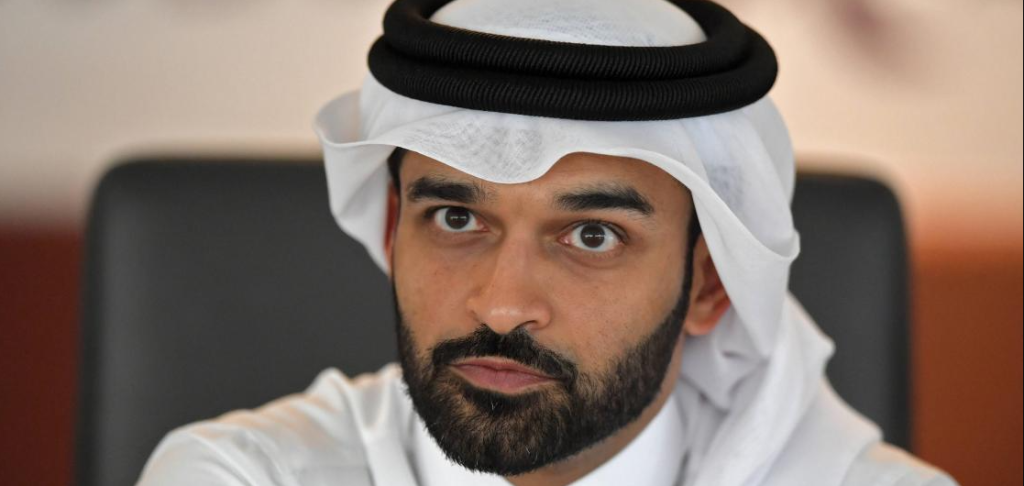 During the court case in April, the man responsible for the internal investigation into the tender process, Khalid Ghanem Al-Kubaisi, who's the Head of Advisory and Special Projects at SC, told the judge it was the Secretary General, Hassan Al-Thawadi, who had initiated the internal investigation. Al-Kubaisi also told the judge Hassan Al-Thawadi had ordered him to hand over his "findings" to the police. When asked this specific question from the judge:
"Did you reach a conclusion from your work that the accused committed any of the crimes?" Khalid Ghanem Al-Kubaisi answered "no".
Even though the head of the internal investigation into a tender process, in the end no one was awarded the tender, found no wrongdoings on Abdullah Ibhais' part, the police took over the investigation.
The policeman, who according to his testimony in court, was the only police officer investigating the case, told the judge he found no evidence during his investigation. Nevertheless, Abdullah Ibhais was sentenced to five years in prison. He immediately appealed the verdict, making him free on bail.
«Forget future contracts»
Abdullah Ibhais' present lawyer was recently approached by SC's legal department, according to several independent sources. In the conversation that followed, the SC's representative asked Ibhais' lawyer to step down and withdraw from the case. Ibhais' lawyer refused. The SC's representative then said that continuing as Ibhais' lawyer could have severe consequences for his career as a lawyer, and that he in the future could forget about getting government related clients.
"We are not surprised by this development. This is not the first time the Supreme Committee of the World Cup has approached Abdullah's lawyer to step down. We hope Abdullah's lawyer will stand firm this time, and fulfill his moral duty, and that is in practice not as easy as said, noting the difficult circumstances," says Abdullah Ibhais' family to Josimar.
Abdullah Ibhais present lawyer, when approached by Josimar declined to make any comments and also asked us not to name him, is the fourth lawyer representing Abdullah Ibhais since the police started their investigation into the SC tender process.
Abdullah Ibhais second lawyer, Asma' al Ghanem, was paid 25 000 Qatari Riyals (just above 6000 euro), to represent the former employee of the SC. According to Ibhais' family, all she did was ask the court for Abdullah's file, which she was denied. Seven months later, after his case had been sent to court, Asma' al Ghanem called Abdullah Ibhais to tell him she had to step down as his lawyer citing conflict of interest. Asma' al Ghanem is today working as a lawyer at the SC's legal department.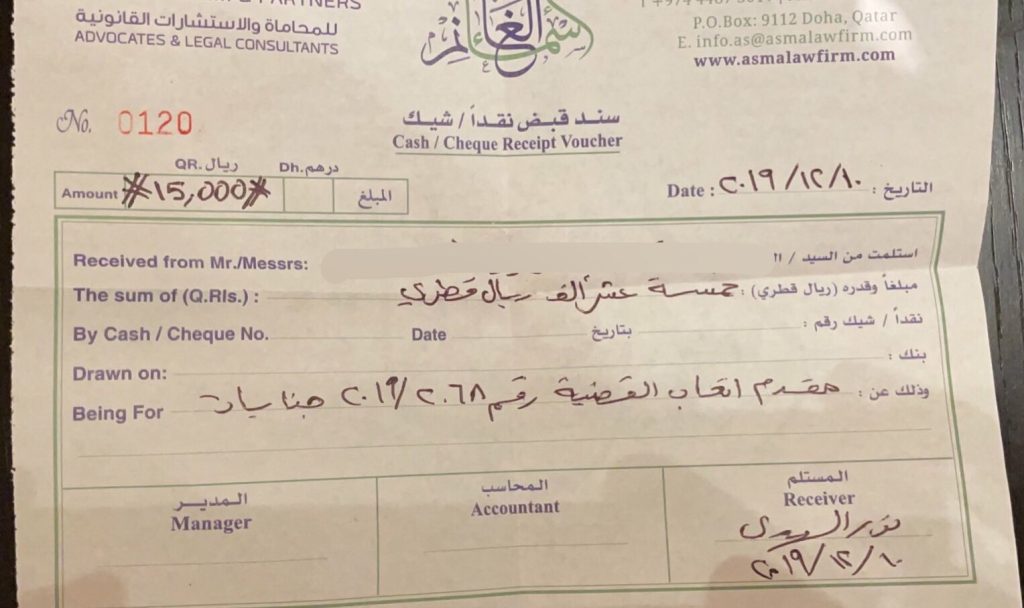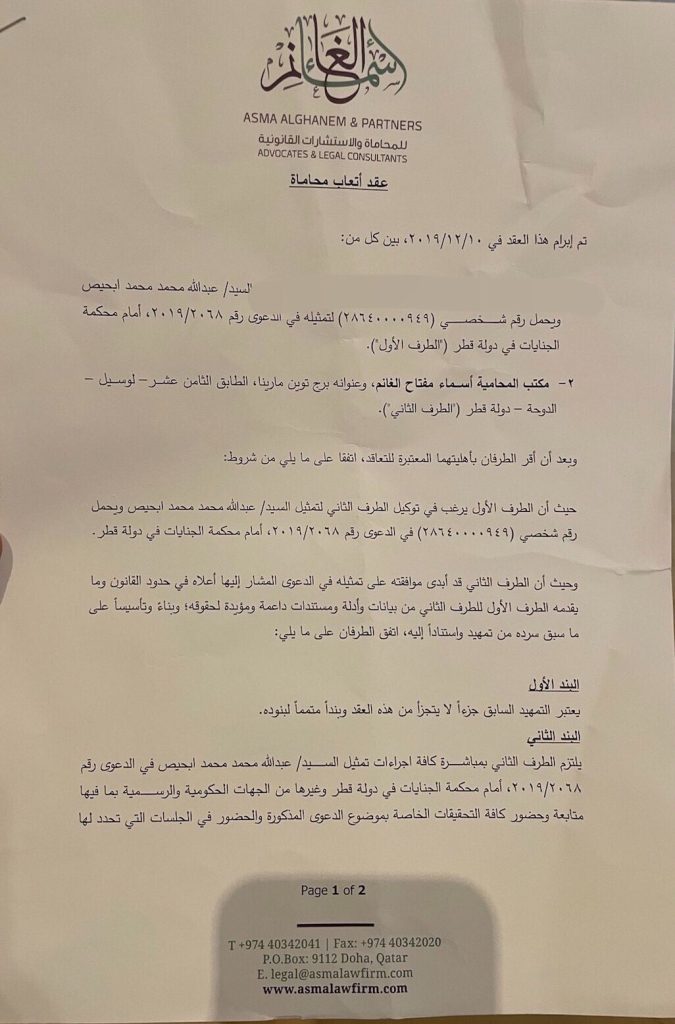 Abdullah Ibhais' family says al Ghanem didn't put in any work for her client, and when accepting the offer from SC, she didn't return the advance transferred to her in three instalments.
We called the Supreme Committee and asked to talk to Asma' al Ghanem. The operator tried to connect us, but returned after a minute asking us to send an email to the Legal Department.
Josimar sent several questions to the SC. You can read their response at the end of this article.
The danger of hunger strike
"Going on a hunger strike is extremely painful," says Else-Marie Ringvold, specialist in anaesthetics and intensive medicine at Akershus University Hospital outside Oslo.
Most people on hunger strike, she explains, accept juices, soups and dairy products, foods that contain vital nutrients for the brain and body.
Abdullah Ibhais only drinks water.

"It will not take a long time before he develops serious health issues, primarily because he doesn't get enough salt. That leads to salt imbalance – there's a balance between salts inside and outside the cells. That fragile balance will be skewed quite quickly. We need natrium (also known as sodium), kalium (also known as potassium), magnesium and calcium every day. These nutrients aren't stored in the body in large quantities," she says.

With salt imbalance in the blood, there's a high risk for kidney and heart problems, and infections. All organs start to break down.
A man in his mid-thirties, of regular build and leading a healthy lifestyle, would last three to four weeks if he only drinks water, Ringvold explains.
Data on this topic is scarce. The best-known example of a hunger strike was Bobby Sands, who along with fellow IRA prisoners, went on a hunger strike on 1 March 1981. Sands died 66 days later.
"When he died he was deaf and blind and his central nervous system had broken down," she says.
Abdullah Ibhais's family, recently told The Guardian:
"We demand a serious, prompt and meaningful action from Fifa to stop the extreme injustice put upon Abdullah by the authorities of the country they chose to host the World Cup, and to press for a fair trial for Abdullah and for his immediate release – as there is no justification for his detention."
"Categorically denies any allegations"
Josimar sent several question to the Supreme Committee, a spokesperson for the World Cup organisers replied with the following:
"The allegations put forth regarding the conduct of the Supreme Committee for Delivery & Legacy's legal representatives are completely false and without merit.
"The SC's legal team made contact with the law firm representing Mr Abdullah Ibhais due to a potential conflict of interest with Mr Ibhais' representation, which was promptly cleared. Calls of this nature between lawyers acting on behalf of different parties are common practice and in some instances are ethically required.
"The SC categorically denies any allegations regarding impropriety around the ethical standards of its legal team. Furthermore, we implore Josimar to provide evidence to substantiate these claims, designed only to create an illusion of impropriety, before publication.
"The SC does not and cannot interfere or influence cases under the jurisdiction of the Public Prosecutor or other relevant legal authorities. Since carrying out its own internal investigation into the alleged misbehaviour, the SC has played no part in any of the legal proceedings brought against Mr Ibhais."