At least six female referees have accused Rodolfo Sibrián for sexual harassement and sextortion. Despite the allegations, Sibrián is still a Fifa certified referee instructor at the El Salvador FA (FESFUT).
By Romain Molina
"It's a shame. These people are shameless. They don't care about us, they don't care about our well-being. Each time we tried to report it nothing happened. We're without hope in a way. FESFUT, Concacaf, Fifa, no one is taking action. I know some of the girls that just wanted to play football. Others just wanted to referee because we love it, we love football. But in these conditions, I mean, I won't give sex or be dating someone for a career. But that's how these people think. They think they can do what they want with us because the system they built is protecting them. We're living in a tough country, a violent one. Justice can be complicated to obtain, especially for women. They're taking advantage of it and getting away with it."
She is one of the referees that over the years have accused Rodolfo Sibrián for actively using his position to get sex in exchange for being appointed referee for domestic and international matches. She is talking to Josimar on the condition of anonymity.
"The case of Vilma Montes was dreadful. She got no support from the federation. They protected Sibrián, who's now back at FESFUT. They're so proud of it. That makes me sick."
Vilma Montes is a former Fifa referee and one the top female referees in El Salvador. In August 2017 she sued the former vice-president of the referees' commission, Rodolfo Sibrián, for sexual harassment. Sibrián is one of the most experienced referees in El Salvador and Central America and has for years been accused by several women of sexual harassement and sextortion. Despite these allegations, he remains in position as one of the most influential referee instructors at FESFUT and still holds a Fifa certificate as an referee instructor.
Six months before the lawsuit, Vilma Montes told three senior members of the federation of her experiences with Sibrián, but nothing happened. Vilma Montes also sent a letter to FESFUT's executive committee without any action being taken. Then she decided to try her case in court. But 18 months after initiating the lawsuit, Montes abandoned the case because her health had seriously deteriorated and suffered a serious depression.
"There is an institutionalised culture of ignoring claims of sexual harassment."
Cristian Villalta isn't hesitating. As a leading journalist for the daily newspaper La Prensa Gráfica, he has extensively covered the case of sexual harassement and sextortion in Salvadorian football. "I can't explain how and where this indolence was born, if it's only a lack of empathy, ignorance or something worse. Nevertheless, there is a history of inaction regarding several claims through the years during different administrations."
Allegations on sexual harrassment doesn't start nor end with Rodolfo Sibirian. In November 2019, La Prensa Gráfica published an investigation with the statements of several players from the women's national team accusing the technical director, Elmer Guidos, and two members of the coaching staff, David Hernández and Carlos Cortez, for sexual harassment and sexual discrimination.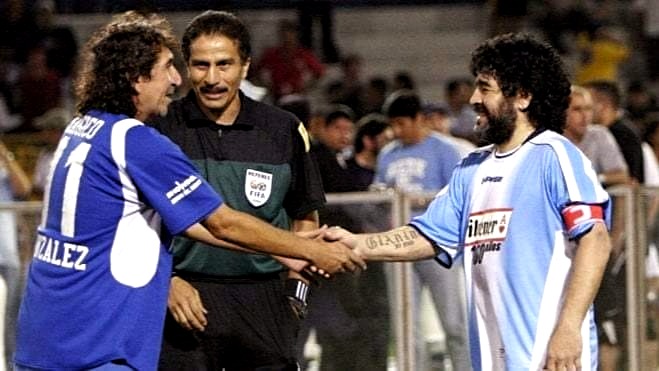 In December 2019, an official complaint for sexual harassment and attempted aggression was made against four officials at FESFUT. Three of the men, Ricardo Alvarado, Franco Rodríguez, Emerson Véliz, are former players and the fourth man, Nelson Chicas, is a referee. The plaintiffs were two female coaches that followed a programme organised by the FESFUT to obtain a Class C coaching license. The situation was so tense that the police were called to the federation's office building and arrested one of the teachers, Emerson Véliz. He spent three days in custody before getting released.
Two years and a half years later, none of the alleged perpetrators have officially been sanctioned by FESFUT. On the contrary, Rodolfo Sibrián is still the federation's top referee instructor. And the two female coaches that complained to the authorities were left out of the list of the next coaching programme (Class B) that is still run by the same people. At a meeting, thirteen male officials within FESFUT voted and wrote comments on a paper what kind of sexual acts they wanted in return for coaching the women. This evidence was shown to FESFUT during their so-called investigation. Nothing happened.
Josimar has seen the list graphically detailing the sexual acts the male officials demanded for coaching women.
In total, eight Salvadorian FA officials have been accused of sexual harassment and sextortion in the last five years.

"These people are powerful"
Known all across El Salvador as one of the few local referees that whistled international tournaments, including a World Cup (U20 in 2005), Rodolfo Sibrián was also the referee for a friendly game between Diego Maradona and Magico González, maybe the biggest name in Salvadorian football history.
"Sibrián's career is one of the best we ever had," confirms his colleague Elmer Bonilla, also a former Fifa referee. "No one can deny it."
After his retirement as a referee in 2007, Rodolfo Sibrián became a Concacaf and Fifa instructor that worked all around Central America and even South America.
In El Salvador, the famous referee with his old-fashioned mustache joined the federation, working as vice-president of the referees' commission.
"I met him here," says a female referee to Josimar. She too speaks to us under the condition of anonymity.
"I fear retaliations. Our country is dangerous and these people are powerful […] He was basically the one in charge of appointments. He could choose you for the most important games and especially help you to become an international referee. As Vilma Montes pointed out: 'That was our goal. We all want to whistle competitions abroad and dream of the World Cup.' Who doesn't ? The problem is that we had to accept some conditions."
Between 2014 and 2015, Vilma Montes received constant sexual advances by Rodolfo Sibrián who was technically her boss. "We all knew about it," adds another female referee. "I had the same problem with him. First, he wrote to me for personal things that have no connection with football. Then, he asked me to go out with him, for drinks. He told me how he could help my career if I accept personal relations with him. He blackmailed us. You have to give sex to become a Fifa referee. That simple. He makes you understand that it's the best way for you to get promoted."
Contacted by Josimar, five women confirm the sextortion made by Sibrián all along the years. "Vilma wasn't the only one who suffered this. The problem is that we were too scared at the time to speak up like she did. She was so brave," says one of them. "Some accepted the deal, others did not. It was a mix between fear and shame."
Before seeking justice, Vilma Montes went to FESFUT in December 2016 with the experienced referee Elmer Bonilla as witness and support. "I was with her," he confirms. "In February 2017, she went to see them again. Nothing happened so Vilma complained officially for justice four months later. That's how it went public, but the federation knew for months what was going on."


Retaliation and depression
After the official complaint, people started talking in the country. "I lived the same thing," said Carol Quevedo, a former Fifa referee. "It was a shameless situation. She (Montes) was very brave to denounce it. I thought a lot about what happened to me, it was complicated."
The former president of the referees' commission in El Salvador, Rafael Rodríguez Medina, told local media at the time that he "asked Sibrián to be removed from the commission. The sextortion is true 100 per cent. I always denounced him but the commission never listened to me. That's why I left."
Vilma Montes' lawyer, Bertha María Deleón, showed the court clear evidence of Sibrián's antics like Facebook messages he sent to her client.
"He constently wrote sexual messages to her. He was insisting and insisting with inappropriate and undesired messages. As vice-president of the referees' commission, he was the one who made the decisions. He insisted that having sexual relation with him would help her getting a promotion. If not, she wouldn't climb the ranks."
At the end of 2015, after Vilma Montes refused several proposals, Rodolfo Sibrián told the commission not to include her for the list of Fifa referees in 2016.
"When she said no, this man proliferated humiliating sentences like she wasn't able to obtain anything on her own merit," noted her lawyer.
"She had a rough time," corroborates two Salvadorian referees. "She received no support. The federation totally ignored her and protected Sibrián."
No action was taken against Rodolfo Sibrián by the FESFUT, nor by the judicial system.
In February 2017, Rodolfo Sibrián left his position in El Salvador to work as technical director for referees in Mexico. But neither the Mexican federation nor Concacaf took any action after the complaint against him was made public four months after his signature.
"Mr Sibrián is not an employee of Concacaf," a spokesperson from Concacaf wrote to Josimar.
"He was up until 2017 a technical consultant (freelance) on some Concacaf and Fifa refereeing courses in our region. Since 2017, he has not been used by Concacaf in any capacity."
But according to Concacaf official website, Rodolfo Sibrián was one of the instructors in Panama in February 2018. Contacted for clarification, Concacaf didn't answer, nor did Sibrián. "It's always the same story," says a Concacaf instructor to Josimar. "We know, but we don't say a word. The whole system has been rotten for years."
An ascertainment that perfectly suits the situation in El Salvador since the 2000's and the late José Carlos Ortiz Cardoza, a former member of the prestigious Fifa referees committee. "He was interested in male referees," says two persons to Josimar that received sexual propositions in exchange of promotion in their career. "We had him, and now the girls suffered the same fate with Sibrián. It's terrible."
President of the referees' commission in El Salvador, Emerson Avalos, tried to defend Sibrián and his federation. "We opened a disciplinary file. Then, it went to justice to see if what was signaled really happened. It lasted almost a year and a half in court and they found nothing he was accused of. Justice let him free because there was no evidence of what he was accused […] That's how the federation contracted him to be the general instructor of Salvadorian refereeing."
This version is contested by every referee that Josimar has talked to and by the facts: FESFUT never sent the internal complaint to the court and Sibrián went free because Vilma Montes abandoned the procedure to take care of her health; not because Salvadorian courts said there was no evidence.
Independently of Sibrián, several officials from Concacaf's referees' commission were suspended following inquiries in the last couple of years. In January 2019, Guyana federation sacked their head of referees, Stanley Lancaster, for sexual harassement. In July 2021, Fifa banned Rosnick Grant, the vice-president of Haitian federation and also boss of Cona, the Haitian referee commission, for life for sexual abuse following an investigation by The Guardian. "This is only the beginning. If you're digging, a lot of important people will be suspended or jailed. It's an entire network around many countries," says a senior Concacaf source to Josimar.
In Haïti for instance, Rosnick Grant offered Haitian referees to other officials as "sexual gifts". As three female Haïtian referees pointed out: "Grant made us into prostitutes. He told us to have sex with his friends in Concacaf and Fifa."
A spokesperson for Concacaf wrote to Josimar:
"At Concacaf, the safety and welfare of all participants in our competitions and activities is of paramount importance. It goes without saying that any allegations or reports of improper conduct and/or abuse at any Concacaf course, competition or activity would be taken very seriously and investigated."

This is the second instalment in a series of articles about sexual abuse in football. If you have any knowledge about sexual abuse, please get in touch with Romain Molina using romainmolina@protonmail.com.