They haven't been paid salaries for the last two months. Meet two African security guards that work for a company that has several Fifa and World Cup assignments during the tournament in Qatar.

By Samindra Kunti


On a corner of a bustling street on the outskirts of Doha, migrant workers from the subcontinent as well as Africa mingle, drink chai and chat. A humongous rat sneaks away behind a tree. It's the eve of the World Cup, the sporting extravaganza that spurred the city's super-acceleration and Qatar spending in excess of 200 billion US dollars. In this part of the Qatari capital, there is little sign of the tournament. Life goes on. Vans constantly drop off and pick up migrant workers. Across the street, the entrance of a supermarket is decorated with a few flags from the 32 World Cup finalists. Dressed in a replica Argentina shirt, a man saunters about. 
Then two boys from West Africa appear. Fresh from playing football, they are walking on football shoes with small cleats. David is 17 and Paul is 18. The former faked his age to enter Qatar. The boys' families sold their land properties to pay the recruitment agent in the local currency a sum of 2,500 euro each so that the pair could go in search of a different life and much-needed income. But on arrival in Doha in March, the jobs the recruitment agent had promised did not exist. It was the rule rather than the exception. A lot of David and Paul's compatriots touched down at Hamad Airport to soon find themselves in a world of abuse. They struggled to get 'accommodation', a sleeping quarter. There was no money, no food and little prospect of a somewhat stable future in a distant, foreign country with strict and repressive labour laws. 
Left to fend for themselves, David and Paul hustled to survive, like so many workers have to do after confronting broken promises. Paul spent 40 days working as a gardener, but his employer refused to pay his salary. The labour court told him there was little to do because he had not signed a contract. Paul, then, was back to square one.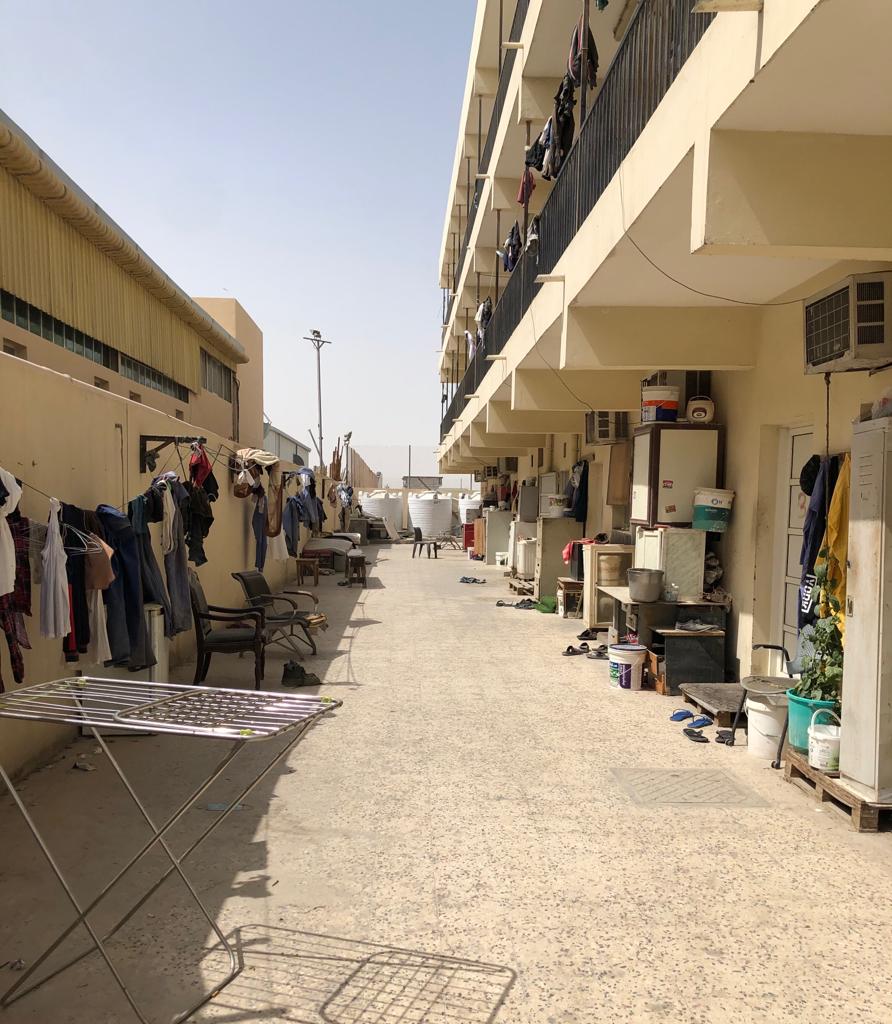 The World Cup, however, presented the boys with new opportunities. An authoritarian police state, Qatar, it seemed, needed even more security personnel to organise the tournament. So they became security guards on a six-month contract. At last, they could provide for their families back home. They stood at different locations: at a World Cup stadium, a ticketing centre, and the media centre. They could see the imposing venues that would welcome fans from all over the world as well as dignitaries, and the hustle and bustle of journalists running back and forth.
David and Paul all of a sudden were key to the smooth running of the world's premier football tournament, but there was no joy for them: the football festival was built on their back, quite literally. Often standing on their feet for 12 hours, the work was taxing. David got back pains, Paul felt dizzy in the searing heat. Taking a day off sick was not much of an option – the company would deduct salary.
With the World Cup underway and the world converging in Doha to watch the best-paid players, their situation has become precarious – they have not been paid for two months. Along with other workers, they complained to the Pakistani boss of their camp, one of the most notorious in Qatar – outside of Doha, in the middle of nowhere. Workers need permission to exit the camp.
The camp boss did little to help. A Qatari executive promised that payment would be imminent, but again nothing happened. The security company they work for is a Fifa partner and invokes the partnership with the world federation to muzzle David, Paul and the workers – nothing must get in the way of the greatest show on earth. In other words, it's a shut-up-and-work policy in the same vain as FIFA president Gianni Infantino's infamous letter to the 32 finalists to not get dragged into political and ideological battles. 
The boys are desperate. They no longer ask the camp boss for permission to leave, but exit at leisure and 2,5 months into their contract they are hatching a plan to run away. In Qatar, absconding is a criminal offence, but often a mechanism to keep workers in check or retaliate. It can lead to arrest and deportation, but what do they have left to lose? 
And the World Cup? That's utterly 'meaningless' to David and Paul. They will neither follow nor watch it. Saudi Arabia's upset win and Kylian Mbappé's goals bypassed them because they are simply wondering how they will get through another month. 
*Paul and David are false names. To protect the identity of the source, Josimar can not reveal the name of the company or any further details.
Response from Fifa:
FIFA is implementing an unprecedented due diligence process in relation to the protection of workers involved in the FIFA World Cup Qatar 2022, in line with FIFA's responsibility under the UN Guiding Principles on Business and Human Rights.

This work, which is implemented in partnership with the Supreme Committee for Delivery & Legacy (SC) and involves collaborations with trade unions and other independent monitors, focuses on companies building FIFA World Cup infrastructure, including stadiums and training sites, as well as service providers involved in the delivery of the competition, such as in the hotel, security, or transportation sectors.

FIFA operates a programme to identify potential human rights issues through various channels and to address these in collaboration with relevant third parties, as required. Any worker who feels their rights are being violated should contact the SC Workers' Welfare hotline or FIFA's Human Rights grievance mechanism for the FIFA World Cup.

Any service provider associated with the FIFA World Cup, who fail to rectify issues identified through the FIFA and SC audit and inspection programme will have their contracts terminated.