The CAF storm hasn't passed. In fact, it may be gathering. New witnesses have led to more lines of inquiry being opened by the investigators, who are broadening the scope of their work to include the relationship between CAF president Ahmad Ahmad and Fifa.

By Philippe Auclair and Pål Ødegård

It is now three and a half months since French police descended at 08:30 on the luxurious Hôtel de Berri in Paris and questioned a startled CAF president Ahmad Ahmad for several hours about his alleged involvement in a controversial deal passed between his confederation and hitherto-unknown companies located in the South of France, Tactical Steel and, later on, ES Pro Consulting.

Tactical Steel, owned and run with his wife Sabine by Romuald Seillier, a long-time friend of Ahmad's right-hand man Loïc Gérand (who was also questioned in Paris), had never sold football equipment of any kind to any club or organisation beforehand; but this did not prevent them from becoming CAF's privileged partner and supplying them with a huge range of Adidas-branded equipment, tens of thousands of items, at very short, in fact almost non-existent notice in December 2017. 

This was all the more surprising since established global companies had declared themselves incapable of honouring the confederation's urgent order. Only one of these, Puma, had managed to respond positively, and were left nonplussed when their agreement with CAF was summarily denounced within a matter of hours of being signed, following Ahmad's personal intervention. New CAF favourites Tactical Steel (and its offshoot ES Pro Consulting) were paid 3 million US dollars plus over three calendar years as a result of this intervention, none of their multiple contracts (for CHAN 2018 and other tournaments, as well as the provision of 60,000 footballs, 'gifts' to African FAs) having been the subject of tender.

The failed coup
Josimar, who had access to a huge cache of CAF official documents, invoices, payment orders and electronic correspondence, has reported extensively on this affair [See: Infantino's African Victory,  Infantino's African Mess and New Order], which, at the time of Ahmad's questioning by French authorities, threatened to unseat him from the presidency which he unexpectedly took from Issa Hayatou in March 2017. Nevertheless, and despite a number of other scandals and controversies rocking his confederation, Ahmad has survived so far – by the skin of his teeth, judging by some first-hand accounts which have been made to Josimar. 

The 'coup' a section of CAF's Executive Committee had planned to execute in early June (on the eve of the day Ahmad was taken in for questioning, remarkably) failed when one of the conspirators, a prominent ExCo member, changed his mind at the last minute and, according to inside sources, warned Fifa president Gianni Infantino of what was about to happen, thereby nipping the plot in the bud. The discreet, perennially under-estimated Ahmad had survived his toughest test to date.

Since then, what amounts to a 'normalisation committee' headed by Fifa's General Secretary Fatma Samoura has taken control of CAF, and Ahmad himself announced a few days ago that an audit of the Confederation would be completed by Pricewaterhouse Cooper which, perhaps not so coincidentally, happens to be Fifa statutory auditor since 2016. 

It's not to say that his problems are over. By general consent, CAF is in a right mess; but nothing's been heard of the investigation which Fifa's Ethics Committee is supposed to be conducting into Ahmad's actions following representations made by several individuals who've accused him of bribery, corruption and sexual harassment. The temptation would be to assume that Ahmad, by luck as much as by design, his or someone else's, had managed to walk between the raindrops; weakened, without a doubt, but still in charge of CAF, nominally at least.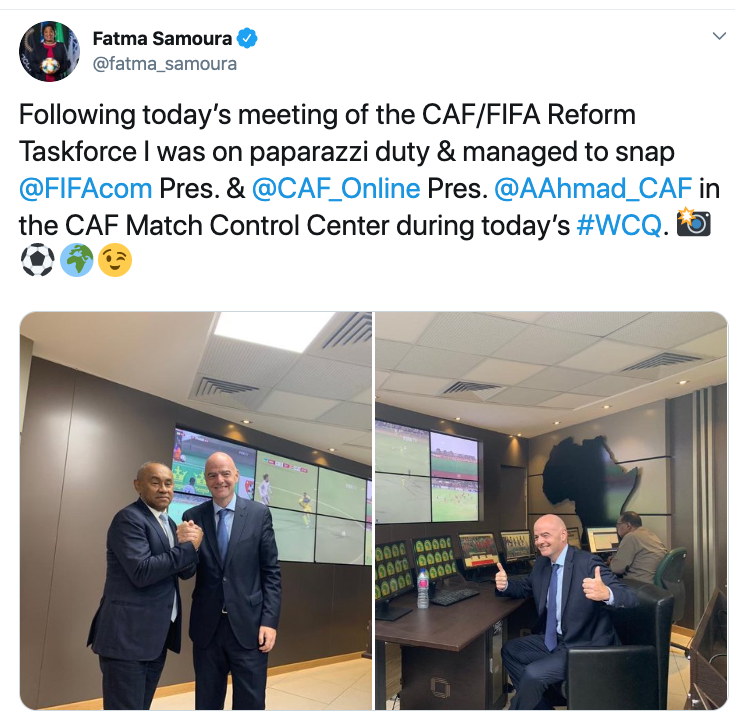 Two bodies – one goal
Josimar has learnt that this is not the case, however. We can state that the French investigation into Tactical Steel and Ahmad, for suspicion of 'money laundering, breach of trust, criminal conspiracy, active and passive corruption, forgery and use of forged documents' is still very much alive. Ahmad was released without charge on 6 June, but the investigation has not reached a dead end, or been sidelined; in fact, it is gathering speed and is seemingly no longer solely focused on CAF-related issues, but also extending its reach to Fifa affairs, including the question of how the unsung president of the Madagascar FA could have risen so fast to become one of world football's most powerful administrators. 

This investigation is conducted by two separate entities which both operate under the umbrella of the French Home Office, the Marseilles police judiciaire and the Office central de lutte contre la corruption et les infractions financières et fiscales (OCLCIFF), which is based in Nanterre, near Paris. Those two bodies have different remits and powers. The first is working to untangle the structure and activities of Tactical Steel, ES Pro Consulting and related companies, most of which are based in or around the city of Toulon; the second is concentrating on the international dimension of the dossier, and more specifically on the role Ahmad is alleged to have played in helping set up or facilitating the deals with Tactical Steel and ES Pro Consulting.

Josimar understands that documents related to the Tactical Steel affair were passed on to French police and the Parquet National Financier (France's serious fraud office) as early as March of this year, documents which may be assumed to be similar to those leaked to some media outlets at around the same time. This led to the opening of an official investigation on 28 May by the Marseilles Juridiction interrégionale spécialisée, a body which enables investigative magistrates from various French regions to collaborate in their fight against delinquency and criminality; Ahmad's questioning followed directly from that. 

Key witnesses collaborating
Crucially, the questions were not put to the CAF president by 'ordinary' policemen, but by representatives of OCLCIFF: a body whose jurisdiction can extend beyond national borders, when the Marseilles police doesn't have the same statutory rights. OCLCIFF, the French Home Office says, is competent 'in regard of national and international [our italics] corruption, […] complex tax evasion and money laundering'. The Marseilles investigators could deal with Tactical Steel and ES Pro Consulting, dig deep into their bank accounts, but there ended their jurisdiction. OCLCIFF's reach is much, much wider. For example, it can issue rogatory letters, that is formal requests for assistance to foreign judiciary bodies. It can request an extradition order from the French state. In brief, it is as powerful as such a body can be.

Josimar understands that OCLCIFF has put some of its highest-ranking officers in charge of the investigation, which would signal that it has priority status within France's supreme authority in the fight against corruption, which can deal with up to 300 dossiers at one single given time. In August, CAF's former Secretary General Amr Fahmy, who had been fired by Ahmad in April 2019 after accusing the president of bribery, visited the OCLCIFF headquarters in Nanterre (even having his photograph taken outside the building), and made "statements in the case of Ahmad Ahmad and 'Tactical Steel' and left the department at 7pm" to quote from a statement he passed on to the Egyptian press. But Fahmy is not the only key witness who has talked or is about to talk to the French investigators. Josimar knows of several individuals, some of them with intimate knowledge of CAF's workings, who have come forward and communicated their desire to collaborate in the investigation, a desire which is reciprocated by the investigators themselves.

OCLCIFF and French justice are known for taking their time – but also for their reluctance to drop matters, as disgraced ex-IAAF President Lamine Diack can testify, whose trial will open in January 2020, more than four years after he was taken in for questioning for the first time by the Nanterre policemen. Silence is not synonymous with inaction. The Ahmad affair and so-called 'CAFgate' are far from over. In fact, it's possible that they might be just beginning.
This is the third of several instalments. More to follow.
Any information you want to share with us?
Email: aajosimar@protonmail.com

Read the first instalment here:
Read the second instalment here: