Since the start of the Russian invasion, Igor Belanov has been touring the Ukrainian trenches with his Ballon d'Or award, telling football stories to the soldiers in an attempt to lift their mood.

By Emanuel Roșu, Dumitru Garcaliuc
Igor Belanov is one of the most surprising Ballon d'Or winners in the history of the prestigious award. In 1986, he beat Gary Lineker and Emilio Butragueño to follow Michel Platini's "hat trick" in 1983, 1984, and 1985. The rocket forward had won the Cup Winners' Cup with Dynamo Kyiv and enjoyed a quality World Cup in Mexico, helping the Soviet Union top a group that France were also part of and scoring three times against Belgium in the Round of 16. He registered four goals and six assists in the World Cup. Igor Belanov is one of Ukraine's three Ballon d'Or winners alongside Oleh Blokhin and Andriy Shevchenko.
Now 62, Belanov started playing in his native Odesa, one of the jewel cities of the Black Sea coast. He would have never left the place had top football challenges not been called. The striker played under Valeriy Lobanovskyi in the iconic Dynamo Kyiv side that astonished Europe in the 80s, then went to Germany against his will and struggled to adapt to living and playing in Western Europe.
Since the start of the war, Belanov has been touring the trenches with his Ballon d'Or award, telling football stories to the soldiers in an attempt to lift their mood.
How is your life now, Mr Belanov? Can you describe a normal day in your life?
What can I tell you? We're at war. I am working inside the Ukrainian FA with my former teammates Oleh Blokhin and Anatoliy Demyanenko. But our focus goes to helping those who are defending our country and to the civilians as well. We are trying to lift their morale, to get their minds away from war as much as possible. One idea was to bring the Ballon d'Or to the trenches.
How did the soldiers react when they saw the trophy?
They always gather around me and ask me about football. Many of them love the game. Living on the frontline involves lots of mental trauma for them, so I try to joke, to lift them as much as possible. Our soldiers know they could lose their lives at any moment. Talking to our young boys, telling them the stories, and passing on the feelings, makes me stay alive longer as well.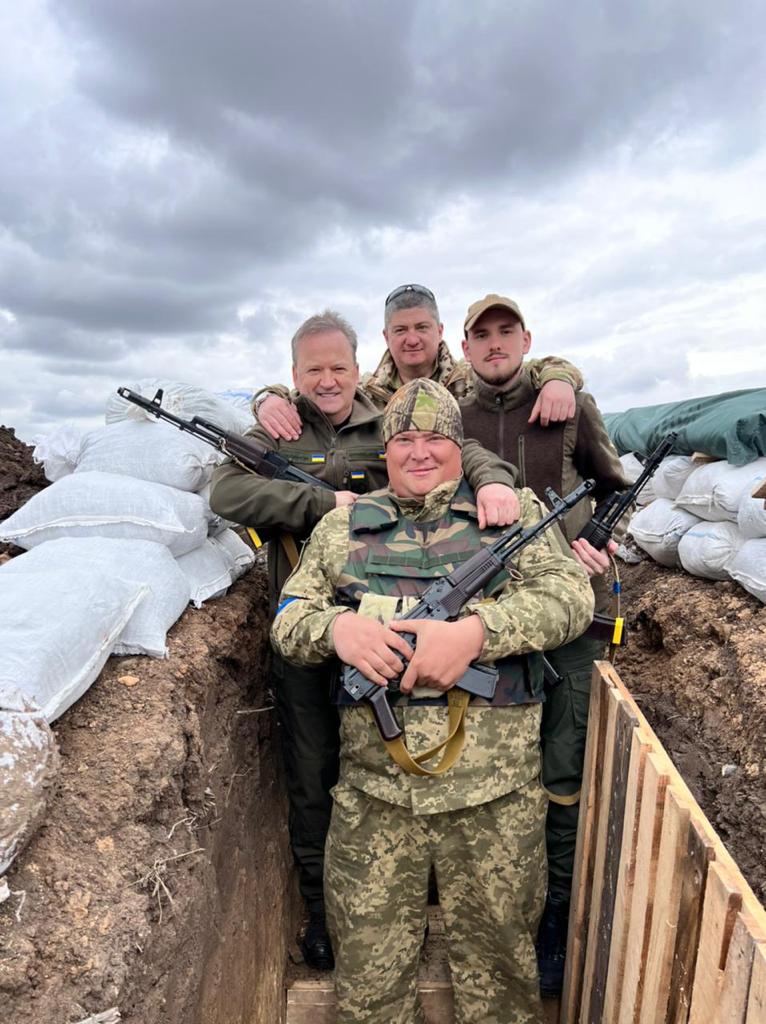 How did your passion for football begin?
Ah, I loved this game ever since I was being carried in a stroller. I used to go after the ball all day long. I only took breaks when I went to sleep. I learned how to play in front of my home. Shevchenko and Blokhin had an easier life. But nobody taught me how to play football. My dad died in a car accident when I was very young. I was only left with my mum. From the first to the eighth grade I went to boarding school. It wasn't a sports school. You can't imagine what I went through over there.
What happened?
None of my fellow students from back then is still alive. Not even one of them! They all became convicts or drug addicts. Football saved me. 
How did you train?
I was luckier than others. I remember my grandmother used to draw the posts with a piece of chalk on a wall. It was there where I trained my shooting. Maybe that's why I got to take penalties for the national team (laughs). When I was seven, I took a clock and ran the length of our backyard, around 30 metres. I wanted to see how many seconds it took me to do it. I loved to run into open space, to be as fast as an arrow. I also climbed trees, I ran barefoot, I was agile and had physical skills. I never gave up, I wanted to win no matter what I was doing. I took my education from the street, in the Modovanka neighbourhood in Odesa. Shevchenko and Blokhin had good teachers and went to good schools. I didn't. When I was 18 or 19 I used to work as a builder and I had a 200 rouble salary. It was good money in those days. But I chose to play for Chernomorets, where the salary for us, the youngsters, was 60 rubles. Had I chosen money, I wouldn't have won the Ballon d'Or.
When did you realise you were a special player?
When I got to play for Chernomorets. We had a very good team. We won against many of the top clubs. I scored in Kyiv against Dynamo, I also hit the net against Spartak Moscow and netted three times against Dynamo Moscow in an away match. Chernomorets was a tough nut. We finished fourth in the table in our best year, Dynamo Kyiv only came seventh. Lobanovski had asked me to join him in Kyiv before, but I thought I wasn't ready. After a few years, I went to Kyiv and told him to sign me. They were down on the table, but it was obvious that they would bounce back. Lobanovski told me I'd need to fight for my place. Except for Blokhin, Lobanovski never had any favourite player. I remember that in my first training session, we had the Cooper test and I was two laps behind everyone else. I asked myself: 'Where am I? I need to get out of here fast. Run away as fast as you can'. But things settled very soon.
How would you describe yourself as a person?
I was stubborn, I believed in myself, and I was a fair guy to everyone. My teammates  used to ask me to talk to the coaches every time. Let me tell you a story about Lobanovski. Once, on the train back from Moscow, the boys had too many drinks. In our first training session after returning home, Lobanovski went mad and fined everyone. The boys asked me to go forward and talk on behalf of them. I asked for permission, and Lobanovski allowed me to speak. I agreed that the team was guilty, but told him that even his assistant, Grigorievich, was heavily drunk. Lobanovski couldn't believe it. That's how everyone escaped their fines. (laughs)
How were you as a player?
I was always somehow aggressive in a good way. In Kyiv, I had to prove myself. I remember that in my second match, against Dynamo Moscow, I went down in the box after a foul. Blokhin, Bessonov, and Damyanenko were all talking among themselves about who would take the penalty. I got the ball, took the shot, and scored. I sent a message: 'Boys, I'm not here just to watch'. Then, I scored two more goals in Donetsk, then again two against Spartak Moscow, in a match attended by 100,000 spectators. I scored two fabulous goals, but I can't find them anywhere on the Internet. One of them was Dynamo Kyiv's 2,000th goal. How can it not be stocked in the archives? The ball flew superbly over Dasaev, right into the top corner. The stadium exploded. After the match, the fans took me on their shoulders throughout the city. I was scared that they would throw me in front of a metro. (laughs) It was then that I promised myself that I'd never go out with the fans again.
How do you connect with football during war times?
Football is my life and the war can't change much of my vision towards the game. It's been a long road, maybe too long. I am sorry that we don't have as many talented youngsters anymore. I believe that technology and smartphones eat their brains and take players away from football. When I played, we couldn't find all the things you find today on the internet. We only lived to play football. That's what kept us breathing, in fact. All our dreams circled around football. Alongside Blokhin, I'm an ambassador for the Ukrainian FA. We are attending kids' tournaments, and veterans' matches, and we are trying to save the history of our football. The president of the FA, Pavelko, is trying to bring veterans around the FA, to make them contribute to the development of the game. Before, our veterans were forgotten. Club owners only take pictures with you and gain profit for their image campaigns, then forget about you.
You said you took the Ballon d'Or trophy to the soldiers in their trenches. Is it common for you to take it out of your house?
I do take it to the youth competitions. I show it to the kids. I tell them about Dynamo Kyiv's legends. Some youngsters know me and the others, but some have never heard of us. During a tournament, I asked a kid if he knew who I was. He said he thought I was a pop singer. Before the war started, I and Blokhin had an academy "Blokhin-Belanov". More than 300 children used to attend our classes. Oh, and about the Ballon d'Or, there's a funny story with me and Blokhin.
Please share it.
His trophy is smaller than mine. He won it in 1975, so the model is older than the one I got in 1986. That's why he always takes mine to public events all the time. He shows my Ballon d'Or instead of his. We once went to Dnipro for a meeting between several legendary sportspeople. Each of them brought their trophies, their Olympic medals, and so on. President Zelenskyi looked at my Ballon d'Or and said: "Wow, yours is so big". He first saw Blokhin's Ballon d'Or and expected mine to be the same. I told him: Don't worry, I got my pump from Odesa with me. We'll put some gas into Blokhin's". Everyone started laughing. Me and Blokhin, we are friends, we try to stick together. We understand each other's worth. I can't say the Ballon d'Or I won is just mine. It belongs to all the Dynamo players I played with. I remember the second goal against Atlético Madrid in the final of the Cup Winners' Cup. It went in just like in training. Lobanovski asked us to press and then to pass the ball just like they do in rugby, passing diagonally. We played very well as a team back then, we pressed hard on our opponents. They couldn't even get their heads up and try to pass. We got the ball back close to their box.
Are you permanently connected to the news coming from the frontline?
It's impossible to stay away. 99 percent of the news is about the war. I also keep in touch with our military forces, I meet them when I'm involved in humanitarian aid. I've been to Kherson, Irpin, and Chernihiv. I'm not depressed. I always say: "Don't expect us to fold. We won't fold".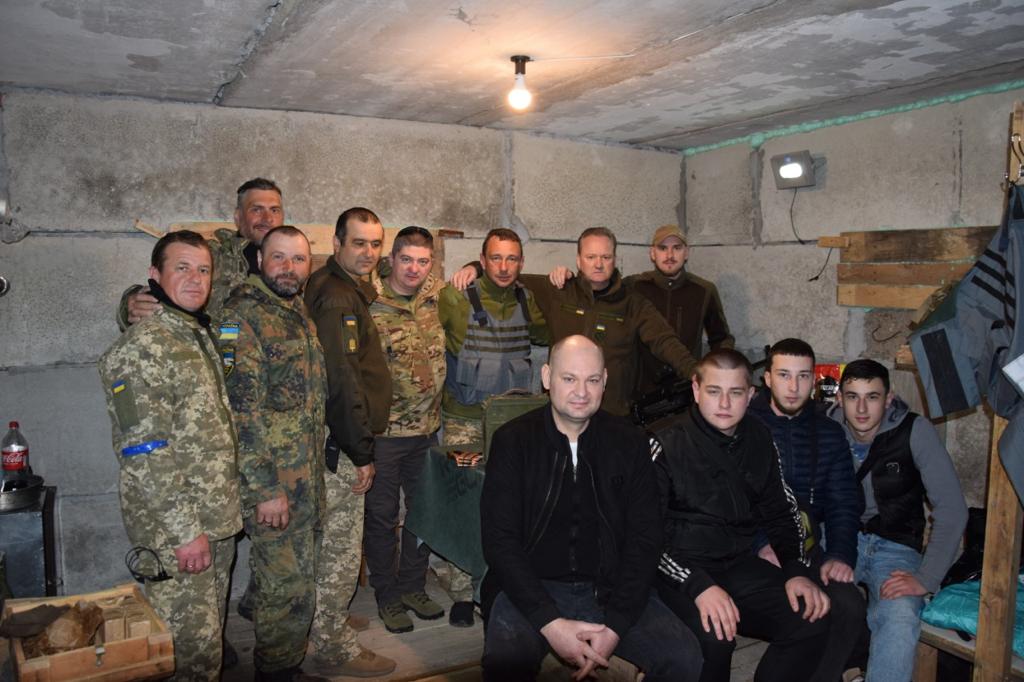 Has there been a moment since the start of the war which you found unbearable?
I think it has to be the beginning of the war. I couldn't believe it would start, even though there were intense talks about it. I had good relationships with both Ukraine and Russia. I even met Shoigu, Russia's defence minister, on many occasions, when he was responsible inside the department for extraordinary situations. He was warm, he welcomed me every time, we played football together, and we drank together. I can't believe what's happening now. I can't understand what's happening to his brain right now. 10 years ago, we could call each other, we could talk, we could visit each other, we could help each other. I don't even want to call him now, people would not understand it. It's not fair. He's the enemy. I recently attended the inauguration of a new stadium. There were Ukrainian soldiers who didn't have arms or legs. A few were 18-year-olds. Some idiot from Putin's army destroyed their lives. How can something like this happen?
If you had the chance to meet Shoigu and, let's say, Vladimir Putin, what would you tell them?
I wouldn't want to meet Putin. He is an egocentric person, he's in love with himself. It makes no sense to tell him something. Shoigu was a nice bloke when I met him. I remember that before an exhibition match, I forgot my shorts at home. Shoigu is not a good player, so he always wanted the best to play in his team. He asked me where my shorts were, I told him I had forgotten them at home. He instantly left and came back after five minutes with a new pair. It's not often that generals bring you football shorts, right? Honestly, I don't want to tell him anything right now. What difference would it make?
How do you see the war ending?
I think the end of the war is very close. I believe Putin realised the immense error he made. Russia will do everything to win. When we drink, I tell my friends: let's not drink for victory, because there won't be any victory anyway. We won't conquer Russia, that's impossible. The country is too big. But we won't lose this war either. We won't give up. This war united us, it made us stronger. Of course, we are paying a huge price. A price we never wanted to pay.
Have you ever felt in danger since the war started?
Something exploded close to my home. The sound was frightening. It was 3:30 in the morning, and I jumped out of bed. I thought the fighting started on my street. The curtain on my window moved following the explosion. I never left my home or my country and I never planned to. There was another moment in Mykolaiv, I was under a bridge. Kherson was under Russian occupation. I went to the trenches, the Russians were constantly bombing the area. The bombs were coming on the bridge. Fortunately, the concrete didn't fall despite being bombed. There was a big hole in the bridge. The soldiers told me not to remove my helmet and to keep my position. One week before, a soldier's head was cut off by a bomb splinter.
In such circumstances, do you still think of your top moments as a player?
All the time. Every day. Like those goals against Spartak, I told you about and which I can't find anywhere. Sometimes I dream of Lobanovski. The same dream over and over again. It's the USSR playing an away game and Lobanovski doesn't start me. I go to him furiously and ask: "Why ain't I playing? I am the Ballon d'Or winner!" And he is always replying: "Not yet, Igor. It's too early". I wake up after this and I realise what the dream is all about. I thank God I'm not in that first 11 of people who are not alive anymore. When I dream, I know each of them. When I wake up, I can't remember anyone. Lobanovski always tells me in the dream: "Don't rush, Igor. Live a little longer".
Apart from the two goals you mentioned, those against Spartak, do you have other favourites?
Those I scored at the World Cup in Mexico against Belgium, but I never forget those against Spartak, ok? (laughs) And a beautiful goal against France, in the qualifiers for the 1988 Euros, when we won 2-0. France had a monster team back then, with Platini, Tigana, and Fernandez in top form. There is one more thing from that match that needs to be mentioned. I committed a foul over Platini, then I went to him and apologised. The next day, I read all over the media that I went to Platini and apologised for winning the Ballon d'Or ahead of him. He had won it three years in a row before I did.
Did you become more emotional after the war started?
No. I can allow tears on my face, I can cry. Even when I see a movie. But the war made me tougher. The invaders must not expect us to cry because of them.
Do you keep in touch with your former colleagues from the USSR team?
With those from Ukraine, of course. We recently met for Oleksiy Mykhaylychenko's birthday. We spoke about football, about the past, and we sang together. I'm not talking with other former colleagues except Revaz Celebadze. He has a golden heart, he's a very nice guy. We speak a lot. He's Georgian, and he's at home in Batumi. War separated me from the others. I don't even know who supports whom. And I don't like to argue, I can't stand arguing.
How do you follow the matches in the Ukrainian league nowadays? Do you attend?
Yes. The league is back, so I am going to watch the team in Odesa, Chernomorets. If I'm able to go, I don't hesitate.
What's your relationship with Dynamo Kyiv right now?
I don't support them. As long as the Surkis family is their owner, I'm not a Dynamo supporter. I am mad at the owners, there's an open conflict between us. When they leave Dynamo, I'll become a fan of the team again. Added to our conflict, they hired Mircea Lucescu as the team's manager. I didn't understand that appointment. How can you hire Lucescu? He was Shakhtar Donetsk's coach for more than a decade. Shakhtar is Dynamo's arch-rival. I have nothing against him, he's a very good manager. He did a perfect job at Shakhtar, but how can you take over at Dynamo? It's like making fun of the supporters.
Do people in Ukraine still care about football, do they follow the news, the teams?
They do read the news, but they can't attend matches, as they are all played behind closed doors. Only 40 people, including journalists, can go to a match. We used to have a very strong league before Crimea's annexation by Russia. Six or seven teams were fighting to win the league, there were two or three more that could beat anyone. It was the aftermath of Euro 2012, we had new stadiums that were getting full. Crowds of 40 000 or even 50 000 were not uncommon in our league. The start of the war hit football as well. Many teams folded. Shakhtar was left without their city and their stadium. We lost Zaporizhzhya, Dnipro, and Mariupol, areas where football was loved and played. The war is a tragedy for sports as well.
When you talk to normal people, what do they tell you?
They thank me. And I reply: "I hope you are proud of our achievements. We played for you. We wanted to prove our worth." We played when foreigners weren't part of our competition. Still, our stadiums were full, we had up to 100,000 people attending matches at the Olympic Stadium. I look in the eyes of the people and I see a spark. Their eyes are glowing. Let me tell you a secret as well: during some events, there are more people taking photos with me than men! (laughs)
Where were you when you found out you've won the 'Ballon d'Or'?
I was in my mother's apartment in Odesa, in the Moldovanka neighbourhood. I received a call.
From someone at France Football?
No, a guy named Andreev. He was working as a club secretary at Dynamo Kyiv. He told me in a festive way that I won the award. He said there was a vote and I had won. So, I knew about winning a few days before the result was made public by France Football. I had time to prepare for a week or ten days, let's say. France Football then sent people to film me. I was living in Kyiv, in a one-bedroom apartment on Victory Avenue. My flat was on the last level of the block. Right before France Football came to meet me, there was flooding in my apartment. My books and furniture were still wet, and the walls as well. I took the journalists all around Kyiv, from one restaurant to another, only to make sure they didn't want to come to visit me at home. I was ashamed and I didn't want the French to see where I was living.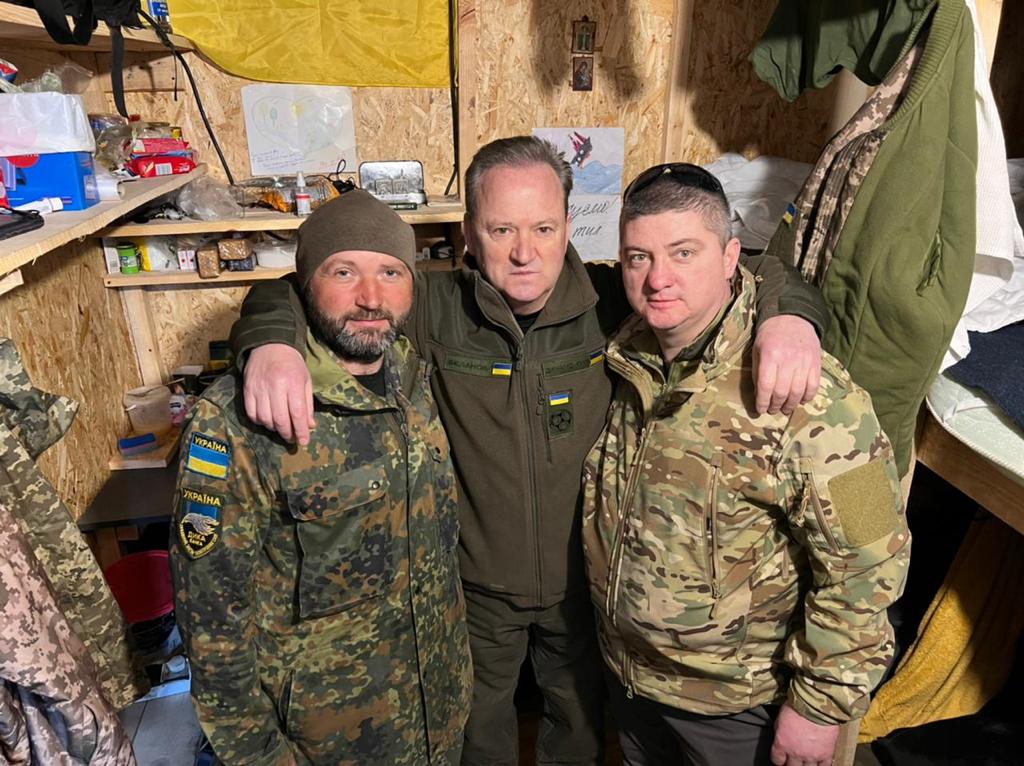 Did you ever expect to win the Ballon d'Or?
I never thought about it. I knew France Football existed, but I never imagined that I'd be compared to Platini. But I won it! I perfectly understood that other colleagues of mine could have won it. I won't say I felt confused, but I wanted to send the message that it was our trophy, that we won it together. Financially speaking, that trophy didn't change much for me. I was already a millionaire. In rubles! (laughs) I was earning a million roubles per year. It went on like this until 1990. When the rouble suffered a major setback and lost its value, I basically lost everything. But I can say I was rich until 1990. I remember I bought a computer from abroad and I later sold it for 40,000 roubles. With that money, I bought a house with a garden and a sauna in Kyiv. I remember I was invited to Wembley to play for a World Stars team at the 100th anniversary of the stadium. All the players in the World Stars team got a bonus of 5000 dollars, including Maradona and Pelé. When I got back home, a guy from the sports ministry came to me and said I should pay the money to the state. I couldn't believe it. "How's that? Why is that? It's my money, I worked to earn them." I told him I had children and a wife to take care of. Honestly speaking, I had already spent them. I bought my wife a fur coat. I asked the official: "Will Maradona and Pelé give their money back too?" I refused to give my money away. But after a while, Lobanovski came to me and said: "Igor, you have to pay them the money. Otherwise, they won't let you leave the country again. Why risk so much for 5000 dollars?" And I listened to him.
How was football back then compared to now?
It was basically the same. I can't say that teams today play better than we did back then. We played at high speed, we used to press, to pass short or long, we were smart as a team, and we had a spark in our game. Lobanovski used to make us watch American football games before our matches. There are fights taking place, bones are torn. And he played a loud sound, he wanted us to hear the bones tearing. We were watching and wondered why we needed to see this. But, in fact, that's how he motivated us. He wanted us to be fearless, to make us play fast and aggressively, to press the opponents. In American football, teams play an organised pressing. We used to despair opponents with our pressing. They got lost and didn't know how to get past it. We were training this pressing of ours during each training session and that helped us. The only team that could resist our pressing was Spartak Moscow. They played one-touch football. But they found it hard to resist our stormy pressing.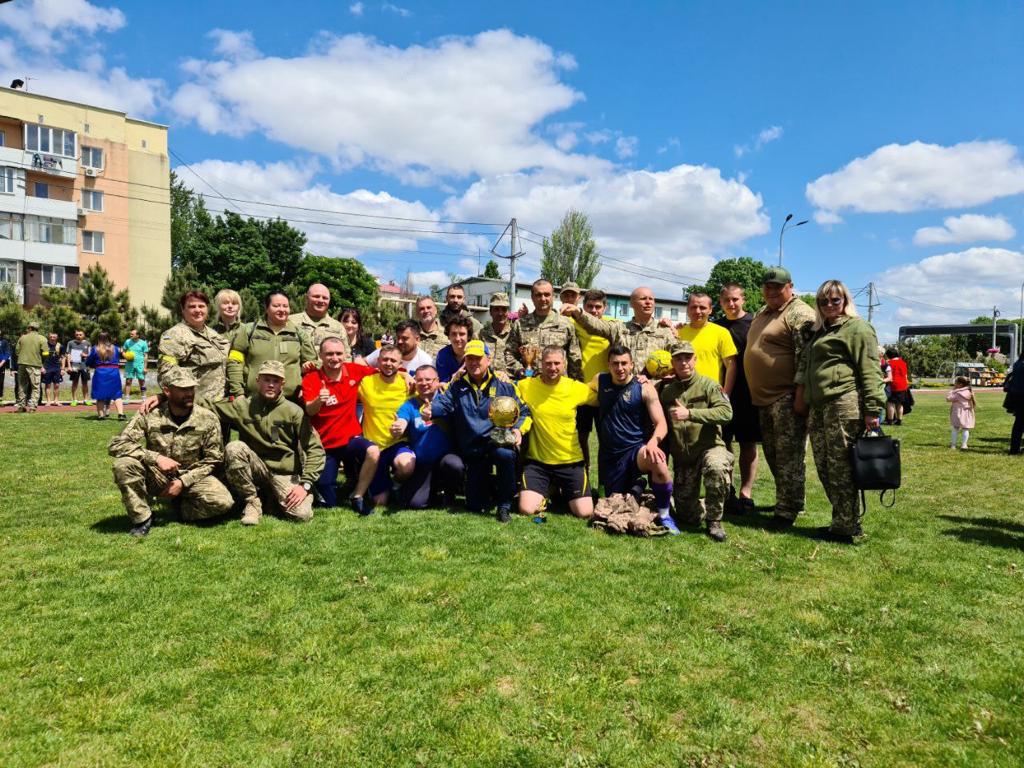 Isn't football faster now?
It is, but, in general, I can't say I see something totally new, something we didn't do. I think that we would even be better if we played now. There was no offside back in the day, as opponents used to take the one on one approach against us. They followed us on the length of the pitch like mad dogs. If I had gone to the bathroom, I would still find an opponent chasing me there. (laughs) I mean it, it happened to me during a friendly. Now, because of the offside tactics, teams leave a lot of space at the back, sometimes even half the pitch. For me, that would have been a great gift, I would have enjoyed running and hurting them. Modern tactics would have meant an easy hunt for me. I'd say Mbappé is playing in a similar style to mine.
When you grew up, who were your idols? And what players do you like in today's football?
I loved Blokhin. My dad used to take me to the stadium to watch Chernomorets Odessa play. He told me he dreamed of seeing me play alongside Blokhin. And it happened. Sadly, my dad couldn't see this with his eyes. Blokhin was the idol of my generation. In today's football, I like Lewandowski a lot. I am sad he didn't win the Ballon d'Or. I think Messi could have given it to him two years ago. It would have been a nice gesture. Apparently, Lewandowski is not playing at great speed, but he scores a lot. He's a real goalscorer. He reminds me of Protasov. He is resilient and finds space all the time. Van Basten also had these great qualities.
What do you think of Haaland?
I adore him. He has unbelievable talent. He is just phenomenal. He is never giving up, he is aggressive and has speed. Without speed, you can't do much in football.
Do you see him at the same level Messi and Ronaldo reached in the last 15 years?
For sure. But it's essential that he has great teams behind him. Van Basten, for example, had great colleagues. Let's just mention Gullit.
What teams do you like watching?
Barcelona. I especially loved them when Messi, Xavi, and Iniesta were there. Iniesta was my favourite player. A real magician. I haven't seen anyone who's better than him. He had the skills, the passing, the shooting, and he controlled space. He was a genius. A fantastic player. I'm sorry Iniesta didn't win a Ballon d'Or himself. But maybe Messi will give him one of his. (laughs)
You got to play in Germany. How was this experience for you?
It was complicated and rather unhappy. They sent the Ballon d'Or winner and one of the best players in the country to Borussia Mönchengladbach. It was a mediocre team back then, they were fighting to stay up. I felt ridiculed. They sent Blokhin to the Austrian second tier. The truth is that we never understood why we were leaving, why we needed these moves. We were happy at Dynamo Kyiv.
You didn't adapt?
There were certain moments I don't want to remember. Zavarov and Oleinikov were luckier than me, they went to Juventus. We were the first generation of players who were allowed to leave and play abroad. Basically, we all failed. Nobody ever asked us where we'd like to go. Politics decided our moves. I wanted to join Atalanta. I even signed a contract with them. I remember they wanted to pay me 100 000 dollars per season. I remember their director explaining something to me, but I couldn't focus because I was counting the zeros. I was fascinated by the amount of money. The money we had in our contracts went to the state. We had no choice. At least all these countries we played in can now support Ukraine during the war.
Does football still excite you?
Of course. I even play when I have the chance. My speed is not anywhere close to the good days, though. Doctors tell me that I need ligament surgery and I'll be as good as new. (laughs)
When did you last scream after a goal?
Every time I watch football, I shout. I like watching good teams. For Haaland, I'm following Manchester City. For Messi, I'm watching PSG. I also watched Chelsea a few times to see how Mudryk was doing. I was totally confused. Forgive me, but you must not be in your right mind to pay 100 million for him. He never scored for Chelsea. If somebody would pay 100 million for me, the opponents would need 11 people to stop me on the pitch. You need to show your character, to be ready to fight anyone!
At the 1986 World Cup, USSR topped a group that France and Hungary were also part of, but went out in the Round of 16 after an epic 4-3 defeat against Belgium. What memories do you have of that tournament in Mexico?
Both good and bad memories. The refs got it wrong versus Belgium, goals were scored from obvious offside situations. I don't know if the refs did it on purpose or not. We also made a huge mistake in keeping the offside trap, despite not playing like that ever before. We hadn't even practised the offside trap. Had we played man-on-man in that game, I think it would have been better for us. If we had won that match, I think we wouldn't have stopped until the final. I was in fantastic form during that tournament. I ran non-stop, at great speed, in 40 degrees heat and I never got tired. It's incredible. I remember they were throwing ice cubes at us during matches to help us fight the temperatures. After that World Cup, I won the Ballon d'Or. It was a good year, we won the Cup Winners' Cup with Dynamo Kyiv at club level.
1986 and 'The Hand of God'…
Yes! It's hard to judge. Maradona should have probably confessed the handball offence. I think that's what a big player does. But you rarely see anyone admit he's not sticking to the rules. I could now tell you that I'd confess, but who knows if I will? (laughs) You worry for your team, for the result. You want to win when you're down there.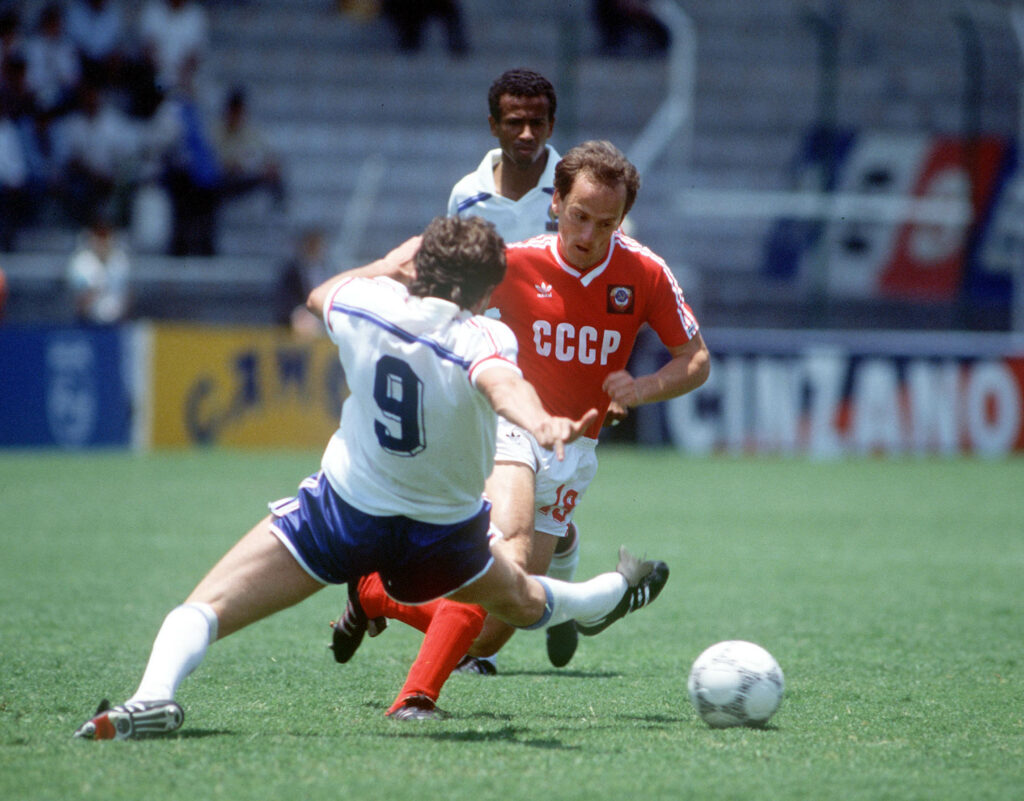 What kind of players did you like to play against?
Platini, Maradona, van Basten, Gullit. The best.
Which were the toughest teams you played against?
I can't say there were tough opponents. We won against Argentina and France. We also beat the Netherlands. We had a great team, capable of winning against anyone.
You are considered one of the fastest players in the history of football. You mentioned Mbappé reminding you of a young Belanov. Anyone else?
I like that Mbappé is putting the ball in front and he's dribbling at great speed. Haaland is very quick too. I used to like Bale a lot as well. I like fast players who know how to cut into space at great pace.
Your speed on short distances could be compared to world record-breaking athletes. How did you train it?
Lobanovski's training sessions were very intense. Every move was projected to take place at great speed. Then, there was my constant preoccupation to cut into the free areas of the pitch at great speed. I always looked at doing that.
If you could go back and change certain things in your life, what would those be?
Football-wise, I wouldn't change a thing. In my personal life, maybe there are a few things. In my opinion, the wife is leading at home, but the man must feel he is. The kids unite us, the family is beyond everything for us. My mother-in-law is a tough woman too. Let me just tell you that the Ballon d'Or is with her now. She's guarding it, no one would dare to get close. (laughs)
How fast can Ukrainian football bounce back after the war?
Football has suffered immensely. A lot of time is needed to heal the country and its football too. I'm so sorry Ukraine didn't make it to the World Cup in Qatar. Who would have thought that Yarmolenko, our captain, would score an own goal? Tragic. I felt like I missed a penalty for the national team. Anyway, we'll win the war and we'll host matches at the 2030 World Cup.
Do you still believe it's possible?
Of course. It's a joint bid that we haven't abandoned. Apart from Donetsk, Chernihiv, and Mariupol, where the infrastructure was affected and we don't have access at this point, we have three cities ready to be part of the bid. We're talking about Odesa, Lviv, and Kyiv. Three modern cities with big stadiums, adequate to standards. From this point of view, it's rather easy. Ukraine proved its willingness to be part of Europe, and that it shares European values. Hosting the World Cup would be a great reward for our efforts and the pain we're going through right now.
What do you miss most from your life before the war started?
Talking to normal people, meeting friends. We are more and more scared, more discrete, we are running from each other. That's my feeling. And when we do meet, we talk about our wives, our kids, our parents. We drink in their honour and that's it.