Fifa is turning a blind eye to strange events in Kenya. Is it because the reigning FA president Nick Mwendwa is an ally of Gianni Infantino?

By Philippe Auclair


The ongoing dispute between Fifa and the Trinidad & Tobago Football Association (TTFA) shows one thing: that so-called 'normalisation committees' are one of the most powerful tools – some would say 'weapons' – at the disposal of Fifa.

A letter sent from Fifastrasse 20, Zürich, is all it takes to suspend an existing administration and to replace it with a 'normalisation committee', as the board of the TTFA found to its cost, when Gianni Infantino's close friend Véron Mosengo-Omba, Fifa's Director of Development for Africa and the Caribbean, decided to intervene against the newly-installed regime for reasons which, seen from the outside, remain as baffling as ever. 

BECOME A PATRON AND SUPPORT JOSIMAR'S JOURNALISM. CLICK HERE.
 
TTFA President William Wallace and his group had only been in charge of TTFA affairs since late November 2019, and had fully cooperated with Fifa since, but this made no difference. Could it be that the swiftness and decisiveness of Fifa's action had something to do with the fact that the new TTFA administration had ousted one of Gianni Infantino's earliest and strongest allies in the region? David John-Williams had been the first Caribbean leader to support Infantino's presidential campaign in 2016. Infantino had unequivocally supported John-Williams's bid for re-election in 2019. But John-Williams had been defeated.

Conversely, and paradoxically, the potency of the normalisation process can also be gauged when Fifa does exactly the opposite of what it did in the case of Trinidad & Tobago: when it seems clear and obvious that immediate intervention – in the form of a normalisation committee – is required, to the point of being formally requested by the country's authorities, and it decides to do nothing.

This is exactly what is happening in Kenya right now. This is the other side of the normalisation coin; Kenya, to which Fifa has decided to turn a blind eye, despite the country's highest sports arbitration body, the Sports Disputes Tribunal (SDT), formally requesting Gianni Infantino's organisation to intervene and – yes – "appoint a normalisation committee for the purpose of, inter alia, holding the elections of the Football Kenya Federation (FKF)". This was on 17 February 2020. Nearly two months later, we're nowhere nearer to such an appointment.

Véron Mosengo-Omba and Fifa had been much quicker to act in Trinidad & Tobago, where nobody had asked for their help, and nobody but a defeated administration wished for their intervention. Why could that be?

To understand this, we must go back in time and tell a strange and convoluted Kenyan tale, that of The Van Which Wasn't There.

The terminated contract
Just as was the case in Trinidad & Tobago, where the use (or misuse, depending on whom you listen to) of Fifa funds devoted to the building of a 'Home of Football' in the small Caribbean nation was the catalyst for the ousting of TTFA president David John-Williams and led to the current crisis, it is another Fifa grant and its use (or misuse, depending on whom you listen to) which lie at the root of the scandal which has erupted in Kenya.

It all started in 2017, a little over a year into the reign of new FKF president Nick Mwendwa, a young Nairobi 'techpreneur' who was also the founder and owner of Kariobangi Sharks FC, a team which gained promotion to Kenya's top division immediately after Mwendwa's administration, in one of its first major decisions, extended the number of clubs playing in the Kenyan Premier League (KPL) from 16 to 18.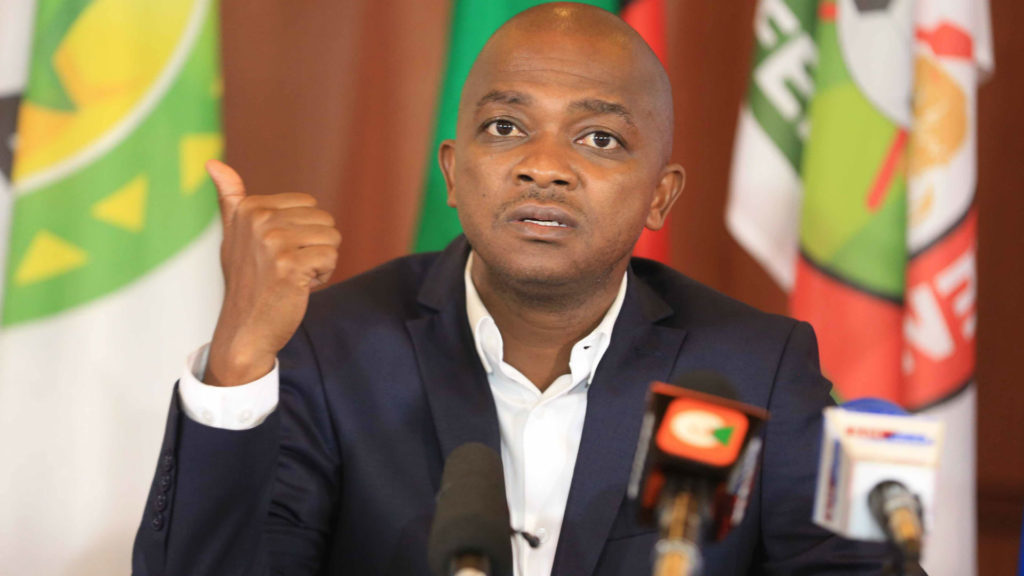 This, however, constituted a breach of the agreement that the KPL had recently signed with the South African network SuperSport, one of the continent's undisputed broadcasting giants. The contract, which was supposed to run over five years, was terminated there and then, depriving the KPL not just of financial resources, but also of the technological means to film its own games and sell the images to other rights-holders.

What to do?

FKF's idea was to take on the responsibility of producing its own content for both the local and the international markets; but, to do this, the FKF needed to acquire the right equipment, starting with an Outside Broadcasting (OB) van – basically a recording, editing and broadcasting studio on wheels – which could travel from ground to ground and beam out images from the KPL, but also from encounters involving the national team, the Harambee Stars. This equipment, however, didn't come cheap, though perhaps not as prohibitively expensive as it turned out to be for the financially-fragile FA, as we'll see.

The FKF did what logic suggested it should so: they turned to Fifa, who, through its Fifa Forward Development Project programme, which is overseen by Véron Musengo-Omba in his role of 'Head of Development' for Africa and the Caribbean, could channel the necessary funds. Mwandwa's team produced an 8-page document in which it stated that the total cost of the 'broadcasting project' would be $2,157,300, of which it requested Fifa to provide $1,350,000, the FKF footing the rest of the – non-itemised – bill.

So far, so good and uncontroversial, unlike what was to follow, and which Josimar has pieced together from a multitude of often conflicting accounts, speaking to all of the parties involved.

What is not in doubt is that Fifa sent a delegation to Kenya to vet the proposal in the autumn of 2017. This delegation was placed under the ultimate control of Musengo-Omba, who, whilst not travelling in person to the Kenyan capital, gave his blessing to the proposal, and assented to put the $1,350,000 that the FKF had asked for at their disposal. Fifa told Josimar that its team "was shown the broadcast van and support van (including the specialized equipment), which were at the SuperSport offices and would be delivered to the FKF". Satisfied with what its team had seen, Fifa added, "Fifa approved the purchase of the OB vans and specialized equipment given that it aimed to allow the FKF to broadcast its own local league matches and and reduce international match broadcast costs compared to the arrangement that was in place at the time".

At which point the plot thickens to the point of raising numerous questions about the competence and, indeed, the integrity of many of the actors in this strange story.

To start with, the soon-to-be infamous OB van belonged to SuperSport, the very broadcaster which had annulled its contract with FKF in fraught circumstances.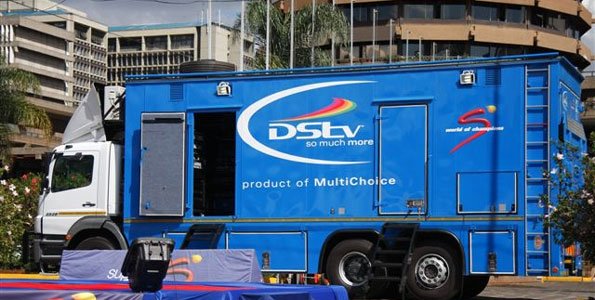 While it owned the vehicle, a Mercedes Benz Vario 815KA, of which Josimar has seen all the documentation, it was not SuperSport themselves who sold it to the FKF.

Instead, as confirmed to us by Fifa, it was a UK-based company called WTS Media Group Ltd (itself part of a group of companies whose ultimate beneficiary owner, WTS Holdings Ltd, was based in Hong Kong) which took over the sale, despite not owning the OB van and, indeed, never paying a cent or a penny towards its acquisition to the actual proprietor, SuperSport.

Now, why would FKF pay 1 million dollars to a company it had never done any business with and which could provide no proofs of ownership of the broadcasting truck?

Fifa's peculiar suggestion
Fifa told Josimar that WTS Media Group Ltd was "selected following a tender process run by FKF after having presented a track record in broadcast operations and partnerships on the African continent". After which FIFA approved the selection of WTS "based on the justifications provided".

Whilst a couple of Kenyan media outlets reported the role played by an unnamed local broker in the transaction, there is no evidence that any other company submitted a tender for the OB van. Neither is there any indication as to how and by whom a company based in a London suburb could have been informed of this business opportunity in East Africa. Looking at the long list of creditors which was drawn after WTS Media Group Ltd went into administration – we'll come to that – we could not find trace of any which was located in sub-Saharan Africa either, which does beg questions about this company's supposed track record in the region, even if one of its sister companies had operated in Nigeria.

Josimar was also told by a source close to the deal that it was Fifa themselves – under the auspices of Véron Musengo-Omba – who suggested going through WTS Media Group Ltd to acquire the OB van, as the company had previously worked with Fifa.

The price of the van itself, 1 350,000 dollars, seemed exorbitant. Built in 2012, the vehicle had been fully amortised by SuperSport and had an accounting value of $0 for the South Africa-based broadcaster; and when Josimar searched for a second-hand vehicle of the same age, fitted with a similar range of equipment, we found one on offer at $162,000 – eight times less than the price the FKF agreed to pay WTS Media Group. Even allowing for variations in the technical specifications of the vehicles in question, and adding the price of a 'support vehicle', this does seem a rather significant discrepancy.

It is also worth noting that this price coincided exactly with the amount which the FKF had requested from the Fifa Forward programme, proof that some kind of agreement had already been sealed with the supposed seller – which was yet to purchase the Mercedes van from SuperSport, and in fact never paid for it. Fifa said as much in their detailed response to Josimar's queries: "The FKF/WTS Media Group contract was shared with Fifa and considered in the Forward project's statement of approval between Fifa and the FKF".

The FKF from then wired 1 250,000 of the 1 350,000 dollars Fifa had granted them to the British company, the remaining 100 000 to be paid on delivery of the OB van; but there was to be no delivery.

It is not entirely clear whether, as was suggested to Josimar, some at the top of the FKF, including its president Nick Mwendwa, knew of WTS Media Group Ltd's perilous financial situation at the time of the sale, but it wouldn't be long before everybody was made aware of it. WTS Media Group Ltd (which has yet to file its accounts for the year ending 30 June 2018) owed an awful lot of money to an awful lot of people, and when faced with a huge claim by HSBC bank, called in administrators. Martha Thompson and William Tait of London-based BDO LLP were appointed to sort out the company's affairs on 11 April 2019. Judging by their reports, it looks as if WTS Media Group, which had been teetering over the edge for a while, was pushed over the cliff by the failure of a sister French company.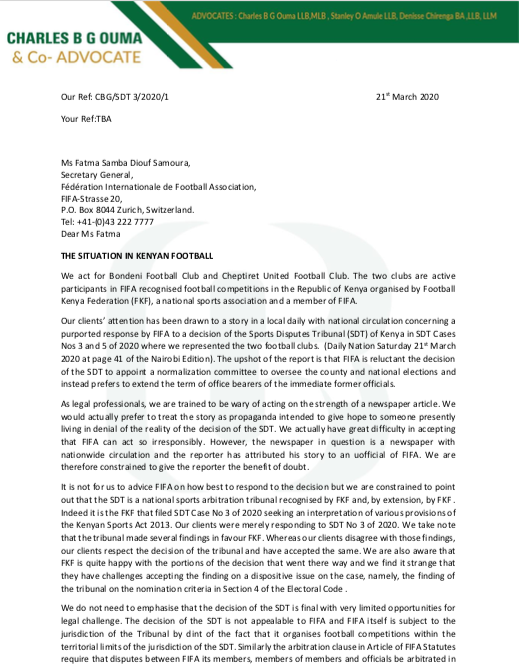 There was and is very little chance that any of WTS's creditors will ever get anything back, especially if they were unsecured, which the FKF apparently was. Fifa's money had disappeared through a black hole.

Strangely, given that it had paid over $1m to WTS in March 2018 (the transaction appears in its own 2018 Financial Statement), the FKF appears nowhere in the list of creditors that was drawn by the administrators and which Josimar has examined at length. We contacted these administrators on two separate occasions to clarify whether this was an oversight or not, but have not received any reply to our requests.

SuperSport repossessed the vehicle and sold it on – for how much, we do not know – to an obscure company associated with one Auka Gecheo, the network's former General Manager for East Africa, known to be a friend of FKF president Nick Mwandwa.

Josimar sought clarification about most of the points mentioned above from the FKF. We contacted Barry Otieno, the organisation's Head of Media at the time the deal with WTS Media Group was struck, now the FKF's current Secretary General in Nick Mwandwa's administration. This is the response we received.
"To gain insight and better understanding of the issues and questions raised by yourself, please feel free to visit the FKF offices in Nairobi, once the situation of the Covid – 19 outbreak improves and restriction on international travel is uplifted in Kenya.
During the said visit our communication team will not only provide you with any and/or all documents regarding the issues raised but I will also be available to respond to any follow up questions you might have, regarding the same".
Thinking that we might have received an automated reply, we asked Mr Otieno if that could be the case. It was not. He reiterated his offer to welcome us in Nairobi "once the Covid situation improves and restriction on international travel is uplifted (sic)", proposing to put all the documentation (of which we'd asked digital copies) we requested at our disposal, adding:

"Further, and for the record FKF wishes to state that there was no third party involved in the procurement process of the OB van and that most of the questions raised by yourself are a reflection of a gutter website (name redacted) and (name redacted) whose editors (names redacted) are associated with former FKF president Sam Nyamweya and have been on a smear campaign against the federation for their own selfish interest".

This is as far as Josimar got with the FKF.

The FKF drew a report on the non-delivery of the now infamous OB van, which it passed on to Fifa. This report was supposed to be discussed in Nairobi, at which point the COVID-19 pandemic struck, and it was proposed that the planned meeting should take place via video link, before Fifa informed the FKF that it had been postponed to May 2020, "once travel restrictions are lifted and upon receipt of further information from the FKF on the health situation in Kenya". It was not the first time that we'd heard this – undoubtedly potent – argument.

Given that Kenya is only at the start of its own COVID-19 crisis, it might be a long time before this meeting takes place, something which many actors in this strange tale might actually welcome.

And the OB van debacle was only the start.
A Kenyan election
FKF President Nick Mwendwa and his administration had every reason to fear that the squandering of the Fifa Forward grant on Supersport's vanishing van would provide their opponents with a significant, perhaps decisive trump card to play when time would come to hold the next FKF presidential elections at the beginning of 2020. Mwendwa had wrestled power from incumbent Sam Nyamweya in acrimonious circumstances, his main opponent, lawyer and Gor Mahia FC chairman Ambrose Rachier all but accusing him of bribing delegates to the tune of Sh125,000 (about $1,250) per vote. "I do not have proof but have word that it happened", Rachier told the Kenyan media, before adding, quite implausibly, that he was looking forward to working with the new chairman.

It hadn't been the most auspicious of starts for the 37-year-old entrepreneur, handsome as his winning margin – 50 votes to 27 – had been in the end. There was every chance that his rivals would seize on the opportunity that the OB van fiasco presented them with to challenge his legitimacy. The Broadcasting initiative had been Mwendwa's response to SuperSport terminating their contract with the FKF – a termination which, it could be argued, had been at least partly caused by Mwendwa's decision to enlarge the KPL to eighteen teams, including his own. Money was so tight within the Kenyan FA that players from the women's national football team were left waiting for the reimbursement of some of their personal expenses – let alone the payment of their match fees. If it could be shown that Mwandwa's administration had misused over $1m of Fifa money…

So perhaps it shouldn't come as a surprise that it took a full six months for the collapse of WTS Media Group to become a matter of public knowledge in Kenya, the first reports being published on 11 October 2019, following leaks from the FKF board. WTS had appointed administrators on 11 April.

11 October. That is six days after the FKF had approved the nomination of an Electoral Board at its AGM, even though there were still five months to go before Mwandwa's mandate expired. The speed at which the wheels of the electoral process set in motion surprised everyone. County officials would be elected on 23 November. Those officials would then pick both the FKF National Executive Committee and its president in early December. Why such haste? Mwendwa's critics immediately seized on this. To them, this confirmed that the FKF president had no wish to see a new administration look into what had happened with WTS Media Group Ltd, and in which black hole over $1m of Fifa's money had been sucked into.

What is more, it did look as if FKF had taken liberties with Fifa statutes as well as its own. For example, the 'new' Chair of the FKF National Executive Committee, Professor Edwin Wamukoya, had been picked by the Mwendwa camp when he was in fact ineligible for the position he'd occupied since 2016, as it was expressly prohibited to serve two consecutive terms.

Even more seriously, it was claimed that 5,000 out of the 6,000 clubs which were affiliated to the FKF had been denied the right to nominate their representatives at national level. The eligibility rules had been narrowed to such an extent that it was virtually impossible for any 'outsider' to compete in the elections. The result was that in 39 out of the 47 counties where the election took place, presidents, deputies and officials ran unopposed.

Mwendwa too was to stand unopposed for a second and final term as FKF president, something which can't have displeased the Fifa hierarchy too much in political terms, as Mwendwa had a been a keen Infantino supporter back in 2016, when the then-UEFA official made his bid to become Fifa president.

Mayhem ensued. Following representations by over sixty Kenyan football stakeholders, Kenya's supreme sports arbitration body, the Sports Disputes Tribunal (SDT) annulled the elections which were supposed to take place on 7 December, five days before voting was supposed to start – cancelling as well the borough elections which had already taken place.

Fifa intervened through its Governance Services Manager Sarah Solemale, insisting that the elections should take place before 10 February 2020, when Mwendwa's presidential term would expire. They did not. The ball was hit further down the park, and a new date was set towards the end of March, 2020, to which Fifa agreed, stating this time that 30 March would be the absolute limit as far as they were concerned.

That was not to be. On 17 March, the SDT, whilst finding in favour of the FKF on a number of points, ruled that the eligibility rules put in place by the Kenyan FA constituted "clearly an illegitimate barrier to candidature and fully [explained] why […] the positions of President and vice president have only one candidate making the election effectively a coronation (our italics). There are apparently numerous other positions in which there is no contest to the candidature of the incumbent".

The SDT went further. The Court effectively dissolved the FKF board, stripped Mwandwa of the presidency and called on Fifa to intervene. It is worth quoting their decision in full, if only to show how unequivocal it was.
"The third option presented to the Tribunal is to request FIFA to appoint a normalization committee in terms of Articles 8 and 14 of the FIFA Statutes. This is the route that best commends itself to the Tribunal and accordingly this decision will be transmitted to FIFA with the request that it appoints a normalization committee of the Football Kenya Federation, whose mandate would include to run the daily affairs of FKF, to review the FKF Constitution 2017 and to organize and conduct the elections for FKF. It is hoped that this proposition will commend itself to FIFA and that it will take immediate steps to appoint a normalization committee and advise FKF and the Tribunal of the identity of the persons recommended for such appointment. […] For the avoidance of doubt, the term of office of the present FKF NEC [National Executive Committee] is now at an end".
Except that, for Fifa at least, it wasn't.
*
Véron Mosengo-Omba's email arrived in FKF Secretary General Barry Otieno's inbox on 25 March, eight days after the SDT ruling which had expressly asked for Fifa to intervene in FKF's affairs.
"First and foremost", Mosengo-Omba wrote, "we would like to highlight that the FKF statutes do not expressly recognise the jurisdiction of the SDT as being the ultimate arbitration forum at national level. Moreover, we note that the SDT is not a national arbitration tribunal in the sense of FIFA circular 1010 dated 20 December 2005. Despite the aforementioned, the FKF surprisingly subjected to the SDT by its own initiative while it was not obliged to so do as per its Statutes. This however does not entail that the SDT decisions are binding on FIFA when it comes to its prerogatives and remit for which the Court of Arbitration for Sport (CAS) in Lausanne, Switzerland has exclusive competence (cf. art. 57 and 58 of FIFA Statutes, 2019 edition). Therefore, we wish to emphasize that the relevant SDT ruling has no legal effect on FIFA."
"In this context and for the sake of peace, FIFA is ready to meet as soon as possible with the FKF, the SDT representative(s), the Minister of Sport and any other relevant stakeholders in order to find a way forward. In this respect, should the world health situation not evolve positively by 6 April 2020, we shall contact you to explore other possibilities including a meeting by video conference" (As we've seen, this meeting has now been pushed back to May 2020 at the earliest).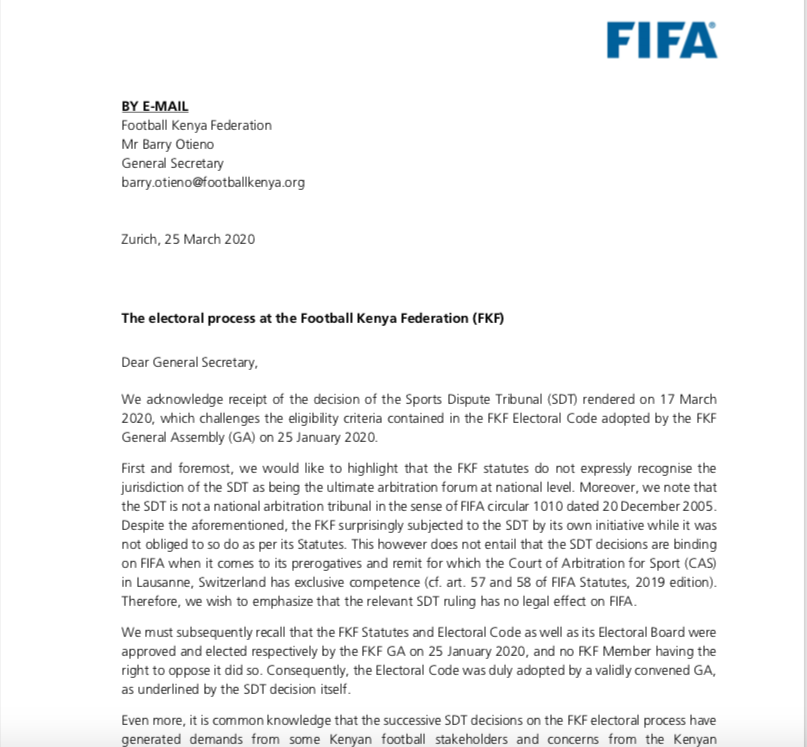 "Pending this meeting and for the avoidance of any doubt, the current FKF Executive Committee members, including its President, shall remain in office". Even though their mandates had already come to an end, irrespective of SDT's ruling.
While this must have been sweet music to Nick Mwendwa's ears, the SDT Chair John Ohaga could hardly believe his own. "It appears to contradict what I discussed with Fifa", the judge told Standard Sports. "If Fifa are unhappy, they can appeal to CAS. FKF runs football in Kenya first and foremost and they have to abide by decisions of the Sports Disputes Tribunal of Kenya".
Why was it then that Fifa, and more pointedly Véron Musengo-Omba, felt compelled to fall back on debatable technicalities to justify their inaction in Kenya, when they had certainly shown far less reluctance to act in the case of Trinidad & Tobago?
In one instance, the supreme sports authority of Kenya had annulled two elections which it considered iniquitous, following a clear judicial path; but Fifa had chosen to look the other way, despite being asked to intervene.
In the other, that of Trinidad and Tobago, a new administration had been elected following a democratic process; yet Fifa had inflicted the most serious punishment it could resort to – a normalisation committee – less than four months after this administration had assumed power.
In one instance, Fifa had de facto protected an ally of Gianni Infantino, Nick Mwendwa, who stood to face some uncomfortable questions about the OB van debacle – in which Fifa and, indeed, Véron Musengo-Omba had played an active role – should he be replaced at the head of the FKF.
In the other, Fifa had de facto punished a regime which had put an end to the reign of another ally of Gianni Infantino, former TTFA president David John-Williams, who also stood to to face some uncomfortable questions about the use of $2,5m devoted to the construction of T&T's 'Home of Football', in which Fifa and, indeed, Véron Musengo-Omba had played an active role.
In both instances, a normalisation committee – and its pendant, the refusal to resort to it – had been key weapons in Fifa's arsenal, and allowed it to assert control over a member association, and this when Fifa's own statutes (Article 8.2) specify that "executive bodies of member associations may under exceptional circumstances be removed from office by the Council in consultation with the relevant confederation and replaced by a normalisation committee for a specific period of time".
That the FKF found itself in 'exceptional circumstances' could not be denied, when Kenya's supreme sports arbitration body had annulled two rounds of elections. But Fifa refused to heed its request for help. In which way could Trinidad & Tobago's circumstances have been more 'exceptional'?
This brings to mind the wording of another article of the Fifa statutes, article 14.1 (i), which reminds Member Associations that they have to "manage their affairs independently and ensure that their own affairs are not influenced by any third parties"; which, in turn, begs the question: could one of these 'third parties' be Fifa itself? 

BECOME A PATRON AND SUPPORT JOSIMAR'S JOURNALISM. CLICK HERE.