Should a man who attempted to steal 10 million dollars be allowed to stand for the Cosafa presidency?
By Samindra Kunti
On Saturday, Cosafa, the Council of Southern Africa Football Associations, will elect a new president to succeed Phillip Chiyangwa, a one-term chairman whose reign was as colourful as it was controversial, and, above all, instructive. Elected unopposed in 2016, Chiyangwa, a businessman and relative of the late dictator Robert Mugabe, rose to fame when he helped to dethrone Issa Hayatou and end the Cameroonian's 29-year long, iron-fisted reign at the Confederation of African Football (Caf).
Chiyangwa bragged that Hayatou's downfall was engineered at his birthday party, with Fifa president Gianni Infantino and current Caf president Patrice Motsepe as chief guests. He said: "I did this. The council for removing Hayatou was the one you saw at my birthday party. This victory was my own art, my particular artistry. I have totally silenced this guy."
Instagram posts aside, Chiyangwa's boasting and self-proclaimed status as a powerbroker didn't last long. His power began to fade. In 2019, the year Mugabe passed away, Chiyangwa was banned for life as the president of Zimbabwe Football Association (Zifa) for "bringing Zimbabwean football into disrepute." Zifa alleged Chiyangwa of "unilaterally submitting an incomplete bid document" to host that year's Cosafa Cup "without getting a government guarantee."
Cosafa has always relied on government guarantees and financing from host nations to organise tournaments, even if it's one of Africa's most powerful regional governing bodies, with fourteen member associations and corresponding voting power in the Fifa presidential elections.
Which makes Saturday's Cosafa presidential elections all the more important. Perhaps 'elections' is a misnomer. There is only one candidate: Artur de Almeida e Silva, 53, the president of the Federação Angolana de Futebol (FAF). In 2016, he was elected FAF president on a simple and populistic ticket 'Serve football and the nation'.
On the face of it, the FAF president has done very little to help football in Angola. Sources tell Josimar that he has misappropriated money from the Covid-19 Fifa relief fund, which allows member associations to apply for 1,5 million US dollars in grants, including 500,000 dollars for women's football. At the end of March, referees went on strike over a lack of payment by FAF leading to the suspension of Angola's top flight, the Girabola.
Perhaps, the writing had been on the wall with Artur de Almeida e Silva. In 2015, he was convicted of 'furto domestico' by a Luanda court. In Angola, the FAF president's nickname is the Unitel thief. And with good reason.
In the 90's, Artur de Almeida e Silva ran Clube Vitória do Sambizanga in Luanda before he became a FAF vice-president from 2008 to 2010, but he had the reputation of a businessman. He was an owner of Arosfram, a company that sold fresh produce like meat, poultry and eggs across Angola. However, one of his business partners, Kassim Tajideen from Lebanon was first banned from entering US territory over suspected ties to Hezbollah before a federal court in Washington D.C. sentenced him to five years in prison following charges of laundering money for Hezbollah. US authorities did not respond to Josimar whether Artur de Almeida e Silva had also been banned from entering American soil.
But if Artur de Almeida e Silva associated with a highly questionable business partner, he did not hesitate to go a step further. As owner of Zanuza, another commercial venture, he attempted to steal 10 million US dollars (1 billion Kwanzas) in 2012. Yes, 10 million dollars.
The future FAF president relied on accomplices to transfer the billion Kwanzas from the telecoms company Unitel to an old account of Zanuza, with the promise of dividing the money. But when accomplices tried to withdraw money from an ATM in downtown Luanda, BCI bank as well as the local police were alerted.
Luanda's court wrote that "the conduct of defendant Artur de Almeida e Silva, a man with huge commercial experience, is to be broken down in three moments: he is the owner and director of a renowned company; he negotiated with someone without power of attorney; he signed a cheque and sent to withdraw money without verifying the provenance, as well as contacted the responsible at BCI to verify the existence of money transfers to his account."
The cover for the billion-Kwanzas transfer was a non-existent commercial partnership, wrote the court, before, in 2015, sentencing Artur de Almeida e Silva to a two-year suspended prison sentence, guilty of 'furto domestico' of article 425 of Angola's penal code.
That did not stop him from becoming FAF president in 2016, despite article 25 of the FAF's statutes that requires "never having been punished for infringements of criminal nature" to be eligible for any organ at FAF, a rule far more rigorous than Cosafa's own statutes or even Fifa's rulebooks. Artur de Almeida e Silva, however, benefitted from the amnesty Angola's president Jose Eduardo dos Santos granted in 2015.
Fifa's legal intervention
When it comes to the current FAF president, controversy is never far away. In 2020, he retained his position, but local courts suspended Artur de Almeida e Silva's re-election because FAF's electoral commission had barred Norberto de Castro from running against the incumbent
In February 2021, however, Véron Mosengo-Omba, then Fifa's chief member associations officer and now a Zurich stormtrooper as Caf's secretary-general, threatened to wield Fifa's favourite stick to force member associations into submission: suspension over third-party inference. Mosengo-Omba dismissed the ruling of Angola's local court and wrote in a letter, which is in Josimar possession, that "In this respect, we would like to remind you that according to art. 14 par. 1 lit. i) and art. 19 par. 1 of the Fifa Statutes, all member associations of Fifa, including the FAF, are obliged to manage their affairs independently and without undue influence from third parties, including government authorities. Any breach of this obligation may lead to sanctions as provided for in the Fifa Statutes, which may also include the suspension of the member association."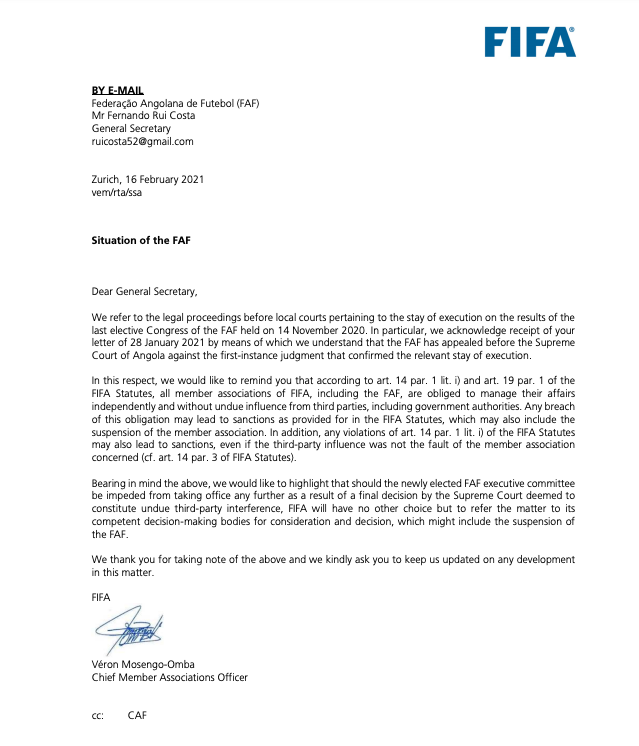 Fifa, Mosengo-Omba and Artur de Almeida e Silva prevailed, but not without scrutiny, casting further doubt on the FAF president's integrity. In 2021, Caf needed extra time to confirm his eligibility to compete for a seat on the confederation's executive committee, a vote the Angolan eventually lost to Elvis Chetty from the Seychelles. According to sources, he did not pass an eligibility test to stand for Fifa's Appeal Committee, which is 'responsible for hearing appeals against decisions from the Disciplinary Committee and the Ethics Committee'. He was replaced by Sao Tomé and Principe's Domingos Monteiro.
All of this begs a simple question: why and how is the Angolan standing for the Cosafa presidency, unopposed after the unpopular South African Danny Jordaan withdrew from the race? Angola's domestic football has been suffering and the region has more qualified candidates for the position than Artur de Almeida e Silva, whose track record shows, beyond doubt, that he is not fit for office.
The Angolan enjoys some proximity to football's top officials, including Fifa president Gianni Infantino. Queried on Angola's Radio 5 about the optimism of both the Fifa boss and Caf president Patrice Motsepe ahead of his election, Artur de Almeida e Silva's response left little to the imagination. He said: "If it was not like this, then today I would not have been the only candidate."
Throughout the 28-minute interview, Angola's football supremo never stopped stressing that it was all "for the good of the game". Sources indicate that the Angolan will be co-opted to CAF's ExCo at the behest of president Motsepe. It pays off then to have friends in high places.
And with the election of Artur de Almeida e Silva as Cosafa president on Saturday, no one would be surprised if all 14 member nations would vote as a bloc for Gianni Infantino who is standing for re-election at next year's Fifa congress.
Josimar has for several years been covering African football politics extensively. If you have any information that you think we should know about, please contact our reporters samindrakunti@protonmail.com and/or phillipeauclair@protonmail.com