If anything, the human rights situation in the UAE is even worse than in Qatar.

By James Montague

There were quite a few stories about football in the Persian Gulf this week, which means you might have missed two that went under the radar. The United Arab Emirates is currently hosting the 2019 Asian Cup, the continent's equivalent of the European Championship. It has its fair share of Cinderella stories; both Yemen and Palestine have qualified for the finals, overcoming huge obstacles to be there. And the tournament will be dominated by the on going blockade or boycott (depending on which side you are on) of Qatar by a coalition of Arab countries lead by Saudi Arabia and the UAE. In fact, Qatar play Saudi Arabia later this month which should be interesting given that the UAE's Attorney-General announced in 2017 that showing any support or sympathy for Qatar could land you in jail for up to 15 years or a 500,000 dirham fine, around 120,000 euros. If any supporters do fancy cheering on Qatar at the Zayed Sports City stadium in Abu Dhabi on January 17, good luck.

"Good for your health"
But January has also become the month when teams from across Europe make the regular pilgrimage to the Gulf for their warm weather training camps. Both the UAE and Qatar have built world class facilities that attract some of the world's best teams. So the arrival of Ole Gunnar Solskjær's Manchester United team at the Nad Al Sheba Sports Complex in Dubai was a fairly low-key event, routine even. The club posted regular updates and the odd anodyne quote from the players and coaches praising the trip, the facilities and of course the weather, a balmy and steady 28 degrees Celsius. Juan Mata even extolled the health benefits of the trip. "They also say that the sun makes your body produce vitamin D, which is good for your health," he wrote on his blog, which was published on the Manchester United website.

But there was another story about this winter's warm weather camps that tells a different tale. Finland international Riku Riski refused to travel to Qatar for a warm weather training camp with his international teammates. His reasoning? Qatar's poor human rights record. "I got the call and after that I discussed the issue with the team's fixer and head coach," he told Finnish newspaper Helsingin Sanomat. "The reasons for my decision were ethical ones, and the values to which I want to stay true. In my opinion that was important."

Finland's football association defended the decision whilst also pointing out that it paid for the trip in full and was not subsidised by Qatar. "It is of course his decision," said Ari Lahti, the chairman of Finland's FA, of Riski's decision. "National team activities are voluntary, nobody can be compelled. But from an ethical perspective it feels strange that I am here with Nordic union leaders and football association chairs drawing attention to the same issue as Riku. In that sense Riku's decision seems silly."

UAE worse than Qatar
There have been other criticisms of teams travelling to Qatar. Bayern Munich were also in Qatar but faced a barrage of criticism from human rights NGOs and their own fans. One group of Bayern ultras, Schickeria, have consistently criticised the club's connections to Qatar, which include a sponsorship deal with state owned Qatar Airways worth at least 10 million euros a year, maybe more. The uproar forced Bayern's CEO Karl-Heinz Rummenigge to seek assurances from Germany's foreign minister and claim that he had been told "that the situation for workers in Qatar has improved thanks to football." That is true to some extent. Qatar has announced that it is to abolish Kafala, the system under which an employer essentially controls their employee and which has been compared to a modern form of indentured slavery, along with a series of other reforms largely thanks to pressure from human rights groups and a barrage of negative press. Although how much of that is on paper or in practice is still to be seen.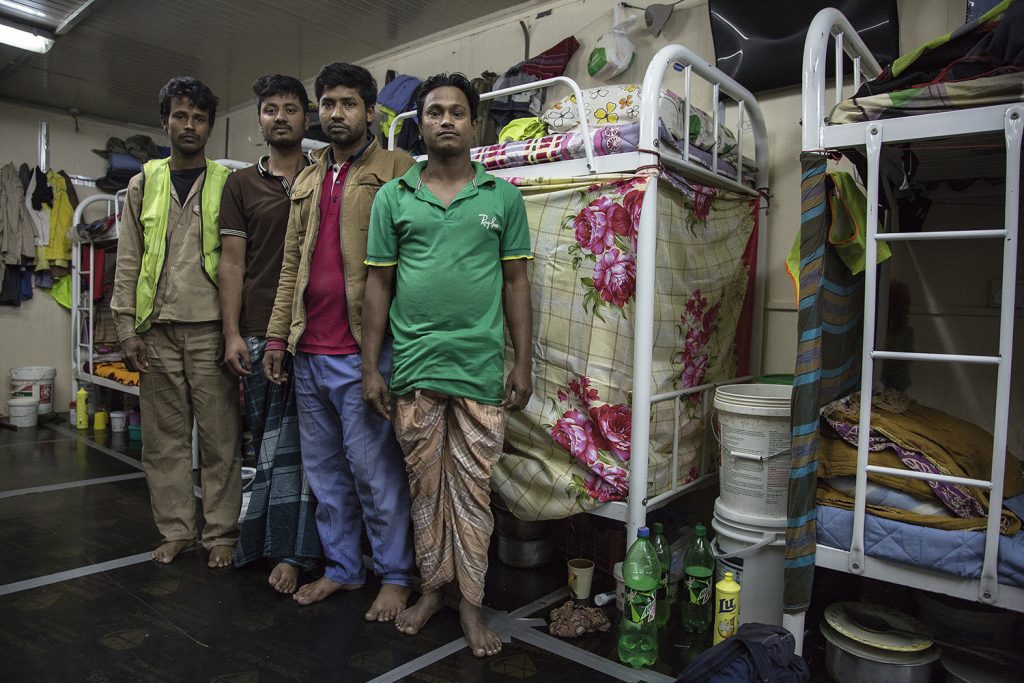 But the contrasting treatment of Manchester United and Bayern Munich, and indeed the Finland national team, by their domestic audiences raises an important point. On the one hand Qatar is, rightly, pilloried for its record on worker rights. But Dubai and the United Arab Emirates often receive a free pass despite its own terrible record. The Kafala system is alive and well in the UAE with exploitation and abuse commonplace and little meaningful reform on the horizon. Democracy is virtually non-existent, torture is widespread in its jails and speaking out against the government, or even tweeting any criticism, can land you in jail for ten years. If anything, the human rights situation in the UAE is even worse than in Qatar.

Exploitation and abuse
The award of the 2022 World Cup to Qatar back in 2010 changed the whole conversation about worker rights in the Gulf. Suddenly, human rights did matter. The issue of Kafala had largely been ignored up until then. I had worked in Dubai between 2004 and 2006 and over the past decade and a half I have visited dozens of labour camps to witness the poor treatment of migrant workers first hand. It was the UAE's dirty little secret. Most ex pats justified the presence of an indentured underclass by shrugging their shoulders. This is the system. They come here by choice, they work hard, they build a house back home and retire. It's just capitalism, right? But often this wasn't the case at all. The situation of migrant workers in the UAE was dire. Cattle like living quarters, crippling recruitment fees, persistent non-payment of wages, regular passport confiscations and little to no chance of fighting their cases in the courts meant many workers were trapped, unable to get home and forced to stay. It often meant they actually earned less in Dubai than they would back in India or Bangladesh or Pakistan or Nepal. But these stories would not appear in the local press. One editor working for a major newspaper in the UAE had even told staff to discard any CVs or cover letters that even mentioned the issue of worker rights.

But the World Cup seemed to awaken interest in the issue. Suddenly people were very concerned that the 2022 finals would be built by millions of Asian and African workers with few rights whilst enduring terrible conditions. It rightly became a focal point and has lead to some reforms, much more than in the UAE. When I was researching my last book, The Billionaires Club, I travelled to Bangladesh to speak with workers who had been arrested, allegedly tortured and then deported after being accused of going on strike for a few euros more a month. The men worked on building a new campus for the New York University in Abu Dhabi, the UAE's largest emirate and capital. The project was, ultimately, overseen by Khaldoon al Mubarak, the chairman of Manchester City and a trustee of the university. Despite some cosmetic reforms "Migrant workers," Amnesty International wrote last year, "continued to face exploitation and abuse."

Criminalising dissent
The UAE is a federation of seven emirates, each with their own royal family. Abu Dhabi is the power centre and capital run by the Al Nahyan family. Sheikh Mansour, the owner of Manchester City, is one of the family's most powerful sons. Abu Dhabi also holds much of the country's oil and wealth. But the 2000s belonged to Dubai which, under the guidance of Sheikh Mohamed of the Maktoum royal family, had built itself into a tax free, pro-Western business haven. It also set the template of using sport as a way of promoting itself internationally, something that Abu Dhabi has followed doggedly by bankrolling Manchester City.

But in the aftermath of the 2008 global financial crisis, Dubai's economy – which had been built largely on debt – collapsed. It had to be bailed out by Abu Dhabi. That, and the emergence of the Arab Spring which the royal families of the Gulf feared would lead to Islamist groups like the Muslim Brotherhood sweeping them from power too, meant that from 2010 onwards, Abu Dhabi was in the ascendancy. Human rights in the UAE rapidly deteriorated from 2012 onwards, especially after the passing of Federal Legal Decree No. 5/ 2012 which made virtually any comment the government didn't like on social media a criminal offence. "It seemed the decision making of the country was taken over by a security clique," says Iyad el Baghdadi, a Palestinian activist who had spent all of his life in the UAE but was arrested and deported to Malaysia for his outspoken social media posts. He eventually found asylum in Norway. "There is an atmosphere of fear all across the UAE," he said.

At least he got out. The last, and perhaps best known human rights activist in the UAE, Ahmed Mansoor was sentenced to ten years in prison for "publish[ing] false information, rumours and lies about the UAE" which "would damage the UAE's social harmony and unity." In other words tweeting criticism of the UAE government. In January this year the UAE upheld the verdict which lead the UN to "urge the Government of the UAE to promptly and unconditionally release Mansoor and to ensure that individuals are not penalised for expressing views critical of the Government or its allies."

Sportswashing
There has been some push back against the UAE's crack down on dissent. There has been harsh criticism about the treatment of Sheikha Latifa bint Mohammed al Maktoum, a daughter of Dubai's ruler, who appeared to flee Dubai only to be seized on a yacht near India and forcibly repatriated to the UAE. And the case of UK academic Matthew Hedges who was jailed for life (and later pardoned) on charges of spying lead some to question their appearance at other cultural events in Dubai. Several leading authors announced they wouldn't attend the Dubai Lit Festival over the treatment of Hedges (although we'll see who actually turns up when it takes place in March).

Much has been made of how Qatar, the UAE and to some extent Saudi Arabia have used sport and especially football to "sportswash" their poor human rights record. And the boycott/blockade has complicated things further with each side hacking and leaking to sully each other's international reputations. But international prominence through sport works the other way too. Qatar 2022 has forced the country to face rightful criticism of how it treats the migrant workers that make up the vast majority of its population. English football will, of course, continue in its own moral vacuum. Manchester United will finish their relaxing few days in the sun and take on Tottenham Hotspur in Saturday's big Premier League showdown with few questions of where they have been over the past few days. But perhaps it is time the game started asking the same questions of Dubai, Abu Dhabi and the UAE, as it does of Qatar. The stories of Ahmed Mansoor and the UAE's migrant workers deserve to be heard too.