Footballer and journalist Aleksiander Ivulin spent two years in prison for 'protests'. Despite human rights abuses of its citizens, including footballers, and state interference of the Belarusian Football Federation, Uefa and Fifa have not banned the country from international play. In fact, the Lukashenko-run federation's biggest source of income is Uefa and Fifa funding.

By Lars Johnsen
He too had the dream, the always smiling Aleksiander Ivulin. Playing at the local club, the technical sessions by himself in the backyard of the family's house in the town of Orsha in northwestern Belarus, he dreamt of appearing on football's biggest stage. Napoleon's army had burnt his home town in la grande armée's quest to invade Russia in 1812. During the second world war, the town, then part of the Byelosrussian Socialist Soviet Republic, was occupied by Nazi forces who operated several concentration camps in the area. It was in Orsha that Belarusian strikes took place in 1991, playing its part in the downfall of the Soviet regime.
"Yes. I too dreamt of becoming a professional footballer," Ivulin says in a zoom call mere weeks since he was released serving two-years in jail as a political prisoner in Belarus. The number of political prisoners as of April 2023 in Belarus is 1472 and rising every day .
He's now exiled in Tbilisi, Georgia.
"I've come to my senses. Everything is super. I'm adapting to normal life."
He smiles.
Reality show
An injury made him scrap the dream – at least for a while.
"So I decided to find another profession. I really wanted to stay in football, so I decided to become a football journalist."
Belarusians love to belittle what is theirs, like domestic football. Real football is something that takes place on pitches far removed from Belarus. He wanted to change views.
"I really wanted to show and tell that Belarusian football is a high-quality product that has its own heroes, its own personalities. But it needs to be told simply, interestingly and in an accessible way. In all my journalistic career, probably about 10 years, I tried to talk about Belarusian football as if it were the English Premier League."
A kind of sales pitch that would make Belarusians leave the room, one by one.
Though on youtube, he created a kind of reality show with the second-tier club FC Krumkachy with players trying out for the first team – including himself.
"It was about how players live, how they train and what a football club is about, seen from the inside."
He had always played further back on the pitch, but tried out as an attacker, whipped himself into shape, losing 10 kg in the process and even scoring in a match.
"It was a friendly. But an official friendly," he smiles.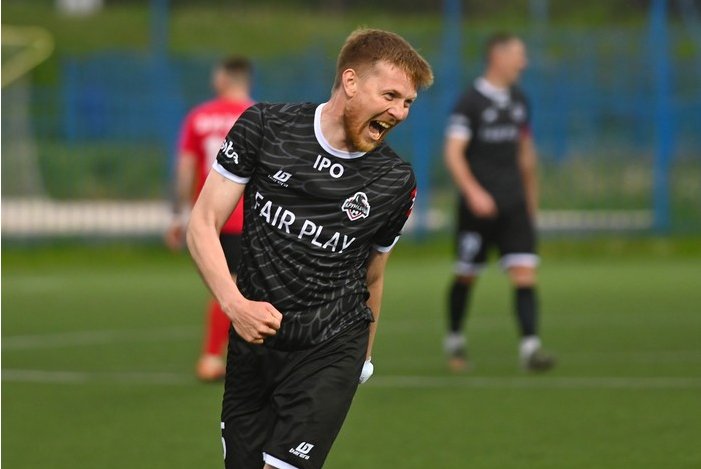 Before the presidential election in August 2020 protests had broken out against the country's dictator, president Alexander Lukashenko, which intensified after his claims of being re-eleced by a landslide, with 80 percent of the votes.
Protesters were beaten, tear-gassed, shot with rubber bullets, arrested and tortured. Among them Belarusian athletes speaking up. Two players from the Krumkachy club were among those at the receiving end of the security forces' brutal response to the protests.
The brother of Krumachy goalkeeper Alexei Koltygin was sentenced to three and half years in prison for "participation in mass riots", the government's euphemism for peaceful protest.
Krumkachy drew big crowds and big viewing figures on Ivulin's youtube channel and Ivulin decided to stream a funding campaign for the sentenced goalkeeper's brother and his family.
The following day law enforcement came for Ivulin.

The missing photo
Before the Krumkachy reality show project had started, and around the time of the August 2020 election, Ivulin had brought his camera to football grounds of Belarus, interviewing players and coaches about the situation in the country for his popular youtube channel Chesnok, his camera swiping football grounds where fans were chanting anti-Lukashenko slogans.
Leaving his block of flats he was cornered by two plainclothes officers of the security services. No showing of IDs, no introduction. Ivulin found himself face-down on the pavement.
An elderly woman shouted 'what are you doing, why are you taking this man'. She started to cry. As law enforcement officers in Belarus aren't too keen on people witnessing their actions, they quickly lifted him into the car and drove around the block.

Other officers then searched his flat.
He was put under 'administrative arrest', accused of flying the white-red-white flag of Belarus in the window of his flat. The flag – once the national flag of the short-lived Belarusian Democratic Republic before the country became part of the Soviet Union, and later introduced as the first national flag of post-Soviet independent Belarus – is outlawed and now used as a flag of protest. Flying the white-red-white flag is a serious crime in Lukashenko's Belarus.
Ivulin admits to having a white-red-white flag at his home, but it was not on display. Handcuffed, he was taken to a detention centre where he learned of his charge. He then overheard officers admit they'd actually forgotten to photograph the flag supposedly hanging in the window. Whilst Ivulin was held, law enforcement officers returned to Ivulin's flat, placed the flag in the window and photographed it. At his hearing for his administrative arrest, held via videolink, Ivulin begged the judge to let him question the officers. The judge refused. A person wearing a mask appeared on screen and testified that a flag had been visible in the window of Ivulin's flat. No other evidence was produced, and Ivulin was sentenced to a month of administrative arrest pending his trial.
He was taken to a detention centre where criminals would sleep in cells with regular beds with linen, get fresh air every day, read and watch TV. Political prisoners, however, were herded together, 15-20 people in cells meant for six to eight – no mattresses or bed linen, only one bar of soap for the whole cell to share. Lights were kept on during the night, making sleep even more difficult.
Conditions were so bad that other inmates were threatened to be thrown into the cells with political prisoners if they misbehaved,
The political prisoners were men aged 30-35, usually well-educated, and they passed the time giving lectures on topics of their respective fields of expertise to each other.
"Once a week I was visited by people from law enforcement agencies. They offered me to cooperate, but it was against my principles."
If he cooperated his sentence could be reduced to house arrest. Conditions for cooperation were simple: appear in front of a camera and admit to, and regret, taking part in unrest. The footage would then be shown on state TV, and even on YouTube and Telegram.
He rejected it, he hadn't done anything wrong, couldn't admit to something he hadn't done.
The alternative to cooperating were criminal proceedings and a guaranteed prison sentence.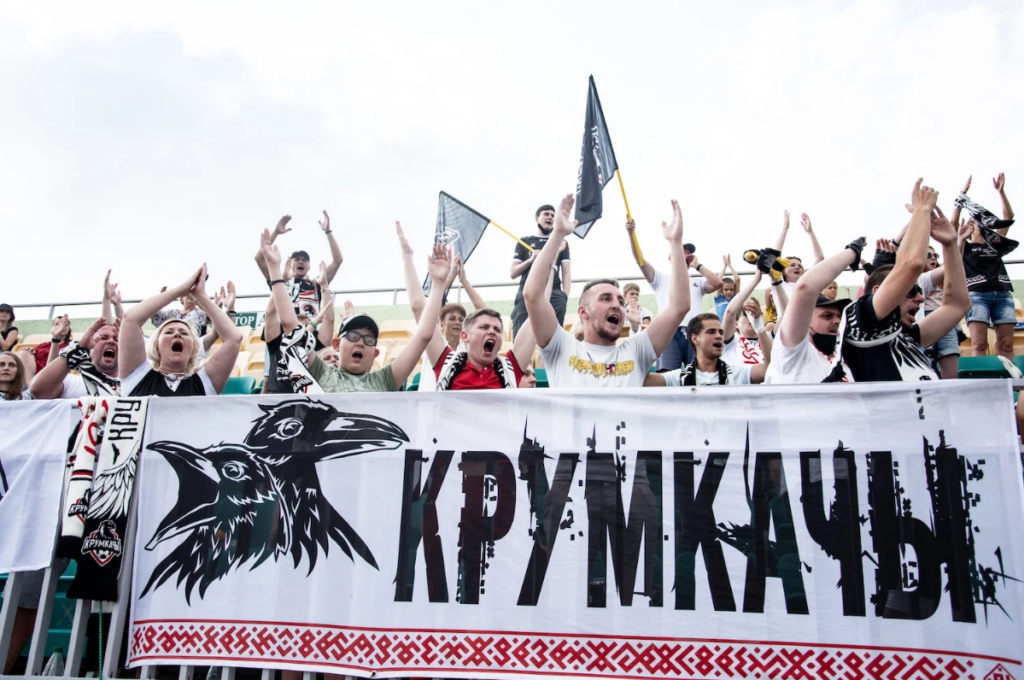 Tags on shirts
In the criminal case two pieces of evidence was brought forward – photos of peaceful protests taken from his Instagram account and a video of Ivulin interviewing athletes condemning the regime's violent actions. The prosecution claimed the videos 'called for hatred and social destabilisation'. 
He was sentenced to two years imprisonment for 'organising mass unrest'.
The conditions in the prisons where he would spend the next two years were better than in the detention centres, the number of people in each cell actually corresponded with the number the cells were built for. Yet, political prisoners were treated worse than other inmates. Criminals would be checked upon twice a day, forced to state their personal information and so on, whilst political prisoners were checked five to six times a day. In the Belarusian penal system prisoners wear coloured tags sewn onto their prison suits – red for prisoners with a potential for violence, yellow for political prisoners.
In a transfer from one facility to another, Ivulin travelled with a violent criminal with a red tag on his shirt. Ivulin was handcuffed the whole way, the violent criminal was not.
"I think it says a lot about the political attitude in Belarus."

Yet, throughout his prison term, neither the Belarusian government nor the prison guards could wipe the smile off Ivulin's face. The coloured tags worn on the prison clothes also included a photo of the inmate's face. Most faces were sad. Ivulin's was smiling.
"The situation is awful. To tell of the situation, any scary thing, probably, can only be done through humour, so as not to go crazy."
His prison football team, he says proudly, won the prison championship with him as top scorer.
7 million dollars
"First of all, I really want to come to my senses, to rest, to solve a lot of everyday issues. It will take some time. I left the country because I can't do journalism in Belarus with the current government," Ivulin says, unsure of the future, but with a determination to one day pick up his trade in his home country.
Football, like all sports in Belarus, is totally state-run. To be involved in sport, you have to sign up to the regime's ideology, Mikhail Zalevsky of the Belarusian Sport Solidarity Foundation (BSSF) explains. Anyone voicing criticism of Lukashenko's regime is blacklisted.
From federation officials to club staff and players – they're all picked by the state.
BSSF have lodged complaints to Uefa and Fifa about state interference in Belarusian football and other breaches of the international governing bodies' statutes.

Despite Uefa's "commitment to human rights", they have done nothing with the complaint from BSSF. Instead, in 2021, it awarded the hosting rights of the 2025 U19 Women's European Championship to Belarus, ignoring overwhelming evidence of human rights violations, including of footballers, and the direct control of the country's sporting bodies by the regime, a regime that now is actively supporting Russia's invasion of Ukraine.

Belarus was stripped of the 2025 Women's U19 Euros hosting rights by Uefa's executive committee during the 2023 Uefa Congress.

Josimar has since July 2022 repeatedly asked Fifa this question:
"What measures have Fifa taken to secure the independence of football in Belarus?"
We have not received a reply.
As the qualifying for the 2024 Men's European Championship started, Belarus was one of the 53 nations vying for a spot in next summer's tournament in Germany, losing 5-0 to Switzerland in the home game played in Novi Sad, Serbia on 25 March.
Two days before the Swiss' easy win in Serbia, The International Ice Hockey Federation had upheld its ban on Russian and Belarusian teams from international competitions.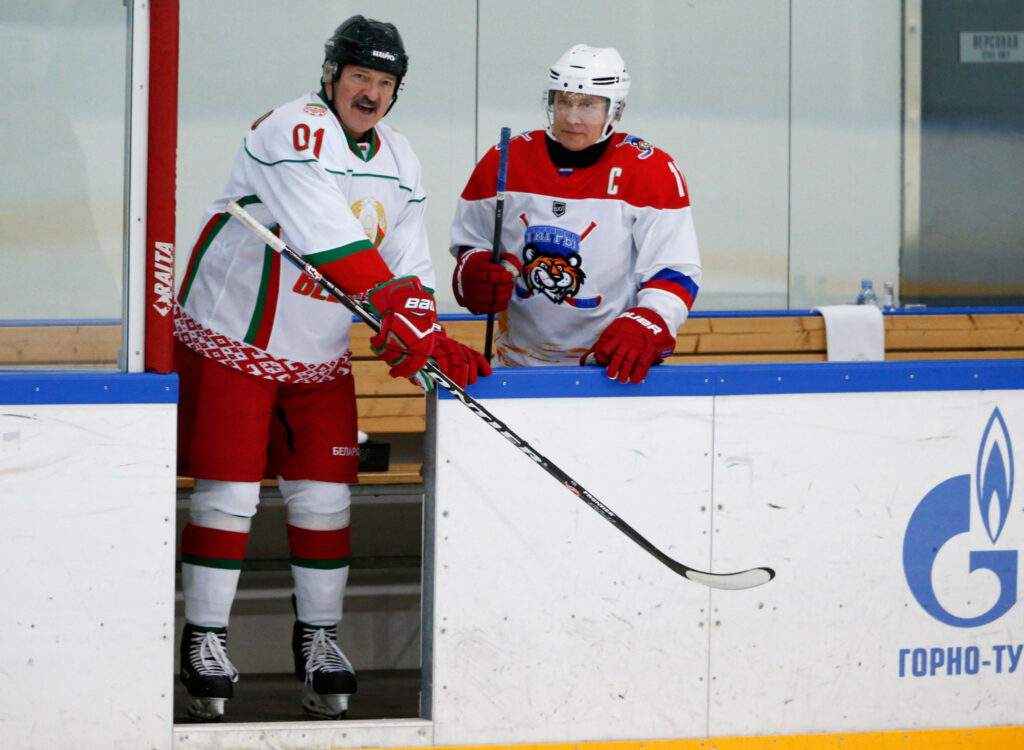 During the 47th Uefa Congress, held in Lisbon on 5 April, both Russia and Belarus were present, with the Lukashenko-appointed BFF president and former military official Valdimir Bazanov casting the votes for Belarus.
Football, not only looks the other way, it directly funds the state-run Belarusian Football Federation (BFF).
The BFF main source of income is money from Uefa and Fifa, amounting to around 7 million US dollars of a 10 million dollar budget.
Josimar has sent questions to both Uefa and Fifa on the matter.
"As per standard procedure, any payments made by FIFA to its member associations follow FIFA's strict compliance guidelines as well as the requirements and regulations of the relevant international authorities," Fifa answered.
Uefa has not responded.