In December Molde sold Datro David Fofana to Chelsea for a reported 13 million euro, a new record for a transfer from a Norwegian club. But was Fofana Molde's player? Or did the club steal the attacker from his Ivorian club Abidjan City FC?

By Lars Johnsen
"Molde stole our player," Marco Taddei Né, president of Abidjan City of Côte d'Ivoire tells Josimar.

After two seasons with Molde FK in the Norwegian top flight, runners-up in 2021 and champions in 2022, Datro David Fofana's transfer to Chelsea was stamped on 2 January 2023. Six days later he made his debut for the London club in the third round FA Cup game away to Manchester City as a second half substitute.
According to reports in the Norwegian press, the transfer will cost Chelsea around 13 million euro – a new record for a transfer from a Norwegian club. The young striker signed a contract until 2029 with an option to extend for a further year.
Abidjan City claims the player was never Molde's to sell, a view also shared by the Ivorian football federation (FIF) after a contract-validity decision in November. On 30 December the club filed a case with the Court of Arbitration for Sport (CAS).
One million euro
According to Marco Taddei Né, Datro David Fofana signed a five-year contract with the Ivorian club in 2017, as an amateur. Later, in 2019, he signed a professional contract with the club. The player was 16 years old when he was offered the professional contract, so Fofana's mother also had to sign for it to be valid.

"In 2019 Molde asked our permission to talk to the player," Taddei Né says.
Fofana was on loan from third division Abidjan City to AFAD Djékanou in the Ivorian top flight, where he excelled.
"Molde knew he was under contract with us, so they asked us for permission. I said yes."
Early in 2020, Molde invited the player to come to Norway to train with the club for two months.

Shortly after his arrival the coronavirus hit, the country went into lockdown and all sporting activities were suspended.
Molde, though, had seen enough.
"He trained twice in March and convinced us completely. As other clubs showed interest, the club decided to buy him without further trials," Molde's head scout John Vik told Molde-based newspaper Romsdals Budstikke.
Molde never bought him, though.

Marco Taddei Né, who played professional football in Europe for over a decade, says the Norwegian club expressed interest in signing the player, and he asked them to make an offer as Abidjan City received offers from clubs in Belgium and France.

On 20 July 2020 Wasland-Beveren offered 400 000 euro for the player, plus a 35 percent sell-on clause. In addition, the Belgian side was interested in signing two other Abidjan City players.

Two months later, two French clubs submitted offers for Datro David Fofana. On 14 September Racing Strasbourg offered a deal with a potential value of over one million euro – 500 000 transfer fee, 100 000 euro for every ten first team appearances until 50 matches reached, and a 20 percent sell-on clause. Three days later, Angers sporting director Sebastien Larcier offered 565 000 euro guaranteed and 100 000 for every ten appearances until 50 matches were reached. Angers, too, offered a 20 percent sell-on clause.
"He had a modern profile – very quick, technical, an impact player," the former Angers sporting director Sebastien Larcier says.
In the Ivorian, who at the time had had no European-style training, Larcier saw an already good player who would quickly progress once he reached the continent and establish himself in the Angers first team in Ligue 1.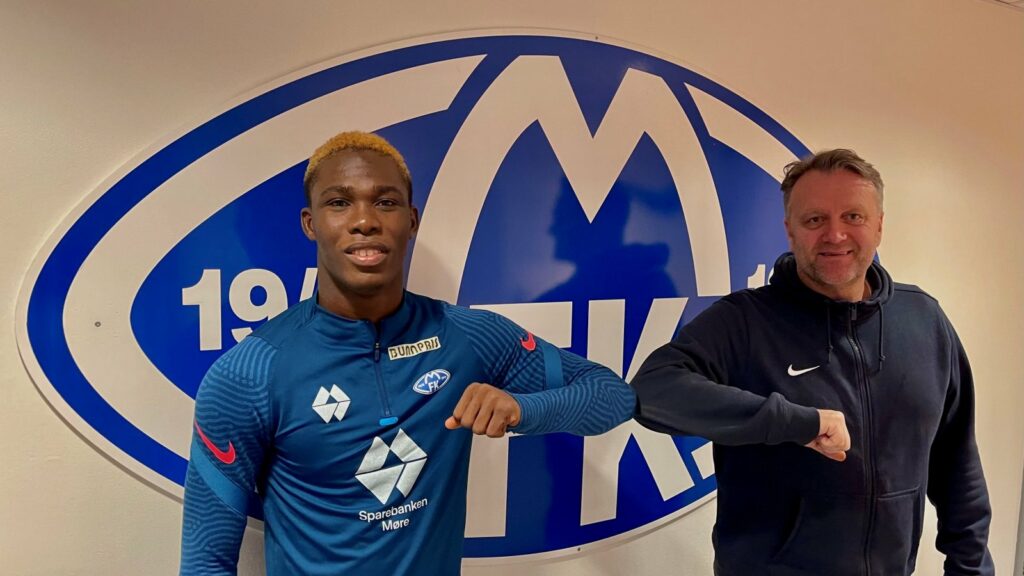 The bodyguard
Marco Taddei Né wanted to discuss the offers with Fofana.
"Datro said 'I have an agent now'. He told me his agent was Atta Aneke. Atta had persuaded his mother to sign an agreement on behalf of the player."
Atta Aneke is a Norwegian agent, based in Oslo, and his first stint in the limelight came in 2010, when Danish goalkeeper Anders Lindegaard surprisingly signed for Manchester United from Aalesund. The main character in the transfer was Jim Solbakken, the agent, best friend and business partner of then Manchester United reserve team manager Ole Gunnar Solskjær. During the negotiations Solbakken had acted on behalf of Aalesund, with a mandate to sell Lindegaard. When pen was put to paper, though, Jim Solbakken's name appeared in the documents as the representative for Manchester United. As agent for Aalesund, in their biggest transfer in history, the official papers revealed a name never associated with the club before: Atta Aneke. At the time he was so unknown that Norwegian newspapers, in a photo caption, described him as a bodyguard for the Norwegian club's delegation in Manchester.

Later Aneke has become one of the most prominent agents in Norway, specialising in African players.
According to the local newspaper Romsdals Budstikke, how Molde got to know and sign Datro David Fofana was attributed to the cooperation between the club's head scout John Vik, Atta Aneke and Aneke's network of scouts in Western Africa.

For many years John Vik was a business partner of Ole Gunnar Solskjær and Jim Solbakken, owning a stake in their agency Dynamic Solution AS. When Solskjær was manager of Cardiff City, he made John Vik head scout of the Welsh club.

Along with Krister Gundersen, an employee of Aneke's agency Players Management Group AS, Vik and Aneke decided Fofana was their man.
Aneke flew to Abidjan and met with Marco Taddei Né at the fashionable Azalaî hotel.
"I said, 'Atta look, I don't know you', but I agreed to send the player to Molde with confidence – I don't know Molde, but I know the country and its people. 'If you like the player, you have to make an offer. We have other offers'. He said Molde would be good for the player. I told him that if Molde wants Datro, they will have to make an offer, and we can say yes or no. He said 'I'll talk to Molde, and you'll get an offer'."
Forgery claim
Molde never made an offer. Instead Abidjan City agreed to transfer the player to Angers, taking effect on the player's 18th birthday, 22 December 2020, pending the player's agreement.
The player and his mother had already, on 14 August 2020, signed a document mandating the Ivorian agent Igor Alexandre Lolo to act on the player's behalf in the negotiations with Angers.
The player also posed for a photograph wearing an Angers shirt.

Then, shortly before the player turned 18, the Ivorian federation called Taddei Né.
"They said Datro hadn't signed the contract with Abidjan City in 2017. The mother said Abidjan City had forged the signature. 'Datro is not under contract', they said."
Seven weeks prior to Fofana's 18 birthday, on 30 October 2020, the mother had lodged a complaint with the player status committee of the Ivorian FA to declare her son's contract with Abidjan City void as she claimed the signature had been forged.

Not only did she claim Fofana's training contract with Abidjan City from 2017 was forged, but also the professional contract with the club from 2019 and even the six-month loan agreement between Abidjan City and AFAD Djékou for the period November 2019 to May 2020.
One signature that wasn't disputed, though, by the Fofana family, was in fact the document signed with the agent regarding the offer from SCO Angers.

All contracts and agreements – the player's two contracts with the club and the loan deal with AFAD – had been submitted to the Ivorian FA and are listed in Fofana's 'player passport'. Nobody had disputed anything until October 2020.
On 23 December 2020, one day after Fofana turned 18, FIF's player status committee ruled the original training contract void, i.e. the signature had been forged.
The day after the ruling, on Christmas Eve, Fifa appointed a normalisation committee to run the Ivorian FA.
"This decision is the result of the failure of the country's football governing bodies to carry out an electoral process for a new Executive Committee in accordance with the statutory and regulatory requirements applicable to all FIFA member associations," Fifa stated.
Abidjan City never forged any contracts, Marco Taddei Né claims, and accuses people in the Ivorian federation of helping Atta Aneke secure the player for Molde FK, and thus robbing the club of an enormous transfer fee.

Abidjan City appealed the decision immediately. It also requested and obtained the right to employ a graphologist from the Ivorian judiciary to analyse the signatures. The graphologist concluded that the signatures were authentic. Abidjan City took the matter to a civil court in Abidjan, who ruled in favour of the club.

On 9 november 2022, the Commission de recours – the appeals panel – of the Ivorian FA, on the basis of the graphologist's analysis, judged the signatures to be authentic, and concluded the legality of the contracts should be honoured. The next step was for Abidjan City to file a case with the Court of Arbitration for Sport – which they did on 30 December.
"A miracle"
While Abidjan City waited for its appeal to be reviewed, Fofana signed and played for Molde, and became a valued addition to a team that won the league title in 2022, reclaiming it from Bodø/Glimt, the back-to-back champions of 2020 and 2021. The Ivorian scored 15 goals in 24 league games in the title-winning season.
In the Norwegian FA's (NFF) registry of transfers, Fofana's transfer and playing eligibility for Molde FK was approved on 2 February 2021. It is listed as a professional transfer between Abidjan City and Molde FK.
According to the documents lodged with the NFF, Atta Aneke represented Fofana in the deal. No agent represented Molde FK.
According to Marco Taddei Né, Abidjan City has not signed any transfer agreement with Molde FK for Fofana. Neither have they received any transfer fee.
Asked whether a representative of Abidjan City had signed any transfer documents in the NFF registry, the federation answered that they "do not wish to share information about details and contents of agreements between clubs."
Approved by the Norwegian FA on 2 February 2021, a player with a documented transfer market value of one million euro became eligible to play professionally for Molde FK and an asset of Molde FK for the net transfer sum of zero. According to documents from Fifa's Dispute Resolution Chamber, Molde had uploaded the original decision from the Ivorian FA as evidence that the player was 'out of contract'.
An African player, from a French-speaking country, with huge offers from French clubs, apparently chose to play in cold and wintry Norway where most of the football is played on artificial pitches.
Fofana would make his debut for Molde in the derby against Kristiansund BK on 9 May 2021, in the Covid 19-delayed opening game of the 2021 season. On the same day Angers recorded a 3-0 home win against Dijon.

Atta Aneke, quoted in the Norwegian press, praised Fofana as "one of the most talented players in Africa, not only in his age group, but generally." That such a player had signed for Molde was "really a miracle," Aneke said in the same article..
"I was disappointed," Sebsatien Larcier, the former Angers sporting director, says of the moment he heard Fofana had signed with Molde on a free transfer.
"But football is like that."
The M-word he's using isn't 'miracle'.
"I think Datro's new agent gave money to the mother."
As scouts and agents, or other 'intermediaries', working for European stakeholders fight over the most talented African youngsters, they pay the families, Larcier explains.
"It is normal in Africa."
"Fucking money"
After four months of silence, two days after the Norwegian FA had declared Fofana eligible for Molde, Atta Aneke called Marco Taddei Né, according to the Ivorian.
"Atta said 'we will give you fucking money'. He said that, 'fucking money'. 160 000 euro. 'It's good money for you', he said. I told him, ' Atta you stole the player, why should I be happy?' I also said I would bring the matter to Fifa."

Taddei Né is clear that he considered the sum to be 'hush money'.
"Of course. It's unofficial money and we refused to accept it."
Marco Taddei Né will not stay silent.
"I'm not doing this only for us," he says.

For him this is bigger than one player being poached from Abidjan City. It's about telling the world how European actors exploit African clubs and African players. 
"How can we have quality in our work when this keeps happening?," he asks.
In a news article, Atta Aneke claimed Molde had to pay 160 000 euro in compensation.
"I'm really happy that Abidjan City has a right to 1,5 million kroner (160 000 euro) in compensation. I think it's only fair they get paid for the work they've put in. I'm happy there are Fifa rules that secure this. There is nobody who doesn't wish for them to make money from this, though we had hoped to find an amicable solution."

But has Molde paid 160 000 euro to Abidjan City?
In July 2021 Fifa ordered Molde FK to pay Abidjan City 70,520.53 euro plus five percent interest per annum – not 160 000 euro as Atta Aneke claimed – from 4 March 2021 until date of payment.
Abidjan City explains they never accepted Atta Anekes 'hush money' proposal, and never received 160 000 euro from Molde as Aneke claimed in the Norwegian press. They have, though, received the compensation payment.
A bank transfer statement in Josimar's possession shows Molde paid 71,776 euro on 13 July 2021. The bank transfer states "football player training compensation" as 'payment reason'.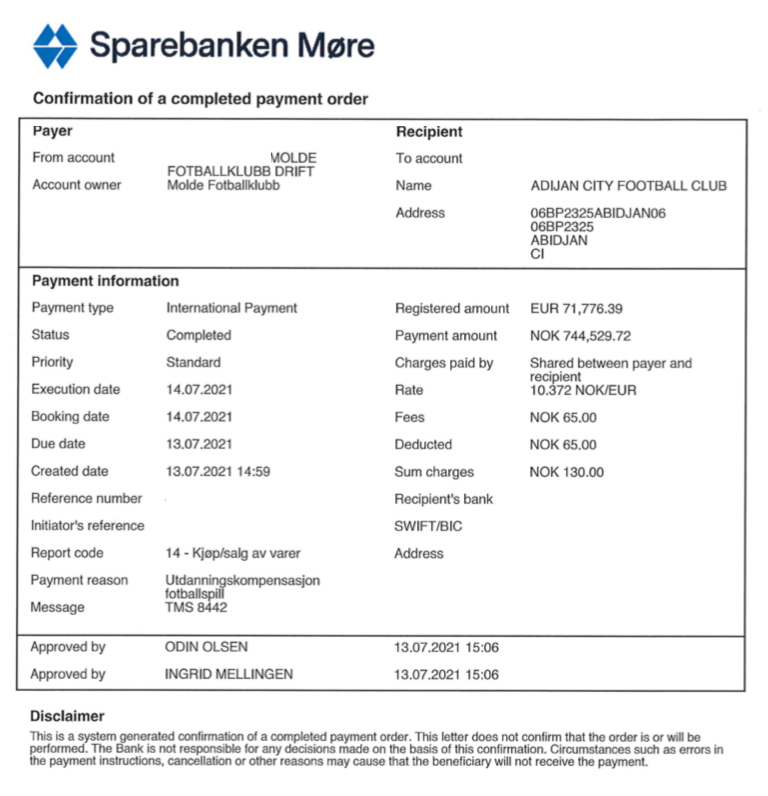 "Pay what you owe"
In the Norwegian press, Molde FK director Ole Erik Stavrum said the club had regarded the player as being without club, citing the decision by the Ivorian FA that the contract between Fofana, signed by his mother, and Abidjan City had been a forgery.

Stavrum also claimed in the press that the Ivorian FA had assured him that the club's appeal had not been filed in time. Documents in Josimar's possession show that Abidjan City filed an appeal seven days after the initial ruling, well within the 15-day appeals window.
And now the matter is in the hands of the Court of Arbitration for Sport, based in Lausanne, Switzerland.
François-Luc Ponthieu is Abidjan City's lawyer in the case. To him it's a straightforward legal matter where the Norwegian club argues that Fofana's contract was not valid due to the decision of the Ivorian FA, while they argue it was valid as the decision has been reversed on appeal by the same federation.

"We consider that Molde should not have been in a position to sign the player without our authorisation. We are now claiming damages through the Court of Arbitration for Sport.

"At the time Molde contacted the player and his mother directly, totally ignoring our existence, we were in negotiations with other clubs. We had offers from these clubs. We consider that our damages are equal to those proposals.

"I don't want to make a big deal with Molde, I respect all clubs, I know how clubs operate, but at the end of the day you should pay what you owe. That's it."

Ponthieu points out that Molde, before they decided to go ahead with the Chelsea transfer, was aware of the fact that the FIF appeals panel had ruled in favour of Abidjan City in the contract-validity dispute.

The record transfer deal to Chelsea made agent Atta Aneke "proud". Aneke represented Fofana in the deal, whilst Aneke's employee Krister Gundersen represented Molde.
"When we found him in Africa, it was almost a wonder that we could bring him to Norway. Many wanted him, it was difficult. It's extra sweet that this transfer breaks earlier records by a wide, wide margin," Aneke told TV2.
The club too, according to Molde managing director Ole Erik Stavrum, was "very happy" with the deal.

Third-party ownership
According to Josimar's sources, an investment company called Noro Fotball AS has a stake in the economic rights of Datro David Fofana. Noro Fotball AS would therefore be a "third-party ownership" entity.
Third-party ownership (TPO) has been banned by Fifa since 1 May 2015.
The Norwegian FA still allows third-party ownership as long agreements with investors are limited to owning a stake in the bottom line of a club's transfer activities and not tied to economic rights of individual players.

Josimar has scrutinised this practice in several articles. In our coverage of the matter, the world players' union FIFPro, the Norwegian players' union Niso, as well as Uefa have slammed the NFF for its interpretation of Fifa's TPO regulations. The NFF remain adamant that their interpretation of the TPO regulations has been approved by Fifa.

What the NFF definitely has outlawed, however, in accordance with Article 18ter of Fifa's Regulations on the Status and Transfer of Players, is third-party ownership of economic rights of individual players.

In Molde FK's annual report for 2021, it says:
"Noro Fotball AS is in possession of the rights of future transfer income of certain players."
One of these players is, according to Josimar's sources, Fofana.
This agreement, according to the annual report, has been approved by the Norwegian FA – despite the federation's regulations clearly forbids sale of economic rights of individual players.

Several of board members of Noro Fotball AS are also board members of the club. Noro Fotball AS' CEO is Ole Erik Stavrum, the Molde FK managing director. Since the company was founded in 2005, its CEO has been the same as the managing director of Molde FK.

Josimar has via phone, text messages and email requested an interview with Molde director and CEO of Noro Fotball AS, Ole Erik Stavrum.
As he didn't respond, we emailed our questions to him. He replied with a statement (see below), without answering our questions. In a follow-up email, we repeated the question about Noro Fotball AS' stake in the economic rights of Fofana. He has not answered.
Josimar reached Atta Aneke through a text message. He was in Nigeria on business, and was not available for an interview. He asked to have questions sent by email. We did as he asked, but have not received a reply. After the article was published he replied, and said he didn't want to comment as the matter will now be reviewed by CAS.
Valérie Datro, the player's mothers, tells Josimar she has never signed a contract with Abidjan City. She says the FIF appeals panel decision to reverse the forgery decision is wrong. She claims never to have received money from Atta Aneke.
Chelsea FC has not replied to our questions.

Ole Erik Stavrum's statement:
Molde confirms that there is an ongoing dispute to be decided by the Court of Arbitration for Sport (CAS) between a former club of Fofana (Abidjan City), Molde and the player. Molde and the player have full confidence in their position, and have no further comments until the matter is resolved.
We can confirm that the dispute is of no concern to Chelsea, and will not affect the transfer of Datro Fofana from Molde FK to Chelsea.

If you have any tips on this topics, or related topics, email reporterlars@protonmail.com.