Josimar has found new evidence which shows that TGP, the Isle of Man company which provides UK gambling licences to Asian betting partners of a number of Premier League clubs, is intimately linked with the Suncity Group of Alvin Chau, the suspected triad member who was recently jailed for 18 years for fraud and gambling offences in China.
By Philippe Auclair

The photo used for this article is the only known publicly accessible picture of Charles Horng Cherng Hwang, a Singaporean citizen who, these days, sits on the board of DFNN, "a leading I.T. solutions provider and systems integrator" which operates from Taguig, one of the main financial centres of the Philippines. Hwang also acts as a 'Head of Development' for a Singaporean gaming company called Dynamite Games Pte. Ltd.
His one claim to fame would normally be that he is the brother of Emily Hwang Mei Chen, a prominent socialite, the Vice-President of the Asian Couture Federation and the wife of multi-millionaire businessman and "seasoned gambler" Mark Yong Khong Yoong, a name which is connected with multiple offshore companies.
But Charles Hwang used to be more than Emily's brother, Mark's brother-in-law and one of the directors of a little-known if prosperous Singaporean tech company. Charles Hwang is the missing link which proves that, as long suspected, Isle of Man company TGP was established as a subsidiary of the Suncity Group, the business owned and run by casino billionaire Alvin Chau, who was recently sentenced to 18 years in prison for multiple gambling-related offences by a Macau court.
An annual return filed by the company with the Isle Of Man authorities shows that Charles Hwang served as the Chief Executive Officer of TGP Asia, the subsidiary which Isle of Man company TGP Holdings had set up to look after its Asian-focused operations in the sports gambling market.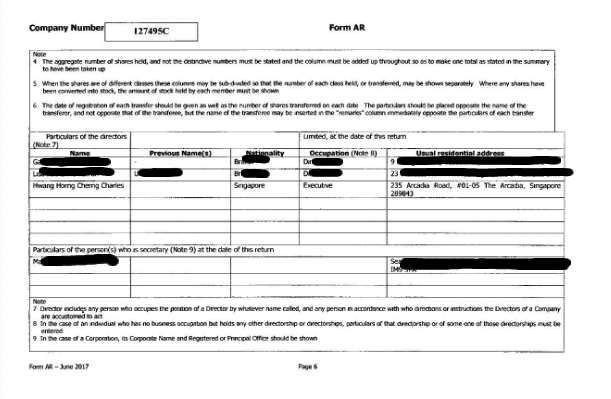 His profile on the DFNN website also states that he was "the CEO and Director for both The Gaming Platform Inc (TGP), a B2B online gaming company and 138.com, a B2C online gaming company, concurrently" [our italics].
It is noticeable that the Charles Hwang named in TGP Asia's Annual return, who also lists a CEO position at TGP Asia from 2016 to 2020 on his LinkedIn profile, omits his role with 138.com from his past appointments.
Why he would do that is understandable, as 138.com, whose boss he was, marked the first direct involvement of Alvin Chau in the UK-licensed bookmaking industry, back in 2011 (*). Chau, a.k.a Chau Cheok-Wa, a former underling of the feared 14k triad gangster Wan Kuok-Koi, a.k.a. 'Broken Tooth', was considered the king of Macau gambling until his arrest in November 2021 and his subsequent conviction. Chau had big ambitions for 138.com, as was shown when the brand sponsored Premier League clubs Newcastle United and Watford FC in the 2013-14 season. Understandably, given Chau's more recent troubles, all parties involved in his past operations have tried to cover as much of their tracks as possible.
Hwang has not been entirely successful in this regard, which enables to join the dots between Suncity, 138.com and TGP. More evidence is available in a notice published by the Hong Kong Exchange in late summer 2022. In March of that year, the Yeah-Yeah Group, formerly known as the 'Sun Entertainment Group Limited', itself part of the Suncity Group (*), had listed the individuals who had been granted share options as extra reward for their services. Hwang was one of them.
Notice published by Yeah Yeah Group on 31 March 2022
He was given 637,000 share options as reward for 'services in relation to company's integrated entertainment platform and NFT production business'. Hwang's allocation was not worth a great deal of money – the equivalent of about 20,000 US dollars at the time – but it was another proof of Hwang's involvement in Alvin Chau's businesses.
Suncity was Chau. 138.com was Chau. Hwang was Chau's man. Hwang was 138.com. Hwang was TGP Asia. The loop is looped: TGP Asia was Suncity.
*
No-one in the betting industry was in much doubt that TGP was and may still be a subsidiary in one shape or another of the Suncity Group and its later incarnations. A press release published by betting services provider SB Tech in August 2014 said as much in unambiguous terms: "TGP Europe is owned by TGP, part of the Sun City Group, the largest provider of live dealer casinos in Asia."
However, proof that this was the case had proved elusive until now. TGP has never responded to enquiries from Josimar and other media. The UK Gambling Commission has remained silent as well, despite repeated entreaties, and despite the fact that TGP, to this day, remains the biggest provider of 'white label' UK licences to Asian-facing bookmakers who operate illegally in their main markets, China and South-East Asia.
In total, TGP have acted on behalf of well over a dozen Asian-facing gambling brands, most of which are ultimately controlled by a couple of Philippines-based 'superbookmakers', as has been established by a recent Josimar investigation. These brands, in turn, have poured and continue to pour hundreds of millions in European football, especially in England, in order to gain the visibility and the credibility which will attract their target customers in Asia. To this day, no fewer than thirty past and/or present Premier League clubs have partnered with brands 'powered' by the ubiquitous Isle of Man-based company (*).
Josimar has approached many of these clubs, highlighting the problematic nature of their commercial links with entities which operate illegally in Asia and are ultimately controlled by criminal organisations which use them for fraudulent purposes such as scamming or money-laundering, and are known to be involved into people-trafficking, enslavement and prostitution. Only two replied to our enquiries, to say that they would not comment. The rest have simply ignored us.
As to TGP Asia, that ship sailed from Douglas a while ago. The company filed for dissolution in September 2020 and ceased to exist on 15 March 2021. Chau had known the game was up for him since the beginning of July 2019, when the state-run Xinhua Press Agency had published detailed accusations against him. Suncity had to make itself ready for the blows that were bound to come, which meant winding up some operations, re-branding others and moving assets where authorities couldn't reach them before it was too late.
But if TGP Asia is no more, and Chau is now waiting to see if and when the appeal his lawyers lodged in February will be heard, TGP continues to operate from the Isle of Man, even though it hasn't held a licence there since 2020. Fortunately for the old Suncity subsidiary, they still have one with the UK Gambling Commission, which they can use for the benefit of clients such as the mysterious 6686 brand which recently became a partner of Leicester City and Nottingham Forest. Some things never change.
(*) Following Chau's arrest in November 2021, the Suncity Group as a whole went through a rebranding exercise in order to "improve its corporate image". Suncity itself now trades as the 'LET Group'.
(*) 138.com was originally 'powered' by another Isle of Man company, Xela Holdings, whose CEO was Garth Kimber. TGP took over the management of the brand in 2012, with Kimber assuming the same responsibilities with the newly-formed company.
(*) Arsenal, Aston Villa, Birmingham City, Blackburn Rovers, Bournemouth, Burnley, Cardiff City, Chelsea, Crystal Palace, Everton, Fulham, Huddersfield, Hull, Leeds, Leicester, Liverpool, Manchester City, Manchester United, Middlesbrough, Newcastle, Norwich, Nottingham Forest, Southampton, Sunderland, Swansea, Tottenham, Watford, West Bromwich Albion, Wigan and Wolverhampton Wanderers.