A Football Association ruling on 262 alleged breaches of its betting rules by Brentford player Ivan Toney is imminent. Kynan Isaac, who in October last year was issued with the FA's longest ban to date of eleven and a half years, argues that double standards are in play.
By Andy Brown
Eleven and a half years, a ban that ended Kynan Isaac' involvement in football. The Oxford-born player is now working as an administration assistant for the National Health Service (NHS). But, in similarity to his hard-hitting approach to playing the game, he isn't taking his ban lying down. Backed by his club Stratford Town – a level 7 club in the English football pyramid – and its chairman, Jed McCrory, he is launching an appeal against the 11.5 year ban as disproportionate to his offence.
Isaac's booking took place in the 84th minute of Stratford Town's 5-1 loss to Shrewsbury Town in the 2021/22 FA Cup first round on 7 November 2021. It was 4-1 when Isaac was shown a yellow card. It could be argued his actions, which he argues were retaliation after being elbowed in the face, had little effect on the outcome of the game, which Stratford were expected to lose.
Skybet launched an investigation after an unusual number of bets on Isaac to be carded. The result? An 11.5 year ban over 2,016.50 pounds in bets, none of which were placed by Isaac and all of which Skybet refused to pay out on. Fourteen bets in total were placed on Isaac to get carded, including 1,360 pounds placed by four people, comprising the majority of the total.
As such, this was far from an organised scheme helping criminals to get rich. Yet the FA describe a WhatsApp exchange as 'unequivocal – [Isaac] is openly discussing getting carded with the intention of making money off the bets.' Isaac argues he didn't make any money from the game.
"The WhatsApp messages [about getting carded] were pure banter," argues Isaac. "It was just me, my little brother and his mate having a laugh. If you can't have a laugh with WhatsApp, then what's it there for?"
The FA disagreed and sought a lifetime ban. An Integrity Report commissioned from Stats Perform identified numerous similar challenges during the same game, which the FA utilised to argue that his actions were premeditated.
Isaac disagrees, arguing that his yellow card was a form of retaliation after being elbowed during the face in the 67th minute. "I go in for every tackle," he argues. "It's how I play the game. You can ask any referee in the game and they'll tell you the same."
This appears to be supported by the Integrity Report submitted by Stats Perform for the FA. This found that in the 12 matches prior to the game in question, Isaac had received seven yellow cards and one red card, equating to one card for every 126 minutes played.
Almost one per game. '[I] knew for a fact that he would get carded because he's absolutely filthy,' explained DG, one of the four bettors, in the FA Decision. 'As soon as I saw [Isaac's] name there, at 3-1 on that… If I'd had 500 pounds I'd have banged on that. Without a doubt… Everyone in Oxford knows how dirty a player [Isaac] is, how filthy he is.'
Stitch up
"If I was going to fix this, why would I do it for 200 pounds at 3/1 [4.00 in decimal odds]?" asks Isaac, playing devil's advocate. "I'd do it properly! The FA just want to stitch up non-League players because they know we haven't got the financial backing that Premier League players have."
As the match was to be televised on ITV4, betting markets were formed as bookmakers knew that there would be interest in the game. This included 'in-play' betting, which involves bookmakers offering odds on number of goals, as well as events such as free kicks, corners, or cards.
To enable bookmakers to offer this type of betting, 'data scouts' employed by various companies attend games and record such events. Gambling operators strike deals with these companies allowing them to access such data, instantaneously.
Data speed is key. Gambling operators have to be ahead of the TV broadcast to avoid being caught out by punters, hence the need for data scouts at the game.
How does this relate to Isaac and his sanction? Because his allegation that he has been stitched up may not be a million miles from the mark.
Skybet raised concerns with the FA about bets placed on Isaac to be carded during the match. Skybet has a long standing partnership with Sporting Solutions to provide pre-match and in-play odds, and one of Sporting Solutions's partners is Stats Perform.
When Skybet found that it might be out of pocket due to 14 bets placed on Isaac to be carded, comprising 2,016.50 pounds in bets, it refused to pay out. The FA asked Stats Perform to produce an 'independent' integrity report into Isaac's conduct during the game.
The partnerships
Skybet also has a partnership with data company Genius Sport. It is not known which company collected the data from the Stratford Town vs. Shrewsbury Town FA Cup game allowing Skybet to offer odds on Isaac being carded. Stats Perform declined to respond to questions from Josimar for this article, arguing that any answer might help a competitor. Genius Sport failed to respond to questions. But given the connections between Skybet and Stats Perform, whose Integrity Report was used to convict him, it is not hard to see why Isaac is suspicious.
"They said that I was trying to get booked by looking at tackles where I was winning the ball," he argues, referring to three further incidents during the game identified by Stats Perform for the FA. He argues that in his initial interview, on 13 January 2022, the FA said that they weren't aware of him getting elbowed in the face during the game.
"The game stops for three to four minutes," said Isaac. "They said that they didn't see that. How can you miss that? I asked my PFA [Professional Footballers Association] representative for a further review and when I went back for my second interview, I asked, did you see the elbow? They said what elbow? I knew then that they're just going to see what they want to see and it doesn't matter what I say."
Isaac argues that this is why he refused to answer any further questions in his second interview on 24 March – a refusal to cooperate that was held against him in determining his final sanction. He also argued that he had asked to be substituted but had to stay on the field despite swelling of his eye obscuring his vision, because Stratford had used up all of its substitutions.
The FA was sceptical about this, as Stratford Town had only made one substitution before the 67th minute, when the elbow in the face took place. It argues that Stratford Town made two further substitutions in the 76th and 83rd minutes – Kynan's yellow card took place in the 84th minute.
But, of course, swelling does take time. It is possible that Isaac's vision became obscured later in the game, when he could no longer be substituted. Yet the FA dismissed a claim from Isaac that he asked to be substituted before he was carded as mendacious.
The FA told Josimar that it doesn't comment on specific cases. "We are committed to ensuring that the integrity of football is maintained in partnership with the whole game and stakeholders from other industries," said a spokesperson. "As a result, 'Participants' involved with clubs in the Premier League, EFL, Barclays WSL, Women's Championship and National League System are prohibited from betting on any football or football-related activity. Our dedicated Integrity team supports them to understand and follow the rules, but it also investigates any alleged breaches, and provides evidence if there is a case to answer."
Banter
There is no doubt that Isaac discussed getting carded on WhatsApp, as well as the idea of money being made. Whether it was "banter" as Isaac alleges or not, it is not hard to see how such information could be used and abused.
The FA identified a group called 'My Mates' on WhatsApp, which contained his brother and his brother's friend (DM). On the face of it, the chat is damning. But Isaac didn't place any bets himself.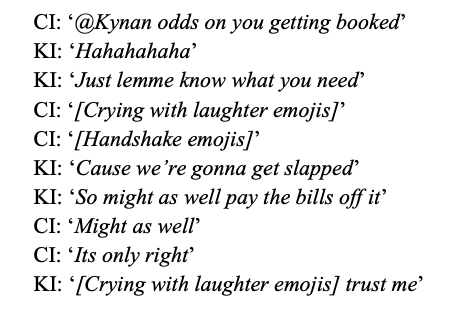 The FA inferred connections between his brother and DM and two of three other people who had placed bets on him to get carded – DG, JT, and LM. Isaac and his brother admitted knowing DM, but denied knowing any of the others. Although the FA didn't ask Kynan about LM, 'we infer that KI would know LM,' reads its Decision.
"I've had people come up to me and say – 'you cost me money,'" says Isaac. "How? I don't know you! How can I have cost you money if I don't know you? If you put a bet on me getting sent off and it didn't happen, then you're to blame!"
But in being issued a lengthy sanction by England's Football Association (FA) for a small-scale betting offence, Isaac isn't alone.
148 Sanctions in eight years
Between May 2015 and January 2023, 148 players and officials involved with non-League football have been charged over 69,205 bets, updated research by Josimar has identified. Fines were not levied in all cases, but the cases raised 79,870 pounds in fines for the FA – an average fine of 540 pounds per person.
Prior to the Kynan Isaac case, the longest ban issued to a non-League player involved Nick Bunyard of Frome Town. He was sanctioned with a three year ban over 98 bets placed between 3 September 2014 and 9 April 2016, and was fined 3,000 pounds.
It's not just players. Eastleigh Chairman Kenny Amour was fined 500 pounds over 13,919 bets placed between 6 March 2015 and 23 February last year.
In the Premier League and the Football League, 44 players and officials were charged with making a whopping 18,386 bets during the same period, and were fined 380,154 pounds. This represents an average fine of 8,640 pounds per person, although almost half of that involved the 150,000-pound fine issued to Daniel Sturridge in March 2020.
An average fine of 8,640 pounds is small change to most professionals. It is a difficult conundrum for the FA. Most non-League players can't afford large fines, but bans can also result in them losing their job.
Pieman
In 2017, Wayne Shaw of Sutton United lost his job as commercial manager of AFC Totton over a novelty bet. Shaw's National League (fifth tier) club, Sutton United, hosted Arsenal in the last 16 of the FA Cup, and much fun was poked at Shaw, Sutton's 'Roly Poly Goalie', who at that time was 46, weighing almost 130 kg.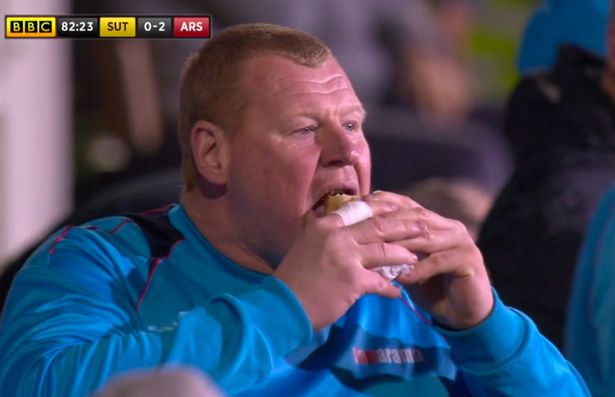 Sun Bets came into existence a year earlier, a joint venture backed by Rupert Murdoch, owner of the UK tabloid The Sun and Tabcorp, an Australian betting company. It sponsored Sutton United for the game against Arsenal only, and due licensing limits, was only permitted to take novelty bets.
The company offered five novelty bets for the game for a maximum stake of 5 pounds each. One of the bets it offered was for Shaw to finish a pie during the game, at 8-1. Late in the game it became clear that Shaw, who was reserve goalkeeper for the game, wasn't going to take the field.
"It wasn't a pie, it was a pasty!" says Shaw who, at the time, saw the event as a publicity stunt and a bit of fun. He admits that he got caught up in the media circus around the fixture and made some bad decisions.
"They attempted to charge me with bringing the game into disrepute. Seventy three people placed bets. Three were traced back to my Facebook account. I said that I've got loads of friends on Facebook – why would I only tell three people?"
The Gambling Commission had warned operators about the dangers of novelty bets in June 2016. Shaw was open about the fact that he had told people about his intentions during the game, and argues he was unaware that his actions were prohibited.
"They took everything," he says. "I was working at AFC Totton as commercial manager. The ruling left me with no daytime job for two months. A 350 pounds fine and 500 pounds costs. It was hard to take. A bitter pill for me to swallow. They even asked if I had a son or daughter studying in Loughborough, because 26 people from Loughborough University placed a bet!"
The Gambling Commission later fined Sun Bets 84,000 pounds over the incident for breaching its Social Responsibility Code; for offering a novelty market dependent on a criminal offence being committed and which carried a risk that an individual (Shaw) would breach a sports governing body's rules.
Communication Error
Isaac's club, Stratford Town, is in the South League Premier Central Division, step 3 of the National League System, level 7 of England's football pyramid system.
"Kynan truly believed that step 3 and down were OK to bet on," says Jed McCrory, club chairman. "No information is sent to us, only to the Southern Premier League."
The Southern League told Josimar that the FA sends material directly to the clubs. The FA said that education is key and regular club visits, educational films and a 'player essentials' application are provided, alongside material from the PFA. In Isaac's case, it would appear that the information didn't get through.
The majority of betting cases on the FA's internet site involve a participant betting on their own competition or team, and the number of cases is growing every year.
Isaac was charged with three breaches of the FA rules. That he intentionally sought to influence the result of a game by getting carded; that he obstructed the FA's investigation; and that he bet on 347 games.
On the face of it, one might conclude that he had formulated a plan to earn money from getting carded, placed bets on the outcome, and later obstructed the FA's investigation. Yes, Isaac did bet on his own team, but not on the game which the FA alleges that he intentionally fixed.
The bets placed by Isaac were entirely separate from his alleged plan to get carded, as shown by the charge sheet. The FA Cup game against Shrewsbury took place on 7 November 2021. Issac was charged with placing 347 bets on matches between 14 August 2016 and 6 November 2021. Ten of these bets involved his own club, including six bets on his own club to lose (he was involved in four of these games).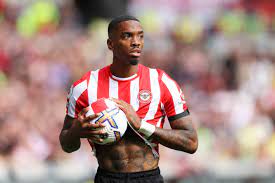 The FA Decision outlines that Isaac's net loss was over 1,000 pounds, and always involved accumulators. "His bets were five to ten bet accumulators," chairman McCrory points out. "He had no chance!"
Isaac argues that he only refused to cooperate after the FA ignored his arguments. Yet the FA appears to have treated all three offences as cumulative, as part of a plan to earn money from getting carded.
The FA Guidelines on how betting cases should be sanctioned haven't been updated since 2014/15. There is no specific guidance for the IPCE offence (Instructing, Permitting, Causing or Enabling another to place a bet – FA Rule E8(1)) with which Isaac was charged. The related guidance for sanctions based on the provision of inside information for betting purposes (three months to life) is very broad.
This allows FA panels to take a wide approach to sanctioning based on their perception of the gravity of the offence. On the flip side, it offers players little certainty in how their case will be handled.
Over three times as many non-League players have been sanctioned for betting offences compared to professional players. Some non-League players, like Isaac, argue that the FA has disproportionately issued them with heavy sanctions to set an example.
The FA told Josimar that it doesn't accept that non-League players are being subject to charges and sanctions that are disproportionate in comparison with professional players. This could be accurate, as there are more than double the amount of non-League players compared to those competing in the Premier and Football Leagues.
But for Isaac and Shaw, their perception is that non-League players are being disproportionately punished. Both argue that they didn't seek to make any money from their actions. Isaac argues that he wasn't aware that betting on football was prohibited at his level – a claim that the FA disputes. Shaw argues that he wasn't aware that his actions were even covered by the FA's rules at the time.
Josimar asked Isaac, Shaw, and McCrory whether they thought that bookmakers should be allowed to offer in-play bets at their level of football. Nobody thought that it should be permitted.
Gambling operators and the data companies that supply them will legitimately argue that as both games were televised, betting markets would have been formed anyway. Is a different approach, based on sanctioning operators that offer in-play odds on such games, possible?
From 1 January 2021, Sweden's Lottery Inspectorate (Spelinspektionen) prohibited betting on all but the top four divisions, as well as betting on in-play events such as cards, free kicks and penalties. The regulations also prohibited gambling companies from offering odds on any sport involving under 18s.
Spelinspektionen has taken action against numerous operators for offering bets on sport involving under-18s, but only one case could be found where an operator had been warned for offering in-play events. It involved Polar Limited (coolbet.com), which self-reported that it had mistakenly offered in-play bets on penalties and cards during Sweden's Qatar 2022 World Cup qualifying game against Georgia on 25 March 2021.
Isaac, McCrory, and Shaw will be watching to see how the FA handles the sanctioning of Ivan Toney. In November last year, the Brentford player was charged with 232 alleged breaches of the FA's betting rules. In December, he was charged with a further 30 breaches.
A decision is imminent. Unlike Isaac, Toney hasn't been provisionally suspended and took the field during Brentford's 1-1 draw at Arsenal on 11 February. The case underlines that clarity on sanctioning for betting offences is needed, otherwise the perception that Non-League players are sacrificial lambs is likely to continue.
* This is disputed by the FA. There are over twice as many Non-League players compared to those competing in the Premier and Football Leagues.