In the shadow of the vast gold-clad bowl Lusail stadium, the World Cup's 1 billion-dollar centrepiece venue resembling the ark of Noah, Joseph sums up his existence, his fate tied to that of the World Cup: "No one sees us."
By Sam Kunti
In November, he came on a short-term contract from Kampala, Uganda, to help serve World Cup fans. Lining the counters and selling Coca-Cola and Bud Zero, he is a cashier at Lusail Stadium, but the supporters hardly notice him. They don't talk to him. He is one of the thousands of faceless men who help run what once was the greatest show on earth.
His labour camp has no name. It's not on Google maps, and yet it sits in plain sight, wedged between spectator entrances and the endless facilities that come with a mammoth ground that will host the World Cup final. Adjacent to the Hayya resolution centre and the golf cart parking, David and other faceless men sleep, shower and eat rice with chicken and vegetables on repeat. A few hundred metres away, VIPs, A-listers and football legends pass through the VIP entrance to indulge in premier hospitality and watch the very best the global game has to offer.
Joseph is a Brazil fan and watches their matches when he can on his mobile in the concessions area. Then he trundles back to the camp that is fenced off, where cameras monitor the perimeter and security guards the entrance where a big Qatari flag flies. The sanitary is dirty and the rooms are cramped. In the heart of the camp, the welfare office is located. It's supposed to look after the workers' needs, but they are failing. David complains about the working hours, often in the heat. The norm is 12 hours, but sometimes his duty is stretched to 13-14 hours. Robert, another Ugandan, says there are no days off. He complains of back pain.
Eliud from Kenya, who'd like to meet Harry Kane, confirms that the work is non-stop. "The contract said it was eight hours, but they are making us work all the time," says Eliud. He hasn't complained about the lack of overtime pay to the welfare office, but says that "It's about waiting."
At home in Nairobi, he dealt in spare parts. Today, he is but a number in the huge workforce that sustains the four-week, 32-team football extravaganza. At all times, they are in a city that never seems to sleep, with the West Bay skyline, ever-rising further to the sky, illuminated 24/7. Buildings are adorned with huge, larger-than-life images of Neymar, Manuel Neuer, Enner Valencia and Son Heung-min.
Even at two o'clock in the morning, security guards are on duty near a downtown convention centre. At three, David sits outside South Korea's team hotel.
A few hours later, in the early morning, crouched Pakistani men from Peshawar trim the grass at Al Bidda park with pruning shears. The overhead sun is already searing hot. In the afternoon, Pradip from Mumbai is dispatched to the Al Khalifa Stadium to serve in hospitality, as he did in the VVIP ('Very, Very Important People') area of the Al Bayt Stadium. With no days off, he too complains of back pains. At the International Broadcasting Centre, Daniel is standing on his feet for hours in the late afternoon. He has a swollen ankle and spent time at the hospital. He says: "Qatar is tricky to work. Only the Qatari have it good here because they don't work."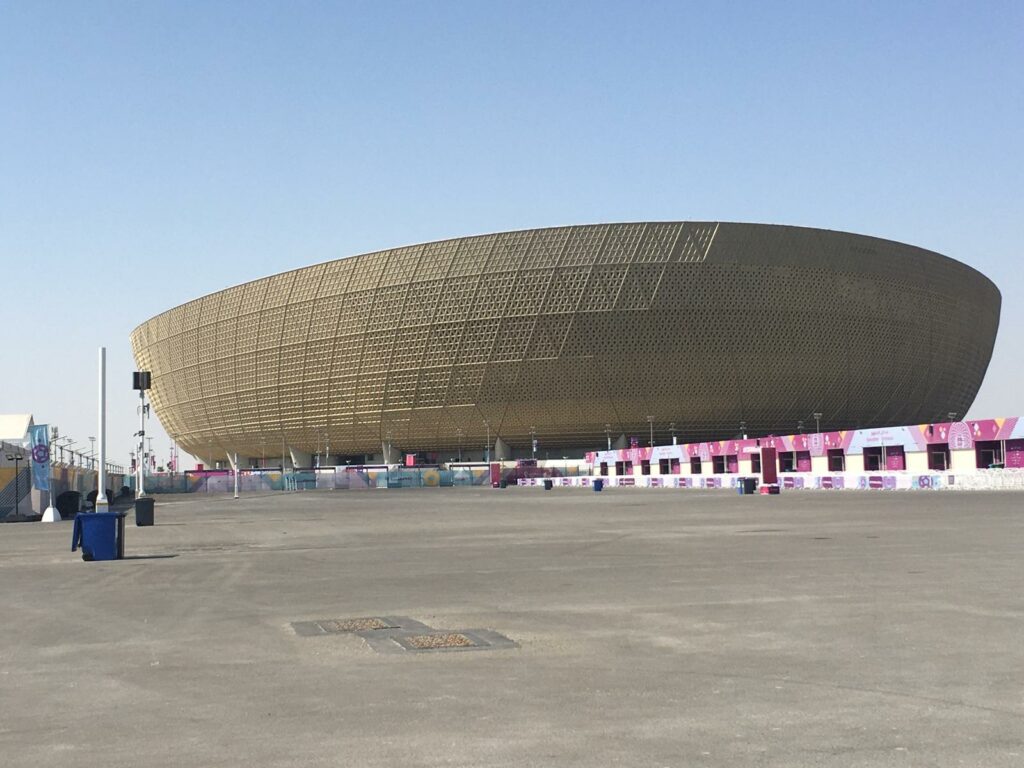 By 19:00 he is exhausted. Behind the counter at concessions at a round of sixteen match, Abdullah has run out of Luqaimat, a famous Arabic sweet dumpling, by 23:00. He is on 'duty' from three in the afternoon until three in the morning. His accreditation badge reads "Qatar Star Services" and just like Joseph, Robert and Eliud he leads an invisible life in the shadow of Lusail Stadium.
"Overwork has been linked to a wide range of negative physical and mental health outcomes and it can be particularly dangerous if work is physically demanding or takes place in dangerous environments, for example in extreme heat," says Nicholas McGeehan, director of FairSquare.
A self-described 'industrial catering giant', Qatar Star Services (QSS), the employer of Joseph, Robert and Eliud, is a Fifa partner that in the past also served Qatar University, Georgetown University, Qatar Foundation, Hamad Hospital, and the Amiri Guard.
During last year's dress rehearsal for the World Cup, the Arab Cup, they ran concessions as well, prompting QSS to note that it "fully abides by the Ethical Recruitment Standards, ensuring our full commitment to bringing individuals to the project with the workers' welfare in mind."
QSS seems to have an alternative definition of worker welfare. Labour abuses exist in a myriad of shapes and forms in Qatar – passport confiscation, wage abuse, a lack of health care coverage, false claims of absconding and, of course, inhumane long working hours as well as not paying overtime. The 2005 Civil Service Affairs and Housing Ministerial decree No. 11 outlaws working weeks in excess of 60 hours, including overtime, even for security guards, who often take the brunt.
The World Cup has stretched migrant workers and their bodies to the limit. Once again, those, with little to no legal reassurance, suffer. "Migrant workers in Qatar remain incredibly vulnerable and have very little power to resist any demands or requests from their employers," concludes McGeehan. "With the pressure on Qatar to deliver a smooth and well-run tournament, it was inevitable that a heavy burden would fall on these workers."
* All names have been changed to protect the workers.
* Fifa, the Supreme Committee for Legacy and Delivery and Qatar Star Services did not reply to a request for comment.