Jim Solbakken has become Norway's most influential football agent through his close friendship with Ole Gunnar Solskjær. And he prefers to sit at every side of the table.

Written by Lars Johnsen
Translated by Pål Ødegård
Illustration by Tore Fossbakken
Photos by Tidens Krav/All Over

*This article was published in the November 2014 Norwegian-language print edition of Josimar. Jim Solbakken threatened to sue Josimar over its content.
*Shortly after this article was published, the secretary general at the Norwegian Football Federation (NFF), Kjetil Siem (now at FIFA as president Gianni Infantino's close adviser) said they would conduct a thorough investigation into Solbakken's activities. A few months later they acquitted him of any wrongdoing. Though, NFF's "investigators" never approached any of Josimar's open sources quoted in this article.

*Towards the end of this article you will read about a criminal court case where executives from two Norwegian clubs, Stabæk and Vålerenga, were tried for fraud in relation to a football transfer where Jim Solbakken had been involved on all sides. During the trial Solbakken was a key defence witness. His testimony helped get the executives acquitted. In a 185-page special edition documentary about the transfer published in January 2016, Josimar exposed that Jim Solbakken had lied under oath

Half an hour past noon on New Year's Day 2014, about two and a half hours before kickoff between Arsenal and Cardiff City, Sky Sports TV cameras zoomed in on Ole Gunnar Solskjær and Cardiff owner Vincent Tan as they arrived at the Emirates Stadium. Norwegian viewers could follow live the country's arguably biggest football star in history step out of a Rolls-Royce along with the controversial Malaysian businessman that had brought Solskjær to London in his private jet from Molde earlier the same day.
Vincent Tan and Ole Gunnar Solskjær found their seats. Sitting next to them were Cardiff's chairman of the board Mehmet Dalman, Vincent Tan's son Morvin, and Jim Solbakken, Ole Gunnar Solskjær's closest friend, adviser, agent and former business partner. Twenty minutes after referee Jonathan Moss had blown for full time in a match Cardiff City lost 2-0, Tan, Solskjær and Solbakken met up in the car park below the stands. They got into a dark-windowed car and sped out of there. And on 2 Thursday January, at 12:45 – less than 24 hours since he was sitting next to Vincent Tan at the Emirates – Ole Gunnar Solskjær was presented as the new manager of Cardiff City. Norway had their first manager in the world's biggest league since Egil Olsen's days as manager of Wimbledon, and Solskjær's dream to manage a Premier League side had come true.
Five weeks earlier Solskjær had led Molde FK to a solid 4-2 victory over arch rivals Rosenborg BK in a riveting cup final. The season had started badly for Molde, but they improved over the season, and ended up in a 6th spot in the league table – before topping it off with a cup win, something as coveted in Norway as winning FA Cup is in England. It was Solskjær's third trophy in three years, adding to the league titles in 2011 and 2012.
Solskjær referred to himself as a 'manager', and not as a coach, something he was careful to point out when he received the 'Kniksen' award (the most prestigious football award in Norway) as the nation's best coach in 2011 and 2012. It was Mark Dempsey who should have been awarded, Solskjær said, since he was the actual head coach of Molde, while he was the manager. With background as a Manchester United legend, coaching experience with the same club in England, and success in Norway, it only seemed natural that Solskjær one day would take the helm at an English Premier League side.
When the opportunity finally came, an enormous challenge faced him. After the loss at the Emirates, Cardiff were 17th in the league table – one point from relegation with 18 matches to go. His job was to secure another season in the Premier League. He had one transfer window to help him out, and Vincent Tan had promised him 22 million pounds to go shopping for. It was crucial he spent the money wisely.

Naïve and unprepared?
A week after the match at the Emirates, Solskjær signed Magnus Wolff Eikrem, the first of three players from Molde FK (Eikrem via SV Herenveen) brought to save Cardiff City from relegation. Mats Møller Dæhli and Jo Inge Berget followed suit. All three were listed as clients of the football agent Jim Solbakken. Møller Dæhli and Wolff Eikrem had also played under Solskjær at Manchester United's youth team, and both had been discovered at the 'Solskjær Academy', a yearly talent camp arranged in Kristiansund (the hometown of both Solskjær and Solbakken) by the player agency Dynamic Solution – founded and owned by Solskjær and Solbakken – in cooperation with the Norwegian FA and its sponsors, the state-owned oil company Statoil.
"Solskjær took over a newly promoted Cardiff City on a downward slide in the league table, and it was quite clear from day one that his first half year keeping them up was priority number one. To stay up was a be or not to be for Solskjær. In such a context it seems, to me, very naïve of him to turn to Norwegian players. As of today, there are no Norwegian players capable of improving a Premier League side, and Solskjær ought to know this better than anyone. Therefore I can only conclude that Solskjær was unprepared for the task, and underestimated the importance of knowing the international transfer market, in itself remarkable considering he had been connected to a job in various English clubs for a while, and it was quite apparent he would get the chance at some point. Today, it's at least as important to pick the right players as it is to coach well or be prominent at leading matches. Without the ability to bring the optimal players within the framework of the budget, you don't stand a chance," says Tor-Kristian Karlsen, former scout and sporting director at AS Monaco and Zenit St Petersburg, who adds that he thought Mats Møller Dæhli was a good signing in itself.
"Nobody criticises the purchase of Mats Møller Dæhli, but it has to be seen in another context. We talk about a talent that eventually can become a decent Premier League player. But he's also a young lad without the stature and the personality to immediately turn around the negative trend at Cardiff City. In a January transfer window you have to consider the immediate situation."
Mats Møller Dæhli started a total of seven Premier League matches for Cardiff City, of which he was subbed off in six of them. Magnus Wolff Eikrem got six matches, five as a substitute. Jo Inge Berget saw Premier League action just once, as a sub.
From the coaching staff at Molde FK, Solskjær brought along Mark Dempsey and Richard Hartis. To be chief scout at Cardiff, Solskjær hired John Vik – who in addition to having been Molde FK's chief scout, had also been Solskjær's and Solbakken's business partner at Dynamic Solution. After relegation was confirmed for Cardiff City, and as the club had ambitions to bounce straight back up again, Solskjær's brother-in-law Ola Lyngvær also landed a job at the Welsh club.
Player transfers between Molde FK and Cardiff CIty generated suspicions that Jim Solbakken represented various sides in the negotiations.
Solbakken was Solskjær's adviser during the negotiations with Cardiff City, at the same time as he made sure players he represented – Møller Dæhli, Berget and Wolff Eikrem – were sold to the club.
Which role did Solbakken have during these transfers?
And why did Solskjær almost exclusively buy players from his close friend and business partner?
Is it even legal?

The path to partnership
Jim Solbakken was working on an oil rig in the North Sea when Ole Gunnar Solskjær was sold from Molde FK to Manchester United back in 1996. At this point, the infamous Rune Hauge was Solskjær's agent, but Solbakken was gifted a so-called advisory role after his more prolific striker friend was established at Old Trafford. The two friends that had first met at a training session for Clausenengen in their native town of Kristiansund in 1991 would eventually become business partners too.
Solbakken first appeared in Norwegian media during a conflict within the national team in 2001. There were disagreements about which products the players could promote. NFF was of the opinion that the players were bound by the contracts the federation had, while the players wanted freedom – and this applied especially to the players at clubs abroad who also had to fulfil their agreements at their clubs. NFF had an agreement with the Coca-Cola Company, and had sanctioned Solskjær after the latter did a spot for Pepsi in 1999, one of Manchester United's sponsors. As the spot was launched in Norway, with Solskjær as its main protagonist, it was stopped by NFF's agreement with Coca-Cola which stated that the latter had 'product category exclusivity'. The players who didn't heed to this regime were threatened with exclusion from the national team. It was also a conflict about basic rights. Shouldn't the players have the legal rights to their own name, image and signature? The negotiations lasted for weeks, and were conducted in Manchester. The agents of several Norwegian players were involved, and Solbakken was present as Solskjær's representative, together with the lawyer Erik Flågan. Flågan have since offered judicial assistance to both Solskjær and Solbakken over many years.
The conflict was eventually resolved when the Norwegian players' union (NISO) intervened, and the regulatory framework in Norwegian sports were amended as a consequence. The athletes gained a greater degree of freedom to control their own image rights. From then on NFF only controlled the marketing aspects of their players when they were on national team duty, and not the rest of their time. What started as a conflict also ended up with NFF and Solskjær agreeing a much closer collaboration. Statoil and the federation were to establish a talent camp with Solskjær as its promoter.
"25 boys aged 14 and 25 girls aged 15, from across the country, will participate. The assembly takes place between 22 and 27 June, and the players will be selected by NFF and regional federations. At the camp the young football players will learn training principles and complete a training plan approved by Ole Gunnar Solskjær and NFF. Renown coaching personalities will take part, together with talent scouts from Manchester United," Statoil wrote on their web page in 2003. "Statoil Football Academy with Ole Gunnar Solskjær", commonly called the "Solskjær Academy", took place one week each summer in Solskjær's home town of Kristiansund.
"Each of the country's 18 football districts picked one girl and one boy. This way, each district federation would get a reference as to how good their players were vis-a-vis the others. In addition we selected a handfull based on quality. No one else put any conditions on the selection process – it was us, together with the local federations, that had the knowledge and overview," said NFF's Terje Liknes, who back then was responsible for the talent development for the age groups between 13 and 16. The talent camp was in effect an unofficial U-15 national side.

The musical chairs
It's from this talent camp Jim Solbakken would create and expand his portfolio of players. There is a red line from the "Solskjær Academy" to Cardiff in Solbakken's and Solskjær's business together. A year after Solskjær's never forgotten goal against Bayern Munich in the Champions League final, Solbakken (30 percent), Solskjær (30 percent) and investors Tore Christiansen (30 percent) and Frode Bjelland (10 percent) founded the company Dynamic Solution. The company arranged VIP trips to Old Trafford. Dynamic Solution also offered their services of representing football players. Bjelland would eventually sell his part to John Vik and the former Leeds hard man Eirik Bakke, each gaining 5 per cent. It was Dynamic Solution that organised the talent camp to whom Solskjær lent his name to, while Solskjær's native club Clausenengen took care of the practical aspects of the camp. The selected 14-year-olds were given free meals and lodging, all paid for by Statoil. Solskjær hired profiles from Manchester United, like René Meulensteen and Mike Phelan, to coach the talents in addition to himself. On the sidelines, the exclusively invited scouts observed the sessions. Dynamic Solution partner John Vik supervised one of the training sessions. He was later appointed as a scout by Molde FK during Solskjær's coaching job there, and followed him to Cardiff. Slowly, critical voices were heard. Jim Solbakken, with the blessing of NFF, came to a buffet consisting of the 25 most talented 14-year-olds in Norway, all just waiting to be discovered – and sold to a club abroad.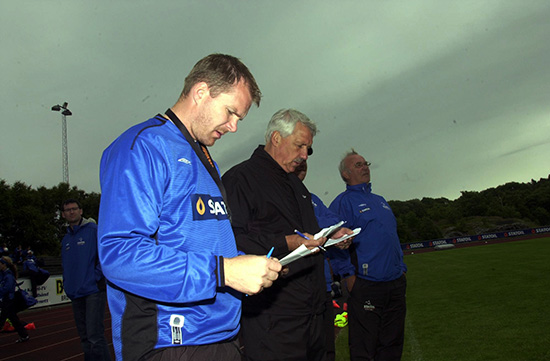 "In my opinion it's unacceptable that NFF and a player agency cooperate in developing talents. This is a very unfortunate connection, the roles of NFF and Solskjær. The Solskjær Academy have developed into a candy jar for the big clubs – all approved and arranged by NFF. The federation contribute to something they're against [that young players leave too early to clubs abroad]," sporting director at Viking FK, Egil Østenstad (yes, the former Premier League striker), told Stavanger Aftenblad in 2007.
Jim Solbakken understood that some reacted to him being an agent that organised a talent camp together with NFF where they picked the best 14-year-olds, but added that "we started this talent camp together with Statoil, so it's just natural that we have to control the process."
Lars Backe Madsen and Jens M. Johansson, both reporters at Dagens Næringsliv, the Norwegian equivalent of the Financial Times, scrutinised the connection between Solskjær, Solbakken and the talent camp in their book Den forsvunne diamanten ('The Lost Diamond').
"Ole Gunnar Solskjær uses his position to gather the best players in the country to a camp. He controls the entire chain from talent to elite player, something which would be highly questioned in other businesses," the authors expressed at the book launch.
Solskjær sold his stake in Dynamic Solution in 2008 as it violated the English FA regulations to be an employee at a club while having a stake in a player agency. Eirik Bakke did the same in 2009, for the same reason.
In Dynamic Solution's annual report it's not listed which amounts were involved when Solskjær sold his part. In the annual report of Sun Solution, a company wholly owned by Solskjær, one reads that "the company's result for 2008 is influenced by the realisation of shares, with a profit of 2,2 million Norwegian kroner," without any further specification about where this profit came from.
The last edition of the 'Solskjær Academy' was held in Kristiansund in 2010. As Solskjær became the manager at Molde FK, a club financed by billionaire Kjell-Inge Røkke, owner of the Aker conglomerate, the collaboration could no longer continue. Statoil and Aker are competitors.

The Molde way
Solbakken has in one way or another been involved in practically every transfer to Molde FK while Solskjær was their manager. If there's one common denominator for the players Solskjær has added, then it is that they all have Solbakken as representative. A whopping eight of the players that played the cup final for Molde in 2013 had Solbakken as their agent. As the coach of Manchester United's reserve team, Molde FK and Cardiff City, Solskjær has been a part of 21 transfers of players represented by the agency he himself had co-founded.
When the defender Vegard Forren became a sales object, he was categorically told by people at Molde FK that he had to use Jim Solbakken as his agent, otherwise they would not agree to sell him. Several sources both inside and outside the club confirm this to Josimar. "If you want to play abroad, you have to use Solbakken as agent."
Forren hence dropped Sverre Mauseth as his representative, and became another addition to Solbakken's portfolio, and was sold to Southampton for 2,7 million pounds (he never played a game in the Premier League).
Together, Solskjær and Solbakken have, through the companies Sol Solution and Dynamic Solution, also owned 100 per cent of three daughter companies up to and including 2011: Travelnet AS, Property Solution AS and Property Solution II AS. Up until August 2012 Jim Solbakken acted as a board member of Sol Solution AS, a company wholly owned by Ole Gunnar Solskjær. Solbakken is still listed as a procurist of the company.
The company's address is the same as Dynamic Solution – Jim Solbakken's company. Both companies use the same accountant, Bjørnar Bjåstad. In every yearly report at both Dynamic Solution and Sol Solution, Bjåstad's name followsthe line "Confirmed by a representative of the company." Bjåstad has a 9,5 per cent stake in Dynamic Solution.
In the NFF's regulations on intermediaries it says:
A player agent shall in his/her work avoid any conflict of interests. This include that the player agent cannot:
b) have a formal or informal collaboration with, or common economical interests with any of the other parts of any negotiation.
e) be an agent for, have represented, or in any form have common economical interests with the coach, other employees or officials at any of the clubs involved.
There is no doubt that Ole Gunnar Solskjær and Jim Solbakken have had a formal business collaboration and common economical interests. There is no doubt that Solbakken has represented Solskjær both as a player and as a manager – like when Solskjær was hired at Cardiff City. The purchases of players done by Solskjær of Solbakken's clients is nothing else than a complete breach of the agent regulations' articles concerning conflicts of interests, according to sports law experts Josimar have talked to.

The Joshua King thing
"I've been in contact with Jim in a lot of situations, both professionally and privately, and I experienced his behaviour in the role as an agent as problematic. He acts in a verbal, vague manner. Like you would address a friend. He's NOT preoccupied with formalizing the contact between the parts involved. And all this while he desires to discuss concrete aspects around a player's contract, as conditions, contract length, buying and selling fees. And to request that this is sent to him by email. I experienced a very uncomfortable situation for me personally as a consequence of his behaviour after I had terminated my contract at Viking. In relation to a transfer of a player from Viking, I was called up by Geir Solstad, the board chairman. He wondered if it was true that I had committed Viking to give Jim Solbakken a share of the transfer sum of the player. I denied this. Fortunately, an experienced football man like Geir Solstad, who had received this claim from Solbakken, reacted immediately and contacted me directly to verify this claim by Solbakken," Egil Østenstad, sporting director at Viking in the period 2006-2011, told Josimar.
Østenstad went on to tell that Solbakken had presented 'real interest' from big clubs directly to the players, who were all still under contract at Viking. An 'interest' that never materialised in any approaches, neither official nor informal, from the same clubs to Viking. This created a myth among the players that Viking didn't want to sell, something that challenged the relationship between the club and the players on several occasions.
Østenstad's words are supported by another former sporting director in Tippeligaen, who experienced something similar after picking up Joshua King from Romsås, a neighbourhood club in Oslo. King was regarded as one of the greatest talents Oslo had seen in a long time, and a bewildered mother had called the Norwegian football federation to ask for advice about how to navigate in the world of football. At the federation offices they had suggested she call Jim Solbakken, something she did. Hence, another Norwegian talent was integrated into the Solution system, all with NFF's blessing.
"We wanted to sign a professional contract with Joshua, and we received signals that it would be OK from Jim Solbakken. But as soon as Joshua turned 16, he signed for Manchester United's reserve team instead. Solbakken knew something about King's future that we didn't. Not so strange since the best mate of the player's agent was in fact the coach of Manchester United's reserve team. We were conned there," the sporting director told Josimar.
In the same phone conversations where the sporting director and Solbakken discussed a client's contract, where the latter claimed he "wasn't the player's agent since he didn't have an contract of representation with the player," he would ask to get sent over the player's contract to his own email address. In NFF's regulations it's defined that agent activities include promoting a player towards a club.
Paragraph 2-2 of the Norwegian football association's regulations reads:
(1) According to these regulations, agent activity include the following actions:
-introduce/promote a club towards a player
-introduce/promote a player towards a club
-participate in meetings on behalf of or together with a club or a player concerning transfer/loan/contract conditions
-discuss or negotiate conditions for a possible transfer/loan with a club or a player
-negotiate with a club on behalf of a player or another club
In the Norwegian intermediary regulations there is a universal demand that intermediaries that represent players shall sign a contract of representation:
"Before an intermediary can start agent activities on behalf of a client, both the intermediary and the client shall have signed a standard contract of representation", it says. And:
"A player agent must not perform agent activity without presenting a signed contract of representation".

Short cuts
The contract of representation is quite simple and instructs the parts on how to behave towards one another. This agreement are to be written in four copies, and to be sent in to NFF. At the offices at Ullevaal Stadium, the football federation will review the contract, stamp it, and send three copies back. The intermediary keeps two copies, while one is given to his or hers client. Then the player is locked to his agent, who commits to not represent another part in a negotiation setting. Many agents simply skip many of these hurdles. Many do have signed agreements, but they disregard the part of sending it to the NFF. Most players are unaware that they're entitled to a copy. Fewer care. The players are just happy to have an agent, as it gives a certain status in itself.
Most clubs also prefer it in this manner. A contract of representation is a cost increasing and bureaucratic element. If things are to be done by the book, the agent fee is moulded into the net salary of the player. The player is subject to tax of the total sum, and hence pays his agent's part in net. The agent must then pay tax of his share. If a given player was to receive a salary of 1 million pounds per year from his new club, and has an agreement that the agent shall receive 100,000 pounds in his fee, the player's new club will pay 1,1 million pounds – and not one million. The club have to pay employment tax and social fees calculated from 1,1 million pounds – and not one million. Of the amount the player has left after the taxes are deducted, 100,000 pounds go to the agent, as according to the agreement. When the agent then pays his taxes, he might be left with 50,000 pounds.
That is the correct, law abiding way to do it, something all involved lose money on.
If the agent has a registered contract of representation, he can't receive the money directly from the club – that would be so-called double representation. The simple solution is therefore to not have any registered contract of representation, so the agent can simply invoice the club for a service. Like this they avoid that the amount is subject to tax. In the spring of 2014, a regulation adjustment was performed regarding this subject. The clubs could now pay the intermediaries directly. Something Norwegian clubs had done illegally for years – hence avoiding paying huge sums in taxes.
Most agents manage this balance act without signing a contract of representation quite effortlessly. They act professionally and concisely in their role as the player's representative, but get paid their fee directly from the club in order to avoid paying some of the taxes. But it is also an incentive to sit at various sides of the table. And in that regard, Jim Solbakken has home advantage.
"Many agents have hardly set their foot at the international terminal at the airport, except when they go on holiday to Turkey," Solbakken once told Norwegian media.
He's not like them. He's been to the international terminal at the airport. Lots of them. When he checks in it's not the choice between aisle or window seat that occupies his mind. It's which side of the table he'd sit at when reaching his destination. Just like when Mame Biram Diouf transferred from Molde FK to Manchester United.

The announcement
Mame Biram Diouf arrived in Molde and Norway from Dakar and Senegal in 2006, and became a pupil in football studies at the Rauma People's High School. Already in 2007 he made a mark of himself by knocking up ten goals on a Molde FK side that won promotion to Tippeligaen, the top tier in Norway's league system. Here he would go on to score 23 goals in 52 appearances for Molde FK. And he would get Jim Solbakken as his agent. In an interview done by the local newspaper Romsdals Budstikke in January 2009, it became clear that Solbakken had an agreement of representation with both Mame Biram Diouf and Pape Paté Diouf, another Senegalese who had success at Molde FK.
But the agreements were never sent to the Norwegian federation's offices at Ullevaal.
It had become a common sight to spot Diouf cycling in the streets of downtown Molde. But the bike was swiftly parked as soon as he became a part of Solbakken's range of products. The agent splashed out on a car for his future star, and while Diouf continued to play well for Molde, Solbakken was busy criss-crossing Europe to spread the message about the Senegalese.
In the summer of 2009, activity was picking up. Solbakken sponsored a holiday to France for Diouf and his girlfriend, he himself visited clubs in France plus the Dutch side Groningen. The Dutch were close to paying up for Diouf. On 15 July Diouf was in personal negotiations with Groningen. "This is confirmed by his agent, Jim Solbakken, to TV2 Sporten," the Norwegian broadcaster wrote on their website. As Diouf himself was on holiday in France, Solbakken took care of the negotiations regarding his personal terms.
Two days later, at about 14:00 local time in Kuala Lumpur, a group of British reporters circulated in the lobby of Mandarin Oriental Hotel in the Malaysian capital. Manchester United were on a summer tour in Asia, and had called a press conference. Only a few hours previous, a bomb had detonated at Ritz Carlton Hotel in Jakarta which happened to be Manchester United's next stop on their Asian tour. The club cancelled the trip to Indonesia, statements from club director David Gill and manager Alex Ferguson informed the reporters. Ferguson could add that the club had signed striker Mame Biram Diouf from the Norwegian club Molde FK. The clocks had just passed seven in the morning in England – too early for the sports desks and switchboards at London's news media to be properly manned.
The timing here is crucial.
In the hours that followed the transfer was reported in every British media. The transfer had happened quickly, and Ferguson himself admitted he had never seen the player actually play football. The fee was reported to amount to approximately 4,5 million pounds.
"It's also quite sensational if Sir Alex hasn't seen Diouf play. I will be very surprised if there are only video tapes that is the basis of this spontaneous purchase. Then again, Ole Gunnar Solskjær is a person that enjoys an enormous amount of trust with Sir Alex, so it is very likely that Ole Gunnar played a big part in this transfer," James Alan Robson from Manchester Evening News told the Norwegian newspaper Dagbladet at the time.

The person he had never met before
Molde FK announced a press conference the same day where club director Tarje Nordstrand Jacobsen informed about the eyebrow-raising sale, and added that the parties "were done negotiating yesterday afternoon." In other words, the parties had agreed the transfer on the afternoon of 16 July. The contract of representation Jim Solbakken signed with Molde FK is dated 17 July. The very same day Alex Ferguson proclaimed the news at Mandarin Oriental Hotel in Kuala Lumpur – and one day after Tarje Nordstrand Jacobsen had closed the contract negotiations with Manchester United at Gardermoen Oslo international airport. Jim Solbakken wasn't present when the contract was signed at the airport. He was with Diouf in France.
Jim Solbakken has denied representing more than one part in the transfer negotiations of Diouf.
"Mame Biram Diouf has no agent. I have also never acted as his agent. I had a contract of representation with Molde FK, and I've worked on behalf of them in this transfer case. And for no one else," Solbakken told Dagbladet after the transfer was completed.
Several sources confirm to Josimar that Jim Solbakken was indeed Mame Biram Diouf's agent, something Solbakken himself confirmed during an interview with Romsdals Budstikke, the newspaper covering Molde and the surrounding area, six months earlier.
"I was sitting in Molde together with Mame and Jim when they signed the contract of representation," confirms Malick Diop to Josimar, who run the academy in Senegal where the Oslo-based talent scout (and architect) Jon Thorstensen had discovered Mame Biram Diouf.
"I know that Jim had a contract of representation with Mame. But it was never dispatched to the federation. So when Manchester United came forward, he swapped sides. That's how Jim operates," Jon Thorstensen tells Josimar.
Thorstensen himself is not involved in the player agent business, and therefore asked Jim Solbakken to represent Diouf. And when Diouf was sold for a fee, both Thorstensen and Diop was promised a cut. It turned out to be far from easy. They quarrelled over amounts. At one point an email from Solbakken's accountant Bjørnar Bjåstad arrived, with an overview of the expenses Solbakken claimed he had had with Diouf. It was followed up with another email, this time from Solbakken himself where he gave remarks on the various points listed. They were as followed:
*Expenses for car for Mame Biram Diouf
*Holiday for Diouf and girlfriend
*Trips to Paris to have talks with the coach of Senegal's national team for Jim Solbakken and Tarje Nordstrand Jacobsen, and expenses to bring the coach to Norway. It was important to get Diouf into the national team, it will make a future transfer to a club abroad much easier. In Great Britain, i.e., there are stricter immigration requirements for people who aren't citizens of the European Union. With a certain amount of caps for your national team, the road to obtain a work and residence permit is much smoother.
*Trips regarding negotiations in Paris and Groningen.
"Who has expenses like that, for representing players, if he wasn't his agent?" Thorstensen asks.
When Mame Biram Diouf arrived in Manchester, he was received by the Norwegian lawyer Erik Flågan. It was a person Diouf had never met before, but it was Fågan that would represent him when the contract was to be signed.
But Diouf's adventures in England started badly as he was put in custody. Great Britain require a valid visa for all Senegalese arrivals, and Diouf and Flågan had to depart for Stockholm in order for the Senegalese embassy there to issue one.
The expenses for these flights were paid for by Jim Solbakken, according to his own books, even if it happened at a point where Solbakken officially had swapped his role as Diouf's representative to one representing Molde FK. Flågan – himself a licensed player agent – is Solbakken's personal judicial adviser, and his appearance in the transfer of Diouf is a further breach of the player agent regulations regarding "formal and informal cooperation or conflict of economical interests with any of the other player agents involved".

A stranger in the taxi
Just about one and a half years after Mame Biram Diouf went from Molde FK to Manchester United, news arrived of another shock transfer from Norway to Manchester United. Aalesunds FK's Danish goalkeeper Anders Lindegaard was announced for the Red Devils with a whopping 4 million pounds price tag.
Ole Gunnar Solskjær had again been on a scouting mission for Alex Ferguson, this time to Scotland along with United's goalkeeper coach Richard Hartis to observe Aalesund in their Europa League encounter against Motherwell in August 2010. Hartis would eventually become a goalkeeper coach at Molde FK, under Solskjær.
In late autumn 2010 the Aalesund directors Henrik Hoff and Bjarne Haagensen travelled to England to negotiate. On 26 November the transfer was sealed, Alex Ferguson could confirm on MUTV. Lindegaards's transfer would come into effect from January 2011.
Out of the blue a third person had popped up on Aalesund's side of the table, and that after the negotiations were concluded and the agreement signed: the Oslo based, Norwegian-Nigerian agent Atta Aneke – an "informal business partner" of Jim Solbakken. Before the transfer Henrik Hoff had remarked to Norwegian TV2 and the local newspaper Sunnmørsposten that Solbakken had acted on behalf of Aalesund. But when the papers were signed, Solbakken was representing Manchester United while Atta Aneke represented Aalesund.
He wasn't acquainted with the Aalesund directors. They didn't know who he was. When Solbakken was confronted with whether he had placed Aneke at the other side of the table, he replied:
"We have secured 4 million pounds to Norwegian football, that can't be that bad, can it?"
A peculiar statement from someone who represented the buying club, and whose job instead ought to have been to negotiate the lowest possible transfer fee.
"Jim Solbakken were seated on every side of the negotiating table from the beginning. In order to avoid problems with double representation, he arranged for Atta Aneke to act as Aalesund's representative. To us it all seemed illogical. None of us knew who he was. It was good for the club, as Hoff and Haagensen had entered the meeting with the goal of acquiring between 700,000 and 900,000 pounds, in addition to setting up a friendly match between Manchester United and Aalesunds FK. But then Solbakken had led them out to the hallway and told them how it would go down. And a much better deal was crafted instead," a source at Aalesund FK tells Josimar.
In Sunnmørsposten they portrayed Aneke as "the mystery agent" that had assisted Aalesund FK, and published a picture of him sitting inside a classic British black cab together with Henrik Hoff and Bjarne Haagensen. The Oslo-based newspaper Aftenposten asked Solbakken if he hadn't acted for both parties, in what had been his sixth successful transfer negotiation between Manchester United and Norway.
"Except from the sale of Diouf, I've always represented Manchester United," was Solbakken's reply.
That must have come as a surprise to Magnus Wolff Eikrem, Joshua King, Etzaz Hussain and Mats Møller Dæhli – players that had had Solbakken as their agent since they were in their mid-teens. But when they were eventually sold to Manchester United, Solbakken didn't represent them anymore, according to Solbakken himself.
Sometimes one leaves a paper trail, as Solbakken did when Brede Hangeland was sold from Viking FK to FC Copenhagen for approximately 1,1 million pounds. In the agreement Solbakken was careful to add a buy on clause which benefitted himself. In other words, he made sure he'd get a cut from a future transfer of Hangeland from FC Copenhagen. This isn't illegal in Denmark, but as the next transfer was from FC Copenhagen to Fulham, a deal worth 3,6 million pounds, it was regarded as an international transfer, and hence subject to the regulations of the international transfer market as well as those of the English FA. By putting himself into the contract Solbakken became a third party – in effect to be regarded as an investor. He was given a fine of roughly 5 000 pounds by FIFA.

In bloom
Six months before Solbakken smalltalked with Solskjær and Vincent Tan in the underground car park at the Emirates Stadium, he had been called to testify in the trial where Norwegian football administrators were charged with serious fraud in relation to a transfer – the case about Veigar Páll Gunnarsson and the talented midfielder Herman Stengel.
Ole Gunnar Solskjær addresses the particapnts at the 'Solskjær Academy'.
In the 2006, 2007 and 2009 seasons, the Icelandic striker Gunnarsson was topping the 'points' charts in Tippeligaen. For three years in a rowhe was the player with most assists and goals in Norway's top division, racking up a total of 43 goals and 36 assists in 78 games for Stabæk. Gunnarssons contribution was getting noticed abroad.
In December 2008 Nicolas Holveck arrived fra the French club Nancy to Oslo, and at Hotel Opera he met with Jim Solbakken to discuss a possible transfer. Gunnarsson popped in to present himself, but didn't stay long. Stabæk was informed via phone calls. In the end the Icelander was sold for 1,3 million pounds. Solbakken then accompanied Gunnarsson to France in order to negotiate his personal contract with Nancy. During the negotiations he ensured Norwegian media by phone that it was going smoothly, and could add that the mandatory medical check up had been concluded satisfactory. The agreement resulted in a 45,000 euro per month salary before tax, running over three and a half years. For Gunnarsson it was a quite lucrative move, coming from 6,500 euro a month at Stabæk.
Gunnarsson didn't get many minutes playing time in France. In the same period, Herman Stengel was selected to participate at the yearly 'Solskjær Academy'. He was still just 13 years old when he was enrolled in the Solution system when John Vik approached him during the talent camp – even if the player agent regulations' paragraph 10-3 clearly states that agreements that directly or indirectly ties an agent to a player not yet turned 15 years old is illegal.
Nancy and Veigar Páll Gunnarsson proved a bad fit so the club contacted Jim Solbakken for assistance in getting him sold. For a transfer fee of 79,000 euro, Gunnarsson again donned the Stabæk jersey in January 2010. He found his form immediately and wrapped up ten goals and as many assists during the 2010 season. Again he topped the points charts. By the time the 2011 season had reached the halfway mark, he had added another nine goals and five assists.

Who's your boss?
At this point Stabæk found themselves in a difficult financial situation. Costs had to be cut. Players had to be sold. Henning Hauger was sold to the German side Hannover. Another object for sale was their best player – Veigar Páll Gunnarsson.
The Icelaner was wanted by both Vålerenga and Rosenborg. At this point, Gunnarsson's intermediary was Arnor Gudjohnsen. He was called up by Jim Solbakken who expressed his opinion that Gunnarsson ought to be sold to Vålerenga, since Rosenborg was on the brink of bankruptcy (!).
"It was obvious that Solbakken worked for Vålerenga," Gudjohnsen confirms to Josimar.
Jim Solbakken's services for Vålerenga falls in under the player agent regulations' definition of agent activity. The practice of player agent activity encompasses the following actions: To introduce/promote a club towards a player…
On 9 July 2011, Vålerenga and Stabæk agreed a transfer for Veigar Páll Gunnarsson for 91,000 pounds. In the email exchange between Vålerenga director Truls Haakonsen and Arnor Gudjohnsen where Gunnarsson's personal terms were discussed, Jim Solbakken was on copy.
Simultaneously, the clubs agreed to include an option to buy clause for the 15-year-old Herman Stengel to a value of 365,000 pounds. Stengel would continue to play for Stabæk, but the clause would give Vålerenga first rights on the youngster. The Gunnarsson transfer and the Stengel clause were accepted by both parties on the same date, but not signed and processed until 28 July and 18 August, respectively. The option to buy agreement was not reported to the NFF, and neither Stengel nor his parents were informed about the deal taking place at all. On 2 October the 2011, a month and a half after he had turned 16 years old, Stengel made his Tippeligaen debut. Ten days later he was approached by a crew from TV2 as he was on his way to a training session at Nadderud Stadium, and suddenly he was centre stage in a controversial transfer story.
In the autumn of 2011, TV2 had received a tip that something illegal had occurred during the transfer of Veigar Páll Gunnarsson from Stabæk to Vålerenga. The transfer fee was put artificially low – just 91,000 pounds – all the while the Stengel clause was fictional. The real reason, it was alleged, was that Nancy had a claim of 50 per cent of the transfer fee if Stabæk sold the Icelandic striker. TV2 had received information that the real transfer fee was closer to 450,000 pounds, and that the 365,000 pounds Vålerenga paid Stabæk for the option to buy Stengel was a way to camouflage the real price of the transfer – and in that way snuff Nancy for 182 000 pounds.
On 12 October 2011, TV2 published their story. That was the first time Herman Stengel learned of the option to buy agreement between Stabæk and Vålerenga.
In a conversation with Vålerenga director Truls Haakonsen a reporter from TV2 mentioned the name of Jim Solbakken. TV2 suspected that Solbakken was the key man since he had been involved both when Gunnarsson was sold to Nancy, and when he was sold back to Stabæk. He therefore must have known about the 50 per cent clause. At the same time he was Stengel's agent, and knew perfectly his contract situation and future plans. To mention Solbakken was a tactical move, to see if the agent would get in touch. And Solbakken duly called TV2 and confirmed the information the channel possessed. There was an option to buy clause, he admitted, but he claimed he hadn't been aware of it.
"I talked to the clubs today to figure out if this was the case. I've been confirmed by the clubs that there is indeed such a clause about this", Solbakken told Norwegian TV cameras, and added that such clauses were perfectly normal in the business, and certainly not illegal – even if the player and his parents hadn't been informed.
"Well, now it turns out that the regulations stipulate that they don't have to inform us about this, so the clubs have done nothing wrong in that regard," was Solbakken's comment.
With "us" he referred to Stengel and his parents, and to himself. That clubs are exempt from informing the players about option to buy agreements is false. According to NFF's regulations on transfers, paragraph 3-4, we read that "agreements between clubs regarding a player must be signed by the aforementioned player – for player under the age of 18 also by his/her parents – in order to be valid."
The football federation's law enforcement was engaged. They collected information from Rosenborg, Stabæk, Vålerenga and Jim Solbakken. They concluded that the "sum paid for Veigar Páll Gunnarsson was an attempted camouflaged in order to obtain money due to Nancy in according to the agreement. Furthermore, the main motive to agree on an option to buy clause for Herman Stengel was to use it for accounting purposes covering the amount surpassing the one million Norwegian Kroner (approximately 365,000 pounds), in reality linked to the sale of Veigar Páll Gunnarsson."
17 November the police initiated investigations. On 30 November they raided the offices of both Stabæk and Vålerenga. The two sporting directors of Stabæk and Vålerenga, Inge André Olsen and Truls Haakonsen, were apprehended and charged with serious fraud. The police collected computers and documents as evidence, and after a two year long investigation, a trial was due.

A different version
On the 26 August 2013, the trial in Asker and Bærum district court started. "The Gunnarsson/Stengel case" as it was dubbed, would soon reach its final conclusion. Two sports directors and two officials at Stabæk Fotball AS could potentially spend years behind bars. Both clubs had insisted that the sale of Gunnarsson and the Stengel clause were two separate agreements, and not a package deal.
Herman Stengel told the court how he got to know Solbakken at the 'Solskjær Academy', how he ended up under his patronage. Both Stengel and his father confirmed they had no knowledge about the option to buy clause before TV2 had contacted them on 12 October 2011 – two months after the clause had been signed between the clubs.
It was also made clear that Solbakken had known about the Stengel clause all the time, contradicting what he earlier had denied. It was him Stabæk related to, and the club still thought it sufficient that only Solbakken had to know about the agreement, and that it was his job to inform the players and his parents, so they didn't have to. In the football business it was how it worked, Inge André Olsen, sporting director at Stabæk, told the court. It was Solbakken who had failed to notify the Stengel family.
"Just like in a criminal prosecution where the accused communicate through his attorney, like that a player communicate through his agent," Olsen informed the court.
Norwegian football had become an industry where a 15-year-old could only be contacted through his agent.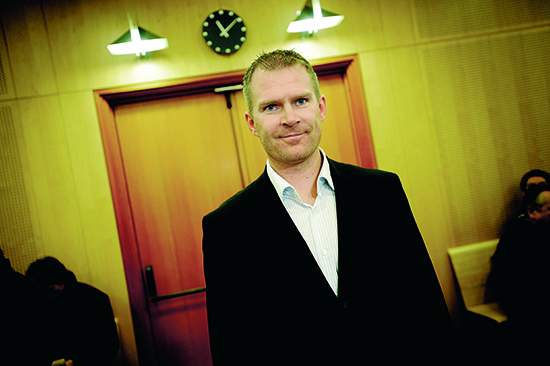 "I was told by Solbakken that Stengel wanted a move to Vålerenga. His agent represented the player and his parents in every way," Vålerenga's sporting director said.
In the courtroom Solbakken admitted on the witness stand – contrary to what he had stated earlier – that option to buy of this nature was uncommon in the industry, but went on to claim that he had experienced such agreements in Norway, and compared the Stengel clause to the "Mikel" case.
"I've done an agreement including an option to buy once in Norway, but one that was significantly higher. When Manchester United bought John Obi Mikel from Lyn Oslo we put in an option to buy clause between Manchester United and Lyn," he told the audience from the witness stand.

Human trafficking
The "Mikel" case goes back to 2004, and was of the murky kind, in all its stages, where big clubs wished to illegally acquire the Nigerian super talent John Obi Mikel. Chelsea had, through middle men, placed Obi Mikel at Lyn Oslo and at the Norwegian High School for Elite Sports, before they could bring him to London as soon as he turned 18 years of age. International transfers for players aged under 18 years are strictly forbidden according to FIFA's regulations. Mikel was in demand, and major clubs like Chelsea and Manchester United were waging a war in the background to secure him. In the end, instead of selling Mikel to Chelsea, Lyn sold him to Manchester United.
The case is well documented in the book The Lost Diamond by the Dagens Næringsliv reporters Lars Backe Madsen and Jens M. Johansson, There were threats of violence made against Mikel and his family in Nigeria. A throng of agents claimed to represent the player. Many aspects of the case qualify under the definition of human trafficking. And Solbakken knew everything that went on. After all, he was acting on behalf of Manchester United. But there was never talk of an option to buy clause in the sale of Obi Mikel.
Josimar are in possession of the documents from the Obi Mikel transfer from Lyn Oslo to Manchester United. The agreement is a standard international one, including date, transfer sum, and details about how the transfer of money is to be conducted. But under oath in Asler and Bærum district court on 28 August 2013, it had turned into a transfer with an option to buy clause incorporated in the agreement.
"The differences between the deals are small, except for the transfer amount being much higher. Otherwise they're almost identical. It went very well, and Manchester United earned good money on him without him ever playing for the club, so the clause was water tight," Solbakken told the courtroom.
"That Jim Solbakken was involved in the sale of Obi Mikel from Lyn to Manchester United is beyond any doubt whatsoever, Lars Backe Madsen, co-author of The Lost Diamond," tells Josimar.
"Solbakken was still a bit green in the agent business back then, and as most agents he was very apt at bragging about himself and talk behind the back of his rivals. In conversations with us, he bragged about his hand in the Mikel transfer, where he operated as a middle man between Norway and Great Britain in what was a very delicate situation. We never heard anything about an option to buy clause, and we're yet to see one. Mikel signed a contract of four years with Manchester United, and the entire world could watch John Obi Mikel pose with the red jersey of Manchester United – 21 Mikel – when the transfer was announced. That he never actually played a single match for the club is another, and even more sinister story," Backe Madsen tells Josimar.
"A proper piece of business," Jim Solbakken exclaimed about the Stengel clause. Contrary to the other young talents in Solbakken's portfolio, of whom most had been sold to clubs abroad as soon as a had bid arrived, Stengel had to take a longer, 'Norwegian' route, Solbakken told the court. He was to develop at Norwegian clubs, before he took the step to try his luck abroad when he turned 18-19 years. Solbakken avoided mentioning that he had arranged for Stengel to trial at Manchester United, Manchester City and PSV Eindhoven, without any of the clubs offering Stengel a contract. While the Stengel clause was a "economically great deal for Vålerenga," his former client Veigar Páll Gunnarsson had "zero value".
Or had Solbakken represented Gunnarsson at all?

Jim was my man
The court had to decide their stance on whether the accused "had deliberately mislead employees of SASP Nancy-Lorraine by not disclosing the transfer compensation for Veigar Páll Gunnarsson in order to obtain an economical advantage, and whether the amount set for Gunnarsson's transfer, one million Norwegian kroner, was artificially low, and ought to have been much higher. The transfer amount encompassed all or parts of an additional amount of 4 million Norwegian kroner (about 363,000 pounds), incorrectly reported to be a payment corresponding to an option to buy clause for another player". The court did not have a mandate to assess other aspects, as whether football's own rules and player agent regulations had been violated.
In order to convince the court the prosecutor had to prove that Gunnarsson was sold below his real market value, and that the Stengel clause was linked to this transfer. The trial was therefore mostly about Gunnarsson's market value and how likely a future sale of him really was.
"I don't think Gunnarsson had any value at all, since he already has an astronomical salary and is way too old," Solbakken told the court – despite him being the intermediary and working for Gunnarsson to end up at Vålerenga in a tug-of-war between two of Norway's biggest clubs to sign the attractive Icelander.
Because of all the talk about him being worthless, Gunnarsson felt unappreciated as an athlete, and told this to the press after delivering his own testimony in court.
"At the time I was sold I'm sure I was worth more than one million kroner. It has been aggravating to hear that I was "worthless". It's painful to hear. It hurts. If you look at my stats in Norway, and if I'm not worth a million kroner, then very few players in Tippeligaen are worth more than half a million. When I played my last match for Stabæk, I had scored nine goals, and assisted five others. I was topping the points charts. Can't I get some credit for my accomplishments?"
In the same session Gunnarsson was made aware that Solbakken had claimed he represented Nancy when Gunnarsson was sold from Stabæk to the French side.
"I was contacted by Nancy and assisted them in the negotiations between the clubs, and I also did when he returned", Solbakken claimed from the stand.
According to Gunnarsson, Solbakken had represented him, and not Nancy.
"Yes, I'm 100 per cent sure of that. We worked together on that contract," Gunnarsson told the court. He added that he wasn't surprised by Solbakken giving another version of the events, although he never elaborated on why he thought so.

Double Standards
Without being able to prove beyond reasonable doubt that Gunnarsson value was in fact much higher than one million kroner, the case collapsed for the prosecutor. The accused were all fully acquitted.
"But what was Solbakken's real role?," the prosecutor asked during his closing argument, letting the question hang in the tense courtroom air.
As Josimar have documented in this article, sitting at various sides of the table was something Solbakken was quite used to. It was what he did during the Gunnarsson transfer and Stengel clause saga.
Solbakken had worked for Vålerenga to buy Gunnarsson, at the same time as he represented Stengel – both are subject to the player agent regulations' definition of agent activity. He didn't have a contract of representation with either party, something which is a violation of the regulations in itself, but he acted as if he did – and then it ought to be assessed as such. Both Vålerenga and Stabæk had all the time claimed that the sale of Gunnarsson and the Stengel option to buy clause were two separate agreements. Hence Solbakken acted as a double agent in both transactions during the same time frame, and where the same clubs were involved in both cases. This is a violation of the rule of three months quarantine before an intermediary can represent another side.