Mohamed works as a security guard at a World Cup stadium. He has not been able to sleep for days – the stress and the anxiety getting to him. He wants to return to Dhaka as soon as possible.
By Sam Kunti
They miss home, they are tired from work and yet they find the strength and joy to play a game of 8-over cricket under the searing morning sun after their night shift has ended. This has all the trappings of a proper game: the tension, the variation in bowling, the chase, the fielders shouting instructions – and yet it's obviously not. Nothing is quite normal at a labour camp outside Doha off the highway to Saudi Arabia. Migrant workers here face abuse, struggle mentally and drink to forget their problems.

The Indian and Bangladeshi men, all security guards, play a pick-up game, at an expanse among tower blocks and prefab constructions. This is not quite the desert, but instead the dustfield stretches and fills the horizon. The cricket field is scrubby, with strewn plastic bottles and other litter. The wicket is a concrete one, litter forms the boundary. At the crease, Kumar, on 46, is accelerating, smashing a brilliant six. His team is chasing 89 and in firm control of the match.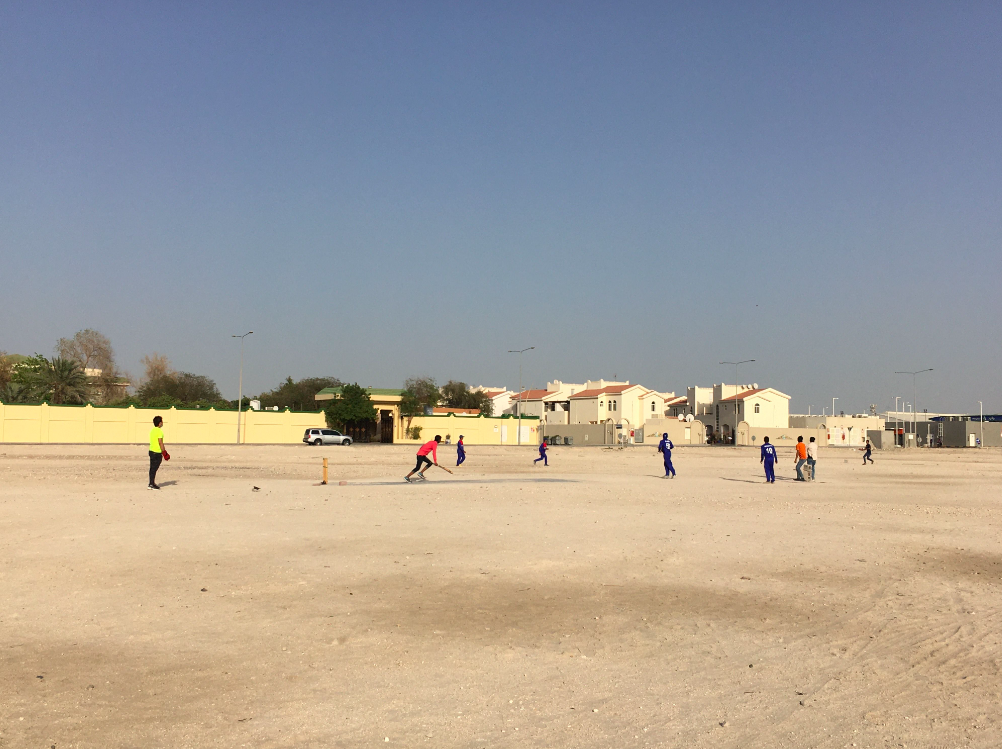 The match is as intense as one can expect and when the winning runs arrive, the joy of the triumphant team is unrestrained – cries of victory and celebration rise and for a moment this is a scene of unbridled rapture. Then the workers saunter back to their accommodation to get some rest.

Mohamed is a Bangladeshi who was not batting or fielding. Instead, he is having a cup of chai with a heavy heart. He whispers. Other colleagues milling around may overhear him and snitch. It's the climate of fear that is pervasive and even more pronounced during the World Cup. In a society where migrant workers have little to no rights and where access to the legal system is inadequate, they often dare not speak up and that's exacerbated with a system of repression and reprisals during the four-week football show.

His co-workers talked to journalists at a World Cup Stadium, relaying their experiences and ordeals. Predictably, in a police state where guards are on hand to monitor and detain other guards, they were picked up. Mohamed's employer was quick to tighten the fist, threatening workers. They are not an official partner of FIFA, but provide security personnel for the World Cup stadiums.
Mohamed however has had enough. He eats greasy fish and his accommodation literally has mini hills of sand everywhere. His expression is clear – this is not humane, but the system keeps him in check. The fear of reprisals is overwhelming. He wants to return to Dhaka as soon as possible. He has been terrorized by the fines and other consequences he might face. He has not been able to sleep for days – the stress and the anxiety getting to him. His eye lids are reddish.

Mohamed is not the only worker under pressure. With an impressive physique, Ben from Ghana arrived just in time for the World Cup, another security guard in a country that seemingly has more security than actual citizens. He has worked non-stop for two weeks at a West Bay hotel where referees and linesmen stay. The five-star hotel comes with all modern amenities and a private beach, a stark contract with where Ben lives. The non-stop work is beginning to take a toll, but he will hold on for dear life and consider what the future brings.

Further south of Doha, away from all the cricket-mania, Didier watches on as a few Bangladeshi men play football. He works at a Warehouse in Al Wakra where he loads supplies for Al Meera, a supermarket chain, on a truck. The items are heavy, it is too hot and the workload too much, he argues; he has to load up to 400 items a day. His contract stipulates 8 hours a day, in reality Samuel works 12 hours a day, or even 13 hours. Since the start of the World Cup he must start at 06:00, an hour earlier. "It is too much". The overhours are not always paid, sick leave is not allowed, at the risk of salary deduction. He gets the minimum salary of 1000 riyals. He has finished his probation and is on the hunt for a better job, but his employer is refusing to grant an NOC.

He has been threatened with absconding claims. He has not been given a day off since Qatar kicked off the World Cup. Like many do in Qatar, Didier feels stuck. He concludes: 'Hosting the World Cup is two-sided. A lot of workers face a lot of challenges: poor salary, poor health care, and always on duty. You don't have a position to do anything. If you complain you are deported. It's bad to me and good to you. If someone wants to explain Qatar they will go to Al Bidda, he will go and take a photo there, but not show the dark side. Qatar is not equal.'