In 2015 businessman Edwin Oviedo took over as the president of the Peruvian football federation after his predecessor Manuel Burga had been arrested in Zurich over FIFAGate. Now Oviedo is arrested and facing charges as the head of a mafia organization with blood on their hands.

By Pål Ødegård
Photos: Johnny Aurazo/El Comercio
As the Peruvian national team was hours away from their opening match against Denmark in the 2018 World Cup in Russia this summer, the president of the Peruvian federation must have felt on top of the world. Not only had the national team qualified in style after a difficult start, the first World Cup participation since 1982. The doping debacle surrounding their star striker Paolo Guerrero had been settled, against all odds, and was allowed to participate in the finals. And all this had been achieved just three years after his predecessor Manuel Burga was apprehended by Swiss federal police and the FBI in Zurich among the others implicated in the FIFAGate scandal (Burga eventually became the only one so far to get away scot free from the courtrooms of New York City, on a technicality). Not bad for a man with little knowledge or interest in football, he must have thought to himself. Edwin Oviedo had simply taken advice from those around him, and followed them. His popularity at home was sky high. Some even clamoured for Oviedo to become the president of the country. But best of all, it had distracted all the attention from a small problem at home.

The assassination
On an October morning in the small town of Tumán in North-Western Peru, Rosalía Vera Casusol had just said goodbye to her husband who left for work at the nearby sugar plant, where he had worked for over twenty years, and where he now was one of the directors of its syndicate, when she heard gunshots reverberating outside. Storming out -– it was little over five in the morning – she saw her husband lying bloody on the ground, just a block from their house. A motorbike sped quickly away, leaving a trail of dust. "Who did this?" she asked him, but he waved away her questions as his colleagues helped him get to hospital. They never talked again. Manuel Rimarachín Casco died of internal bleeding at the nearby city of Chiclayo, and left Rosalía without a husband and his three kids without a father. For an outsider it looked like another arbitrary homicide far from uncommon in rural Peru. But Rosalía knew better. She knew all too well that her husband had enemies, and just a few days earlier her husband had talked to a local radio station that he knew his life was in danger. The problem was that nothing happened. For seven years. But it would eventually set off a string of events leading to a political scandal of gargantuan proportions – and another FIFA delegate behind bars.
Last Friday, a supreme court judge ordered 18 months of preventive prison time for the president of the Peruvian football federation on charges as the head of a mafia organization. Only the day before he had been apprehended by the police, as it was considered he probably would try to flee the country for another case that is connected (we'll get back to that).
So who is Edwin Oviedo anyway? And how did he go from obscurity to a national hero and now to prison, facing up to 27 years behind bars if convicted? We must rewind back to 2006, the sugar plant in Tumán, and what lead to the death of Manuel Rimarachín.


Edwin Oviedo is one of five brothers who make up the founders of the Oviedo Group, a business enterprise they started by selling fruit out of a cart in their native city of Cusco after their father had died of a cardiac arrest when Edwin was just eight years old. Many years later they had enough to get into the sugar production business as Edwin along with his brother Elvis started the company Shema. They went on to buy more and more shares in Pomalca, the leading sugar producer in the Chiclayo region where Tumán is located. So far, so good. But in the fierce rivalry with its closest competitor, the Gloria group led by the Rodríguez brothers (no, not the Narcos ones), they decided to exploit the financial problems of the cooperatively run sugar plant Agroindustrial Tumán, buying the company's debt of approximately two million US dollars (it's estimated that Grupo Oviedo and Grupo Gloria together control 70% of the sugar production in the country). The factory's financial problems were a result of a general crisis in the industry that culminated in 2003. A local court ordered that the Oviedo group entered into administration with a mandate to collect the debt within a two year deadline. In the end, they never left. The workers were increasingly displeased as the numbers didn't match what they produced, and the excuses accumulated, leading up to Rimarachín's death. As their representative on the board, he had threatened with strike, something which was later revealed by a co-conspirator who flipped to save himself a harsher penalty. But at the time, nothing happened. Not until another lay dead by the hands of 'sicarios' in May 2015. Percy Waldemar Farro Witte, another representative for the sugar plant workers, had just the day before his death tried to present evidence to a local judge he trusted, as they had gone to school together, about what was going on at his workplace, and who was behind Rimarachín's death. Unfortunately, the prosecutor had business outside that day, so Farro was told to return the next day. By then it was too late. While organizing another indefinite strike against the administration of Edwin Oviedo, Farro Witte was shot three times in the back by hired hit men, and died instantly.

A Sugar Induced Soccer Success
Again, nothing seemed to change as local police did somersaults to not suspect the security personnel at Agroindustrial Tumán as the perpetrators, and instead pointed to other members of the syndicate, claiming it was someone who wanted to take Farro's place as a union leader. As it turned out, the police were in Oviedo's pocket. A document from 2017 showed how the police got a 'donation' from Agroindustrial Tumán of 2,000 bags of sugar, each containing 50 kilos, something that was never communicated to the syndicate of workers on the plant. The death of Farro led to violent protests and clashes with the local police as the workers and their families pointed the finger not only at the head of security at the plant, but also the police commissioner in Tumán, which they claimed were working for Oviedo to take the sugar factory away from them. The debt of two million US dollars, the pretext that the Oviedo Group had used to enter its administration had in reality been covered a long time ago. But the workers never saw the real books, which showed how the administration put in by Edwin Oviedo transferred the sugar to his other companies for half the real market value or less before putting it on the market. And not only in other companies specializing in sugar production. Edwin Oviedo, who had never really cared for football, had invested in the Peruvian club Juan Aurich (where Jorge Sampaoli had a short, unsuccessful spell as the head coach in 2002) in order to strengthen his position as an influential businessman in the region, and became its club president about the same time as Grupo Oviedo took over Agroindustrial Tumán. Among the court documents in the charge against him is a money transfer made by Pablo Arce, financial director of Agroindustrial Tumán, of 70,000 US dollars to a Panamanian account belonging to Panama's star striker Luis Tejada in 2012, the same year the latter became the club's top scorer for the club. This coincided with the most successful period in the club's history, as they won their only first tier league title in 2011, and almost knocked River Plate and Tigres out of the Copa Libertadores group stage before losing 4-5 on the last match day (River Plate and Tigres eventually met again in the final). It is worth noting that Pablo Arce had no position at Juan Aurich, and the only connection and beneficiary was Edwin Oviedo.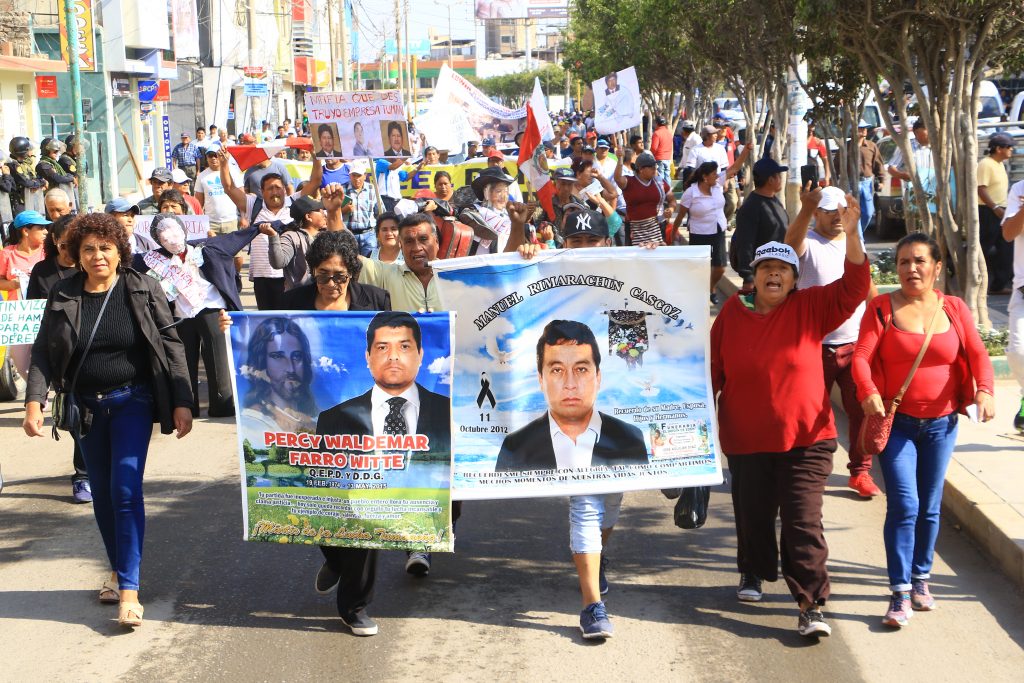 For many years, whatever the workers did, they didn't get anywhere with their complaints. Apparently, all the local cops, journalists and prosecutors was on Oviedo's payroll, making it almost impossible to trust the authorities that were supposed to protect them. When Grupo Oviedo technically lost the administration by a court order, four and a half years after the deadline, other sister companies took over. In fact, four in succession, all linked to Grupo Oviedo, and the persons running the refinery were never changed. Workers often heard the so-called security guards perform shooting practice at the site, and recently police agents found a large cache of guns there.
When strikes occasionally made the national news, the protesters were usually dismissed as radical communist agitators put in by competitors like the Rodríguez brothers to hurt production. Anyone who protested were fired on unsubstantial grounds. Or simply none at all. And often their pay was withheld on the pretext that the strikes had to be compensated for. If they did get paid, they received 500 soles, or approximately 150 US dollars a month. It was hardly enough to sustain themselves, and families that had sent their children to universities could no longer pay for it. This created divisions within the syndicate and the inhabitants of the town with approximately 30,000 inhabitants. Some wanted more radical actions to reclaim their rights, and return fire with fire, while others believed it would be counter-productive to violate national laws to reach their goal. The terror of the revolutionary communist guerrilla organization Sendero Luminoso (The Shining Path) that in effect was a civil war from 1980 and into the 2000s was still fresh in people's memory. Especially in rural areas like Lambayeque, where the de facto dictator and right wing hard liner president Alberto Fujimori sent government death squads to indiscriminately eradicate anyone who could be suspected of being a member of the guerrilla or helped them. An estimated 70,000 people were killed, each side responsible for about half of the casualties. Add that he also was responsible for a forced sterilization program of an estimated 215,000 women, all indigenous, and you get a notion of the calamity this period was for the rural population of Peru.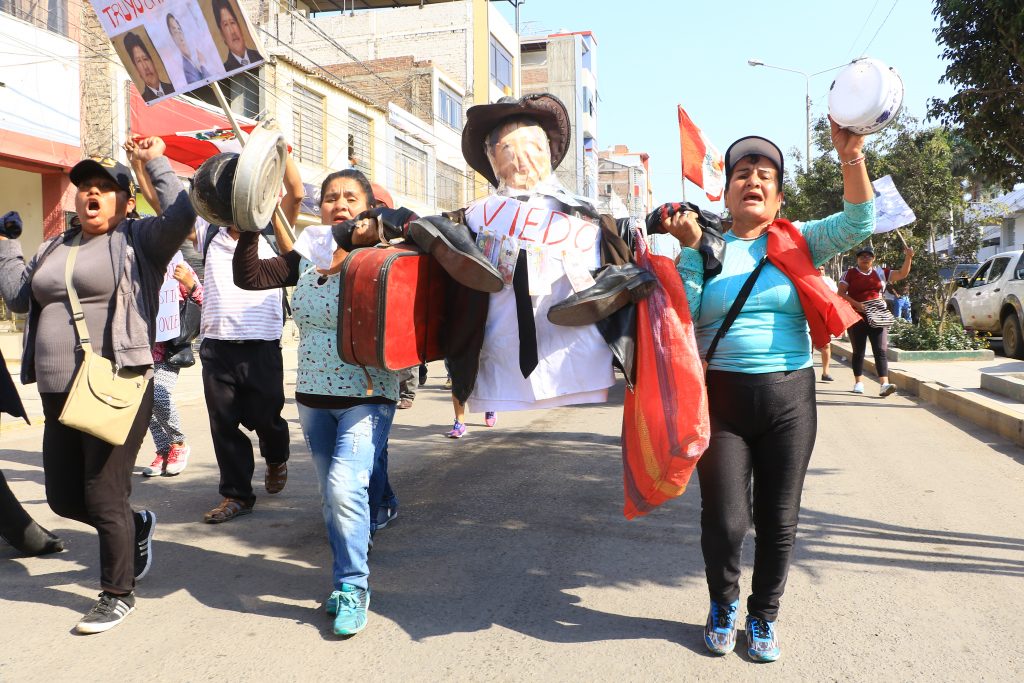 The Bottomless Rabbit Hole of Peruvian Lawlessness
But things started to get complicated for Edwin Oviedo just about the time he won the presidential election of the Peruvian football federation. District prosecutor Juan Carrasco was not deterred by intimidations and threats (court documents show that a local gang called 'Barrio King' was contracted to liquidate him), and started a thorough investigation into the claims of the workers at the sugar plant in Tumán. His case is commonly known as 'Los Wachiturros de Tumán' (Wachiturros = a slangification of 'guacho' and 'turro', meaning 'bad bastards') But just as he thought he had gathered enough evidence to present a solid prosecution, a tribunal ordered him to let the case rest in 2017. This, together with the euphoria of Peru finally closing in on a berth at the World Cup finals, eradicated any negative press regarding what was happening in a small desert town up north. It also gave him time to come up with some countermeasures. He made a call to his most powerful friend. The only problem for Oviedo was that he simultaneously involved himself in another case that not only led to his downfall. It shook the very foundations of the political landscape in Peru.
At four o'clock in the morning on the 7th of October this year, and just as Peru was getting ready for both regional and national elections, a middle-aged man approached the passport control at the border town of Huaquillas on the frontier between Peru and Ecuador. As he handed over his passport, the migration officer at the counter on the Peruvian side appeared to check it in her system before handing it back. But she just pretended to type in his passport number, hence not provoking an Interpol red alert. She had received special instructions for that night. The man went onto the Ecuadorian check point, where everything seemed in order. Less than 24 hours later, he was in Paris after a transit stop in Amsterdam. But at his final destination, Madrid, the Interpol warning had finally caught up with him, and he was put under arrest. He immediately requested asylum claiming political persecution, and the extradition request by Peruvian authorities is still pending.
For the Peruvian public, it was just another chapter in a seemingly endless scandal that started with an audio recording made public exactly four months before the suspended Supreme Court judge of Callao, César Hinostroza, fled the country with an ordinary passport after his diplomatic one had been revoked, and his immunity to be prosecuted had been stripped by the national congress. He was the man sneaking out of Peru in the dead of night, arranging so that the border control would let him pass undetected. New accusations and audio recordings revealing a network of influence exchanges were presented almost daily in what was dubbed 'Los Cuellos Blancos del Puerto', or 'The White Collars of the Port' ('port' here referring to the coastal city and important shipping hub of Callao). A picture began to emerge of vast cronyism and corruption within the National Council of the Magistrature (Consejo Nacional de Magistratura, or CNM), an independent constitutional institution which function and power is to appoint and dismiss any judge or prosecutor in the entire Peruvian justice system. All seven representatives on the board, it's leader Hinostroza, and most of its staff were suspended along with any pending cases in its jurisdiction on the 20th of July. No case seemed to have been too sensitive to be sold for the right price. In some of the recordings Hinestroza coordinates with another judge to dismiss a case where a man was accused of raping a 13-year-old girl. A flipped witness under protection testified that Hinestroza had secret meetings with Keiko Fujimori, the daughter of former president Alberto Fujimori (who had his pardon from various sentences revoked in October this year, undoubtedly triggered by the Hinestroza scandal. For a list of all his crimes, human rights abuses and controversies, check his Wikipedia entry) and leader of the largest opposition party 'Fuerza Popular'. In exchange for a promise to become the president of Poder Judicial, the highest rank within the Peruvian judicial system, and attached with a practically water tight immunity against prosecution, he would cover up the money laundering scheme connecting Keiko to the Odebrecht scandal. In other words, it was an opportunistic blackmail by Hinestroza.
Edwin Oviedo got his deal much cheaper, though. Giving Hinestroza along with other judges and politicians an all inclusive VIP trip to the World Cup in Russia, including 'pocket money', appeared to have been enough for Hinestroza to be willing to undermine the 'Wachiturros de Tumán' case, and in addition keep fiscal authorities from looking deeply into unpaid taxes and creative bookkeeping in his companies.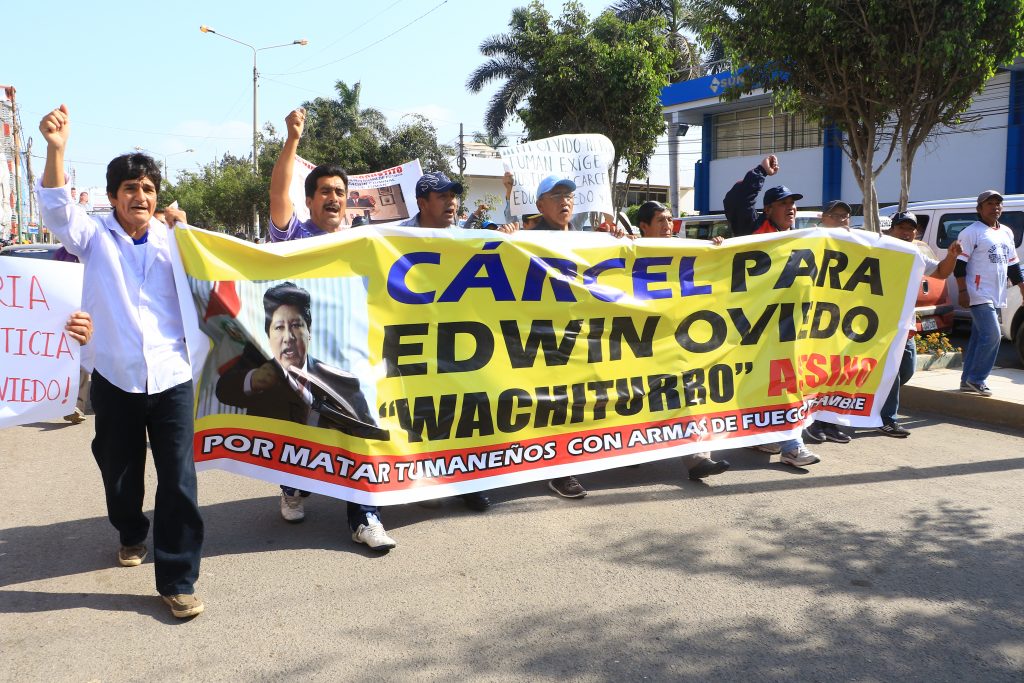 Loyal Friends in Football
As all this unravelled, Oviedo was still representing the Peruvian federation at CONMEBOL and FIFA events and meetings, and had no plans to resign even after the damning evidence against him. CONMEBOL's director of development, Gonzalo Belloso, said publicly to Peruvian media that "we have been monitoring everything, and we haven't found any indication that puts the presidency of Edwin Oviedo in jeopardy," and added that the Peruvian federation "is a role model in the region." FIFA has yet to comment on the situation regarding Oviedo, and what it means for the daily running of the Peruvian federation. There has been a lot of speculation in Peruvian media that FIFA will suspend the federation after the Peruvian congress passed a law in January this year to modify the election year for its presidency. Oviedo had apparently paid to extend his mandate, even if it breached electorate regulations, risking a FIFA ban. Under such circumstances, the ethics committee would suspend anyone subject of official criminal charges, although they can't comment whether anyone is under a preliminary investigation. The investigatory chamber of FIFA's ethics committee has been surrounded by controversy after the Colombian magistrate Claudia María Rojas was appointed as its chairwoman at the FIFA congress in Bahrain in February 2016, as she doesn't speak or read English, and has no experience in investigative work. It is also widely believed Rojas was put in her position by FIFA president Gianni Infantino to quell ongoing investigations against himself, questioning the integrity of the ethics chief. She was also mentioned recently in Der Spiegel's Football Leaks publications for stalling an investigation into a state-run doping scheme in Russian sports.
So, technically, Edwin Oviedo is still the president of FPF, although it's the vice president who de facto leads the federation. And the law passed in congress bizarrely extends his mandate into 2020.
"He will never return. As it is now, that is impossible," explains Marco La Jara, a sports lawyer who worked with Oviedo at the Peruvian federation. "I don't believe that he ordered those assassinations. You have to understand that in rural Peru its not like in Europe or the US. He needed security personnel at the sugar plant in Tumán, and outsourced it to whatever was available nearby. It happened to be thugs, which is far from uncommon in Peru, especially in the countryside. I come from a small town not far from Lima, and there it's like that. It's not Sinaloa (region in Mexico where the drug cartels originated), but if you don't defend yourself with bullets, you'll end up dead. He might even had gotten away with it if he hadn't contacted Hinostroza. Technically it might have been very difficult to prove beyond doubt that he ordered the assassinations, but the recordings revealed in the other case leaves no doubt, and now he has to pay for it. Personally I feel for him. He's quite a simple guy, and he just doesn't have the personality for that kind of thing, to order the death of someone in cold blood. The administration at the sugar plant acted on their own, in my opinion."

Injustice for all
But Brayan Rimarachín, the son of Manuel Rimarachín, who was assassinated in 2012, has a different version when he talks about the events those fateful days back in 2012 to Josimar.
"My father knew who shot him, and he also knew very well who they worked for. As he was still alive when my mother and his colleagues brought him to hospital, he could tell. But he also told my mother not to tell anyone. He feared they would come for us next. My mother could hardly believe it when he told who had shot him. It was our neighbour, living right behind our house. We knew he had been sentenced for 12 years for a highway robbery earlier. We knew he was a criminal, and we knew he worked for my father's boss. He has lived there up until now, and there was nothing we could do about it. When we got to the doctor, he couldn't do much, as my father needed trauma specialists in Chiclayo. The ambulance demanded 50 Soles, otherwise they wouldn't do it. We couldn't afford that, but my father's colleagues helped out. When we finally arrived at the hospital in Chiclayo, it got worse. It was all planned, you see. Nobody gave my father any attention. Not the doctor on duty, not the nurses, least of all the director of the hospital. When a nurse tried to put a drip on my father, the doctor said "leave it, he's on his last breath anyway." Eventually he bled to death. We felt totally powerless, not being able to do anything for him."
When they had returned to Tumán with their father's body, there was a visitor waiting for them. Brayan continues:
"This well-dressed lady showed up, presenting herself as Ana María Yesquén, and said she worked as head of press for Grupo Oviedo. She took us to Chiclayo, put us in a fancy hotel, and bought us expensive clothes. For a while, our larger family all walked around in the same polo shirt. And when we returned home, she had contracted painters to paint the house, and a canopy had been installed. She then passed us her cell phone, and it was a man presenting himself as Edwin Oviedo. He told me in these exact words: 'Young Brayan, I'm sorry to learn of your father's death. But don't worry. It's me that has sent Ana María. Listen to her, she will take care of everything for you. And don't worry, I will make sure you will get a stable job at the sugar plant now that your father has died. For anything, coordinate with Ana María, she will fix all the paperwork.' As he hung up, and I handed the phone back to Yesquén, she asked if we could do her a little favour, and speak on the radio station 'Exitoso' to say that we just wanted our father to rest in peace, and that media that spread false information about Grupo Oviedo hurt us, and that they please stop that, because it wasn't true. As we had nothing after my father died, we had to accept."
For years they hoped for justice. But every judge, reporter, police officer was in Oviedo's pocket, while the murderers roamed free right in front of their faces. Until prosecutor Carrasco took the case, and avoided being killed by hit men or removed by Hinostroza. "Now I'm in peace, only waiting for them to give Oviedo and his criminals what they deserve. Now my father can rest. It's all coming out now," Brayan tells Josimar as figures like Paolo Guerrero are called in to testify in the cases, revealing more and more about the extent of the network. "I only hope Tumán and the plant can recover. Now the sugar cane fields are dried up, the plant in desperate need of repairs. We had a decent life here before they came, and people were united. They have ravaged this community, just to get richer."
Farro Witte's mother, Norma, was equally pleased: "Everybody here knows what really happened. Now my son's spirit has finally caught up with this monster. May he rot the rest of his life in jail," was her comment to the national newspaper El Comercio.
But the fight to regain control of their sugar plant goes on for the people of Tumán, as its still unclear who really owns the factory. A court order in August handed the administration to the Coali company, which is linked to the Oviedo Group. But in October, the workers illegally occupied the premises, where they still are while they await the repercussions and cleansing of the legal system as a consequence of the 'Los Cuellos Blancos de Puerto' case. But for Edwin Oviedo it is the least of his worries now. His last official act as president of FPF was to hand over the trophy in the Peruvian cup final to the sound track of verbal abuse and whistles. Perhaps he now reflects that just a few months ago his life was as sweet as the sugar he exploited from the factory at Tumán.
We asked FIFA several questions. Their answer was:
"FIFA is closely monitoring this matter and gathering additional information. Please understand we cannot comment further at this stage."