New Caf president Patrice Motsepe already has a nickname, "the new puppet of Zürich". The Caf election demonstrated that African football is no longer in the hands of Caf, but controlled by Gianni Infantino himself.

By Pål Ødegård and Philippe Auclair

Everything went as scripted at Caf's general assembly in Rabat, Morocco on Friday 12 March. Fifa president Gianni Infantino witnessed his favourite, Patrice Motsepe, become the new Caf president by acclamation, while his closest supporters all obtained vital positions in the Caf Executive Committee and the Fifa council. And as Caf effectively became a sub-division of Fifa in the process after the announcement of Infantino's close friend and enforcer Veron Mosengo-Omba as its new secretary general, no objections were dared uttered by the electorate.
BECOME A PATRON AND SUPPORT JOSIMAR'S JOURNALISM. CLICK HERE.
With everything seemingly in place for Infantino's plan to be rolled out, most officials went directly to the assembly in Rabat from the successfully arranged Caf U20 Afcon in Nouakchott, Mauritania. Some of them had taken part in a kickabout with the Fifa president, who wore the captain's armband on the occasion. Such a privilege was not to befall the various U17 national teams on their way to the U17 Afcon about to start on 13 March in Morocco. Despite relatively low Covid-19 infection rates (122 new detected cases among a population estimated at 37 million on 9 March), Moroccan health authorities banned travel into the kingdom from more and more departure countries as days went by. And on 8 March, Caf announced that the tournament would be cancelled, citing the pandemic as the main cause. The squads of Uganda, Zambia, Senegal and Ivory Coast had already started their preparations in Morocco, but had to leave without having kicked a ball. For many of the boys, it was a huge disappointment, some of them having sacrificed precious education time in order to prepare for the tournament. Now, they had also lost a unique chance to be noticed by bigger clubs abroad.
Confusion and difficulties also awaited members of the media who had planned to fly in from abroad to cover the Congress. On 2 March, Caf suddenly announced that journalists could only attend the event by video streaming. Once again, the pandemic and Moroccan border restrictions were given as the reason for this decision – a decision which was then overturned the very next day, but with strict limits still imposed on the number of journalists allowed to be present in Rabat. Morocco's increasingly draconian coronavirus restrictions meant that many of these journalists were refused entry into Morocco, despite having completed all the necessary formalities.

The same restrictions obviously didn't apply to the officials attending the assembly, even if they came from countries that featured on the border control's black list, like Patrice Motsepe's South Africa. During the roll call, only Eritrea and Chad were absent (the latter after the government dissolved the football federation, which has already led to a suspension by Caf).
Coronation Street
The Fifa president too didn't have any issues entering the kingdom, despite having travelled almost incessantly since the outset of the pandemic. His presence (or absence) had been the subject of numerous rumours before the Congress. Should he turn up on election day, wouldn't that be close to an admission that everything that had preceded it, the Rabat conference, the African whistle stop tour, Mosengo-Omba's criss-crossing of the continent, were nothing but stages in the execution of a plan to put Caf under Fifa's tutelage? 

Gianni Infantino himself had no such qualms. He was seen strolling into the assembly hall at Sofitel Jardin des Roses, beaming with confidence. Contrary to custom, it was Infantino who opened the assembly, rather than acting interim president Constant Omari. After thanking the Moroccans for arranging the assembly, Infantino told the delegates that he had visited almost all of them over the last few months (the Fifa president was also in Africa for the CHAN tournament in January this year).

"Alone, we lose," Infantino said. "Football is a team sport. Football teaches us values, and perhaps the most important value is that of team spirit, something we have witnessed the last few days in Africa. In the last few days I've probably spoken to all of you. I've spoken to the four candidates for the presidency, and all share the same vision, the same idea. You all want a strong, united Africa. And today we celebrate this unity."
The assembly went on with head of Caf's finance committee Fouzi Lekjaa's attempt at explaining, without much confidence or conviction, why Caf had accrued a deficit of 11 million US dollars in cash flow, a 40 million dollar loss in cash reserves, and very little room for economical manoeuvering. 24 million were also missing in commercial income compared to the previous year, a result of the cancellation of the broadcasting and marketing agreement they had with Lagardère.
The budget, however, was approved without any votes against. "It's a good thing to give money, the problem is actually having it", Fouzi Lekjaa said as he tried to preach more austerity in the next cycle. He made no mention of the gross mismanagement of CAF finances under his watch, which was documented in eye-watering detail in a PWC report conducted in 2019,
which laid out how cash was handed out without documentation. He didn't mention either that CAF had lost its main source of income – their one billion dollar contract with Lagardère. Rather, Lekjaa tried to explain some of the losses on restructuring of referees. The red numbers didn't seem to bother interim president Constant Omari, who was seen snoozing off during the budget presentation.

Breaking all the rules
Neither were there any objections to a proposal officially presented by the Executive Committee to increase the number of CAF vice-presidents from three to five. The electorate were made aware of the proposal less than 24 hours before the start of the Congress, although Caf statutes are clear that any such proposal must be communicated to the member associations at least 60 days ahead of the voting. Nevertheless, the proposal was approved unanimously.
The next item on the agenda, the election of the next president of Caf, was even easier, as acting secretary general Abdelmounain Bah explained that the other three candidates had pulled from the race, and that article 18.11 in Caf's statutes allowed the Congress to elect the sole remaining candidate Patrice Motsepe by acclamation. The audience had already started clapping before Bah could finish his sentence. His follow-up words, "please celebrate your next president by your applause," were evidently superfluous.

Motsepe, his face mask slipped under his chin, stood up smiling, but quickly showed signs of irritation as Constant Omari told him to go up to the microphone. "This is not the time for me to speak. I will give a few remarks later. Time is of the essence," Motsepe uttered. He still had time to add: "let me also thank my brother Gianni Infantino for his vision and encouragement of unity." Then he repaired to his seat.
The next item was what many of the officials had been waiting for – the voting on who was to fill the vacant seats on the Caf Executive Committee, as well as Caf's spots on the Fifa council. And while the voting itself went smoothly, the counting took nearly two hours, the scrutineers openly arguing about the procedure. Nevertheless, it was to be a grand slam for the Fifa president and his closest allies when the results were finally announced. In the case of the Executive Committee, the inexperienced, almost unknown Kanizat Ibrahim from Comoros took the position reserved for a female representative with 35 votes against 8 and 9 respectively for Lawson Edzona from Togo and Patricia Rajeriarison from Madagascar.
Interestingly, Ibrahim, a marketing executive with no background in football administration, had been until recently president of the Fifa-appointed Normalisation Committee of the Comoros FA. Ibrahim's mandate ended when, on 30 January of this year, a highly controversial vote saw Saïd Ali Saïd Athoumane re-elected without opposition at the head of the Comoros FA. This was the same Athoumane who, according to eyewitnesses whom Josimar has spoken to, bragged that Ibrahim would get an ExCo seat months before he himself became FA president for the second time, after being banned by his own Ethics Committee and precipitating the crisis which led to the appointment of Ibrahim in the first place.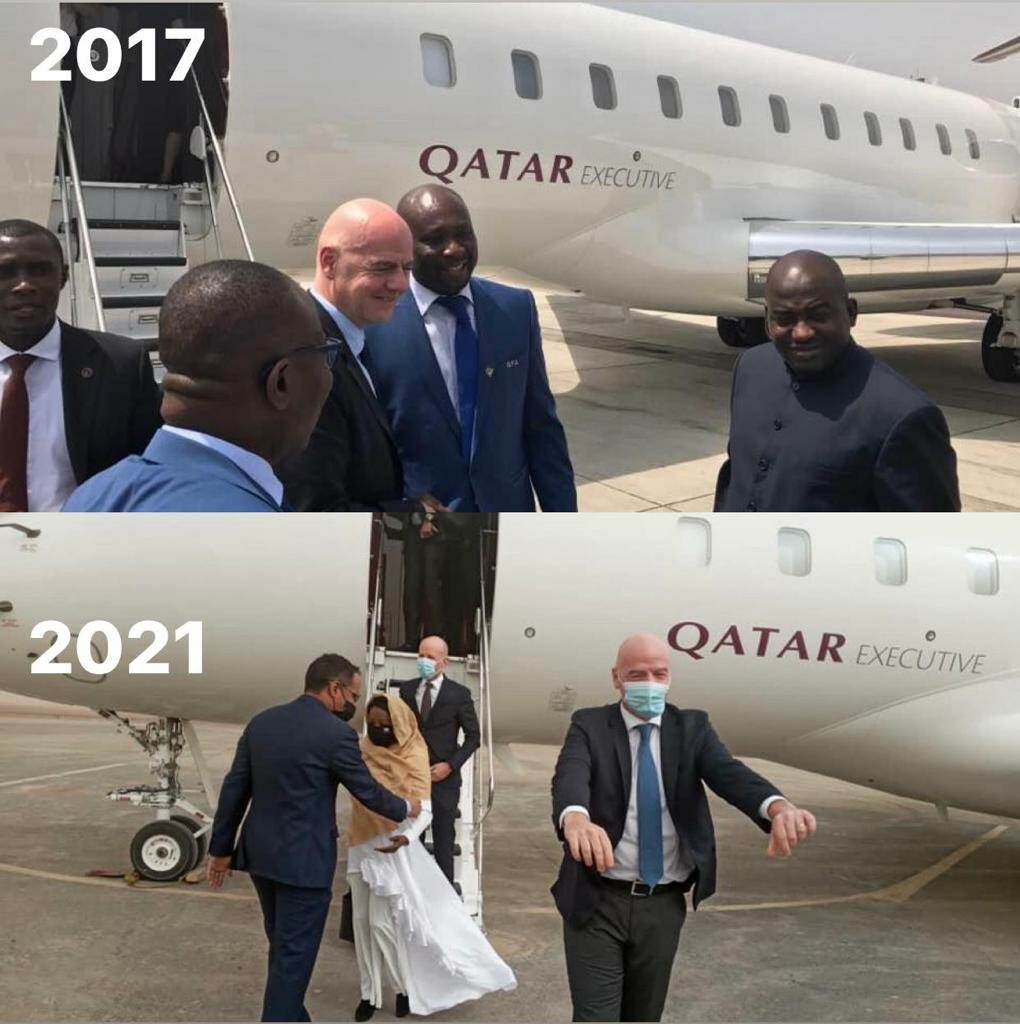 Next, Mustapha Raji from Liberia beat Guinean Mamadou Soaré by 37 votes to 17. Soaré had just been cleared by CAS to run, when the international sports tribunal overturned the decision of Caf's Governance Committee which had found him ineligible to run. Subsequently, Seidou Njoya from Cameroon (who appeared in a Yaoundé court on Monday 15 March, accused of having illegally re-started the Cameroonian League programme, ignoring a CAS order not to do so in the process) beat Adoum Djibrine from Chad by 45 votes to 7, before Suleiman Waberi of Djibouti, one of Infantino's closest allies within Caf, was re-elected with 40 votes to Ethiopian Isayas Jira's 12. The closest-run vote was for the appointee of the COSAFA region, Caf's largest sub-region with fourteen votes, and where Elvis Chetty of the Seychelles and Maclean Letshwiti of Botswana took the two vacant positions left by South Africa's Danny Jordaan (who did not run, in order to make space for Motsepe) and Angola's Rui Da Costa.
Caf's secretary general then moved on to the Fifa council seats on offer. Egypt's Hany Abo Rida, one of the masterminds of the Rabat conference and so much else besides, was shooed in, as his only potential rival, Algerian FA chairman Kheiredine Zetchi, had stepped down at the last moment. Zetchi had just been cleared to run by CAS, which meant that he had had no time to campaign. Following Abo Rida was Fouzi Lekjaa himself. One can wonder why the powerful Moroccan had waited until now to apply for a position in Fifa's governing cabinet. Perhaps it was because last time round, in March 2017, Fifa's Review Committee had a different setup and wasn't yet controlled by the Fifa president. It might well have considered Lekjaa's prominent role in the Moroccan government – he was the director of budget at the Ministry of Finances – to constitute a breach of its regulations for eligibility. After all, hadn't Fifa's Governance Committee barred Russian Vitaly Mutko from Fifa office because he was a minister in Vladimir Putin's government?

Happy people
But times had changed. This was before the Fifa Congress held in Bahrain in May 2017, when Gianni Infantino, unhappy with the eagerness shown by Governance Committee Chairman Miguel Maduro to do his job genuinely independently, had him removed from his position. Other similar-minded or inflexible individuals, like Ethics Committee's Cornel Borbély and Hans-Joachim Eckert, were also sidelined. A number of their colleagues within Fifa's independent committees resigned in protest. Ongoing investigations into Infantino, linked to the financing of his Fifa presidential campaign, his use of private jets owned by oligarchs and for interfering in the Caf elections last time around, suddenly stopped when Infantino appointed Maria Claudia Rojas as new head of the Ethics Committee. 
The happiest of all the newly-selected Fifa Council members had to be Nigeria's FA chairman and former CAF first vice president (he'd lost the position to Danny Jordaan in July 2019) Amaju Pinnick, a close Infantino supporter who had coveted this honour for a long time, and who is said to have played a key role in ensuring that CAF's Executive Committee prevented Ahmad Ahmad from standing for re-election. He obliterated his opponent, Malawi's Walter Nyamilanu, by 43 votes to 8. For the last available position, that of the confederation's designated female representative on the Fifa Council, it was a much closer affair. Sierra Leone's Isha Johansen got 28 votes, beating Burundi's Lydia Nsekera by just four votes. Although it meant the world to Johansen, who faces serious challenges to her presidency at home, and who was also leaving Caf's Executive Committee, it was probably not such a big deal for Infantino, as both candidates are considered to be loyal to him.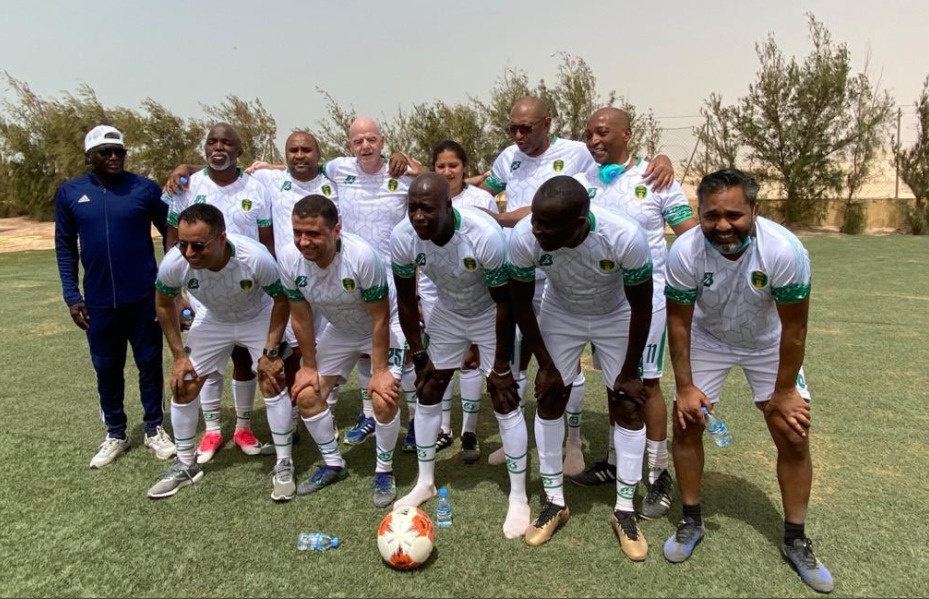 A league of their own
With that, the Congress itself came to an end. But Motsepe still had a press conference to go through, which was both more and less than the press present had hoped for. Less, because Motsepe refused to comment much on specifics about how to run Caf, and emphasised the need to harness the private sector in each country rather than address Caf's serious governance issues. And more because he had brought along Augustin Senghor, Ahmed Yahya and Jacques Anouma, the three candidates who had pulled out in order for the 'African unity' to work out. All of them looked increasingly uncomfortable as Motsepe also acted as the media officer by directing the difficult questions to them. 

"I will answer the easy ones, these the hard ones" was said in jest, but came across as deadly serious. Motsepe himself twice answered questions by "Yes, next question, please", clearly wanting to end the session as swiftly as possible.
This left several questions unanswered, especially about an African 'super league', a pet project suggested by Fifa when it had intervened in Caf in 2019; but that wasn't followed up by the Executive Committee. The plan, a closed league of twenty teams which would have to buy themselves in, similar to the model used in the United States of America and its Major League Soccer, had come up again in a tweet from one of the guests present at the Congress, the Tanzanian club SC Simba's CEO Barbara Gonzalez, which read:
"It was great catching up with Fifa President, Gianni Infantino on the sidelines of the CAF Elections 2021. The rollout of the African Super League with 20 permanent member clubs is underway. We look forward to having Simba SC Tanzania participate soon."
This was a bold statement considering such a league had not been on the agenda for the assembly.
The biggest indication that Infantino's African coup was complete came the following day in a press statement from Caf. The five vice presidents had been appointed. Senghor became 1st vice president, while Yahya took the second spot. The Mauritanian was also co-opted onto Caf's Executive Committee for good measure. The Executive Committee now consists of 25 members, that is to say almost half of Caf's constituency. The Committee had been expanded in 2017 by Ahmad to make room for those who had supported him. This time, it was necessary with two extra vice presidents. Fifa itself has six, one for each confederation. But Caf did not divide them into the respective zones, and of the five selected, four are from Western Africa.
Suleiman Waberi is now third vice president, while the last two were more surprising as Seidou Njouya now is the 4th vice president, and the delighted Kanizat Ibrahim as 5th.

While the consensus seemed to be universal at the assembly, as motions were passed without any votes against, and nobody dared to voice disagreement in public, Josimar knows that many officials clapped while gritting their teeth. One official sent a message to Josimar expressing:
""CAF is now a FIFA department. It is the saddest moment in CAF history. [Gianni Infantino] has created a nasty and very dangerous system. He can suspend anyone with his toy from the Ethics Committee. And no one dares protest, because if he does, he will be suspended and banned on trumped-up charges or they set up a Standards Committee to sideline you."

Ishmael Bhamjee of Botswana, who formerly presided over the COSAFA region within Caf, sent a similar message, which Josimar has seen, just a couple of days before he passed away on 8 March after contracting the Covid-19 virus:
"Caf is captured. African football is gone. It's to be controlled by Infantino. Motsepe is just a front. Now I ask who the hell he is to tell Africa who should take what position. I'm just disgusted".
The decisive nail in Caf's coffin was the announcement of the new secretary general, Veron Mosengo-Omba, Infantino's close friend from his days at the university in Fribourg.
Fifa's colonisation of Caf was complete. But how did it all happen? Let's take a look behind the curtains.
The set up
Jacques Anouma thought he knew what was in store for him when he arrived at the sprawling Sofitel Hôtel Jardin des Roses in Rabat on the morning of Saturday 27 February. He'd responded to the invitation of Fouzi Lekjaa, president of the Royal Football Federation of Morocco, head of finances and third vice-president of Caf, who wanted to gather the three West African candidates to the CAF presidential election scheduled to take place in the same luxurious venue on 12 March. 

The idea – or so Anouma, 69, had been told by Lekjaa – was that he, the Ivorian veteran of African football politics, Mauritanian FA President Ahmed Yahya, 44, and Senegalese FA President Augustin Senghor, 55, should discuss the possibility of putting aside their personal bids to unite behind a single name. Should they come to an agreement, whichever of them three ticked the most boxes would then be designated as the sole challenger of the fourth candidate, South African mining billionaire Patrice Motsepe, whom everyone knew enjoyed the friendship and thinly, very thinly-veiled support of FIFA president Gianni Infantino. This sole remaining challenger would by all accounts stand an excellent chance to be CAF's next president, now that the fifth candidate, incumbent and previous favourite Ahmad Ahmad was no longer in the race.

Ahmad, the subject of a 5-year-ban imposed by Fifa for a number of violations of the Ethics Code 5, had seen the Court of Arbitration for Sport lift his suspension on a temporary basis, and had been declared eligible by CAF's Governance Committee. But a tumultuous meeting of CAF's Executive Committee held on 5 February in Yaoundé had seen him thrown out for good. No matter that, just a few months before that, 46 of the 54 Member Associations which compose CAF had written a letter of support for the Malagasy official. He was out of the picture for good.
One possible scenario which enjoyed significant support in the region was that the doyen Anouma, who could only serve one term as president, as he would be over the age limit (70) when the next election would be held, would take Senghor as his first vice-president and groom him as his successor. Yahya, widely perceived to be another Fifa choice – a 'Plan B' who could deputise for Motsepe if need be and would divide the French-speaking West African vote in any case – would not be able to stand in the way of such an agreement. A lot depended on what Anouma's and Senghor's respective heads of state Alassane Ouattara and Macky Sall would decide anyway.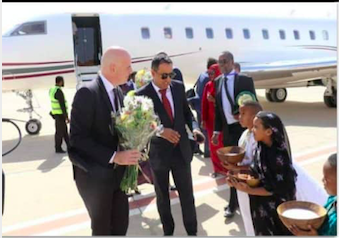 This, however, was not quite what Lekjaa had in mind, as Anouma and his entourage quickly discovered. They first were told that the first meeting, which was originally scheduled for 11am, had been delayed. The explanation they were given by their Moroccan hosts surprised them. "The interpreters aren't here yet". "Interpreters", really? Lekjaa, Senghor, Anouma, Yahya, all of them spoke French. Why wait for "interpreters?", they asked, but no answer was forthcoming. Senghor, meanwhile, was waiting patiently in his room, where Lekjaa called him to have their own private conversation, which went on for a couple of hours.

Anouma and his advisors had quickly realised that something was afoot, and confirmation of this came when they noticed the presence in the hotel lobby of two of the closest, if not the closest of Giannis's Infantino's lieutenants, Fifa's Head of Member Associations Véron Mosengo-Omba, later to be given the job of CAF's secretary-general, and Fifa's deputy secretary general Mattias Grafström. Then they recognised another familiar face, that of Egyptian Fifa Council member Hany Abo Rida, the only survivor of the 'Old', pre-FBI raids Fifa, the man who, despite being the subject of an Ethics Committee investigation for the best part of ten years, still held considerable sway in the African confederation and beyond. Abo Rida hadn't come alone. Ahmed Megahed, the chairman of the Fifa-appointed normalisation committee of the Egyptian FA, was also there.

Then, at 17:30, the main guest made his entrance, flanked by bodyguards: Patrice Motsepe in person.

By then, Yahya had already been made aware of the grand plan elaborated by Fifa with the support of two of the continent's most powerful power-brokers, Morocco and Egypt. The Mauritanian had agreed to it. The 'united' West African candidacy was a red herring, a lure. Motsepe would be allowed to run unchallenged. There would be no 'election'. This would be a coronation by acclamation – just like it had been for Infantino when he was crowned Fifa president in Paris in June 2019. Yahya's reward would be the position of second vice-president of CAF, a prestigious springboard for a young and ambitious man like him. Djibouti FA chairman Suleiman Waberi, a faithful ally of Infantino's, who'd recently accompanied Mosengo-Omba on a trip to Comoros, would become 3rd vice-president. Senghor, whom Lekjaa had informed of Fifa's wishes in their private chat, had yet to respond positively, despite being offered the 1st Vice-presidency. Anouma, to whom a position as "advisor to the president" was proposed, was always going to be the toughest nut to crack. We were then a long away from the "consensus" which would later be trumpeted as a magnificent show of 'African unity' by CAF and Fifa.

Now that all the cast was assembled, the play could go ahead, but only after another hold-up. Mosengo-Omba and Grafström asked to be present in the room where the four candidates would listen to and discuss Lekjaa's proposal – Fifa's proposal, in other words -, but all of them refused to have Fifa employees being party to these confidential talks. Mosengo-Omba and Grafström withdrew, and the four candidates talked for three hours that night, with Lekjaa joining them shortly before they broke up for the day. No agreement had yet been reached, other than to reconvene on the following day.

Everyone – including Waberi, Abo Rida, Megahed, Mosengo-Omba and Grafström, who shared a taxi back to the hotel with Senghor – then repaired to a restaurant to have a relaxed conversation between friends over dinner, as they did over breakfast, lunch and dinner on the following day.

"Submitted by Fifa"
As Senghor confirmed in a statement published on his website, two meetings took place at the Hôtel des Roses on the Sunday at 11:00 and 17:00. By the end of the first one, Senghor was starting to sway, but Anouma was still holding firm, whilst Yahya was already 'in', as he had probably been for quite a while. At one point, Lekjaa said that Gianni Infantino was ready to fly in on Monday to vouch for the arrangement in person. This did not prove necessary in the end, but showed how crucial this meeting was in the eyes of the Fifa president. Lekjaa also insisted that all four candidates should sign a common statement, something which Senghor and Anouma refused to do. This had been a secret conference, so secret, in fact, that at least two of the people who took part in it had no idea it would take place in the form that it did until after they'd arrived in Morocco. There had been no public statement released prior to the meeting, there should be none afterwards. But they still signed the minutes of the discussion – which have not been made public yet. The deal was almost in place, but not quite. All it needed to be concluded was a little persuasion, a little push in Anouma's back.

Strangely, or not so strangely, the word got through that the Ivorian candidate had been requested – ordered, rather –
by head of Fifa's governance Committee Mukul Mugdal to provide an explanation for claims made in a handful of media that his bid was directly financed by his own government to the – quite extraordinary – tune of €15m. Those claims were unfounded, and Anouma had no trouble brushing them away. But it sounded ominously like a warning shot. The deal was as good as done, as Josimar was told on Sunday evening, and as was confirmed when, on 2 March, following consultations with his Head of State Macky Sall and his own FA, Senghor announced that he had accepted "the consensual proposal submitted to us by Fifa, Morocco and Egypt, in the name of the Superior interest of the unity of African Football that we have put forward in our profession of faith".

Whether Senghor, a man whose probity is not in doubt, realised it or not, the mention of Fifa as one of the authors of the proposal showed how far down the road to submission and subservience CAF had gone, and how brazen Fifa had become in its pursuit of ever-greater control over the affairs of its vassail. CAF was supposed to be an independent body. CAF's 54 Member Associations are members of Fifa, but CAF itself isn't. Its statutes, and Fifa's own, expressly prohibit any kind of interference of that kind. Yet a man who had bid to become its president accepted that the governing body presided over by Gianni Infantino could bend the African confederation to its will.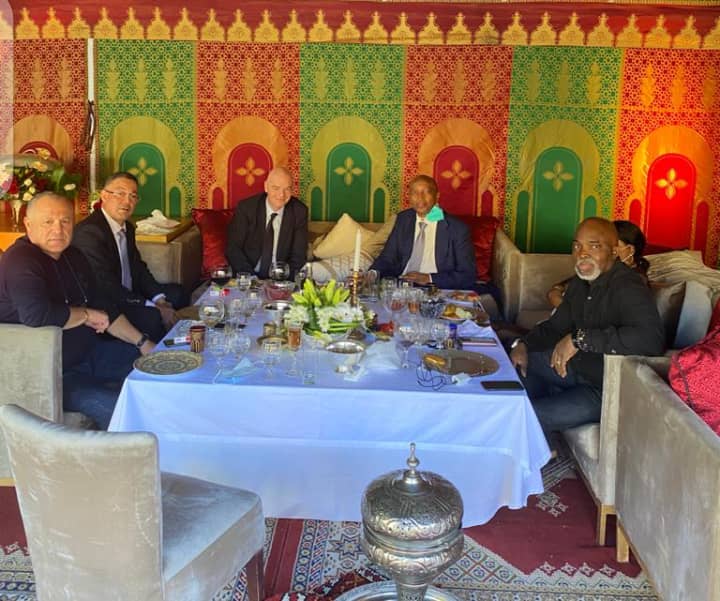 Anouma threw in the towel a few days later, on the eve of another summit meeting between the 'candidates', in Nouakchott this time, to the disappointment of many who'd seen him as the last rempart of CAF's independence, the last beacon of resistance in Fifa's scramble for Africa. Yahya, who'd kept very quiet until then, pulled out of the race as planned. Patrice Motsepe would have no challenger.

But why was Fifa so anxious that this would be the case?

Made by Fifa
Josimar has told elsewhere how Ahmad Ahmad's ascent to the top of African football was almost entirely Infantino's doing, from the inception of the Malagasy's bid to the campaign which reached a climax at the CAF Electoral AGM of Addis Ababa in March 2017, when the previously all-powerful Issa Hayatou was finally unseated.

To start with, Ahmad's candidacy had been treated with a degree of disdain. Within CAF's Executive Committee, he was the silent one, barely noticeable and barely noticed. CAF delegates studiously avoided him in the run-up to the election, as being seen with the nondescript Ahmad could be interpreted as a show of disloyalty towards Hayatou. Then, as Infantino worked his magic, votes started to gravitate towards the former pariah, whose eventual triumph was primarily Fifa's.

Ahmad, however, did not prove quite as pliable as Fifa had hoped he would be, at least not in the last thirteen months of his term, when the 'puppet' of Zurich showed signs of wanting to cut off the strings which were held by his manipulators. He'd accepted that Fifa Secretary General Fatma Samoura (whom he knew very well thanks to her five-year stay as a UN official in Madagascar, when he himself was a minister there) run the affairs of his confederation when she was appointed regent (in all but name) of the confederation on 1 August 2019. As Josimar recently revealed, he agreed to cancel Caf's 1 billion US dollars contract with French broadcasting giant Lagardère at Fifa's behest. Then he rebelled – after a fashion.

Ahmad had become something of an encumbrance in any case. His arrest and questioning by French police in June 2019 – whilst attending Gianni Infantino's re-election at the head of Fifa – followed revelations by Josimar and others that Caf had cancelled a huge equipment contract with PUMA to hand it to a completely unknown French company with zero experience in that field, a company which happened to be run by a close friend and former French army comrade-at-arms of Loïc Gérand, Ahmad's personal advisor.

A full dossier on the affair had been passed on to Fifa's Ethics Committee in March 2019 by Caf's secretary-general Amr Fahmy, who was to die from cancer one year later, aged just 36. Fahmy was sacked by Ahmad as a result, a sacking which heralded an in-depth purge of Caf's administration. Fahmy had also included incriminating information about how Ahmad had used Caf money to finance an expensive 'minor' ('Umrah') pilgrimage to Mecca for Muslim African football officials, including Ahmed Yahyah and Suleiman Waberi, who've just been appointed 2nd and 3rd vice-presidents of CAF. These accusations would prove the bedrock on which Fifa's Adjudication Committee based their decision to ban Ahmad for five years on 23 November 2020, effectively preventing him from being a candidate to his own succession in March 2021.

The delay between the moment when Fifa received the incriminating documents from Fahmy (31 March 2019) and the date at which it formally opened its investigation into Ahmad's alleged wrongdoings (25 March 2020) seems inordinately long, given Ahmad's arrest in connection with the affair over nine months previously, and the fact that, judging from Fifa's final Ethics Committee report, dated October 2020, almost no new evidence had been unearthed by Fifa compared to what medias like Josimar had published when Ahmad was questioned by the French investigators (who we can confirm are still working on this case).

What had happened that could explain such a delay, given the seriousness of the allegations and the preeminence of their target? One hypothesis is that Fifa, which has now weaponised its independent committees and its use of normalization orders to an unprecedented degree (see Josimar's investigations into the TTFA, the Comoros FA and the FKF as examples), decided to sit on Ahmad's case until such a time when this leverage could be used for maximum impact. What happened in this case certainly does nothing to invalidate this theory. It was only after Ahmad had clashed with Infantino's desire to reform the CAF competitions calendar (the Fifa president had spoken at a conference held in Rabat, advocating a 4-year cycle for the African Cup of Nations) and refused to renew Samoura's regency mandate for a further six months that the indictment process was activated.

The time to get rid of Ahmad had come. But whom to replace him with?

Hands-off president
The name of Patrice Motsepe was not an obvious one to come up with. The South African multi-billionaire was known to be the owner of South African elite club Mamelodi Sundowns, who'd enjoyed excellent results under his stewardship, winning the African Champions League in 2016. He was also known to be somewhat distant from the actual running of the team, and not especially au fait with the issues currently facing African football, as was shown during the Rabat Conference, when Augustin Senghor challenged him to name five members of CAF's current Executive Committee, something which Motsepe was allegedly unable to do. It has also been obvious from his press conferences that the mining magnate's knowledge of the conditions faced by the people who'd elected him was scant at best. It is highly unlikely that Patrice Motsepe will be a 'hands-on' president of CAF.

In that respect, this made him an excellent candidate as far as Fifa was concerned. Wealthy as he was, he would not be tempted to use his function to enrich himself. If he kept his distance from the day-to-day running of the confederation, this would enable Fifa's envoy – at one time thought to be Fatma Samoura, now confirmed to be éminence grise Véron Mosengo-Omba – to have an almost free hand in the actual management of Africa's supreme governing body.

Motsepe had also been recommended by Rwandan president Paul Kagame, a highly controversial and divisive figure in Africa, revered by some, considered a brutal tyrant by many others, whose advice Gianni Infantino has often sought in the past. Moïse Katumbi, the influential owner of one of Africa's powerhouse football clubs, TP Mazembe, is also known to have approved of Motsepe's choice.

The South African businessman is also a friend of Gianni Infantino's. The two had been seen together at the infamous birthday party thrown by Zimbabwe's FA chairman Phil Chiyangwa in Harare in February 2017, only one month before the Fifa-orchestrated ousting of Issa Hayatou. Motsepe and Infantino had also been photographed sitting next to Donald Trump in Davos in January 2020.

Motsepe's own motivations for seeking out office at the head of CAF were not as clear. One explanation was that the increased access he was bound to get to heads of state and top civil servants would help his business. Another was that he harboured political ambitions in South Africa, and saw himself as a possible future successor to his brother-in-law Cytil Ramaphosa, the current president of the South African republic.

One thing that was out of the question for him, however, was to lose, and there was no chance of that happening if he ran against Ahmad. It didn't matter how many letters of support Ahmad could get. All it took to remove him from the equation was a decision to ban him from all football activities by Fifa's Ethics Committee, which had all the ammunition it needed to execute this if and when required. Which it did.

So the path looked clear for a while, until Jacques Anouma, whom Josimar was told was encouraged to stand by the Ahmad clan, decided to throw his hat into the ring, being closely followed by Augustin Senghor. Motsepe had yet to declare himself formally, as did Fifa's supposed 'Plan B' Ahmed Yahya, and waited until 9 November to do so. His problem was that almost anyone who stood against him had a chance of beating him in a CAF election. Motsepe was an outsider. A rich man, no doubt, but not a football man. Unlike Anouma, Senghor, Yahya and Ahmad, he did not know who the people who would elect the next CAF president were. He would be seen as the candidate imposed by Fifa. He could lose. Unless Fifa intervened. And Fifa did.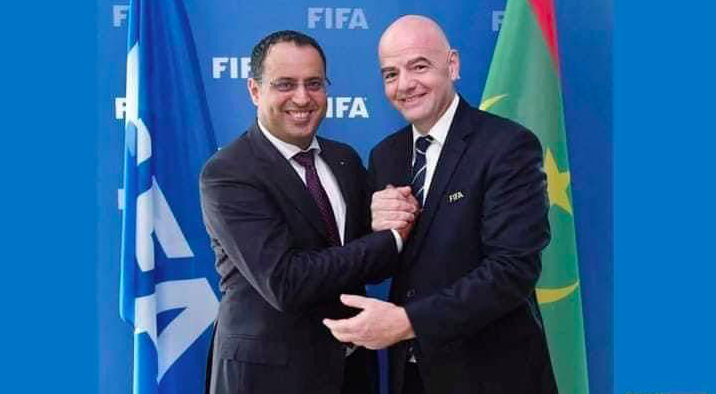 Horse trading
Failure was unimaginable. It would be more than a humiliation if Motsepe wasn't elected. It would jeopardise the grand plan of keeping CAF on a tight leash and ensuring its support for the global changes Infantino wished to implement in the future, such as the creation of a new, gigantic version of the Club World Cup which would weaken the hold of confederations (UEFA in particular, and its ally CONMEBOL, to a lesser degree) on club football, and re-channel revenue from various Champions Leagues competitions to the coffers of Fifa. And should a man other than Fifa's favoured candidate, that is to say Motsepe, win the election, CAF and its 54 Member Associations (out of the 211 which compose Fifa) could also become a major stumbling block on the road to Infantino's own re-election in 2023.

So Infantino took the matter in his own hands. It was not enough for his right-hand man and chief enforcer Véron Mosengo-Omba to criss-cross the continent as he'd done indefatigably in the past six months, pandemic or no pandemic, offering financial support through Fifa's Forward and COVID relief programmes whilst reminding MAs of the threat of normalisation if they didn't play by the book – Fifa's book, that is. Infantino had to do that job himself.

One of the main reasons for this is that, contrary to what happens on other continents, Europe in particular, the real power in African football politics does not lie with the federations and their presidents, but with the governments. This is reflected in many of those FAs' statutes, which place them under the direct control of their country's Ministry of Sports. All of these FAs also receive direct subsidies from their governments, with the consequence that sitting on an association's board becomes an act of public service, and is actually treated as such in legal terms in a number of African countries. In other words: it would be unthinkable for African FA chairmen to vote against the wishes of their heads of state. If Alassane Ouattara and Macky Sall told Anouma and Senghor to make way for Motsepe, they would have no choice but to comply. Gaining access to these heads of state and pleading the case for a favoured candidate – in this case, Motsepe – was therefore key to ensuring the success of the plan. Only Infantino himself could do that.

It would look like blatant interference into the affairs of CAF. It also constituted a brazen violation of both the confederation's and Fifa's statutes, which specifically target interference into their internal affairs as one of the most damning statutory breaches of them all. What's more, it is worth keeping in mind that CAF is not a member of Fifa, even if its Member Associations are. But, as one former high-ranking Fifa official told Josimar, the magnitude of the interference was such that it could, paradoxically, go unnoticed. Cram the room with elephants, nobody will notice anything anymore, which is why so little was made of Senghor's breath-taking public admission that the proposal adopted at the Rabat conference had been mooted by Fifa, when it should have unleashed a torrent of criticism – and even provoked a rebellion from African MAs. It would look like neo-imperialism, or neo-colonialism, and would be denounced as such. It was, in private by many, in public by a few, like former chiefs of Liberian and Togolese FAs Musa Bility and Tata Avlessi. But this would not matter in the end, as who would be Fifa's judge? Fifa itself. Fifa was not going to condemn or punish itself. Infantino could start his African journey with his mind at rest.

Touring Africa
He had visited the African continent as Fifa president a number of times beforehand, but never in this extraordinary fashion. His previous tours, such as those which took place in January and November 2019, had lasted just a few days and consisted of only a handful of stopovers. This time, in the midst of a global pandemic, he managed to cram in visits to eleven countries in the matter of ten days.

Infantino's offensive started on 16 February in Mauritania, where the pattern was set for the rest of his African blitz. The Fifa president would inaugurate a new Fifa office or a facility funded in totality or in part by the governing body's Forward programme, shake hands or bump fists with local football officials and, most importantly, hold private talks with the local Head of State or key government advisors. This, by the way, demonstrates how much prior planning must have gone on before the tour took place: prime ministers and presidents do not find free time in their schedule at the drop of a hat.

On 16 February, Infantino was in Nouadhibou, taking this opportunity to lavish praise on FFRIM president and CAF presidential hopeful Ahmed Yahya in what just stopped short of a clear endorsement, before meeting Mauritanian president Mohammed Cheikh El Ghazouani. The following day, he was the host of Augustin Senghor and president Macky Sall in Dakar, Senegal. From there, straight on to Bangui, capital of the Central African Republic, where he was made a Commander of the Ordre National de la Reconnaissance by PM Firmin Ngrédaba and met president Faustin-Archange Touadéra (18 February). Two countries were on his schedule on the 19th. The first port of call was Rwanda's capital Kigali, where president Paul Kagame, a key ally in the inception of the Motsepe bid, received him. Another hop on the private jet, put at his disposal by Fifa partner Qatar Airways, and he landed in the evening in Congo-Brazzaville, where he met with president Denis Sassou Nguesso. On the 20th, Infantino crossed the river Congo to Kinshasa, where his host was president of the DRC Felix Tsishekedi, who'd been recently appointed Chairman of the African Union. No time to breathe – next box to tick was Patrice Motsepe's home country, South Africa, where COSAFA (the Council of Southern African Football Associations, which includes 14 Member Associations from the south of the continent) was holding its AGM in Johannesburg on 20 February, the perfect occasion for Infantino to stress the importance of 'African unity' to an audience of FA presidents before visiting Cape Town, where he was granted an audience with president Cyril Ramaphosa, Motsepe's brother-in-law.

Sudan was next, on 21 February, where he was welcomed by Chairman of the Transitional Sovereignty Council Abdel Fattah al-Burhan, followed by Morocco, which Infantino calls "a powerhouse of African football", a description which is doubly apt in the circumstances, as the man who greeted him on the tarmac of Rabat airport, CAF VP Fouzi Lekjaa, would also be the crucial go-between and facilitator of Fifa's grand plan to 'unite' the CAF presidential bids behind the sole Motsepe, as we've seen. Infantino signed off his whirlwind tour of the African continent with meetings with the interim president of Mali Bah Ndaw and, last, on Friday 26 February, with Beninese head of state Patrice Talon, just as Jacques Anouma, Augustin Senghor and Ahmed Yahya were getting ready to fly to Rabat.

There was one glaring absentee in the list of countries which Infantino had visited to promote his vision of African football's future, and who should be in charge of it: the Ivory Coast, the country of Fifa's irritant Jacques Anouma, who had said things such as "it's up to Africans to decide. Do they want to put at the head of CAF a federation president in the pay of FIFA or someone who has time to give them", a barb which absolutely everyone knew was directed at Motsepe. The official explanation was that a visit had been planned, but that clashing schedules had forced its postponement.

No new date for the visit has been announced yet.