For three years, from 2015 to 2018, a team of journalists working in Algeria for BBC News Arabic gathered information and testimonies from a number of sources, including agents, match-fixers, match officials, ex-players and club chairmen. Our writer has been given access to the transcripts. They paint a damning picture of a domestic football scene in which corruption is affecting everyone without exception, be it as culprit or victim, and often both. This article is based, in part, on the evidence gathered during those three years of investigation as well as on independently-gathered information. Some names have been changed to protect the anonymity of our sources.

By Philippe Auclair

To start with, Majid was just a familiar face around a First Division club, a labourer charged with menial tasks who'd got to know a few players at the training ground, always ready to give a hand when one of the pros needed it. Fix a pipe? Sure! Want a ride back home in my car? Thanks! As is natural in a world which is wary of outsiders, sometimes pathologically so, the figure in the background gradually stepped out of the scenery to become the guy who would address the local football stars by their first names and whom they could turn to when they wanted some friendly advice. Majid was helpful, personable – and smart. When one of these stars asked his opinion about his forthcoming transfer, he proposed to act as his agent. 'It'll look more professional', he said. Majid was as good as his word. The contract was signed to everyone's satisfaction, and the handyman pocketed his first few million dinars, a few thousand dollars, a fortune. There'd been nothing untoward in the transactions. The agent had fought his player's corner, insisting that the whole of the transfer fee be paid in totality on the day the contract was signed – a useful precaution in those days of pre-professionalism, when salaries tended to be paid late, very late or not at all.

The word spread that Majid was good at his new job. More clients came his way. Then another kind of customer turned up. Who suggested what to whom is not entirely clear. Maybe it was the player who asked for some assistance. Maybe it was Majid who'd figured out how he could use his network to get more money and tested the water with his friend. What matters is that a deal was struck. Five players were 'in', as in 'willing to lose', including, crucially, the goalkeeper, the dream catch for a match-fixer. All Majid had to do was to approach the other club's president via an 'intermediary' and agree on a sum. This was done with ease, and this is how the conspirators came to share tens of millions of dinars, the star player keeping the lion's share of the bribe for himself: he'd pretended that a couple more of his team-mates were also part of the plot and needed to be paid. They knew nothing of the operation, and the star appropriated their split of the spoils as well as his. As to Majid, he was now on the game, a kind of game which has brought him many more millions – he estimates to have fixed 'more than twenty big transactions' in the time he's been involved in football -, and has made him feel absolute contempt for the people he works with, starting with club presidents.

'They're all crooks and thieves', he says. 'Every single one of them'.

__________________________

March 2017. The presidents of the clubs which compose the Ligue de Football Professionnel are gathered for a routine electoral meeting. The country's media are there in force too. Cameras are rolling. Then, enter stage left, the chairman of high-flying second tier US Biskra, Brahim Saou, walks to the microphone and launches into an astonishing tirade.

"Every time we meet", he says, pointing at his fellow chairmen, " we are all lying to each other when we hug and are kind to each other. This doesn't make sense anymore. You spoke about corruption…you are all involved! Everyone here buys and sells points and arranges results. I don't want to hurt anyone, but all of you are corrupt".

It has now become difficult to catch all of his words. Insults are shouted across the room. The then doyen of the présidents, Mohand Chérif Hannachi, raises to his feet and tears into Saou. "You are the corrupt one here", he screams, gesticulating wildly. "You arranged all your games to be promoted this season!" (Biskra would indeed join Ligue 1, the top division of Algerian football, to be relegated after a single campaign. Hannachi, the seemingly eternal chairman of JSK, who hired and fired over forty managers in his 24-year-long reign, having announced his resignation in 2011, 2012, 2015 and 2016 would finally step down in 2017, leaving a near-bankrupt club behind him).

Hannachi had a point. A month later, Saou, his predecessor at the helm of US Biskra Kheireddine Aymen and the club's general manager Allawa Bassouf would be sentenced to three years' imprisonment for having attempted to bribe the 'keeper of rival Ligue 2 team USM Annaba Rabah Kahoul towards the end of the 2015-16 season. Kahoul had been told that, should he convince enough of his teammates to 'take it easy' in their game against Biskra, his reward would be DZN4m, the equivalent of close to $35,000. But Kahoul refused to play ball and passed on to the judiciary recordings of incriminating telephone conversations between himself and the three accused, after having arranged for them to deposit some money in an account which belonged to a close relative of Annaba's president.

This criminal conviction did not prevent Saou, who appealed against the court's decision, from being elected as an 'independent' deputy for Biskra to Algeria's lower house of representatives in May 2017. A year later, the new deputy quit his presidential post at USB, quoting, without a hint of irony, the referees' negative attitude towards his team as the main reason for his resignation. Algerian football affairs can be disconcertingly complicated for outsiders; not just for outsiders, in fact.

_______________________
"All crooks and thieves"? Perhaps not all, if Youssef B. is to be trusted, and there is good reason to trust him, if only for his willingness to speak without trying to make himself pass for the angel sitting at Lucifer's table. He is one of these club chairmen, an industrialist who's invested a lot of money – "billions" – in a well-known club from the north-west of the country. He had faith in the previous regime of Algerian Football Federation, the FAF, then led by the formidable Mohammed Raouraoua, who was first elected its president in 2001, joined the excutive committee of CAF, the African Confederation, in 2004 and FIFA's ExCo in 2011 as a replacement for the disgraced Amos Adamu. Raouraoua, one of Africa's footballing kingmakers and most influential operators was and remains a controversial figure, not least because of his closeness with another disgraced FIFA figurehead, the Qatari ex-president of the Asian Confederation Mohammed Bin Hammam, who seemingly supported Raouraoua's bid for a spot in FIFA's ExCo, as saw him as a useful ally in his doomed attempt to oust Sepp Blatter from the top seat at the top table. Yet there was a time when Raouraoua made others hope he could be the man who would save Algerian football. The remedy to its ills, according to him, was professionalisation, and Youssef B. agreed with that.

Algeria's greatest clubs, which had represented the country with such distinction in Africa's continental tournaments since Mouloudia Alger, also called MC Alger, won the CAF Coupe des Clubs Champions in 1976, in their very first participation to the competition, were facing bankrupcy. The best players, when they hadn't left for the French championnat, could get more generous wages in the professional leagues of Maghrebine neighbours Morocco and Tunisia. Youssef B. embraced Raouraoua's message. Algeria's football dignity demanded it. This was the country which had won Africa's first-ever match at the finals of a World Cup, when Mustapha Dhaleb and Lakhdar Belloumi had scored in an unforgettable 2-1 win over reigning European champions West Germany, in 1982. This was a country whose struggle to gain independence from France had been symbolised by the exploits of its 'illegal' team between 1957 and 1961, when a group of players such as the great Rachid Mekhloufi had chosen, at great personal risk, to promote the cause of self-determination from Tunis to Beijing in the green-and-white colours of the Front de Libération Nationale, the FLN.

In 1982, fifteen of the twenty-three World Cup heroes who'd beaten the Germans had been playing their football in Algerian clubs, three of which had been crowned champions of Africa: JS Kabylie, ES Sétif and Mouloudia. By 2010, only three of the Algerians who represented the Desert Foxes at the South African World Cup played 'at home'. In 2018, Djamel Belmadi's squad still contains the same number of Algeria-based players, with this caveat: this trio has won the grand total of a single cap between them. As many players play in the Saudi Arabian league, twice as many in French competitions.

Yet, for a while, professionalism looked like it could be the answer. "But, a few years later", Youssef B. says, "I understood that everything was lies". One evening in the early 2010s, a couple of seasons after the introduction of professionalism, he was approached by the chauffeur of the match referee, who matter-of-factly informed him that a win would cost him the equivalent of $4,000. Youssef B. could hardly believe what he was hearing. Not only was the official totally open about his proposal, but his own team was doing well at the time, and was expected to win that home game easily against a much inferior opponent. Youssef turned down the offer.

This is how he describes what happened next. "They scored a very strange goal within the first ten minutes, after which we pushed for an equaliser, which we got from a shot taken thirty-five meters from goal. The referee was surprised, but could not disallow it. After that, he stopped all our attacks by whistling for free-kicks and offsides every time we were close to their goal. At half-time, the chauffeur contacted me again, saying, 'you won't win the game if you don't pay, give me the bag of cash and we'll be done'. I didn't pay. We drew the game. This is only a small example". There are many others, such as that referee who gave a penalty kick when it should have been a corner-kick, then had the penalty-kick re-taken twice for a tenuous (if that) encroachment when the 'keeper produced two quite magnificent saves, prompting the TV commentator to wonder aloud what on earth could be happening, making sure everybody realised that he knew very well what was happening. There was no re-take of the third attempt, which was scored.

_____________________
It is not just that match-fixing and corruption of officials is a common occurrence in Algeria, as it is suspected to be in a number of neighbouring countries. How many games are affected, no one is quite sure. The consensus is that, until February, when the dust is starting to settle and everyone has a clearer idea of which rewards and, just as importantly, which dangers lie in wait, most of the football is played 'fairly', with only a few isolated cases to deplore. It is revealing in this context that none of the dozens of sources who were interviewed in the course of this investigation mentioned the influence of gambling syndicates. Perhaps it is a hidden layer of corruption that it is even more dangerous to expose; or perhaps it is that Algerian club football is known to be so corrupt that noone would be foolish enough to bet money on it; or perhaps it is simply that what is at stake there is prestige, personal ambitions and political clout rather than money for the sake of it.

Come the spring, the scene alters, and new characters appear on the boards. "Everyone is involved", source after source told us. For 'intermediaries' such as Majid, this is like "the start of the proper season", when match-rigging becomes a modus operandi, of which there is no better illustration than a semi-official 'price list' which details how much exactly such and such a 'favour' will cost the briber.

This is no urban myth, no wild conspiracy theory. This à la carte menu of corruption circulates quite freely within the microcosm and is adhered to by all parties, be it the officials, the wealthy 'super-fans' who have appeared on the scene a decade or so ago and hold their own discussions and tractations on WhatsApp forums, and club chairmen and executives willing to come to a cosy and mutually-beneficial arrangement. That this 'price list' exists has been vouched for by a number of sources from all sides during the investigation. So how much does it cost to skew a game?

It first depends on which division the match is played in, and, crucially, when: the tail of the Algerian football season can truly be called its 'business end', as in business for 'intermediaries', bent officials and match-fixers. The closer to the season's end a game is, when title, promotion or relegation are in sight, the more expensive it becomes to alter its verdict. This is how an away win in the second tier, which would 'normally' cost between DZN800k and 1m ($6,800 -8,400) is worth four times that, so up to $32,000 (and more), when the season draws to a close, whilst a draw sees its value climb from $3,400 to $8,500. Prices for Ligue 1, the top division are naturally steeper: $68,000 for an away win, $17,000 for a draw away from home, from $8,500 to $17,000 for a penalty kick.

These sums can seem quite modest, compared to the much bigger bribes paid out by match-fixers who connive with criminal gamblers; but in the context of the legitimate rewards offered in Algerian football, they're huge. A qualified international referee will earn under $700 a month, which will be considered a more than decent wage in an economy which is at best stagnating, and where over a quarter of the under-25s are unemployed. "I tried to keep away from it for years", a current referee explains. "But my career was stalling. To me, today, being open to corruption is another aspect of my role as a referee". Some appear to have played the game better than others, like this – unnamed – official who was singled out in an Algerian TV show, as he'd been able to purchase a luxury car, a villa and real estate abroad with his referee's pay and his wage as a hospital nurse.

Referees are easy prey. But players? Those who work in the top division can hope to earn much more than $700 a month, at least those who actually see the colour of the money, unlike the eleven footballers of CA Batna who sued their club for unpaid salaries in June 2017. Wages as high as $20,000 a month are reportedly paid to a select few, which goes some way towards explaining the appalling state of the finances at almost every single professional club – and why, every season, a large number of clubs are routinely punished by transfer and registration bans as they're unable to front the costs they were contractually obliged to meet.

This is how, in July 2018, fifteen of the thirty-two teams which make up the professional echelon of Algerian club football were forbidden to recruit any new players, their debt being in excess of the DZN10m authorised by the League. Incredibly, it represented an improvement, as they'd numbered twenty-one (twelve out of sixteen Ligue 1 clubs among them) in the previous season. It was a source of some amusement in Algeria that Paradou AC, which belongs to the newly-installed chairman of the FAF Kheireddine Zetchi, was not among them.

What exactly the financial state of Algerian professional football is in 2018, or what it was in 2017 or in any previous year for that matter, nobody's quite sure. It has proved impossible to trace those accounts which were supposed to have been filed. The 'budgets' mentioned in media reports are speculative at best, based on a handful of figures which have not been properly audited. It is believed that USM Alger, perhaps the richest of the lot, spent $7.5m in 2015. Smaller clubs would spend about a quarter of a fifth of that sum; then again, we do not know for sure. What we know, and what both the Algerian FA and League remind us of regularly, is that the situation is catastrophic. Professionalisation has proved ruinous, unsustainable, with almost zero income from TV rights, domestic or otherwise, negligible gate receipts, less than generous sponsors and no state aid to speak of. Desperate times call for desperate measures. For a club, it is possible to spend its way out of trouble, at least in sporting terms and, in this case, often, spending means bribing.

There are more imaginative, and safer ways to tailor a result as well. There's the 'ambulance trick', which one club executive assured had been used more than once, especially in the lower divisions, where "corruption is just as rife". As clubs which host a game have a duty to guarantee that health and safety provisions will be cared for, it is possible to 'lose' a game by not providing the assistance which is statutorily required. No vehicle to transport injured players to the local hospital, tick, or untick. No club doctor to tend the wounded, tick or untick. By making sure his own club is not able to fulfil its duties (a couple of phone calls will be enough to keep the ambulance and the doctor away from the stadium), the club president will ensure his team will forfeit all points to the visitors. No need for special arrangements there. The referee will write his report, the League will punish the willing culprit accordingly. That is the law after all.

The fans can be used as well, as they were in an infamous case a couple of seasons ago, when they attacked their own players who were not trying hard enough to lose against the day's rivals, when losing would cause the relegation of that club's bitterest local rivals.

Club presidents can talk to each other without having recourse to an intermediary and letting anyone else in the confidence. Youssef B. himself, by all means a man of conscience and integrity, confessed to have agreed to a 'special arrangement' with an opposing chairman on two occasions. What happens is that a team which is sitting in mid-table and has nothing left to hope for or to fear will accept to lose a couple of points or three against an opponent which needs one or three to survive. It should be added that this kind of arrangement is commonplace in many countries other than Algeria and that I, for example, know of several instances of this kind of 'rigging' in French football, which are called 'exchanges of favours', in which money is not always involved. It is also true that money can be involved, however.

The money is not paid straight away. When it comes to referees, as in these old movies where the cheque is cut in half and can only be stuck back together if the operation is a success, the amount is split in two, 50% in advance, 50% on 'delivery'. The 'advance' must be refunded if the expected result is not achieved, which, according to our sources is a frequent, if not the most frequent scenario. When the arrangement is struck through an intermediary between presidents, or between a president and players of the opposing team, the cash is put in the keep of a trusted third party, a kind of human deposit box. "Once I'm sure I've got a minimum of three players on my side", one of our sources explains, "I then organise the meeting with the intermediary. Players are very suspicious. The guy who pays fears he'll pay for nothing. The guys who are paid are afraid they won't get the money – because, if that's the case, who's going to go to the police station to complain?"
­­­____________________
The risks involved are real. The fact that corruption is endemic doesn't mean it is legal, even if some have jested that making it so might solve the problem once and for all. The local media don't shy from reporting on the subject, and a few courageous souls within the League and the FA have dared to speak out – to little effect so far. A handful of referees have been banned. Some 'intermediaries' have been put in the dock, though the sentences seem not to have been applied in any of the cases which we've been made aware of. But, in some ways, the risk is greater for the would-be whistleblowers.
One of these whistleblowers is goalkeeper Yacine Babouche, the central figure in Algerian football's first full-blown corruption scandal, back in 2012. Together with a team-mate and a journalist who secretly recorded a conversation from a car, Babouche, then at CA Batna, exposed an alleged corruption attempt by the president of JS Saoura Mohamed Zerouati, FIFA-registered agent Nouri Benaïssa and 'intermediary' Imad Barka, who was described at the time in Presse Algérie as 'an individual who gravitates around the refereeing world'. The video of the call, which was published on social networks, led to a court case and to Zerouati, Benaïssa and Barka being tried and sentenced to an 18-month jail sentence and a large fine in June 2013. This was not quite the end of the story. Zerouati appealed against the verdict, the case vanished in judicial no-man's land and Zerouati, at the time of writing, is still very much JSS's president and was heard of in September 2018, fuming against referees (naming three of them at a press conference) as being biased against his club, at the beck and call of FAF president Kheireddine Zetchi and his brother Hacen, whom he publicly accused of having sent officials 'on a mission' to 'destroy' his club.
As to Babouche, he has now retired from the game.
_____________________

The publication in October of this year of BBC Arabic's initial report, and of a follow-up article in France Football magazine, did shake up the Algerian football world somewhat, though perhaps not to the extent it could have been hoped for. Local media reported on the investigations' findings extensively. Some prominent figures put their heads above the parapet, like Hassan Hammar, the chairman of ES Sétif – and Zerouati, who seized on this opportunity to condemn the new regime in place since 2017 at the FAF in general, and its president Kheireddine Zetchi in particular. Zerouati even asked for the ailing 81-year-old Algerian president Abdelaziz Bouteflika (who is seeking a fifth consecutive mandate at the 2019 elections) to intervene directly in the football affairs of the nation, seemingly forgetting that, according to FIFA's statutes, this would automatically lead to Algeria's suspension from international football. FIFA itself reacted by saying through a spokesperson that it would look into the matter. How it would do so has not been made clear yet, but the very fact that there had been an acknowledgement of the existence of a problem gave encouragement to many in Algeria.

The initial response of Kheireddine Zetchi and the Algerian Football Federation he presides over, worded in florid terms, centered on the will of the new administration, which had been elected on an anti-corruption platform, to clean up domestic football (through the set-up of various commissions, which had been approved a year ago) and on the supposed fact that the cases which had been referred to had taken place under the previous regime (which was incorrect, as the investigation took place between 2015 and 2018). The tone Zetchi adopted after the publication of the France Football dossier was markedly more aggressive. Speaking of the 'little article', he said it was 'empty' and 'deprived of all evidence'. Former national team coach and, until recently, Algeria's National Technical Director Rabah Saâdane had stoked the fire by stating publicly that Algeria had deliberately 'thrown' its semi-final against Egypt at the 2010 African Cup of Nations, losing 0-4 in order to let the Egyptians – who'd missed out on qualification for the 2010 World Cup – win the continental competition. "It was arranged before the game took place, 100%", he said. "I refused to take part in this game. History will remember that I refused to betray my country", a country which had qualified for that World Cup by beating, precisely, Egypt. Three Algerian players were sent off in that semi-final against the Pharaohs.

A request to interview Mr Zetchi was passed on to the FAF over a month ago. No response has yet been forthcoming.

_____________________

The conviction shared by almost all supporters that many games are rigged also contributes to fan the flames which rage far with numbing frequency in Algerian football stadiums. In mid-November of this year, footage of uniformed and plainclothes policemen beating up a fan with truncheons in a recent home defeat of Mouloudia to USM Bel Abbès was widely shared on social media, prompting calls into an investigation in the police's brutal behaviour. In total, forty people – among whom a significant number of policemen – were injured that evening, some of them seriously. A number of vehicles were vandalised, including an ambulance. Par for the course? Not quite – not every game in the Algerian top division ends up in an explosion of violence; but unfortunately far too frequent an occurrence to be viewed as an isolated incident either.

A month earlier, following a 1-0 victory of Mouloudia at Bordj Bou Arreridj, fans of CABBA, the beaten team, had attacked visiting supporters, about a hundred of whom suffered injuries. CABBA supporters then rushed onto the pitch to confront the players – apparently with the complicity of official stewards. Three of Mouloudia's footballers suffered broken feet. Their captain Abderhamane Hachoud was stabbed in the hand by a CABBA fan, whilst right-back Islam Arous managed to run away from another wielding a knife. His team-mate Ayoub Azzi, who'd scored Mouloudia's winning goal and had been badly beaten up himself, was shaking in the dressing-room after the game. 'I've had enough', he said, 'it's time for me to pack up and leave'.

He was lucky, though, luckier than Albert Ebossé Bodjongo had been four years previously. The Cameroonian forward of JS Kabylie (and Algerian League's top scorer in 2013-14) died on 23 August 2014, aged 24, a few hours after his team's 1-2 home defeat against USM Alger. The official explanation for his death was that he had been struck in the head by a projectile thrown from the crowd. The autopsy performed by Cameroonian pathologist Dr André Moune at the player's family's request gave a rather different, and chilling verdict, however. According to Dr Moune, the injuries sustained by the player, which included a collarbone wound 'which could have been inflicted by a knife', ruptured verterbrae and 'indentation to the skull', as well as traces of trauma on the upper body, indicated that Ebossé had not died because of a single, quasi-accidental blow, but had in fact been beaten to death, in all likelihood in his own dressing-room, which had been invaded by rioting fans infuriated by their team's defeat. That Ebossé had scored their only goal that day had made no difference.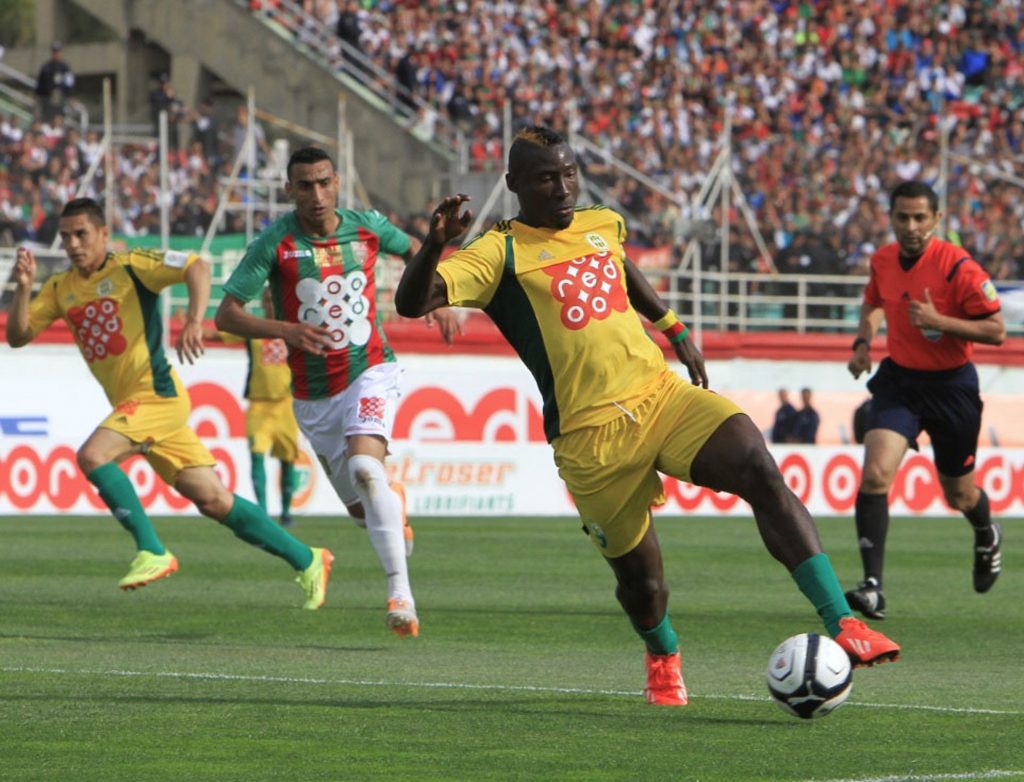 Given the frequency of what is euphemistically called 'crowd trouble' in Algeria, the surprise may be that few incidents of this kind have turned into tragedies such as Ebossé's death. Last April, both semi-finals of the 2018 Algerian Cup degenerated into pitched battles between rival supporters, with Constantine the stage of some of the worst violence seen on football grounds that season. Footage shot in the stands clearly shows young Mouloudia fans using slings to throw stones and other projectiles indiscriminately into the neighbouring section, where the organisers had, quite irresponsibly, decided to park fans of their opponent JS Kabylie. Similar incidents happened that same week-end in Oran, where local club MCO played against CA Belouizdad. The usual calls for investigations followed, but there the matter ended, as it had for the inquest into Ebossé's death, and as things tend to end in Algerian football affairs.

This is not to say that distrust towards the football authorities and the 'system', fuelled by match-fixing and bribery of officials, is the sole cause for the astonishing degree of violence which is to be found in and around Algerian stadiums with such depressing regularity. Sociologist and trade unionist Nacer Djabi has put it in those terms: 'Algeria is prey to a deleterious situation which affects everything: there is no political change, no ambition at the national level. This is the cause of widespread distress among the young, who 'let go' in their only area of freedom: the stadium'. However, whether Djabi's interpretation is correct or not – and most sadly accept it is -, corruption within the game still feeds oxygen into the fire, as it strengthens the belief that whoever enters this sporting hell should abandon all hope, that, in fact, there is no hope to be had, except for the strongest, the most powerful, the most dishonest. It will take a lot to uproot that belief.