President of the French olympic committee (CNOSF), Brigitte Henriques, is accused of not taking action towards sexual abuse during her time as head of women's football and vice president of the FFF. Josimar can reveal that she openly supported a senior officer convicted for sexual harassment.
By Romain Molina
"This is my priority to be able to fight against this scourge. We must stop it and not only in sport, but also in society in general." Interviewed by Europe 1, an important radio station in France, Brigitte Henriques publicly answered questions regarding sexual abuse and harassment within the FFF.
"When I started [as head of the olympic committee], I appointed an exceptional ambassador in Catherin Moyen de Baecque who is one of the first victims to have won her case. Since then, she has travelled all over France and she's requested everywhere to speak."
During her interview, Henriques defended herself and the French Football Federation (FFF) after she admitted that one of the coaches at Clairefontaine, Angélique Roujas, was indeed fired for abuse. "It shows that there was no will to bury anything, especially on my part", she said.
Following Josimar's investigation into FFF and FFF president Noël Le Graët's cover-up of cases of sexual abuse spanning 40 years, including abuse of underage players, Josimar has obtained documents that show Henriques fully supported Jacky Fortepaule, another member of FFF who was found guilty and received a one year suspended jail sentance for moral and sexual harassment.
Six women
Accused by six women of moral and sexual harassment, Jacky Fortepaule was president of La Ligue du Centre, one of the regional leagues part of the FFF. Performing several assignments for the French Football Federation (he intervened regularly at the Federal Commission of discipline), Fortepaule was supported by many FFF senior officers who wrote a letter on his behalf.
The support came from the Ligue de Football Amateur (Pierre Samsonoff, the former president, but also women like Sonia Eouzan, Hélène Hanquiez or Elisabeth Bourgeard Tournon). Vice president of the FFF, Brigitte Henriques, also wrote an official letter to help Fortepaule during his trial. On 4 October 2018, she wrote:
"He's a committed and passionate director, who knows how to put his skills at the disposal of the several federal commissions he worked for or inside the working groups he's still participating like the department of formation that he presided over, the national council of amateur football or general treasurer.
[…]
"As the president of the district of Loiret and today president of La Ligue du Centre-Val de Loire, he makes sure to deploy our federal policy on the territories he animates with his team."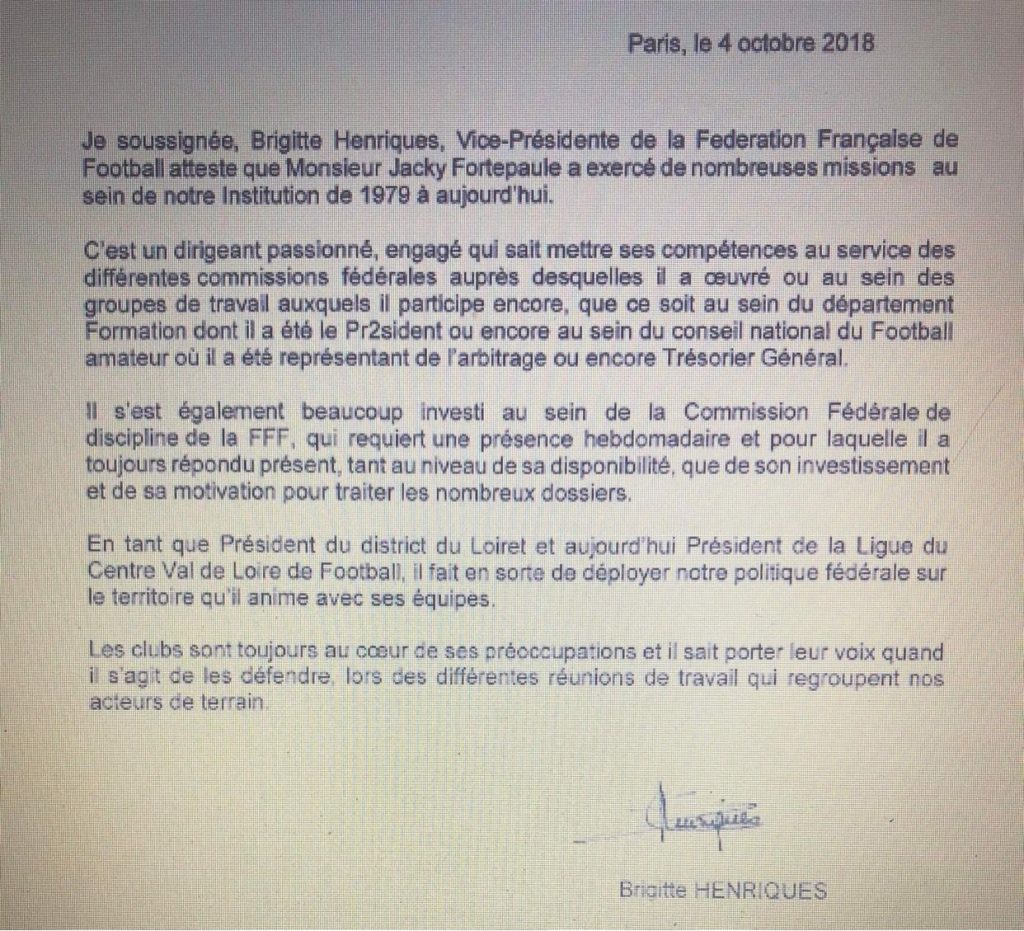 Using this letter as part of his defence, Jacky Fortepaule was however found guilty by the tribunal correctionnel d'Orléans of moral and sexual harassment during his time as president of La Ligue du Centre. Besides the one year suspended jail sentence, he had to pay a fine of 1500 euros and 37 000 euros to the six victims as damages and interest. In 2019, La Ligue du Centre was already found guilty by another court, les prud'hommes, to pay 10 000 euro to each victim.
As described by Josimar, the FFF showed full support to one of its members.
"They're always on the side of the alleged perpetrator", says a former senior officer. "They're never on the side of the victims." A case that reminds effectively the attitude of the FFF towards Marc Varin, treated as a "hero" inside the head-quarters of the French Football Federation and considered guilty by a court (les prud'hommes) for sexual harassment.
Brigitte Henriques spoke publicly as a defender of the victims, but in reality she supported Jacky Fortepaule.
The sexual harassment and abuses cases within the FFF are making waves in France.
Birgitte Henriques is head of the olympic committee and the next summer olympics is taking place in Paris in 2024.
(1) : Josimar contacted her press officer and didn't obtain an answer.
If you have any knowledge about sexual abuse in football, please get in touch with Romain Molina using romainmolina@protonmail.com.