Last week Jim Solbakken claimed not to be Babacar Sarr's agent. But at the time Sarr was due in court on a rape charge, Solbakken negotiated with clubs and agents on behalf of Sarr and discussed potential transfers with the player, documents in Josimar's possession show.


By Lars Johnsen

On Wednesday 12 June the postponed Court of Appeals trial against former Molde FK player Babacar Sarr was scheduled to begin. Sarr was in August last year found not guilty of rape, but ordered to pay compensation to the victim. The appeal, originally scheduled for February, had been postponed when Sarr's former Molde teammate, and a key witness for the prosecution, Sonni Nattestad chose to play a friendly match for his new Danish club FC Fredericia (second level) against Middelfart Boldklub (third level) rather than appear in court.

The day before the June court date, it became clear that Sarr would not show up. According to state prosecutor Ingvild Thorn Nordheim, both defence lawyer Jørgen Løvdal and Sarr's agent Jim Solbakken had confirmed that Sarr was fully aware of the court date. According to the prosecutor, Solbakken – in the role as Sarr's agent – was on the defence team's list of witnesses.

That same day, Damac FC of Saudi Arabia announced they had signed Babacar Sarr.

An international arrest warrant has now been issued for Sarr.

On 13 June, Solbakken denied to the local newspaper in Molde, Romsdals Budstikke, that he is Babacar Sarr's agent. He denied having represented Sarr when the Senegalese player signed for Russian club FC Yenisey Krasnoyarsk in February. In spite of appearing as the player's agent when dealing with the state prosecutor's office, and never expressing the opposite, according to state prosecutor Ingvild Thorn Nordheim.

"I haven't been representing the player since he was with Molde. Neither when he went to Russia or if he happens to have signed in Saudi Arabia," Solbakken wrote in a text message to Romsdals Budstikke.

Josimar's sources in Molde claim Solbakken's statement to the newspaper is a falsehood – Solbakken is Babacar Sarr's agent, and has been all along. When Sarr signed for FC Yenisey in February, the player and agent thanked and congratulated each other on Instagram – unthinkable acts if they did not have a working relationship, according to Josimar's sources.

And new documentation in Josimar's possession proves that Jim Solbakken still is Babacar Sarr's agent.

The documentation reveals that:
Jim Solbakken was Babacar Sarr's agent when he signed for Russian club FC Yenisey in February.
Jim Solbakken was his agent in relation to the transfer to Damac FC in Saudi Arabia.
Jim Solbakken admits to Sarr that he lied to Romsdals Budstikke.

After Josimar published the article Agent Solbakken's U-turn on 18 June, Jim Solbakken contacted the state prosecutor's office and expressed irritation over the fact that they had spoken of him as Babacar Sarr's agent. According to state prosecutor Ingvild Thorn Nordheim, Solbakken now claimed not to be Sarr's agent.

She reacts with surprise when Josimar provide her with our new documentation showing Jim Solbakken still is Babacar Sarr's agent.
"It's sad if that is true. Jim Solbakken tells us he's no longer Sarr's agent," Thorn Nordheim says.

Manchester and Siberia
Jim Solbakken is the most important player agent in Norway, something he owes to his friendship with Ole Gunnar Solskjær. His agency, Dynamic Solution, was originally co-owned by the two. Solskjær had to sell his stake in the company in 2008 as it violated FA rules for a club employee to own a stake in a player agency. Solskjær at the time was manager of Manchester United reserves.

Every summer from 2003 to 2010, Dynamic Solution organised a week long talent camp for Norway's best young players in Solskjær and Solbakkens home town Kristiansund. With help from the Norwegian FA, who picked the participants, Solbakken would build his portfolio of players.

Just before Christmas 2018, Solskjær was appointed caretaker manager of Manchester United after José Mourinho was let go. Solbakken negotiated on behalf of his best friend.
Six weeks after he helped Babacar Sarr get a contract with Russian Premier League outfit FC Yenisey Krasnoyarsk in February, he would again sit at the negotiating table with Manchester United's top brass.
Ole Gunnar Solskjær was confirmed permanent United boss on 28 March.

In the same timeframe, Solbakken, when in contact with the Norwegian state prosecutor's office, had not a single time expressed that he wasn't the agent of Babacar Sarr.

Not until it became clear Babacar Sarr would not turn up for the Court of Appeals trial and an international arrest warrant was issued for him, did Solbakken suddenly claim not to be Sarr's agent.

Due in court – discussed contracts
"It is not true what he said in the paper. Jim Solbakken is a liar. A big liar. He is not an honest person. He only thinks about himself and money. He is Babacar's agent," the Germany-based Senegalese agent Kalidou Ousmane says.

Ousmane, according to himself, works as an intermediary between Europe and the Middle East. He says Damac FC contacted him in order to sign Babacar Sarr.
"I got in touch with Babacar. He told me to contact Jim Solbakken. Everything has to go through Jim, Babacar told me," he explains.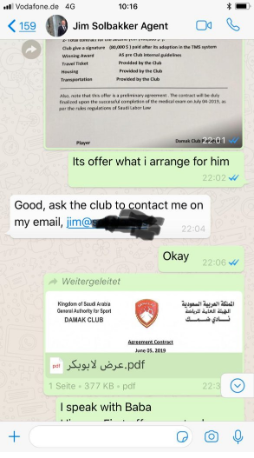 Kalidou Ousmane, via WhatsApp, forwarded a copy of the proposed contract between Damac FC and Babacar Sarr to Jim Solbakken (see screenshot).

"Good. Ask the club to contact me on my email," Solbakken replied, and provided his email address.

Josimar is also in possession of WhatsApp correspondence between Jim Solbakken and Babacar Sarr.
"Have you again given mandat[e] to someone," Solbakken asked.
"I have given mandat[e] to no one," Sarr replied.
"Good," Solbakken wrote.
"What's going on with them," Sarr asked – "them" clearly referring to the Saudi club.
"Got an offer from Turkey no[w] as well. 500 [thousand] net Euro," Solbakken responded.
"OK. That good too," Sarr wrote.
"Better in fact," Solbakken responded.
"You get the offer. The problem is Turkey, they don't pay and I want to go to Saudi, try to do good and get good money and new transfer next year," Sarr said
"OK, but we need to push them," Solbakken replied.

Solbakken and Sarr went on to discuss the size of the Solbakken's commission.
"Of course they have to pay 10 % to me, if not you have to pay. But, you need a better offer. And Turkey pay," Solbakken wrote.
"I know that if they cannot pay, I will pay," Sarr replied.

Sarr clearly wanted a move to Saudi Arabia. Solbakken wanted him to sign for a club in Turkey. According to Kalidou Ousmane, that is because Solbakken would pocket more money himself if Sarr transferred to Turkey.

Like Russia and Saudi Arabia, Turkey does not have an extradition agreement with Norway.

Lied about Russia – "For your protection"
When Babacar Sarr didn't get a reply, he tried calling his agent.
"Hello Jim. I call you but you was on the phone. I have contract with club. I have this offer and I want to sign and go even if I have to give you 10 % because I don't wanna stay here in Senegal longer than 2 week," Sarr wrote.

When the correspondence resumed, Solbakken had an even better offer from Turkey for him.
"You get 600' euro on Monday from Alanyaspor," the agent claimed.
"Is that 100 % sure that I will get, because you always tell me you will get offer. After, nothing will happen," Sarr replied and attached the proposed contract with the Saudi club.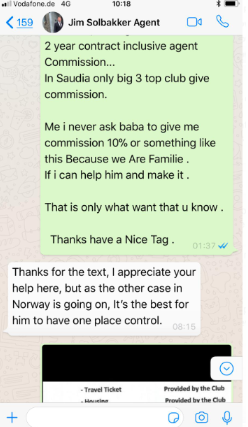 Kalidou Ousmane contacted Solbakken and told him the agent's commission had to come out of the player's wage packet, a standard practice in Saudi Arabia. Unlike in Europe where clubs quite often pay the agent's commission on top of the wages and sign-on fees paid to the player.

"2 years contract inclusive agent commission. In Saudi only 3 top club give commission. Me, I never ask Baba to give me commission 10 % or something like this because we are family. If I can help him and make it. That is what I want you to know. Thanks, have a nice day," Ousmane wrote to Solbakken.

"Thanks for the text. I appreciate your help here, but as the other case in Norway is going on, it's best for him to have one place control," Solbakken replied.

Whilst Babacar Sarr was supposed to be in court in "the other case in Norway," Solbakken and the player kept on discussing potential contracts on WhatsApp.

"Now Antalya will come with a good offer," Solbakken wrote.
"You said you did not represent me in Russia. It's fine," Sarr replied, referring to Solbakken's comments made to Romsdals Budstikke.
"He he," Solbakken wrote.
"Makes me look stupid in the newspaper. I read everything," Sarr continued.
"No, this to protect you," Solbakken claimed.

That Jim Solbakken didn't represent Sarr when the player signed for FC Yenisey, is in the agent's own words something he told the press in order to protect his client.

Jim Solbakken has not responded to requests for comment.