Players' unions are suing betting operators for using images of star footballers without their consent. An upcoming court case could change how the betting industry takes advantage of famous players in marketing campaigns.
By Steve Menary

Betting companies face a backlash over using images of some of the world's top players with a landmark case due to be decided in a Danish court next month that could prompt a wave of similar actions.
A group of 23 Danish athletes, including current and past Danish footballers Christian Eriksen, Pierre-Emile Højbjerg, Pernille Harder, Peter Schmeichel and his son Kasper are suing British betting giant Bet365 for a total of 4.8 million kroner for violating their image rights.
Manchester United star Eriksen is suing for the largest amount with a claim of 1,450,000 Danish kroner, roughy 196 000 euro, followed by Kasper Schmeichel (500,000 kroner), his father Peter and Pernille Harder (both 350,000).
The action also includes badminton and handball players with each athlete being represented by their respective union. The footballers are being represented by the Danish footballers' union, Spillerforeningen, whose director Michael Sahl Hansen was involved in a similar case in handball before joining the football union.
Sahl Hansen explains: "The difference is the use of images for editorial or commercial use. All the newspapers use the images and that's fine but a betting company cannot be for editorial use. They are doing it to promote their bets.
"We wrote to [Bet365] and they did not agree and said we are using them for editorial use. We said 'no way' because in your statutes you are a betting company.
"It's not the same for a player's image to be used to interact with fans by a shoe company. A betting company is not the same and some players will not want their images used to interact with a betting company. I am quite confident that the judge will agree with us. The big thing will be the amount."
Bet365 were approached for a comment but had not replied when this article was published.
Legal precedent
A decision on the Danish case is due on 8 May and a precedent in favour of the players has already been set in another Nordic country.
Last October, a Norwegian court ordered Trannel International and Kindred (London) to pay the Norwegian Football Association 1.8 million Norwegian kroner (157 000 euro) over Unibet's use of a photo of Erling Braut Haaland and Arsenal's Norwegian midfielder Martin Ødegaard in national team kit in an Instagram story.
Trannel, a wholly owned Maltese subsidiary of Kindred (London), are appealing but another win for the players in Denmark is likely to trigger more claims and Spillerforeningen made a presentation on their case at FIFPRO's legal conference in March 2023. "I am sure this has triggered some other unions to look into this," says Roy Vermeer, FIFPRO's legal director.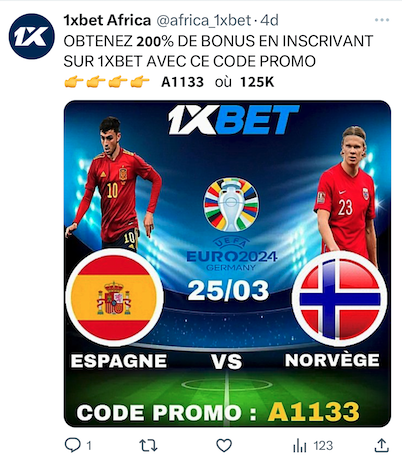 Image looting?
Christian Eriksen and Erling Braut Haaland are among the top stars whose images are also being pirated by 1XBet as the controversial offshore betting company tries to exploit the poorly regulated African market.
The African Twitter account of 1XBet also regularly uses images of other top stars including England and Tottenham captain Harry Kane and Bayern Munich's Senegalese forward Sadio Mane, without permission in promotions.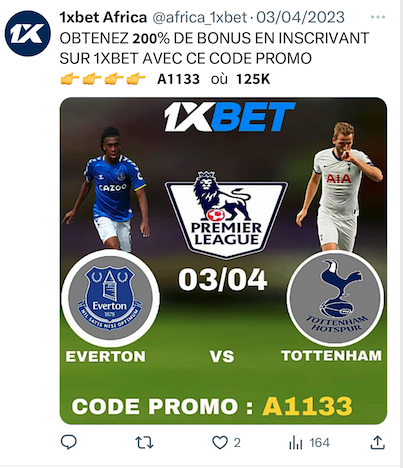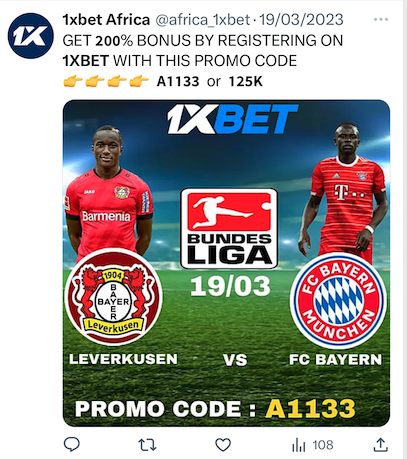 Players from Liverpool and Chelsea also routinely feature on the Africa Twitter account despite both clubs and Spurs cutting ties with 1XBet after a 2019 Sunday Times expose revealed that the betting operator offered bets on children's sports and promoted a porn-hub casino featuring topless croupiers.
1XBet also edited together a video using players from Chelsea, Liverpool and Barcelona into a promotional video entitled Money Tale in 2021 that is still available on Instagram.
Both Chelsea and Spurs confirmed to Josimar that they no longer have any relationship with 1XBet and that use of the images are breaches of their intellectual property. Josimar also contacted Liverpool for comment but has yet to receive a reply.
Kane was also used in a 1XBet Africa tweet offering bets for England's recent game with Ukraine along with an image of the country's star defender Oleksandr Zinchenko, who also plays in the Premier League for Arsenal.
The use of Zinchenko's image is controversial in Ukraine as 1XBet is widely believed to be controlled by three exiled Russians living in Cyprus – Roman Semiokhin, Dmitry Kazorin and Sergey Karshkov – and the company is prohibited from offering bets in Russia and Ukraine. Arsenal and Zinchenko are aware of 1XBet's use of his image in betting promotions and have tried to stop it but to no avail.
1XBet also regularly features images of players from Barcelona, Paris Saint Germain and Serie A clubs. Despite being declared bankrupt in Curacao and the Netherlands for refusing to pay out on bets, as Josimar earlier reported, and using a porn star for advertising, 1XBet retains a sponsorship deals with FC Barcelona and is an official regional betting partner with PSG and Serie A.
However, 1XBet also uses images in these betting promotions of other players that the company has no known association with, such as Real Madrid. Josimar asked 1XBet and Real Madrid about use of these images but has yet to receive a reply.
Similarly, PSG's star striker Kylian Mbappe regularly features on the 1XBet account often alongside other Ligue 1 clubs that do not have any known relationship with the betting company, such as AS Monaco.
1XBet also routinely uses images of players from the German Bundesliga in its African social media promotions. Senegalese star Mané is routinely used in 1XBet promotions. Josimar asked both Bayern and the German league, the DFL, if there was any agreement with 1XBet over use of these images but has not received a reply.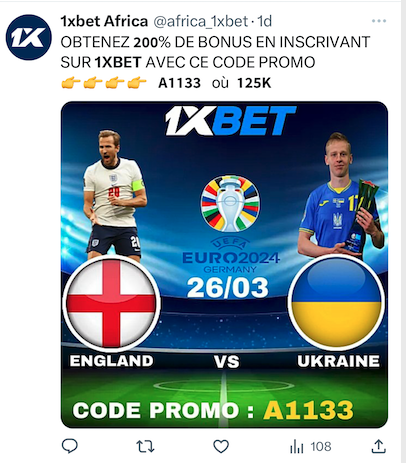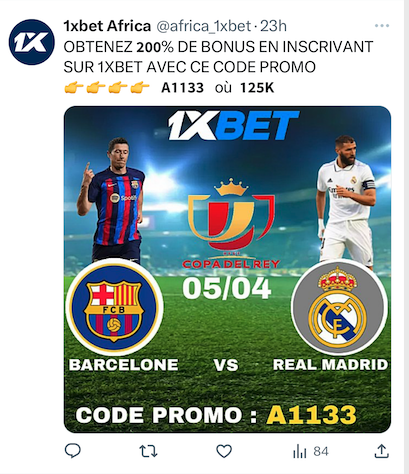 Targeting Africa
1XBet is one of the biggest betting operators in Africa, which has a massive but poorly regulated betting market. The total revenue from mobile gaming in the three largest gambling markets of South Africa, Kenya and Nigeria was estimated at half a billion US dollars in 2021.
"1XBet is the most marketed brand in Nigeria at the moment. It's massive," says Tunde Adebisi, a researcher from the University of Ulster, who focuses on football and gambling in Africa and is in Nigeria carrying out ethnographic research on the subject.
The widespread popularity of football across the continent makes images of top players effective vehicles for promotions and a host of major stars have also signed sponsorship deals to promote betting in Africa.
1XBet has sponsorship deals with the Nigerian football association, the Confederation of African Football and, along with associated brand Melbet, a swathe of clubs in Nigeria and elsewhere across the continent.
This targeting of Africa by betting companies has created a crisis across the continent, where unemployment is a massive issue. Attracted by advertising using top football stars and social media influencers claiming that betting can produce an alternative source of income, this is having disastrous social impact in many countries, such as Ghana.
Tunde adds: "I discovered that the content of their advertising evolved from an extra element of football fandom to a magic bullet to economic hardship."
In some countries regulation means that offshore operators are geo-blocked but the increased proliferation of cheap Chinese mobile phones means that African bettors can easily use virtual private networks (VPNs) to bypass these blocks and access betting sites.
Football as a product and a form of advertising is central to this growing crisis and the use of their images is being done without the knowledge of players, who may well have strong personal or religious reasons for not promoting betting, such as Mané, a practicing Muslim whose faith prohibits betting.
Lottery damage
African football clubs carrying 1XBet advertising also include Moroccan giants Raja Casablanca but this is likely to change as the Moroccan authorities is taking action against the operator's massive programme of advertising across the North African kingdom. 
In Morocco, online gambling was legalised in 2009 but is controlled by the state. Société des Courses de Lévriers du Maroc (SCLM) and Société Royale d'Encouragement du Cheval (SOREC) offer bets on greyhound and horse racing respectively, while Marocaine des Jeux & des Sports (MDJS) offers all other sports including football.
1XBet's expansion in Morocco was so huge that it was damaging the country's lottery, which, unlike commercial betting operators, returns a significant share of profits to good causes. The impact of 1XBet on MDJS forced the Moroccan state into action and the operator's advertising has since been curbed significantly in Morocco but the problem is emerging elsewhere.
Luca Esposito, executive director of the World Lotteries Association, says: "It's a recent phenomenon and Morocco is the most prominent case but it's not just the Moroccans and it's not just sports betting operators. Other people are being impacted."
Football is central to the promotion behind this expansion, which is threatening the income of lotteries and, as a consequence, money returned to social causes in their countries.
"To be a member of the WLA, you have to give money back to good causes. The vast majority of profits go back to the government," adds Esposito.
The WLA has 16 members in Africa and many are faced with competition from offshore betting companies. 1XBet, for example, is taking bets in countries whose lotteries are WLA members such as Benin and Côte d'Ivoire.
Offshore betting companies are also using images of top European players such as Harry Kane to target Islamic countries where betting is strictly forbidden such as Somalia.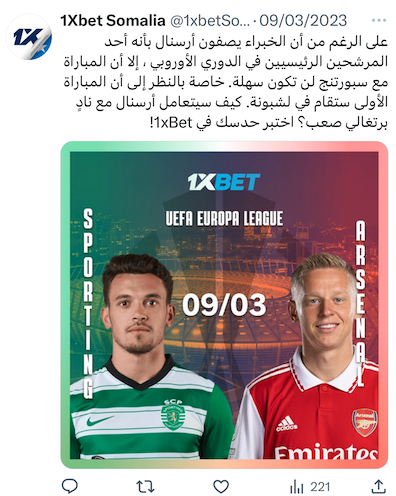 Loose regulation allows offshore betting operators with licences from jurisdictions such as Curacao and the Philippines, where licensees are not required to report signs of match fixing or money laundering, to target Africa.
Gambling is supposedly regulated in 41 out of 49 sub-Saharan African countries and prohibited in seven, but a recent survey by the journal Public Health found only 25 of those supposedly regulated countries had dedicated regulators. And just two of these regulators had published annual reports continuously since their formation.
Image change?
Offshore gambling operators working in jurisdictions where betting is prohibited, such as India, often use 'news' websites as front for their betting operations. The Bet365 case should help clarify whether those websites are editorial or commercial but player unions in other countries are already looking into illegal use of images on betting websites.
Giannis Braho, director general of the Greek players union PSAPP, said: "There is no agreement in place, and from personal experience I've noticed the use of players' images on such websites. I got informed about the collective action of the Danish players' union against Bet365 at the FIFPRO legal congress. It is something that we can also start digging here."
In Cyprus, the union believed that betting companies only used images of players from clubs they sponsored but – prompted by enquiries for this article – has now discovered that this is not the case. Spyros Neofitides, executive president of Cypriot players' union PASP, said: "We do not have any agreement on this. Now I saw that without any agreement [betting companies] use images of players in their web sites and this is illegal."
Other unions are now monitoring for illegal use of player images in places such as Hungary, Latvia and Sweden. Magnus Erlingmark, general secretary of the Swedish players union, said: "We have not so far heard any players' names and images being used in this manner but we will have our eyes open."
Unions and their lawyers will find a swathe of players being used to promote betting through a quick search of the social media. With a decision on the Danish case due only days later, the subject of image rights will be a topic at the next FIFPRO Congress in Romania at the start of May. Some of these players may not want to be associated with betting for ethical reasons, while others may want recompense for use of their images.
Agents will be looking at inserting clauses in player contracts, but the issue could also generate a class action similar to the one launched by the Global Sports data and Technology Group over players' data rights. Betting companies could soon find advertising and promoting bets with the images of top players much harder and more expensive.