Why did Ahmad Ahmad choose to drop the leading football manufacturers for the benefit of a supplier with no experience in a deal which was far more expensive and worth almost 4 million dollars?

By Philippe Auclair and Pål Ødegård

Last week , Josimar started publishing the results of its on-going investigation into Caf and its president Ahmad Ahmad. This is the second instalment of the series.

There are more picturesque seaside towns that La Seyne-sur-Mer on the French Mediterranean coast; which, some would say, actually contributes to its charm. Like its more powerful neighbour Toulon, La Seyne's heritage is its industrial past, not tourism, even if its large marina and the sandy beach of Les Sablettes do attract summer visitors as well as locals. But La Seyne-sur-Mer was better known for its shipyards, the most significant of which, NOMED, closed down for good in 1987. 

This doesn't mean that industry left the city altogether. Steelworks and metal-processing factories still operate there, one of which was about to become far better-known in the world of football that its very modest size warranted: Tactical Steel, a company which was registered with the French authorities on 28 June 2016, and achieved remarkable results within 18 months of its creation, in no small part thanks to a providential partnership with Ahmad Ahmad's Caf.

Nobody could have seen this coming from the outside. As a quick visit to Tactital Steel's website will show, Tactical Steel does not deal in football equipment. It deals in gym equipment, metal racks and rigs for weightlifters, wallmounts and accessories – not football.

In fact, football is mentioned nowhere on the company's website, and neither is its highly unusual relationship with the African Confederation, despite Tactical Steel becoming its largest – by far – supplier of football equipment from 20 December 2017 onwards, from training bibs to referees's kits, boots to footballs, in fact for all the gear which Caf was desperately scrambling for in the run-up to the 2018 CHAN. But before we go any further in this matter, we must take a detour via a rabbit hole littered with unanswered questions and incongruities. We must understand what Tactical Steel is, and get to know the people behind it, as well as how it could have become Caf's providential supplier of all things Adidas.

Husband and wife
Tactical Steel was the brainchild of the husband and wife team of Romuald and Sabine Seillier, 95 per cent of its shareholding split until August 2018 between Sabine, also the company's chairman, and a certain Julien Gaillard. At this point, the latter ceded his 49 per cent share of the company to Romuald for its nominal value, i.e. 490 euro. Romuald also took over the position of general manager which had been occupied by Gaillard until then. The minutes of the meeting at which this was agreed do not mention any other type of financial compensation for Gaillard, despite the fact that Tactical Steel's turnover had jumped from nothing to 725,400 euro at the end of December 2017 – all of this in the matter of 18 months – and that no dividend had yet been paid to the shareholders, despite a net profit of over 110,000 euro since the company was created. Be as it is, the company was now fully controlled by the Seilliers (note: Sabine Seillier resigned from her position as president on 1 June 2019, her husband taking over her role within the company).

It was not their only business venture. In truth, Tactical Steel, with its minuscule workforce (one to two paid employees, according to official records), represented a very small asset in the portfolio of the Seilliers. In 2000, Romuald, as a 23-year-old whose only qualification apparently was a Higher National Certificate in boiler-making, had founded ACTI, a steelworks which flourished to become something of a model business for the local Chamber of Commerce, a poster project for innovation, at one point employing 50 staff and turning over in excess of 10 million euro per year. ACTI, which also controls 5 per cent of Tactical Steel's capital, had established partnerships at home and abroad with some major businesses such as Eiffage, Europe's fifth-largest civil engineering construction company (as ACTI-Guadeloupe, in the French West Indies), and UNIO, the biggest manufacturer of mining equipment in Romania (ACTI-UNIO). The Seilliers, Sabine in particular, also owned and ran a number of real estate and property management companies in their region.

In this context, Tactical Steel only represented a very minor, almost negligible concern – until, late in December 2017, Caf turned to the gym equipment company to place an order for 22,000 Adidas-branded football items – about 7,000 more items than what PUMA had agreed to deliver before the order was abruptly cancelled on Ahmad's instructions, a mere three days after the deal had been finalised with the German manufacturer.

Now, why would Caf – or rather, Ahmad – turn its back on a world-leading brand to hand-pick a company which had zero experience (and zero clients, as far as one can tell) in the football field?

How could a company which employed 'one or two' members of staff be trusted to deal with the logistics of delivering such a huge consignment to Morocco in less than three weeks, Christmas and New Year's Day included?

By which miracle could Tactical Steel, coming from nowhere, with – apparently – no previous contacts whatsoever with football equipment manufacturers, secure gear which Adidas and Nike themselves had said they could not supply in time?

How did Ahmad even know Tactical Steel existed?

The missing link
Full, incontrovertible answers cannot be provided to all of these questions at this stage, but the last of them, the most crucial in the context of the media storm in which Ahmad has been engulfed since documents were leaked to a number of outlets since March of this year, Josimar among them, can be broached with some confidence. The most plausible link between Tactical Steel and Ahmad had to be the Caf President's personnel attaché Loïc Gérand.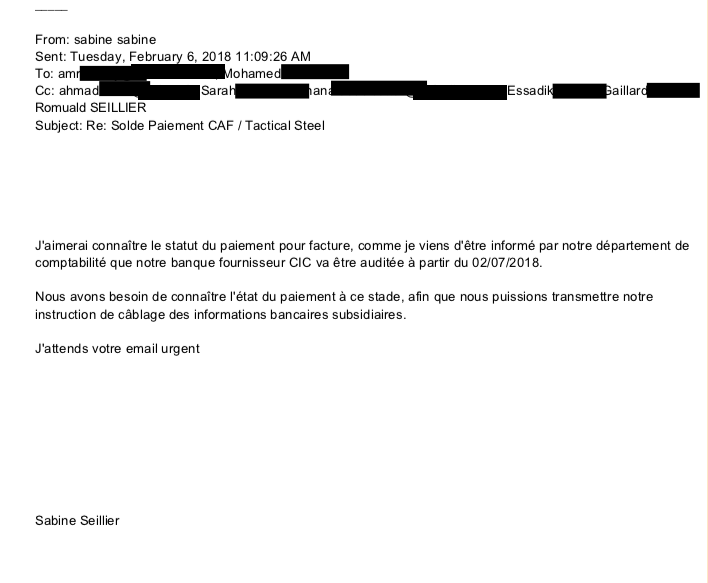 Gérand, who seems inseparable from Ahmad, follows him in all of his official engagements and some of his private ones, including a trip to Mecca whose financing has created controversy, was born in 1975 and, according to company records, holds dual French and Madagascar citizenship. Josimar found that a 'Loïc Gérand', born in the same year, lived in the Toulon region for a number of years, where he managed two companies, both of which went into liquidation in 2013 and were struck off the register in January and March 2017. Official records show that one of them, Assainissement 83 SARL, which this Gérand had founded in 2004 and specialised in waste water treatment, had debts of over 300,000 euro – against profits of 165,000 euro – in 2010, the last year for which accounts were filed with the local authorities. In view of the company's failure, the Commercial Court of Toulon declared Gérand bankrupt on 1 March 2016, a verdict which has very serious consequences in French law, as the bankrupt is then deprived of his voting rights, sees the conviction (as it is one) added to his criminal record, and is prohibited to occupy any position in the management, the administration or the control of a 'moral person' – a company, for example. The sitting judge then decides for how long the verdict will be enforced. In this 'Loïc Gérand"s case, the maximum sentence was chosen: fifteen years. Josimar was told by French judiciary sources that the severity of the judgement was in all likelihood the consequence of the defendant failing to show at the hearing.

Interestingly, Assainissement 83 SARL's registered address was at 523 Chemin Robert Brun in La Seyne-sur-Mer, six numbers away from Seillier's ACTI, at 529, which is also the address of another company controlled by the French entrepreneur, ES Pro Consulting SARL, which would soon play a major role in the so-called 'CAFgate' affair, as we'll see. Another – seemingly dormant – Seillier company, CF Tactical Steel, not to be confused with Tactical Steel itself, which was set up in April 2017, is based at number 581. And you won't have far to go to find the nondescript building which houses the actual Tactical Steel either: it can be found at 117 Avenue Marcel Berre, 300 metres away as the crow flies, just on the other side of La Seyne-sur-Mer's crematorium, past La Chrysalide, an 'adult' private members club.

Gérand and Seillier were not just close in the geographical term, it appears. Numerous sources have told Josimar that both men, who were born within two years of each other, served in the French Army at the same time, seemingly in the mid- to late 1990s. Josimar was told that the first served for eight years in the 21st RIMA (Régiment d'infanterie de marine, the French equivalent of the US Navy Seals), reaching the grade of master corporal, the second for five, as a private. So, if this 'Loïc Gérand' is, as we have every reason to believe, the same man who, by Ahmad's own admission in a recent interview with France Football, suggested to pick Tactical Steel to supply Adidas equipment to Caf, Seillier was not just a neighbour, a fellow entrepreneur and a friend to him: he was also a comrade in arms.

When Josimar contacted Gérand via email to ask him to confirm or deny this information, no answer was forthcoming; and when approached by Nazim Bessol, a journalist from the Algerian bi-monthly Botola, which broke the Tactical Steel story in Africa in the spring, Romuald's wife Sabine did not deny that both men knew each other well. Gérand had to be the missing link.

"The quiet man"
How Gérand became Ahmad's closest adviser is not clear. Some in Madagascar have told Josimar that the two men were related through Kolo Roger, a radiologist who'd spent most of his adult life in Switzerland and who, after unsuccessfully attempting to vie for the Madagascar presidency in 2013, was named Prime Minister of the republic in April 2014. Gérand was described to us as 'Kolo Roger's adopted son', an expression which two sources told us should be taken literally, whilst Ahmad's father is a distant cousin of the former PM, who uses Ahmad's home in Antananarivo as a base when he visits the capital. This suggests that the links between the Caf president and his personal attaché might also have a political dimension, even if the extraordinary complexity of Madagascar's troubled political life, where myriads of parties contest elections, makes it very difficult to establish this as fact. What can be said is that Gérand's election to the Lower House of Madagascar's Parliament as ('independent') MP for the Maintirano constituency was confirmed by the Electoral Commission in early 2014, whilst Ahmad was given a major role in Kolo Roger's first administration at the same time, when he was put in charge of the Ministry of Fisheries – in other words, of one of the desperately impoverished country's most precious resources.

Ahmad would prove remarkably successful in this position, at least in political terms, since he survived the quick demise of Kolo Roger's government and kept his position when a new PM, Jean Ravelonarivo, took over in January 2015. The 'quiet man' Ahmad has been regularly underestimated by his enemies, and, indeed, by some of his allies as well, throughout his career: his survival skills, which he'd honed since becoming president of the Madagascar FA in 2003, surviving numerous attempts at unseating him, having to call on Sepp Blatter's Fifa to hold on to power on at least two occasions, were in evidence once again. His political loyalties might have been unclear – he switched from one party, Leader Fanilo, to another, HVM, before being named minister – but his self-preservation instincts were always acute. When he lost his portfolio in 2016, a presidential decree made him a member of the Madagascar Senate, a position which granted him immunity from prosecution.

This might have come at the right time for him. One of his first decisions at the head of the Ministry of Fisheries had caused a scandal on the island: he'd imposed a 3,000 euro levy per permit for the export of live crabs, an absolute fortune in a country where most of the population survives on a few dollars a day. This measure effectively prevented local fishermen from selling their catch to exporters. At the same time, he'd granted permits to a couple of Chinese operators, something that would have been illegal beforehand. Anyone who is familiar with Madagascar's economics as well as of the role of Chinese fishing companies in the devastation of marine resources in the area will understand how shocking the decision appeared to Ahmad's countrymen. Many openly suggested at the time that it might have been in the minister's personal interest to take it, especially since he was said to have an interest – together with the Mauritian FA's president Samir Sobha, who is hoping to be given a seat at the Caf Executive Committee this summer – in a company dealing in the trade of frozen seafood among other concerns. A number of articles were published in Madagascar media at the time of the controversy, all of which have since vanished from the web.

Be as it may, Ahmad was now protected by his status as a Senator, which he kept until being elected CAF president, and the matter was dropped.

So Gérand it was who told Ahmad that he knew the people who could deliver the Adidas equipment in time for CHAN 2018. If things had dragged on until then, they certainly quickened dramatically after that. At 16:49 on Wednesday 20 January 2017, twenty-four hours after Caf had informed Tactical Steel that their "offer had been approved by CAF's president," Romuald Seillier expressed his gratitude to Ahmad for having personally overseen the granting of the contract to his company. "Dear President Ahmad bonjour (sic) […] I wanted to thank you very much for the confidence you show in us, and we are proud to be by your side for this event [i.e. the 2018 CHAN]," he wrote, adding that, "for logistical reasons," he trusted that Ahmad would see to it that the financial side of the deal was dealt with as diligently as possible.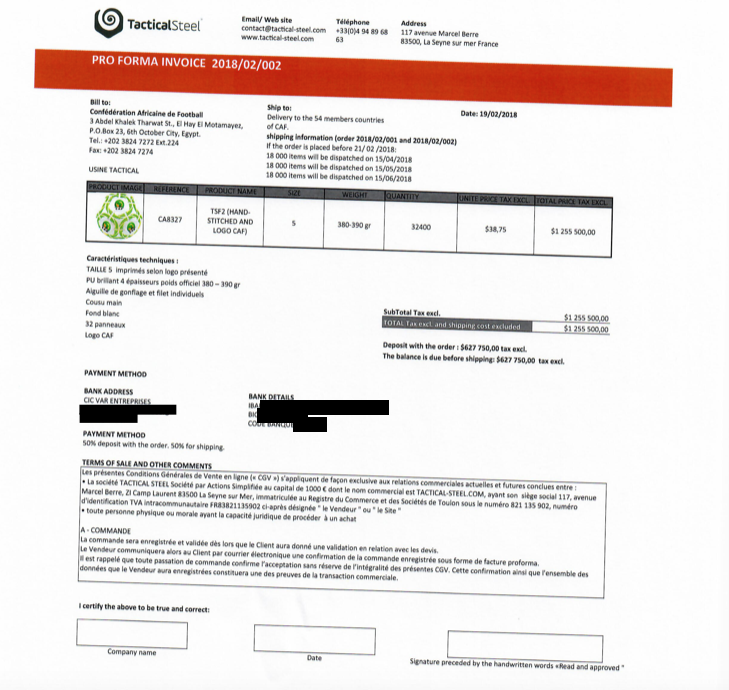 The sum involved for the first of these transactions was huge: 1,015, 313.12 dollars, almost five times what PUMA had asked for in its discounted – and discarded – quote. When contacted by the BBC, with whom Josimar conducted part of this investigation, the Caf president's spokesperson responded that the discrepancy could be explained by the difference between the number of items ordered from PUMA and those supplied by Tactical Steel. There was a difference, but the documents Josimar had access to suggest that it was not as marked as claimed by Ahmad's PR consultant – 7,000 more items (out of a total of 22,000), not 22,000. And there was no sign of a discount this time: Caf would have to pay prices which were superior to those available through high-street retailers on the open market.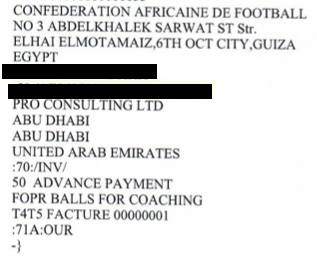 This would remain the case throughout the – as we understand, still ongoing or, at least, dormant – relationship between Tactical Steel, its sister company ES Pro Consulting SARL and Caf. To take but one example, in September 2018, CAF were invoiced 109 dollars per item (excluding VAT, shipping costs and taxes) for a consignment of Adidas Condivo 18 rain jackets when the same product could be procured for 55 dollars online. Similarly, the same order, which had been passed for the 2018 African Beach Soccer Cup of Nations, also included referees jerseys which could be bought for 46 dollars from web retailers and were nonetheless billed at 73,57 dollars per item by Tactical Steel. What's more, Tactical Steel insisted on 50 per cent of their invoices to be paid as soon as the order was confirmed, when a banner posted on their website advertised that customers placing orders worth more than 300 euro would be granted special credit conditions (police and armed forces being given a 20 per cent discount, a detail which would cause a few smiles later on).

According to our calculations, which are based on invoices, email correspondence and SWIFT bank order documents whose authenticity has not been questioned, CAF paid Tactical Steel and ES Pro Consulting a total of 3,787,553.17 dollars between December 2017 and the spring of 2019. This includes the original deal for CHAN 2018, the provision of 60,000 training T4 and T5 footballs (a 'gift' from Caf to its 54 member associations), as well as, as we can reveal for the first time, equipment used at the 2018 Women's AFCON held in Ghana and the 2018 African Beach Soccer Cup of Nations which took place in Egypt.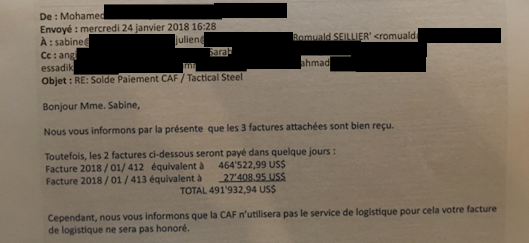 One thing is beyond doubt: Ahmad was fully aware of the detail of these arrangements. All but a handful of the dozens and dozens of emails which were exchanged between Tactical Steel and Caf officials between December 2017 and early 2019 were copied to the personal email account of the Caf president. References to his direct involvement abound. On 25 January 2018, writing about two invoices for a total of 491,932.94 dollars, Sabine Seillier indicates that "Mr Ahmad Darw" and her husband Romuald had validated the use of staff and the billing of extra shipping costs – amounting to a quite extraordinary 54,000 dollars and 180,603 dollars respectively – related to the supply of equipment to Morocco for the 2018 CHAN. Sabine Seillier made the same point in an email to another Caf official on 2 February, once again mentioning that "Mr Ahmad Darw" had given his blessing to the operation. For once, the Caf officials were not convinced, and these two invoices were not paid.

It would be very easy to fall into the trap of drowning the story in too much detail at this stage, given the mass of documents which Josimar had access to. Emails circulated between the interested parties at a rate of several per day at times. This was not surprising, given the bewildering complexity of some of the arrangements. Tactical Steel repeatedly asked for the monies to be transferred more quickly, and also gave instructions for payment which must have caused a few eyebrows to be raised at Caf's Cairo headquarters, and this, from the very start.

The mystery of the Turkish bank account
On 20 December 2017, for example, on the same day – within the hour – he'd thanked Ahmad for entrusting his company with the CHAN order, Romuald Seillier sent three separate emails to Caf officials. In one of these, he appears to indicate that he wishes payment to be made, not to Tactical Steel's French CIC account, but – as he's just been informed that "the details of the account [specified] in the pro forma invoice were being audited and could not be credited with payments for the moment" – to an account with the ING bank in Ankara, Turkey. It should be said that some doubts surround this particular message, which features a couple of unexpected typographic errors in the details of its recipients. The particulars of a different account with a different Turkish bank also appear in a separate invoice (for "extra shipping costs," amounting to 180,608 dollars) sent to Caf on 13 January 2018. It should be noted that Romuald Seillier made a formal complaint against person or persons unknown to his local police station for 'falsification of and use of falsified documents' after Algerian magazine Botola published claims about payments made to Turkish bank accounts. There is no indication at this stage that the French authorities have pursued Seillier's complaint, which was filed before Ahmad was held for questioning on 6 June 2019 in Paris. Moreover, no explicit complaint was lodged by Seillier against the author of these claims, Algerian journalist Nazim Bessol, whose byline appeared in the Botola piece.

It should also be noted that, according to senior French sources, payment of sums as considerable as these – including the 1 million dollar plus order for CHAN equipment – would have automatically triggered a "declaration of suspicion" by the French bank. Any sudden in-flow of cash of that magnitude would, by law, have required the bank in question to notify the local authorities of the operations and precipitated an inquiry on the source of such a sudden increase of income, for an individual as well as for a company such as Tactical Steel, whose turnover was close to non-existent before it landed the Caf deal.

The most troubling aspect of the affair must be the irruption – out of literally nowhere – on the scene of a different company, ES Pro Consulting SARL, after Tactical Steel had sent quotes and, indeed, invoices to CAF about the supply of, first, 54,000, then 60,000 footballs which were destined for each of the Confederation's 54 member associations, with Madagascar getting an extra consignment on the president's orders. The sums involved are colossal, as shown in two Tactical Steel invoices dated 17 and 19 April 2018, respectively for 3,210,000 dollars (this quote was ignored) and 1,770, 120 dollars, excluding eye-watering "shipping costs" of 738,670.80 dollars quoted in another invoice dated 21 April 2018.

That the prices quoted for each T4 and T5 'training football' were not exactly generous (15,63 dollars per T4 football, 38,75 dollars for the T5 model, excluding VAT, shipping costs and taxes), given the discount Tactical Steel could have expected to get from an Adidas supplier in regard of the huge quantities involved, is in a way beside the point. There is nothing illegal about an intermediary pocketing a significant, even inflated mark-up in a transaction of this kind. What was remarkable about the deal is how a company which had been incorporated as late as 6 March 2018 could suddenly be dealing with a contract which Tactical Steel had been negotiating for well over a month previously.

Caf, acting "on instructions from the President," as stated in an email from a top official from the Confederation, had first asked for a quote from Tactical Steel on 9 February (the order was at the time for 'only' 54,000 footballs, not 60,000). Romuald Seillier had responded to this request two weeks later, attaching two separate quotes for a total of 1,593,120 dollars. But ES Pro Consulting SARL did not exist then. ES Pro Consulting SARL was registered almost a month later. And yet, it is ES Pro Consulting SARL which, on 21 October 2018, issued three new, distinct invoices for the order.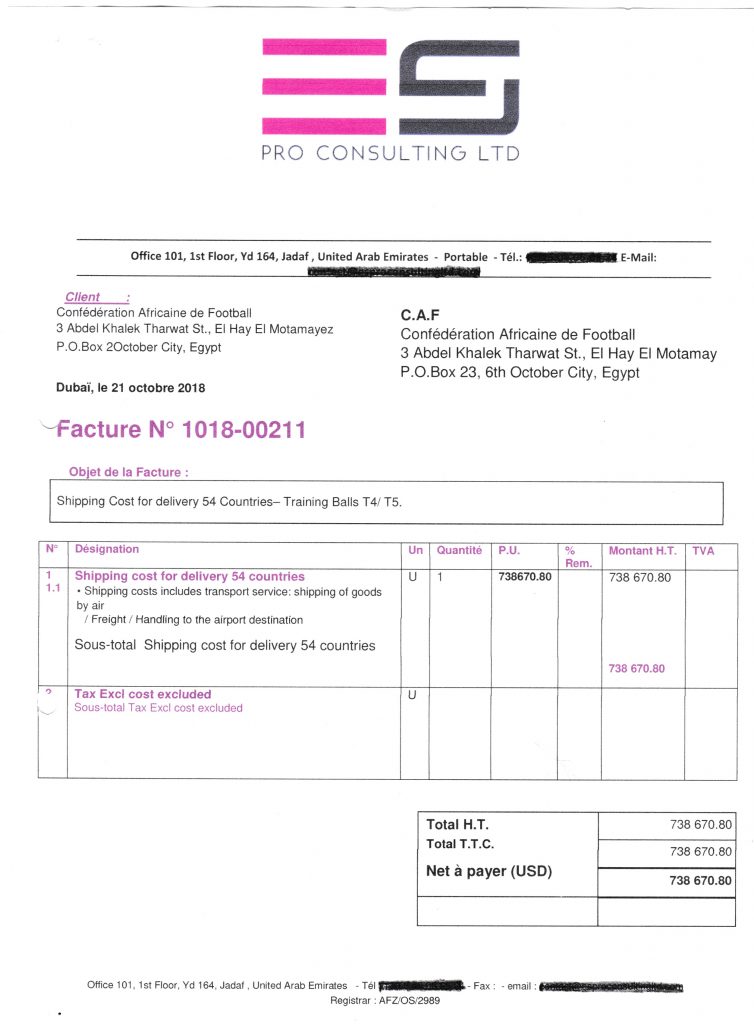 What's more, two of these invoices, for the footballs themselves, were sent on headed paper from the French address of the company, which also was the address of Seillier's main concern ACTI, 529 avenue Robert Brun, La Seyne-sur-mer. The specified bank account was also linked to the CIC bank account of ACTI. The third invoice – for 738,670.80 dollars of "shipping costs" – was not. It was issued by a subsidiary of the new company, ES Pro Consulting Ltd., based in Al Jaddaf, a so-called 'free zone' of the United Arab Emirates. A SWIFT payment document, of which Josimar saw a copy, indicates that half of that sum (369,335 dollars) was paid by Caf to an Abu Dhabi account on 6 November 2018, the beneficiary of which is named as 'PRO CONSULTING' in the bank order.

The Seilliers and the general manager of ES Pro Consulting, more about whom in a moment, clearly had some explaining to do, which they attempted to do in a series of emails, all of which Josimar have seen, addressed to the financial department of Caf. It appears that payments for the said invoices had been sent 'by mistake' to 'the wrong account' to start with, payments which were then reimbursed, involving a local bank executive who kindly agreed to rectifying this highly unusual operation. The whole chain of events was of such bewildering complexity that Josimar will spare its readers with the details. Caf officials were just as confused as we were when they were bombarded with seemingly contradictory explanations throughout the autumn of 2018.

Finally, on 20 December 2018, ten days after Caf's payment had been refunded, ES Pro Consulting's general manager Laurent Emmanuelli tried to clarify the matter. ES Pro Consulting, he said, had the same shareholders as Tactical Steel, but dealt with footballs, whereas Tactical Steel's remit was "sports equipment in general." In truth,
ES Pro Consulting had dealt with nothing whatsoever, not just footballs, before it came into existance ex nihilo a few months beforehand. Emmanuelli also specified that he'd invoiced CAF in two stages, in order to avoid VAT, without going into further detail.


A word about Laurent Emmanuelli: he is the current 'director of recruitment' and head of the academy of the Rugby Club Toulonnais, one of European rugby's powerhouses, three-time winners of the Heineken Cup (rugby's version of the Champions League). Seillier's ACTI company provided the steel frames for the club's new VIP boxes at Toulon's Stade Mayol.

Judging by the information and documents which Josimar has in its possession, including the copy of a SWIFT bank order issued by CAF on 31 December 2018, 889,412 dollars were transferred to ES Pro Consulting's French account via JP Morgan Chase, a sum which corresponds exactly to the first invoice Emmanuelli's and Seillier's company had sent on 21 October 2018. Everything was in order. CAF had paid their due.

This could have been the end of the story. But as far as the French authorities were concerned, it was only the beginning.

This is the second of several instalments. More to follow in the next few days.

Any information you want to share with us?
Email: aajosimar@protonmail.com