Ballon d'Or winner. Check.
Hat trick in a Champions League final. Check.
Going to the World Cup. Nope.

By Marius Lien and Lars Johnsen
Photo: Christian Belgaux
Translated by Lars Johnsen

Norway, ever-present at both the European Championship and the World Cup, walked off the pitch in Deventer, the Netherlands on 24 July 2017 having lost 1-0 to Denmark in the last group match of the Euros. Katrine Veje's 5th minute winner sealed the match and the worst ever performance in an international tournament for the Norwegians. They lost all group games. They failed to score a single goal.

The numbers told only half the story, they'd been outclassed and outplayed much of the time.

Ada Hegerberg, one of the players walking off the pitch that night, would later announce she'd walked out on the national team completely. She simply quit, she'd had enough. According to the Lyon striker, the Norwegian FA (NFF) didn't take its women's national team, or the women's game in general, seriously. Preparation was sub-par. The well-being of the Norwegian women's teams was low on the agenda among the people running the game, according to her.

The Euro 2017 fiasco ignited a national debate about the lack of funding for the women's game compared to the men's. While the elite men's clubs can spend over three hundred million kroners (about 30 million Euro) the next six years on youth academies – developing boys, that is – the women's clubs have nothing. Girls have no academies. The players still – almost forty years since the national women's team played its first game – haste between studies, part-time work and club and national team commitments.

At the self-proclaimed gender-neutral federation, the men's appearance fees were twice that of the women. The same was the case regarding funding of the national team staff.

As the debate of uneven playing fields between men and women raged, Daniel Siraj, the CEO of the country's wealthiest building society (Obos), a company known for sponsoring grassroots sport, watched a match at the national stadium in Oslo. At the game, he approached NFF's commercial director Erik Loe and proposed his company help the federation in funding the women's clubs.

A potential big-time sponsor opened its wallet, but the federation turned the offer down. Erik Loe, the commercial director of the NFF, the one in charge of securing sponsorship deals for the federation, didn't want the money. The women's game wasn't "commercially interesting," he told the Obos CEO.

In october 2018, a committee on women's football, led by former NFF secretary general and former Uefa Executive Committee member Karen Espelund, concluded in their report that the views on women's football were worse within the federation than among the general public.

It's a culture Ada Hegerberg, the Ballon d'Or winner who scored a hat trick in this year's Champions League final, doesn´t want to be a part of.  For leaving the national team, she was branded as selfish by sections of the media.
Is she selfish, or is her criticism of the Norwegian FA legitimate?

The following article about Ada Hegerberg is an extract of our special edition about the history of women's football in Norway written in collaboration with the Norwegian weekly Morgenbladet. It's presented as a series of articles in Morgenbladet, and as a double issue of Josimar.

The idol
The best footballer in the world walks into the basement of a hotel in Lyon and is met with spontaneous applause by forty-plus Norwegian girls who are in town to see her. The girls are part of what is called the "Lyon Academy", a project where Norwegian girls play tournaments together outside their club environments. Ada Hegerberg is their role model, the project is named in honour of her and her club.
It's a hot spring Friday in France, about a year and a half since Hegerberg left the Norwegian national team. She's calm, comfortable and full of vigour. She hugs indiscriminately. The following day, her club Olympique Lyonnais play Lille. Yet she's about to spend an evening talking to and with the Norwegian girls.
In the basement, the light goes out.
"I'm looking forward to hearing a proper Norwegian roar tomorrow," Hegerberg says. "It's important you get to see the facilities and the stadium with your own eyes, to see how good it is and get something to dream about. And to see live matches! It's so different from seeing it on TV."
Beside her stands her mother Gerd Stolsmo, once a player with national team call-ups and several seasons in the Norwegian top flight with Trondheims-Ørn to her name. When Ada and sister Andrine were children, Gerd and her husband Stein Erik Hegerberg were their coaches. In later years they've had the roles of managers, advisers, confidants and supporters. Stein Erik still does training sessions with the sisters whenever they're at home in Oslo.
"Not everyone can be the best, but everyone can be better! That's what it's about, being the best possible edition of yourself," Stolsmo says.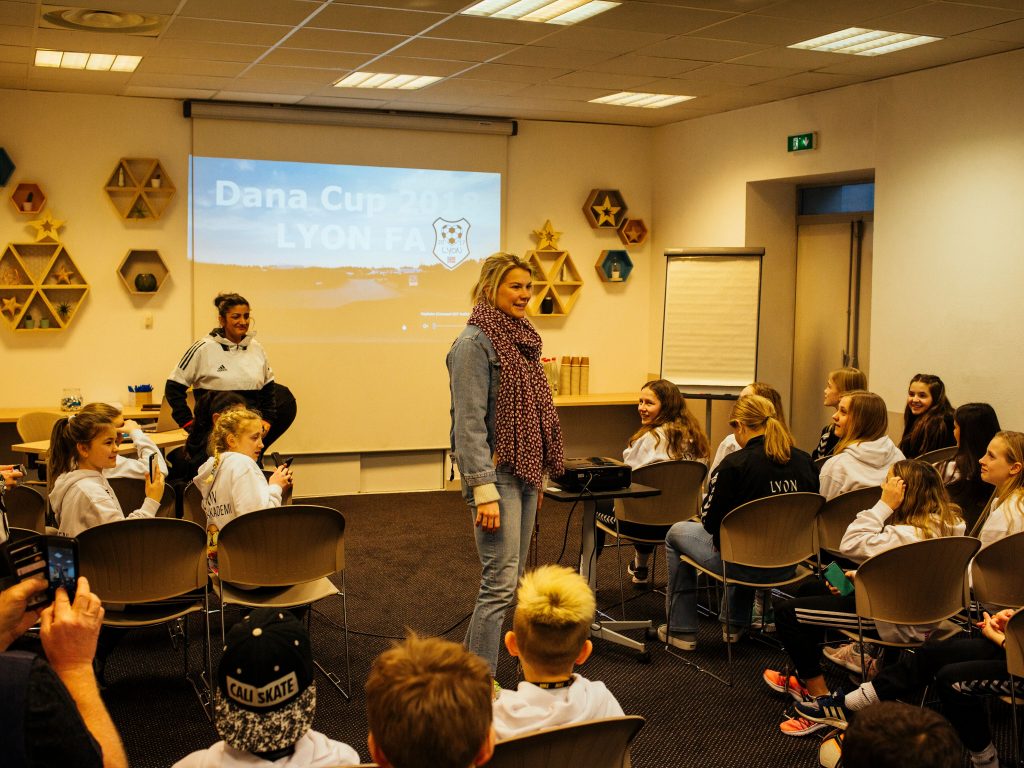 Hegerberg talks about quality in training, building confidence and having your family as your support team.
"I started late, maybe when I was ten or eleven," Hegerberg tells the listeners.
"No, I'd say eight or nine," her mother interrupts.
The room laughs.
Hegerberg continues her story, her mother cutting her off with minor corrections, about how the family moved from the rural north-west to the Oslo suburb of Kolbotn when she was ten, to give her a chance to be a footballer. She talks about how Kolbotn coach Dan Eggen gave the 15-year-old Ada a spot in the senior team. About her transfer to Stabæk, her time with the national team, about her life abroad – at Turbine Potsdam in Germany and Lyon in France – resulting in league trophies and Champions League titles and the biggest individual triumph of them all: winning the Ballon d'Or.
"I want to downplay the dangers of training, about pushing yourself to the brink. When Andrine and I were 14-15 we trained really hard. Our dad's goal was to work us so hard that we understood what our limits were. We were run into the ground, until we didn't have more to give. We were in tears. It was a way of showing us 'OK, this how far you can go before you've run completely out of energy.' Knowing how far I can push myself, it gave me a lot mentally. It sounds brutal, but the more comfortable you are in those situations, the better it is," Hegerberg explains.
Hegerberg talks of how she and her family had to find their own ways in the world of football, how they've tackled obstacles and adversity head-on, they've had to think outside the box and always searched for the next level.
"And what you participants of the 'Lyon Academy' are doing is also different. You represent something different in Norwegian football. You have seized an opportunity," Gerd Stolsmo says.
"The fact that you're here means you have a drive inside of you to be better, which I've not seen before. You're forty crazy girls in Lyon," Hegerberg exclaims.
"What we as parents always have had in mind is to help Ada and Andrine to be as good as they can be, to carve out a path in football, a struggle in a man's world. This is a fight for women's rights, people. Not just a football match. We want to be torch-bearers for those succeeding us," Gerd Stolsmo proclaims.
An hour into the session there's break before it's time for questions. Hegerberg speaks of her daily routines in Lyon, about the club's training regime, her time training by herself and reading at night. She's inspired by Norwegian heroes like the explorers Roald Amundsen and Hjalmar Johansen and World War 2 resistance leader Asbjørn Sunde. And she's grateful for having had the opportunity to learn a new culture.
"To learn a new language is the coolest thing I've ever done. You really should do that!"
The visiting young players want to know how it was for Ada to move from the village Sunndal to Kolbotn to pursue a football career.
"I came from this small place, I had a funny accent. It was a challenge," Hegerberg says.
"You did cry a bit," her mother chips in.
"Yes, I did. But it quickly passed. I made new friends immediately. When a club is serious about its programme for girls, the social environment also will be great," she says.
And then the inevitable question: Why did Hegerberg quit the national team?
"How much time do we have," she laughs.
"It's about what we've been talking about, about finding yourself, what you stand for. Going back to when I got my first call-up I've felt I was put in a system that didn't allow me to be myself. I noticed I gradually lost a bit of me, I questioned what I stood for. And I thought; this doesn't work. Not for me as a player or as a person. The women's national team wasn't taken seriously. There was no culture for training with quality, to get better, for wanting to get better. It burdened me for a long time," Hegerberg explains.
When she finishes, the applause is deafening. Then it's time for autographs and selfies. Everyone gets what they want. After two and a half hours, she has to excuse herself – she must go home and start preparations for tomorrow's match.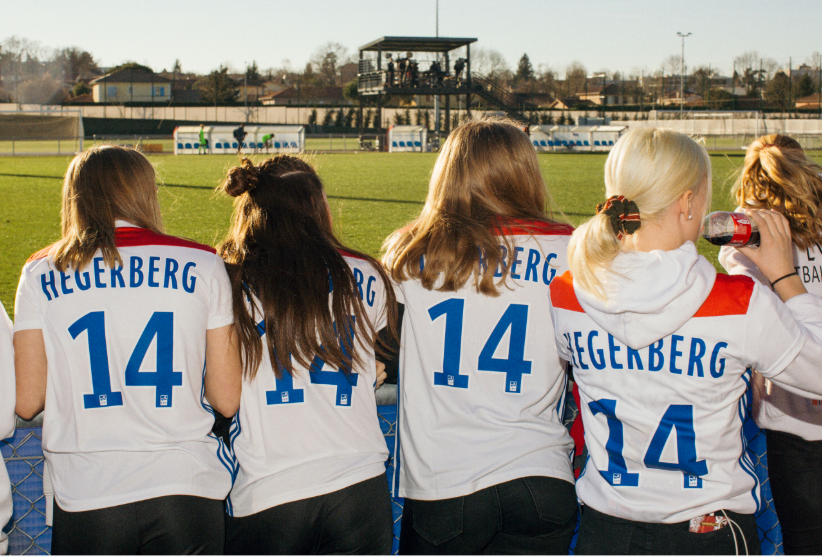 In the lead
The stadium is located roughly twenty minutes from Lyon city centre. Lyon are top of the table, the team's big matches are played at the main ground with a capacity of 60 000. Today, with relegation-battling Lille visiting, the game takes place at the club's smaller venue of 1524 seats. It is filled to ninety percent of capacity. At each end a group of ultras-style fans with banners, flags and songs have taken up position. Lyon dominate the action on the field.
The Norwegian girls chant: "Ada-Ada-Ada."
The home team quickly takes the lead through their German number ten, Dszenifer Maroszán. Hegerberg works relentlessly, but is constantly surrounded by a clutch of Lille players around their box.
1-0 at half time. One of the visiting Norwegian girls, 11 year old Vilde Vårdal Andreassen who plays for Strømmen, is wearing her brand new Lyon shirt with "14 HEGERBERG" on the back.
"What's it like to meet Ada?"
"Cool! Because she's the best in the world. And the best Norwegian."
"What the most special aspect of her story?"
"Her childhood. How her parents raised her. I want to become a footballer even more now, after hearing that. Because now I understand what a real footballer is."
"You asked her a question, about how it was to leave her friends behind to play football elsewhere?"
"Yes. If I were to leave my friends, I'd be sad. But if I have to do that because of my football career, I maybe would too."
"What do you think of today's game?"
"Good. They lead 1-0. It would've been better with 2-0, then they'd be safer, but there'll be more goals."
"Do you often watch girls play football on TV?"
"Sometimes. Not so often."
"It's not on TV so much?"
"I wish they showed more. It's like…for the boys, and they talk about it all the time, and it's shown. It's not so much talk about girls."
"Is that stupid?"
"Mega stupid," Vilde says and hurries to the concession stand in time for the second half kick-off.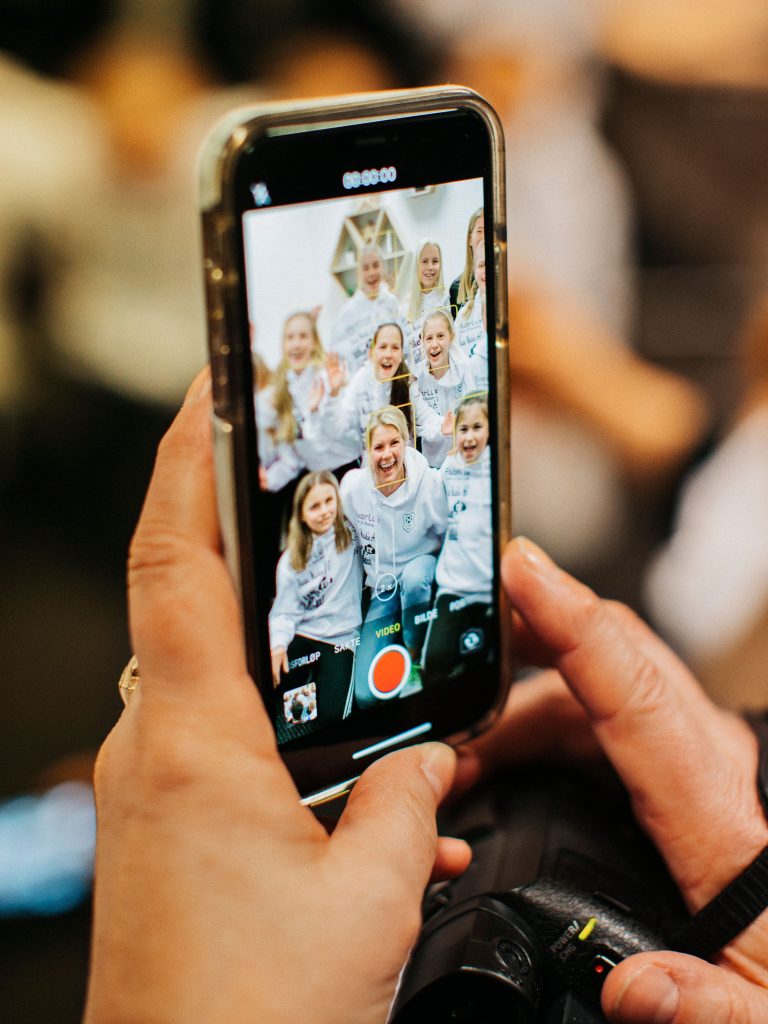 Lyon, with 15 wins and one draw in the league, are not playing well. They're not able use the width of the pitch as well as they did in the first half. Too often they play the ball to a marked player with her back to the opponents' goal. Lille play an counter-attacking game, and what isn't meant to happen, almost happens. The Lyon goalkeeper is forced to pull off a wonderful save. Straight after, the visitors hit the bar. Up front for Lyon, Hegerberg is visibly frustrated. But the referee blows for full time, and the league leaders have banked another three points.
Hegerberg hurries over to the awaiting Norwegian contingent and does what she did the previous night – she writes autographs, this time on jerseys, shorts, socks and flags of the 'Lyon Academy' girls. She poses for selfies with the parents, she talks with them about the game. Some of the girls get hold of a ball and start playing. The stewards intervene – everybody off the pitch now!

Ada takes a detour on her way to the dressing room, via the stadium gate to say goodbye to the fans who've come to see her. It's only a temporary goodbye. The following Monday, the girls are scheduled to watch Lyon train – and perhaps collect another set of autographs.

Menswear
After showers, the players help themselves to fruit and yogurt inside the canteen at Lyon's training facility. Ada smalltalks with the canteen staff and other employees, she introduces unacquainted people to each other and looks slightly embarrassed by her mother's attempts to operate the state-of-the-art espresso machine.
"My first summer here was a dream. I felt at home from day one. French culture, a new language. The first few weeks I lived in a worn-out pension, a bungalow. To me it was….I just loved it."
"We brought all her stuff. She lived in a cell of about 10 square metres. And she was totally intoxicated," Gerd Stolsmo remembers.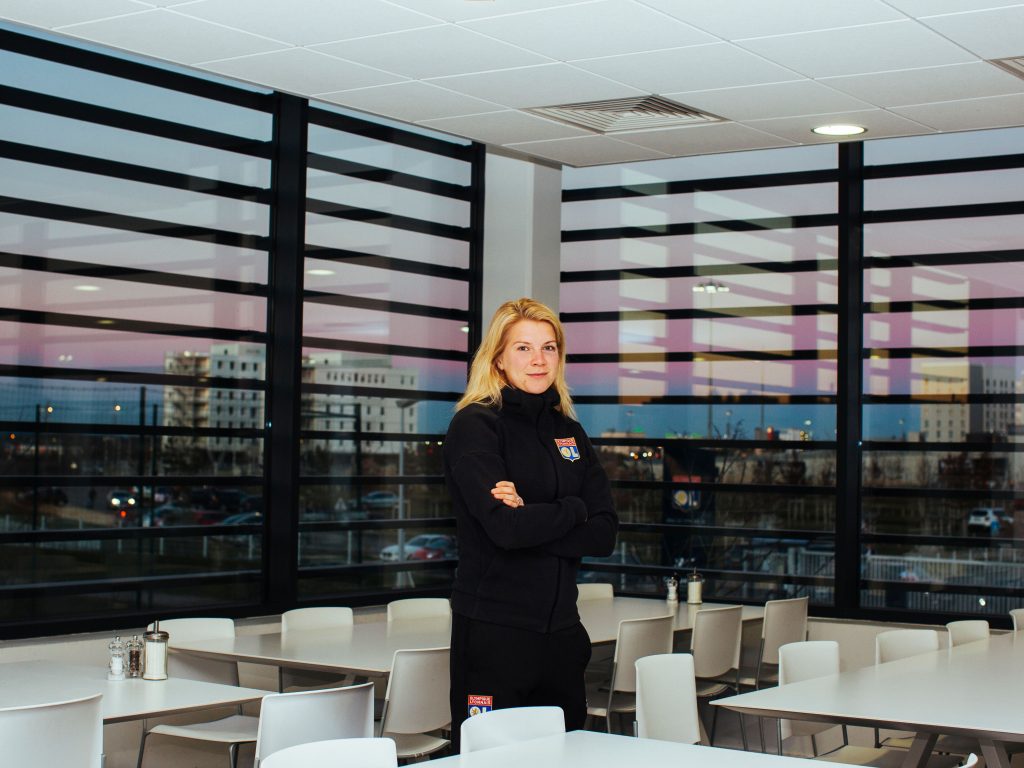 From then on the club played the most important role in her life.
"I was so well taken care of. There's a reason why people stay here long. There's a higher level of professionalism here. You see it everywhere – from the training sessions to the manner in which we talk to each other," she says and points around the room.

"How did Lyon's focus on the women's game come about?"
"Due to one person, our president Jean-Michel Aulas. If not for him, there wouldn't be any big teams in France. It's strange that one person can do so much. And in such a short period of time. Seven years ago they didn't even have their own dressing room. It's says a lot about how little really is needed in order to create the best team in the world," Hegerberg says.

In Gerd Stolsmo's opinion, the situation in Norway is completely opposite.
"At home, there has been no willingness to invest in the women's game, because it's not been a product to invest in. But the reason it's not a product is because nobody's invested in it," she claims.

A classic catch 22.

"You will not develop quality players when they have to go to school or work from eight o'clock in the morning to four in the afternoon, and then meet up for training. That's the way it was when I played, and my last season was in 1990. Hardly anyone's progressed from that," the former Trondheims-Ørn player says.

The Norwegian league champions LSK Kvinner is the odd one out, offering its squad two "pro days" a week, days where the players are treated as full-time professionals and financially compensated for missing work or studies. But as the LSK and national team player Emilie Haavi, as well as club benefactor Per Berg, told us, the club is no longer in a position to provide the same programme without financial backing from the Norwegian FA.

"Has anyone at the federation been in Lyon to visit you or to draw inspiration from how the club operates and learn about how they organise football in the best league?"
"Never. Nobody from the NFF has been here, except for the national team coach who's visited once," Hegerberg answers.

Compared with her life as a full time professional at Olympique Lyonnais, the national team set-up did not come out favourably.

When Hegerberg announced her retirement from the national team i 2017, both manager Martin Sjögren and the then sporting director of the NFF, Nils Johan Semb, said her decision came completely out of the blue.

But Hegerberg claims to have voiced – at meetings, camps and during training sessions – that the quality of the training sessions, pre-match analyses and the post-match evaluations were not of a high enough standard. She has also publicly criticised the NFF several times. Two days before the start of the 2017 Euros, after a poor warm-up friendly against France, she warned anyone who believed the team had made progress in the last half-year. That wasn't the case, she said, and in front of the press asked for measures to be taken.

It should have been possible for the NFF leadership to sense her dissatisfaction long before she eventually turned down further involvement with the national team.
"NFF has never taken the women's national team seriously," she says.
"Why?"
"It's a feeling I've had since I was called-up as a dead serious young girl to the U15 squad."

In her opinion, women's football is at the bottom of the federation's priorities, that the NFF has never tried to make football played by women a field that attracts the best qualified people to its technical staff.
"Therefore the people involved with the national teams are not of a high enough standard. The management hasn't been good enough. They don't have the knowhow, they don't know how to make a group at this level pull in the same direction. That's scary," she says.

An example is the failure of those in charge of the team's psycho-social side, if those people actually exist at all.
"It was always talk of a tolerance of different opinions. But raising my voice and saying exactly how I felt was always problematic. I've always felt I had to keep a lid on it. OK, so I kept my head down for a while. But that certainly didn't work. What do I do then? I tried to mix it up for a while. But that went to pieces," Hegerberg says with a lump in her throat.

"'Is something wrong?' they always asked. 'Is something wrong?' When I retired, it was said it was because I couldn't bear adversity, it was because we failed at the Euros. That I didn't show enough respect. That had nothing to do with it. I have an overwhelming respect for the sport I'm a part of. It was tough from the U15s onwards. It was tough at the Euros in 2013 and the 2015 World Cup in Canada. Many national team camps have been tough. I've been shattered mentally, it's been totally depressing. After national team camps, I had nightmares. Such things are not suppose to happen. If you want to get somewhere in life, you have to make choices. As soon as that thought entered my head,'you have to quit the national team'…everything just washed off. I slept well again," she says, and goes on to tell of casual incidents, which together with the general culture and low technical quality around the national team all contributed to her decision.

Incidents like when the squad got one single t-shirt each to wear as representative gear in a camp that lasted ten days. That they have to wear socks several sizes too big. About nutritional advice from the national team staff to teenage girls delivered as bad jokes involving weight and body sizes. The institutionalised low priority of the federation's women's teams compared to men's at whichever age group, even if the girls, unlike the boys, always qualified for international tournaments. About the men's national team walking into a lorry filled with football boots, free to choose the pairs they want, while the women were assigned one pair each. Before the 2017 Euros the staff asked the players three times which size they needed to get it right. And the boots arrived – many still the wrong size – as the team had touched down in the Netherlands, giving them no time to test them before the tournament began. About the NFF's sporting director Nils Johan Semb always proclaiming the next – and not the upcoming – tournament as the team's aim. And about getting a telling-off for being late for dinner, when the reason for her tardiness was that she, along with her sister Andrine, had signed autographs for the fans.

"Then I just felt powerless. It's beyond me that we're not to write autographs, when we're trying to create something that has market value. Nobody at the NFF has had an honest look at it, nobody there wants to hear the truth: Norway has not progressed since 1999. Hell, we've slept through class. How can we have development when nobody wants to have a reality check? We've never planned for different scenarios. No plan A, B or C. Could things go haywire at the next tournament? Do we have people to support the girls if that is happens? Or if it's a success – what then? There was never any attempt to be a step ahead."

"For free I did ads for the federation's sponsors. I thought it was part of the contract. Later I heard the men were paid thousands of kroners for the same endorsements. I got a phone and a discount on a mobile subscription. It's not something I care much about, I only care about the football. In that area there's never any brutal analyses, say if we've lost 5-0 to Germany. It's just 'we've taken steps, our questions have been answered'."

"During preparations for tournaments these suit-wearing upper-hierarchy people would visit. They held speeches. It was always 'this will be good, you always qualify for tournaments, the men don't ho ho ho.' We sat there thinking 'you've misunderstood everything.' You've been invisible all season, and now you show up, once, and just before a tournament, and say you see us, you believe in us. Yeah, thanks for not showing up for crappy friendlies at La Manga, then," she says sarcastically.

Hegerberg points out that female footballers experience "strange stuff" on the European mainland too, that equality is not a reality. Still, her daily life as a pro in Lyon and the Ballon d'Or ceremony (excluding the twerking question) represent contrasts to the culture within the NFF. Ballon d'Or is awarded by France Football. Originally an award for European players that since the mid-1990s have been open to all players plying their trade with European clubs. It is the most prestigious individual honour. From 2018 it includes females.

"I felt so respected, like an equal," she says about the night she was honoured along with Kylian Mbappé and Luka Modrić.
"First and foremost by footballers. The male players. The've been through it themselves, they know how much work you need to put in to make it. The respect throughout that night, touched me. Several times I was about to burst into tears. That respect, that's what I've worked for."

What about this weekend, where you've received a crowd of forty to fifty Norwegian children and their parents. Why do you do that?
"Because of everything we've talked about. And everything that will happen from now on. [Football] has meant life and death to me, for years. This helps me to get better because it inspires me. When people think outside the box and come here to Lyon and show such interest, obviously who have to care for them. I want a change, that those who succeed me shall reap from what I experience today."