Lionel Messi's involvement in crypto has made a few people, him included, a significant amount of money, but many more can consider themselves lucky if their investment held up.

By Philippe Auclair

"Art, like football, is eternal. Art is also evolving, and digital art is another way to connect with the fans. That's why I'm happy to be launching my first official NFT thanks to the efforts of BossLogic and Ethernity, who have designed these four series of collections based on their experience and criteria. I hope the fans will like them as much as I do." (Lionel Messi, statement to ESPN, 5 August 2021)
This was to be the Big Bang moment in the creation of the "Messiverse". It would not be the multiple Ballon d'Or winner's first foray into the world of crypto, nor the last, but it felt different. Previously, Messi had done with crypto products what he'd already done with watchmakers, brewers, restaurant chains, fashion retailers, video games producers, credit card and sportswear companies, airlines, manufacturers of eyecare and shaving products, luxury luggage and potato crisps: he'd lent, or rather sold, his name to promote their brands. If serious money was moving into crypto, team Messi was bound to follow. The more risk-prone, speculative and unregulated an industry is, the greater its desire, its need, to associate itself with individuals or brands which will bring visibility and credibility by association; and who better to do that than the genius of Barcelona and PSG, one of the most recognisable names and faces on the planet?
Controversy
Until then, Messi's involvement with crypto ventures had not gone beyond featuring in one-shot or short-term promotional campaigns, such as the one which saw him partnering with Seychelles-registered cryptocurrency exchange BitGet, a sponsor of Juventus and Galatasaray, shortly before the 2022 World Cup. According to a statement released at the time, the two parties wished "to explore the areas of Web3, cryptocurrency and football", without giving any further details as to the nature of the arrangement, except that BitGet would be 'revealing new developments as they come'. Another campaign, 'Make It Count', was launched during the World Cup, accompanied by a video which has attracted over a million views to date.
BitGet was not untouched by controversy. The company had been suspended by Singapore's financial regulator in December 2021 after promoting a digital currency called Army Coin, which falsely purported to be endorsed by the hugely successful K-Pop band BTS – whose fans call themselves the 'BTS Army'. According to the band's management company, BitGet had infringed on their image rights, using photographs of its members without authorisation. The crypto exchange lost its licence in Singapore as a result. But Messi's name was not linked to the controversy; and controversy is unavoidable when dealing with crypto, it seems. It certainly was the case with the very first blockchain-based product which had been endorsed by the footballer, and had been engineered by an Israeli company called Sirin Labs.
Messi and the fraudster
Sirin Labs was the brainchild of Israeli entrepreneur Moshe Hogeg, who'd come up with the idea of an "ultra-secure mobile phone" which would guarantee the privacy of all crypto transactions processed on his revolutionary device. Messi was brought in the project in December 2017, making him one of the very first sportspeople in the world to get involved in the nascent crypto industries and services.
The obligatory post which was published on his official Facebook account, then followed by close to 90 million people worldwide, read: "I am usually busy trying to decentralize defences and after digging deeper into Blockchain and decentralized systems, I'm excited to join SIRIN LABS as an ambassador to make blockchain more friendly with their upcoming operating system for smartphones."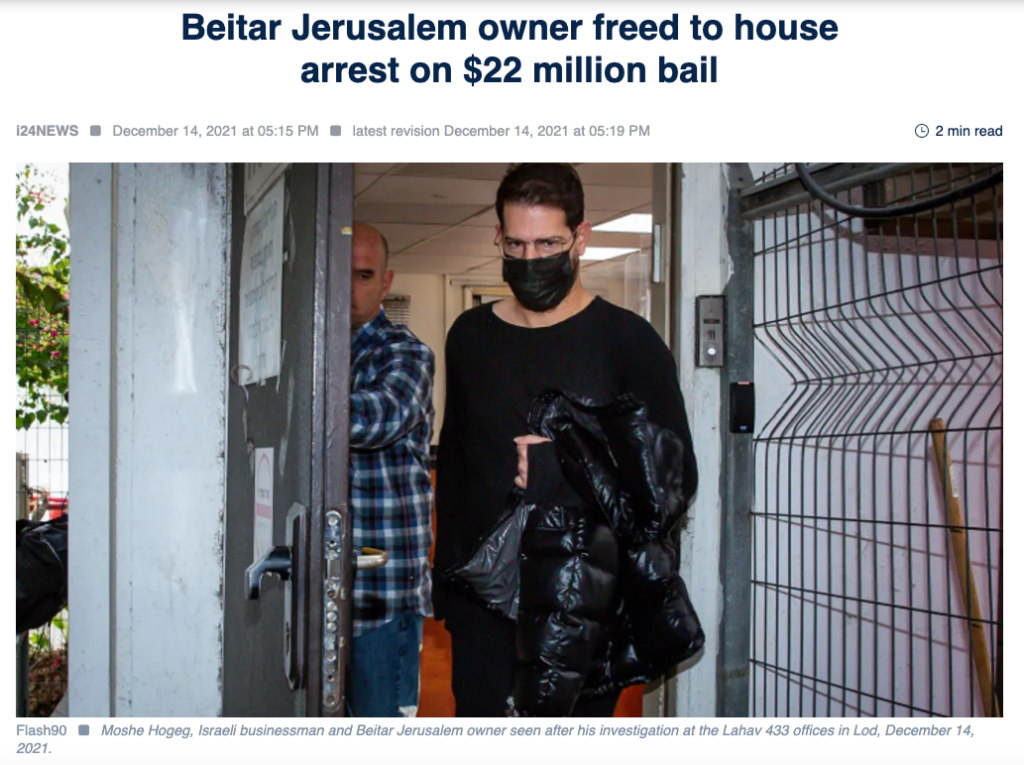 Hogeg was already well-known in the business world. His previous ventures included Mobli, a social network which he launched in 2010 with the support of personalities such as Mexican billionaire Carlos Slim and tennis superstar Serena Williams. When Mobli was declared bankrupt six years later, Hogeg had moved into venture capitalism, founding Singulariteam with one of Kazakhstan's richest men, Renes Rakishev, also an investor in Sirin Labs. In August 2018, Hogeg had also bought Beitar Jerusalem, a football club known for the extreme-right wing and Arabophobic views of its fans, which he swore he would reform – with little success, it should be said.
His relationship with Messi appeared to go beyond the strict boundaries of business. A beaming Hogeg presented him with a membership card of Beitar at an event staged in Barcelona in December 2018, at which Sirin's 'Finney' phone, retailing at 1,000 to 2,000 US dollars apiece (depending on specifications) was presented to the public.
To finance this venture, Hogeg launched an Initial Coin Offering (ICO) which brought in 158 million US dollars in July 2017.

But the 'super-secure' phone never made it to the market. Following multiple lawsuits filed in Israel and the US, Hogeg was arrested by Israeli police on 18 November 2021, on suspicion of twenty-one counts of criminal activity, including money laundering, theft, fraud, sexual assault, human trafficking and underage prostitution. According to the Israeli law agencies, he had operated with seven other suspects,  "in cooperation and in a systematic manner, while defrauding investors in a number of projects in the field of cryptocurrencies" [and] "pocketed millions of shekels, while making false presentations to potential investors to invest in seemingly profitable ventures". Sirin Labs was very much part of the picture. The millions which had been raised from investors had been appropriated by Hogeg and his friends to fund a lavish lifestyle. The businessman spent a month in jail before being placed under house arrest, then was arrested again in 2022 when he failed to provide the bail set by court.
Hunting high and low
Messi's dealings with the behemoth of 'fan tokens' Socios.com also attracted attention when it was reported in August 2021 that part of his 30 million dollars signing-on fee with Paris-Saint-Germain – how much exactly was not revealed – had been paid using the $PSG token, which is supported by Socios, who signed Messi as their flagship ambassador seven months later. What made observers tick was the huge shifts in value of this token which were observed on the markets before and after Messi's transfer from Barcelona and the dissemination of the information that he'd receive at least part of his bonus in his new club's cryptocurrency.
What happened was that the value of the $PSG token, which must be bought using Socios' own cryptocurrency Chiliz, or $CHZ, shot up dramatically in the period preceding the announcement of Messi's arrival, to reach a high of 62.32 dollars on 11 August 2021, when the deal was confirmed. The volume of $PSG daily transactions had also sky-rocketed, exploding by a ratio of 4,400 percent during the same period, reaching a maximum of over 600 million dollars in a single day, which suggested that some very big players indeed had moved into that market.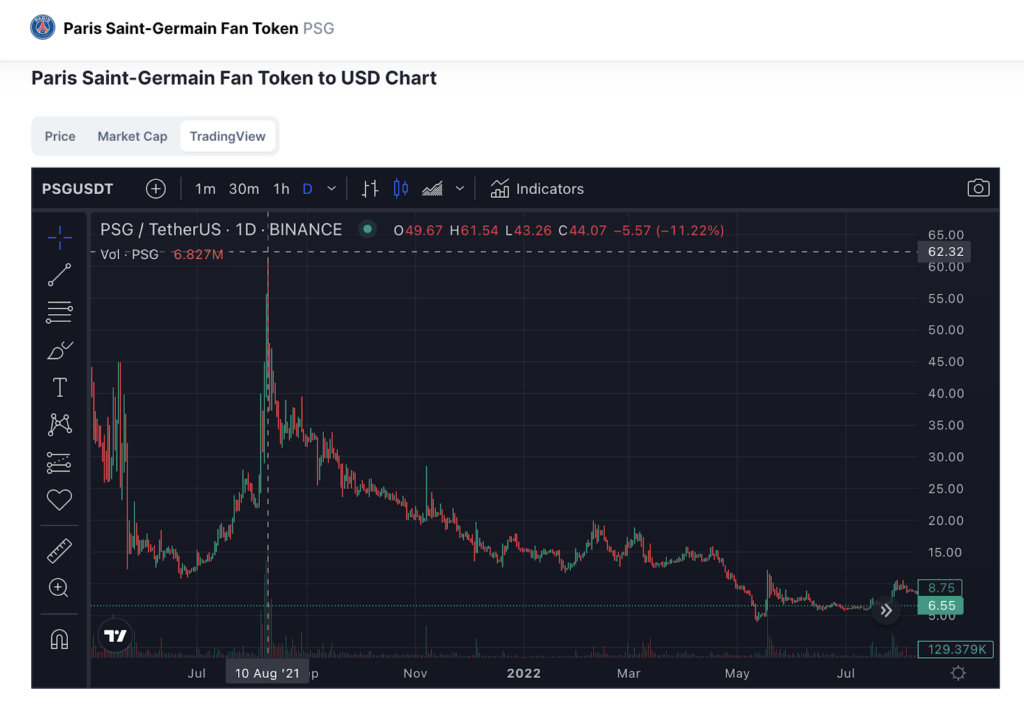 But they did not stay long. It could have been expected that the value of the $PSG token would carry on climbing as the Parisian club had now secured one of football's greatest-ever players. It was the opposite. It plummeted; and today, that token is worth under 6 dollars.
Socios.com has strongly denied that any insider dealing took place. According to them, what caused the collapse of the token's value was not the result of a 'pump-and-run' scheme, when that value is artificially 'pumped' by insiders who then 'run' – sell – as soon as less well-informed investors try to jump on the runaway train, only to find it empty a bit later. There had been the equivalent of a feeding frenzy in the general public when Messi's transfer became a near-certainty. Their tokens were not to be considered investments (despite the fact that their tradeability has been used as a promotional argument in the past), but just that, 'tokens' of fan engagement. Whether Messi himself still has $PSG in his crypto wallet is not known.
The "green" crypto
Perhaps the most bizarre of all of Leo Messi's engagements with the crypto world was with Leafty, "a decentralised cryptocurrency with a difference", whose unique selling point was certainly unusual, as, to quote from a statement published little under a year ago, "unlike typical crypto tokens that often serve no purpose other than fueling speculative investor behavior, Leafty is on a mission to help protect the environment", quite the claim from a player in an industry not known for its green credentials. The Big Idea was that Leafty would set aside 9 percent of all its transaction fees, which would then be shared among prestigious environmental charities such as The Rainforest Alliance, The Nature Conservancy and Team Seas, whose names and logos still feature prominently on the venture's website, something they may not be aware of, since this website hasn't shown any signs of activity for a long time.
No donations have been made. The big plan is stuck on phase one of five and won't move from there any time soon, as the current volume of transactions is currently nil, as is the value of the token, which was launched in March of last year. The company's Twitter account has been dormant for months. Yet Messi did record – in Spanish – a video for the venture, which appears genuine. Nobody seems to know who owns or used to run it. Yet thousands of people have bought Leafty's tokens, who are now left with nothing to show for what they thought was an eco-friendly investment. Why would one of the world's most celebrated footballers want to be associated with as flaky a brand as Leafty is difficult to comprehend. Was it a favour for a friend? A deep fake? Could he have been scammed himself? Messi's communications team was contacted by Josimar, but no response has been made yet.
The unfounded transfer rumour
No such questions arise in the case of his involvement with the crypto fantasy and card trading game Sorare, in which he became an investor (to which extent isn't known) in November 2022, a month in which the World Cup was not the only thing in mind for its future winner. The man himself is supposed to have commented on this occasion: "Fans have always looked for ways to express their passion and get closer to the players and teams that they love and Sorare's combination of a fantasy game with digital collectibles gives fans new ways to do that, wherever they are in the world". Perhaps there isn't much to add to that, except that there are concerns about the trading aspect of Sorare and, in particular, how its market can be manipulated. Josimar knows of one case where a media personality engineered an unfounded transfer rumour which, when relayed on social media, multiplied the value of a certain player in the fantasy game, for whom the media personality in question held a trading card, which he then sold at a profit.
The Messiverse
Then there is the Messiverse, which, to start with, is a collection of NFTs created by Melbourne-based graphic designer 'BossLogic', a.k.a Kode Abdo, a popular 38-year-old artist/Instagrammer who made it big when he caught the eye of Marvel franchise executives and was brought in to create posters for Avengers: Endgame. This is different. This time, Messi is not just lending his name to another crypto project. It is his, or it is at least a much closer collaboration with the company which sells it, Ethernity, a venture which was founded by Greek-American 'environmentalist' Nick Ntertsas. Ntertsas, described as 'an early investor in Bitcoin', had become known when he launched the #PrayForAmazonia hashtag on social networks in 2019, which was shared by a number of celebrities, even French president Emmanuel Macron.
The collection of NFTs (later complemented by cheaper, less prestigious, attention-grabbing Messiverse NFTs created by more modest artists) was put up for sale on the Ethernity Chain platform in August 2021. Interestingly, even BossLogic's NFTs are not unique pieces, but come in 'limited editions', of which 75 were up for sale at the time of writing in the case of the last to date, Man Of The Past. This might explain why they are relatively cheap, at around 4,100 dollars apiece, a far cry from the reported 1 million dollars which was paid for a 'gold edition' of the first Messi NFT which Ethernity dropped on the market.
According to media reports published at the time of the launch, buyers were encouraged to purchase these NFTs using Ethernity's own cryptocurrency, ERN. Looking at ERN's value on the crypto market, it is noticeable that, within the month preceding the sale of the first Messi NFT, the token's value jumped from 5 to 22 US dollars – and then decreased spectacularly. Its current value is just over 2 dollars. If a few people must have made a significant amount of money, many more can consider themselves lucky if their investment held up. Never mind. There are still two more NFTs from the Messiverse collection to look forward to.