Moldova went through 24 hours of turmoil following reports that a massive pro-Russian coup was being planned. According to Moldovan intelligence sources, the UEFA Conference League match between Sheriff Tiraspol and Partizan Belgrade was supposed to start a riot aimed at overthrowing the government.
By Emanuel Roșu and Dumitru Garcaliuc
On 14 February, two days before Partizan and Sheriff were supposed to meet in Chișinău in the first leg of the Conference League knockout round playoff, the Moldovan FA announced that the match would be played behind closed doors. The decision came following an open request made by SIS, Moldova's secret service, a day after president Maia Sandu spoke about Russia's plan to take control of the country.
Josimar spoke to relevant people inside the Moldovan Secret Service, to politicians and football officials to find out if the clash in Chișinău really played a role in Vladimir Putin's war plan.
"Russia's plan is to have diversionists with military background initiating violent actions, attacking state institutions and taking hostages," Sandu said on Monday 13 February. "Their aim is to change the political power in Chișinău," the head of state added. Sandu went on saying that the Moldovan intelligence office obtained documents intercepted by their Ukrainian colleagues clearly illustrating Russia's plan. "The papers show a thorough analysis on logistics and locations to start these actions against the public order. Also, the documents hold instructions on how you can enter Moldova if you're a citizen or Russia, Belarus, Serbia and Montenegro."
She wasn't the only one speaking openly on the matter. Adrian Cheptonar, a member of the Moldovan parliament, alleged "trained combatants" were going to be infiltrated inside the Partizan Belgrade away support that would provoke havoc in Chișinău.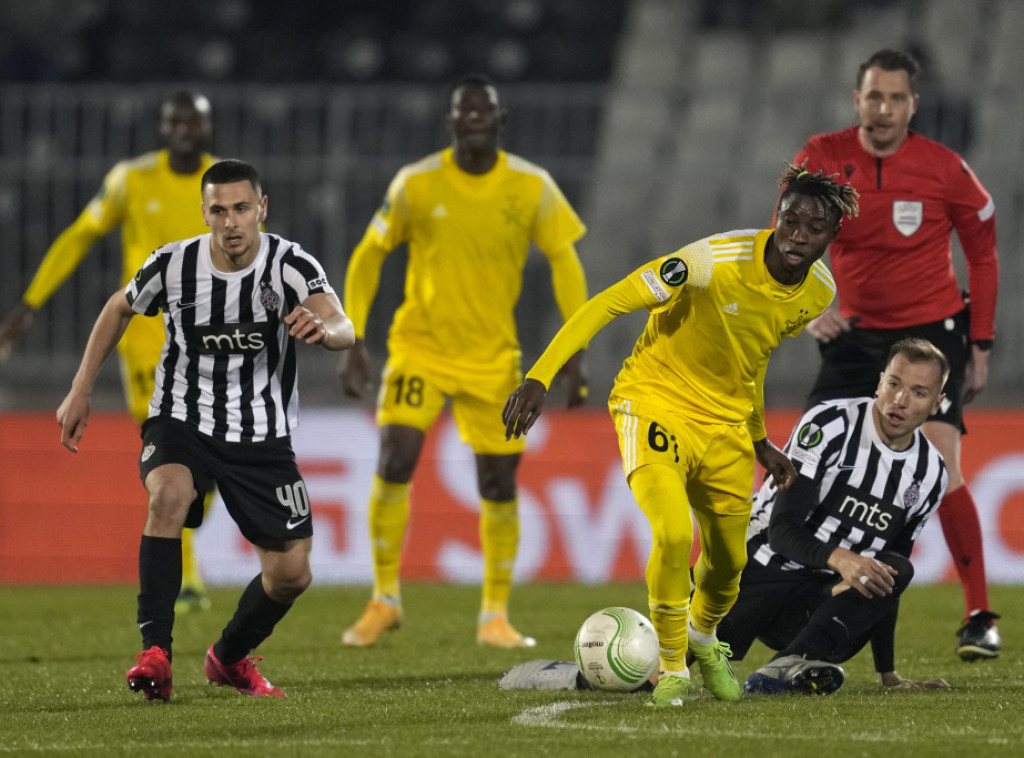 Alexei Danilov, a secretary for the Ukrainian National Council for Security and Defence, said Russia was also plotting to use Chechen fighters to enforce their actions.
"We know their names, we are monitoring these people closely," Danilov said, adding that the Chechen groups were involved in the invasion of Ukraine before being sent to Turkey to act as rescuers in the aftermath of the deadly earthquake that hit the country. On their way back home, they were supposed to stop in Chișinău and not head back to Russia, according to Danilov.
Away at home
Originally from Transnistria, an autonomous region which is part of Moldova but has strong Russian ties, Sheriff Tiraspol play their home matches in Chișinău. UEFA decided that no European match would take place in Transnistria given their political status. The territory has its own currency, the Transnistrian ruble, a different flag and constitution, a local government endorsed by Putin, an army and a vehicle registration office. Transnistria's political status is similar to those of Abkhazia, South Ossetia and Artsakh, other breakaway republics supported by Russia. Last year, the Assembly of the Council of Europe defined Transnistria's status quo as "under military occupation by Russia".
Tensions in Transnistria date to the dissolution of the Soviet Union in the early 1990s. Back then, a so-called state was created with the aim of keeping the Pridnestrovian Moldavian Soviet Socialist Republic inside the Soviet Union. Why? Just in case Moldova would try to become independent or if they looked at a reunification with Romania, the state they had been part of before being annexed in 1940 in a highly similar scenery to what the world witnessed in Luhansk and Donetsk last year. Moldova finally opted for independence in 1991 and a military conflict started in Transnistria. Following a ceasefire agreement reached in March 1992, Russia imposed its military presence in Transnistria. To this day, almost 2,000 Russian troops who brand themselves as "pacificators" are active in Transnistria. Their mission is centred around the village of Cobasna, where Russia stores 20,000 tons of ammunition. Cobasna is close to the Ukrainian border and is largely considered a public danger, as the substances and ammunition deposited there are in a decaying state.
Pressure escalated in the region on 24 February. Russia accused Ukraine of planning to invade Transnistria, with the Ministry of Foreign Affairs in Moscow issuing a statement saying "any attempt to enter the territory will be judged as an attack on the Russian Federation". Ukrainian president Volodymir Zelenzkyi firmly condemned the threatening press release, as did Moldova and Romania.
Back to Chișinău
The Moldovan capital is not staying silent either. Despite condemning the invasion of Ukraine and helping refugees settle in the country, Moldova didn't impose any sanctions on Russia. President Maia Sandu repeatedly asked for a full retirement of the Russian military forces from Transnistria with no effect and the gas contract with Gazprom was stopped. Moldova traded the gas they had stored for expensive electricity produced in Transnistria.
The Kremlin is not a fan of the pro-European government in Chișinău. Putin asked his political allies in the country to act fast. Led by the ȘOR party, which takes its name from its founder and on-the-run fraud suspect Ilan Șor, numerous protests against president Sandu have taken place in Moldova. The last one came just days after the first leg of the Sheriff Tiraspol versus Partizan Belgrade matchup. Looking at the timeline of the events, local analysts consulted by Josimar refuse to treat this as just a coincidence.
The first 12 Serbian citizens who allegedly came to Chișinău for the match landed in the country as early as Monday, three days ahead of the game scheduled for Thursday 16 February. As the vast majority of travelling football supporters would put it, it's highly unusual for an organised group to make the trip with so many days left until a game. And especially when we're talking about Chișinău, which is not one of the top destinations for mid-week entertainment around Europe.
The 12 people were denied entry to Moldova and needed to find ways of getting back to Belgrade. More Serbian citizens were planning to make the trip on Tuesday, via Bucharest, but couldn't. Moldova even closed its airspace for three hours citing "security reasons" following an alert received from Romania. In the end, the cause of the alert – a suspicious weather balloon flying over Moldova – was identified not to have connections with the Sheriff versus Partizan clash.
Moldova: tough to defend
Adrian Cheptonar, a Moldovan MP and also a member of the National Security Chamber inside the Parliament, told Josimar "the initial plan was that a large Partizan ultras group would come to Moldova. Thanks to the efforts made by the Moldovan Secret Service, that didn't happen. Diversionists were supposed to also be part of the travelling lot."
"The Moldovan Secret Service informed us that agents backed by the Kremlin, Russian citizens, were planning to enter Moldova with fabricated documents which would have allowed them to be identified as Serbians, Belarusians or Montenegrins," Cheptonar added.
It's common practice for Russian secret agents to use fake IDs for their assignments. In 2018, one of the GRU (Russian Military Intelligence Agency) hitmen who poisoned Russian double-agent Sergey Skripal and his daughter Yulia with the deadly Novichok in Salisbury, England, was identified to have used fake Moldovan documents with the name Nicolae Popa.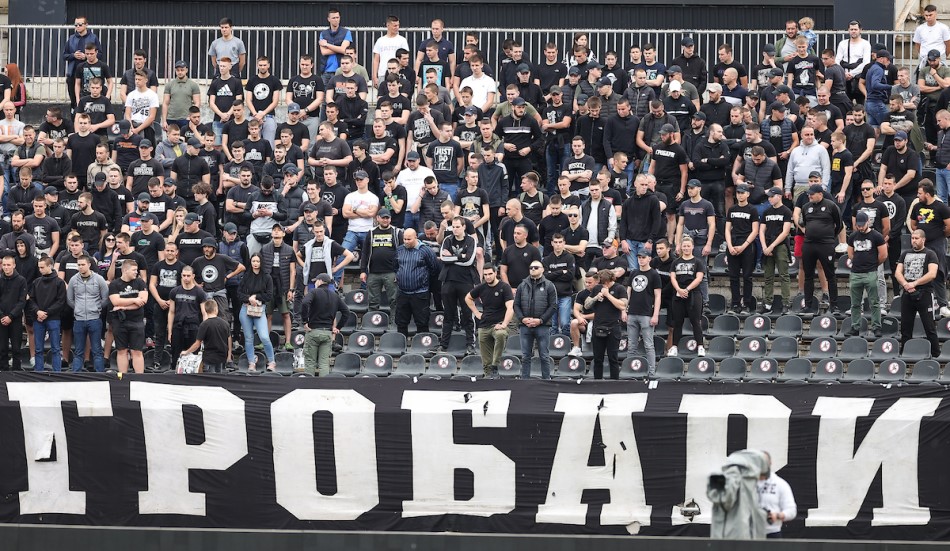 "The Ministry of Internal Affairs decided not to allow the citizens of Serbia, Montenegro, Belarus and of the Russian Federation to enter Moldova unless they were to get married to a Moldovan citizen, if they had to attend a relative's funeral, or if they had to receive emergency treatment in Chișinău that no other country would be willing to offer, Cheptonar revealed. The ban is still in place, more than two weeks after the football fixture.
In total, 57 people were denied entry to Moldova before the Sheriff versus Partizan game, including four boxers from Montenegro who claimed they were travelling to attend a tournament.
Serbian and Montenegrin authorities reacted after Moldova's ban on their citizens, asking for an official motivation and evidence to support the tough decision. Daniel Vodă, the Moldovan Foreign Affairs spokesperson told Josimar that the interdictions didn't target the countries, but "certain individuals". "All those who were on the list that was sent to us by the Serbian Football Federation could enter Moldova. Not only players, staff and club officials, but journalists too," Vodă added.
Maria Zaharova, the Russian Foreign Affairs Ministry spokesperson, laughed at the allegations made by Moldova and said accusations towards Moscow "have no substance and are based on no evidence". Her statement came just days after Russian Foreign Affairs minister Sergey Lavrov told RIA Novosti that "the West has now set its eyes on the Republic of Moldova to have the role of the next Ukraine".
The war of football
The first leg of the Sheriff versus Partizan play-off, which ended with a 1-0 Serbian win, was played on the day Moldova made several changes to their government, partly due to the Russian threat. President Sandu's national security adviser Dorin Recean became prime minister, replacing an economist, Natalia Gavriliță.
Only journalists and a few Partizan officials and guests attended the match at the 10,400-seat Zimbru Stadium in Chișinău. Chants could be heard from the Partizan VIP box throughout the game, with loud voices cheering after the goal and the final whistle. A Partizan official Josimar had access to reflected on the travelling interdiction, using the words "impossible to explain" and "unfair". But was it?
At least six of the 12 supporters who were not allowed to enter Moldova on the 13 February are part of the pro-Russian Narodna Patrola group. Based in Serbia, the crew's name translates as The People's Patrol and is regarded as extremist. Damjan Knežević, the leader of Narodna Patrola, is openly in favour of Russia's invasion of Ukraine. Last November, he visited St Petersburg and the state-backed mercenary unit Wagner Group, led by Yevgeny Prigozhin. The oligarch is also known as "Putin's chef", as he owns catering companies and restaurants working the Kremlin. Prigozhin is a close aide of Putin's. Knežević  was detained on the 16th of February on accusations of weapons violations and inciting violence. His arrest came 24 hours after more than 1,000 Serbian nationalists rallied through Belgrade asking President Aleksandar Vučić to reject a proposed plan to normalise ties with Kosovo, a former Serbian province whose 2008 declaration of independence is not recognised by Serbia. Knežević's patrol is behind the drawing of a mural in Belgrade dedicated to the Wagner group.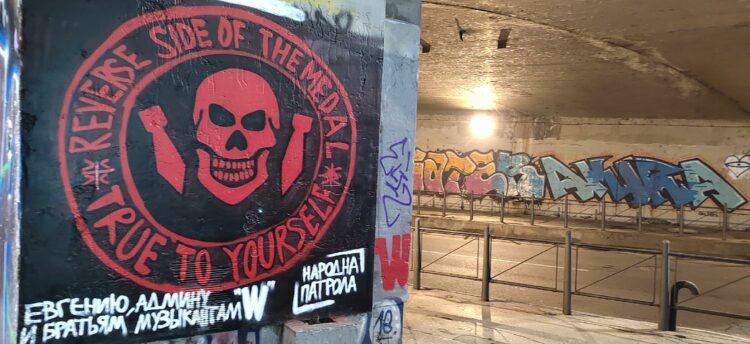 "We can't even overthrow our leaders and they are destroying the club. How could we change a political regime in a country?" a Partizan fan asks back as we try to find out if people who are not part of the ultras groups have any opinion on Moldova's imposed ban on Serbian radicals.
This time with their supporters by their side, Partizan didn't do too well in the second leg of their clash against Sheriff. The Moldovan team won 3-1 in Belgrade and secured a seat in the Conference League round of 16. In the stands, Russian flags could be seen flying alongside Serbian and Partizan ones. Days earlier, Narodna Patrola members, including support from Partizan's ultras group Grobari, shouted Russia's name and waved the Putin troops' symbols as they made their voices heard in Belgrade.
Serbia is a candidate for EU membership, but hasn't imposed sanctions on Russia. In March last year, around 5,000 people marched holding Russian flags and pro-Putin banners in support of the invasion of Ukraine.