When Josimar first started composing an annual list of the top 50 players in the world back in 2011, one of the driving ideas behind the concept was a strong antipathy towards lists.

By Lars Sivertsen

That might sound absurd, but there is an explanation: The list in itself, we figured, would probably not be particularly interesting. The business of ranking individual performers in a team sport has always been an iffy one. But the process through which we arrive at the list, now that could be very interesting indeed. If we gather a small jury of intelligent, insightful and erudite football connoisseurs, supply them with food and drink, and have them spend several hours arguing over who the best 50 players in the world are, and why, the ensuing discussion should throw up a number of interesting points about the game, how we see the game and what we value in players. Hopefully the end result will also be a list of names which will fuel further discussion among our dear readers. And also, if we're lucky, we might just have some fun along the wayRecently described by The Guardian as a "Soho institution that lends itself to old-school, but discreet debauchery," The French House is an obvious and ideal venue for a summit of this sort. It was taken over by one Victor Berlemont in 1914, and Berlemont is thought to have been the first foreigner to be granted a full English pub licence. The pub was then known as the York Minister, a name under which it continued to trade for manNEW decades, but to its patrons it was only ever known as "the French." This was presumably due to Berlemont's stewardship of the premises, though he was in actual fact Belgian. Since 1914 The French House has only ever had three landlords, which in its own way says a lot about the place. It is well known for having been a favored haunt of notable characters such as Francis Bacon, Dylan Thomas, Lucian Freud and John Minton. During World War Two it was a meeting place for the Free French movement, though rumors that Charles de Gaulle wrote his famous rallying cry "à tous les Français" in the upstairs restaurant have been widely debunked. Still, anyone concerned that the soul of old London is being gobbled up by charmless redevelopments could do worse than spend a few hours at The French House.
The jury
Philippe Auclair looks more at ease in his booth upstairs at the French House than most people do in their own sitting rooms. A writer, journalist and musician, Auclair is a man of many talents and someone who fits neatly into the rich cultural heritage of the venue. He is also the voice of French safety announcements on Easyjet, which seems entirely appropriate. Auclair is a veteran of five previous top 50 panels, and he tends to take a somewhat bipolar approach to proceedings: He is a largely calming, diplomatic influence on the discourse, but he will from time to time launch into passionate and surprisingly foul-mouthed tirades.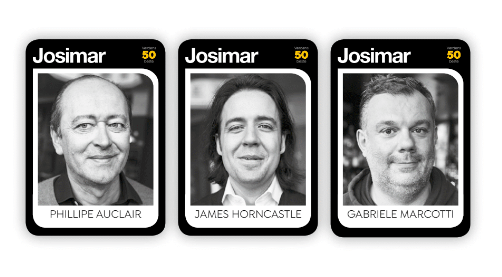 Auclair is joined on the panel by James Horncastle, him of dulcet tones and luscious hair. A journalist and familiar voice from numerous podcasts, as well as BT Sports' coverage of European football, James Horncastle was once described as "the most elegant man ever to grow up in Hull." The website Football365 noted in 2015 that he "appears to have used an approachable 1970s geography teacher as inspiration for dress sense, but with slightly added jazz." On the evidence of this November afternoon, he is still staying true to this sartorial ideal. Like Auclair, Horncastle is a natural fit for The French House.
The third member of the panel has been delayed by the uncaring beast that is London traffic. On other occasions this might have been a source of annoyance, but at the Josimar top 50 it is an early opportunity for scheming and skulduggery. After some casual chat about the criteria for inclusion on the list, what should matter more and what should matter less, Auclair casually drops what many might consider a bit of a bombshell.
"There is of course the Neymar situation, which we must address, because I would personally be in favor of excluding him from any kind of list."
It's an ambitious aim and a tall order, for whatever thoughts the third panelist may have on Neymar he is unlikely to share Auclair's view that the Brazilian should be excluded altogether. But Horncastle would be the tiebreaker, in any event, and Auclair is using all his top 50 experience, hoping to plant some early seeds for what would be a fairly extraordinary call. As the minutes tick by, one of the two panelists decides to pass the time by gamely attempting to imitate the still absent third man, but the effort sounds rather more like Kermit the frog with a crippling hangover.
The man with three phones
The third man, in any event, is ESPN senior writer Gabriele Marcotti, who it should be stressed does not at all sound like Kermit the frog with a crippling hangover. Marcotti is a formidable man in a number of ways. From his imposing physical pretense to his near fanatical contrarianism. He is never short of opinions and he can back them up with a deep reservoir of football knowledge. One occasionally suspects that if Garbiele Marcotti went too long without disagreeing with someone about something he would spontaneously combust. His strident manner makes him ideal for this format, and there is reason why he has been present for seven out of the eight editions of the Josimar top 50.
Marcotti does eventually arrive, sits down at the table, offers a heartfelt apology for the delay and places not one but three phones on the table. For the benefit of Marcotti the criteria are laid out again: The idea of this list is not simply who are the best 50 players in the world in absolute terms, but rather which players have played the best, helped their team the most and won the most during the last calendar year. A slightly heavier emphasis should be put on the first two criteria, but there is broad agreement on the panel that during a World Cup year performance at the World Cup must be a significant factor.
With everyone settled and ready to go, Auclair launches himself head first into the topic of the top spot. "Given the criteria," he starts, looking at his notes, "I would like to propose… it's not very original, but for once I agree with FIFA's choice, for once I agree with what will probably be the Ballon d'Or choice, of Luka Modrić. He is not the best player in terms of absolute quality, but in terms of what he has done, in terms of what he has achieved with his club, with his country. The World Cup has to be taken into consideration, and he was absolutely instrumental in his nation's best ever performance in that tournament". The amount of time Auclair has been allowed to speak without interruption suggests that there is tentative agreement there already, but Horncastle wants to explore another avenue. "We're here, at The French House, yet you're not going to go with a French World Cup winner?" he asks. "No, because I genuinely do not see a single French player who can qualify for the title of best player on the entire planet in the last calendar year."

The problem with Luka Modrić
"I know we're prioritizing World Cup performance and that we're not including Messi and Ronaldo's efforts in qualifying," Horncastle begins. "But at the same time, at the end of last season one had scored 51 goals and the other had scored 49 goals. One won the Champions League and the other had almost gone undefeated in La Liga…" His voice trails off a bit. The idea of putting someone ahead of Lionel Messi and Cristiano Ronaldo still feels difficult, somehow. Marcotti rights himself in his seat. "The problem I have with Modrić is that Luka Modrić hasn't done anything since July 16th. He's not just not been good, he's been actively bad." The idea of disregarding almost half a season doesn't quite sit right with Marcotti. "Is it possible to build a case for Griezmann?" he asks in the general direction of Auclair, but the Frenchman is unconvinced. "I don't think he was important enough to the French success at the World Cup that you could justify this. I would say that in France's success there were other players who in relative terms were more important, and who grew into their roles. What won France the title was not attacking prowess, it was defensive solidity. And in that respect I would say that someone like Lucas Hernández was more important. N'Golo Kanté was more important in some ways because it was a very unbalanced team." Horncastle's face lights up at the mention of Kanté, and he points out that Kanté is the "moral number one" on this list. "He managed to be involved in a Football Leaks-story, yet come out of it with his reputation enhanced, which is quite extraordinary," Horncastle notes. Auclair expands on his point that other players were more important to France, before conceding that he's not really a fan of Griezmann "in general."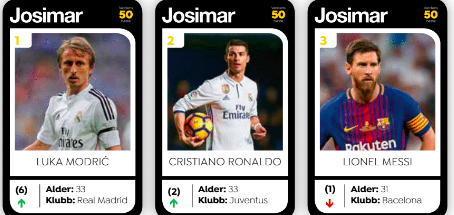 "I need to somehow make my peace with the fact that it's not going to be Messi or Ronaldo," says Marcotti, who is clearly struggling with this. "The Ronaldo-argument is that, ok, he scored 15 goals in the Champions League, but then he didn't score in the semi finals or the final. And then in the return leg of the quarter final his team got beat 3-1 by Juventus. So I'm trying to wrap my head around how much emphasis we should put on him not performing in those games. For the World Cup I feel like giving him a pass." Ronaldo did, after all, score a hat-trick against Spain. "So I do think there is still a pretty strong Ronaldo-case to be made. And I do think there is also a strong Messi-case to be made." Horncastle agrees that there is a case to be made for Messi. "One of the iconic moments of the World Cup was that goal that he scored against Nigeria. He finishes last season with 49 goals. I think that Barcelona side, everyone judges them by what happened in the Champions League, but for me that was also a season in which they almost went undefeated. And a lot of that was down to him." Marcotti seems to like this line of thinking. "When you talk about Barcelona's season, it's incredible when you consider what it was like at the start of the season." It's easy to forget the extent to which Barcelona were plunged into turmoil by the unexpected departure of Neymar, Marcotti reminds us. "They signed Dembélé, who contributed nothing. Iniesta gets old, Coutinho joins in January but they can't use him in Europe, I thought Suárez was poor last season, I think Rakitić has been overrated for a very long time, so all of this is on Messi. But then you run into a Roma problem," Marcotti concludes.

"He was bad there too"
A brief discussion of the merits of one Mohamed Salah follows, and while everyone agrees that he was magnificent for Liverpool in the spring his limited impact at the World Cup must count against him. Auclair does however stress the point that Salah has become one of those players who makes you sit up and pay attention every time he receives the ball, much like Messi. Marcotti interjects the he feels the same way about Lille's exciting winger Nicolas Pépé. "Seriously, was this guy raised by wolves?" he asks Auclair, in reference to Pépé's unusual yet curiously effective technique. But with Pépé unlikely to make the top 50, the discussion needs to be moved on. It's been over half an hour, and the matter of the top spot has yet to be resolved. The panel is leaning towards Modrić, but not with any great conviction. "I personally have one Croatian player above him in terms of what they did at the World Cup, but whom I'm not putting above him on this list," Auclair says, cryptically. "Dejan Lovren?" Horncastle suggests, possibly in jest.
"Ante Rebić," Auclair says, not in jest.
Marcotti is baffled. "I don't think he's even in my top 5 Croatian players," he says.
"It's not just because of that, but he was also the guy who scored twice against Bayern Munich in the German cup final. Which was a big thing to happen to Frankfurt, and it was a big thing to happen to Ante Rebić, who I also thought was magnificent at the World Cup".
Marcotti is incredulous. "So the fact that he's not good at playing football doesn't come into it? he asks. It is suggested that Marcotti might be anti-Rebić because he plays in the Bundesliga,
"No, he used to play in Italy, he was bad there too."
"It is possible," Auclair attempts, "for a player to just have one magnificent year. There was once a player called Toto Schillaci."
"Yeah well, we're not putting him on the list either"
Moving the conversation on, Marcotti insists that putting Modrić in first place means disregarding a full four months of the calendar year, which is not an insignificant chunk of time. "And you're putting him up against two of the greatest players in the history of the game, who scored a bunch of goals, both of whom won silverware this year, both of whom played well for flawed teams at the World Cup." But James Horncastle and Philippe Auclair are both leaning heavily towards Luka Modrić, and while Marcotti remains unwilling to commit to the idea he is also undecided between the two other main candidates – and seemingly unwilling to fully go to war for any of them. So Luka Modrić it is.

The thrill of Eden
The advantage of having debated the top spot so thoroughly is that the next couple of places should be easily resolved, and this proves to be the case. With Auclair preferring Cristiano Ronaldo for second place and Marcotti preferring Messi, James Horncastle is left with the deciding vote. "I'm going to go with Cristiano. He's moved leagues and ok, he's joined the strongest team in that league, but I still respect the fact that he's gone off to a new challenge. And after a period of adaptation he is now playing very well in that new league. Like he said, he could have gone to China or Qatar or something, but instead he has taken on a new challenge." The case for Messi has already been made, and no one disagrees with putting him third. There is also an immediate consensus for Mohamed Salah in fourth. A talismanic presence for both club and country, the only thing that really kept him out of the discussion for the top spot was the fact that his injury both took him out of the Champions League final and then prevented him from truly making an impact at the World Cup. As unfair as that may seem, you can't really make a list of top 50 players in the world based on projections of what could have happened if things had turned out slightly differently.
"Is this where we start discussing Griezmann?" Marcotti enquires.
"There is actually an Atlético Madrid player that I would have above him," Auclair says, causing eyebrows to raise around the table. "Diego Godín."
"What!?" both Marcotti and Horncastle exclaim. There is some moderate swearing.
"How much have you seen of Diego Godín in the last 11 months?" Marcotti demands. Auclair maintains that he's seen him quite a lot and feels his performances for Uruguay at the World Cup were particularly admirable.
"Let's be clear here," Marcotti begins. "Diego Godín has gone through the natural evolution that defenders who don't play for the very top teams always go through. No one notices them at first, and then they turn thirty and all of a sudden they start getting credit, and then they start getting old and bad, yet people continue to go on and on about how wonderful they are."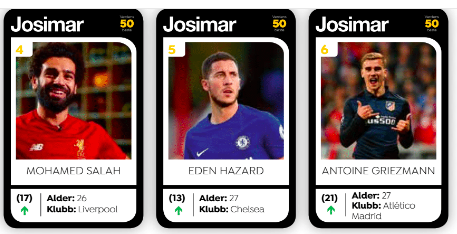 "But he was wonderful," a slightly hurt Auclair insists. "At the World Cup he was absolutely immense." But realizing that a miscommunication may have taken place, he moves to reassure the rest of the panel that he doesn't actually want Godín in fifth place. "I'm only talking about him because people were mentioning Griezmann for number five, and I wanted to point out that I had another Atlético Madrid player above him. For fifth place I have other names to suggest, I would for example suggest Eden Hazard."
More than anything the rest of the panel appear relieved that Auclair hasn't lost his mind, but they also approve of the suggestion. "He has grown this year," Auclair continues. "He's changed, he's not the fluffy character he used to be. He is still a wonderful person, but he has developed. He is one of those players who when you see him live, when you see the way he treats the ball, his movement, it's just absolutely wonderful."
Hazard is a popular suggestion for the last of the top 5 places, but other names are also put forward. Kevin De Bruyne is highly regarded by the panel but has missed a lot of football in the last couple of months. Kylian Mbappé's name comes up, and Horncastle brings up his performance against Argentina in which "it felt like I was watching the original Ronaldo." Marcotti has some objections. "I realize that players are judged partially by the teams that they play for, and unfortunately for Mbappé he plays for Paris Saint-Germain, and I think that sets the bar differently. He also plays for an absurdly counter-attacking France, and when they win the ball he has 40 yards of space ahead of him. He has Griezmann running around, he has Giroud running into people, he has Pogba passing him the ball. If we're talking about players who carry their teams, certainly at club level, Hazard has done that to a much greater degree. So for me it's Hazard, over both De Bruyne and Mbappé, and even Griezmann." Eden Hazard claims fifth with no dissenting voice on the panel, and consensus quickly forms on De Bruyne, Mbappé and Griezmann taking up the next three spots. To move things on, a quick vote is held, resulting in Griezmann in sixth, Mbappé in seventh and De Bruyne in eighth.

What about Edinson Cavani?
"I've already made my case for N'Golo Kanté," Horncastle states. "And if he were to receive an actual award here, he would probably fly Wizz Air, and then insist on walking to your office, and then immediately donate the award to charity." Arguably the best defensive midfielder in the world, now gradually being turned into a more forward thinking player by Maurizio Sarri at Chelsea, N'Golo Kanté gets ninth place for his efforts to rebalance an unbalanced French team and being an overall good egg.
"I would like to say that I think it's quite extraordinary that the golden boot at the World Cup hasn't been mentioned yet," says Auclair, but dismissive gestures from both Horncastle and Marcotti indicate a complete lack of appetite for Harry Kane at this point of the debate. Horncastle questions the way in which those World Cup goals came about, and points out that Kane has had an indifferent start to the season. Auclair argues that the first point is irrelevant and disagrees with the second. But with Marcotti even less interested in Kane than Horncastle is, it is quickly apparent to Auclair that he is fighting a losing battle. "There are several other strikers I'd have ahead of him," Horncastle says. "I wouldn't even have Harry Kane as my highest ranking English player," Marcotti adds, ending that particular strand of the discussion.
After a period of smooth sailing, 10th place is proving contentious. Marcotti leans forward and gives the rest of the panel a stern look. "Let's have a proper think about this. Let's not make comedy suggestions like Harry Kane. Or Godín."
"What about Edinson Cavani?" Auclair suggests.
Marcotti sighs heavily and looks demoralized. "No." But Auclair is undeterred.
"Sometimes you only realize a player's value when he's not there, and had he been fit for Uruguay's game against France I'm not too sure things would have followed the same route. He was exceptional at the World Cup, he has been exceptional with PSG – where he is moved around to accommodate Neymar. He doesn't complain or say aNEWthing, he just gets on with it. He isn't perfect, he shouldn't be given too much time with the ball at his feet, he is someone who is better first time with headers or shots or whatever, but he is a proper footballer. If you're talking about PSG, which is a basket case of a club, he is a player who embodies what PSG actually should be about. He scores up towards 40 goals for his club without being played in his best position and having had penalties taken away from him. He is admirable for his club, he is admirable for his country, he has produced the goods at every single opportunity, I vote for Edinson Cavani."

Just as Cavani used to play his football in the shadow of an active volcano, Auclair is making his plea for Cavani in the shadow of an active Marcotti. And the eruption inevitably followed. It started quietly, but grew in a steady crescendo. "I will not be making an anti-Cavani case, I will instead put forward some players who I think belong ahead of Cavani. So my list of players who I'd have ahead of Cavani includes, but is not limited to, Roberto Firmino, Mauro Icardi, Willian, Coutinho, Koulibaly, Sergio Ramos, Gareth Bale, Toni Kroos, Oblak, Marc-André ter Stegen, Busquets, Jordi Alba, Alisson…" Marcotti's voice trails off. He takes a deep breath, reloading his lungs as if they were a pair of shotguns, before he continues: "The PSG-players who I think belong ahead of Cavani in this list include, but are not limited to, Buffon, Neymar, Marquinhos, Thilo Kehrer, Presnel Kimpembe…"

Is it because he's English?
Realising that his appeal for Cavani's inclusion has set off something unfortunate inside of Marcotti, Auclair attempts to steer the conversation in a new direction by suggesting Casemiro. "No! Because he is not good at playing the game of football!" Marcotti objects, loudly. When pressed for his own suggestion for the last spot in the top 10, Marcotti goes for Virgil van Dijk, a suggestion which is greeted with enthusiasm from both Horncastle and Auclair – the latter being admirably gracious about having his own suggestions so consistently ridiculed by Marcotti. "Virgil van Dijk, I have no problem with that," Auclair says, sounding almost relieved that a unifying suggestion has been put forward. Marcotti elaborates on his thinking: "I think he is a player who has transformed his team, the fact that he came to Liverpool with a responsibility of a big transfer fee, the fact that he had been injured, there were all these reasons why it could have been bad." Auclair reiterates that he doesn't have a problem with Van Dijk, and Horncastle adds that he thinks a defender should be in the top 10. Virgil van Dijk it is.
After this a number of names are thrown into the fray. Marcotti feels that "since we've had a token defender I think it's time for a token goalkeeper", and nominates Jan Oblak. Horncastle wants Alisson's name to be part of the discussion if it's time for goalkeepers, while he also puts forward Mauro Icardi as someone who has scored a lot of goals and has meant a lot to his club this year. Marcotti puts forward Raheem Sterling as a name to consider, Horncastle wants Chiellini to be considered, but is told by Marcotti to stop naming random players for no reason. Marcotti begrudgingly argues that Neymar needs to be discussed at some point, a suggestion which is greeted by an emphatic "fuck that" from Auclair. "I honestly can't believe that Harry Kane isn't part of the discussion yet," Auclair continues. "It really is just because he's English." The very English James Horncastle is unmoved and states a preference for Roberto Firmino. Marcotti suggests Sergio Agüero, but Auclair is unimpressed with Agüero's efforts at the World Cup and feels this should confine him to a place further down the list. Auclair states a great and enduring affection for David Silva, but the other two are indifferent. It's clear that things have gotten a bit chaotic.

The Neymar conversation
After all these suggestions proved contentious in various ways, an agreement is suddenly struck for adding Napoli's fabulous defender Kalidou Koulibaly to the list. "But we can't put him in now because we just had a defender, so put him in 12th place," Marcotti insists, to the complete bafflement of the rest of the table. Yet the frustration at the lack of meaningful progress made in the last period is such that Marcotti's particular brand of top 50 feng shui is accepted. The moderator's demand for an explanation as to why two defenders can't be next to each other is casually dismissed by Marcotti. "Trust me, my culture goes back thousands of years, to when your people were eating rocks." With wind in his sails Marcotti turns to Horncastle and says "if we both agree on Agüero for 11th then Auclair can't object with aNEW of his World Cup bullshit." and Horncastle decides to go along with the scheme.
Having his objections so casually ignored, Auclair once again makes a play of Cavani. "A true PSG-legend, the man whose absence made a huge difference to Uruguay in their game against France, had he been fit my feeling is that they would have won." Marcotti has at some point started hitting himself in the head. Auclair continues, unruffled. "Cavani just carries on, showing the same attitude and work rate at the age of 31 as he did when he was young. He was actually really angry with himself for only scoring three goals in that horrible game against Monaco recently." Marcotti is worried. He can sense Horncastle wavering under the constant pressure for Cavani from Auclair, so he tries a new angle: "You guys realize we're going to look insane if we put Cavani ahead of Neymar?" Auclair's response is thoroughly unpublishable, but Horncastle accepts the logic. Marcotti nominates Raheem Sterling instead. "He scores almost as much in a much better league, and he gets a raw deal from the media." Auclair's love of Cavani is pure, but his admiration for Sterling is also considerable and it is a suggestion he can get behind, as can Horncastle. "And how we're going to have the Neymar conversation," the Yorkshireman says, ominously.
"At this point we need to have Neymar, and a goalkeeper," Marcotti concurs. Philippe Auclair's response is non-verbal, but his disgust is clearly communicated. "He is clearly a very good footballer," Marcotti starts. "He had some good games at the World Cup, he had some good games for Paris Saint-Germain before he got injured. I don't know, he's not my favourite guy in the world, but…" Both Marcotti and Horncastle accept that whatever antipathies they may have towards Neymar, it's impossible to deny that he is a phenomenally gifted player. Auclair has resigned himself to defeat. "I don't care for the man, I don't care for the player," he sighs, as Neymar nevertheless takes 14th place on the list.

What's wrong with Kane?
Auclair cuts a frustrated figure. "I come back to David Silva. I can't fucking believe that a player who is producing more beauty on a football pitch than almost anyone else this year is not even being considered," but the other two panelists remain unmoved by the charms of the little Spaniard. Marcotti seizes the initiative: "We haven't mentioned a guy who I think is a very good footballer, who divides opinion, but who is a world champion. He is very tall, also one of the more intelligent footballers I've ever spoken to. He goes to work every day, and José Mourinho is there, so that's a difficult situation for him." Marcotti, as the observant reader will have already sussed out, is talking about Paul Pogba. "Maybe at the World Cup is was over-egged a little bit, but it certainly looked as if he was one of the leaders in that dressing room. He plays for two managers at Manchester United and the French national team, neither of whom seem to understand him or quite manage to get the best out of him, but he still produces." A rare thing indeed is happening: Marcotti and Auclair are in complete agreement. "That's the thing," Auclair adds, "regardless of what you may think of his personality, the way he comes across, his agent, whatever, he has been delivering consistently. Contrary to the image that people have of him, that he is inconsistent and that he doesn't deliver, he fucking does! So maNEW games for Manchester United the only three moments when you think something is actually happening on this football pitch is when Paul Pogba, of whom I'm not a big fan generally, is on the ball. When he's on the ball, he does things and he makes a difference." With a rare enthusiastic agreement between Marcotti and Auclair secured, Paul Pogba is swiftly added to the list.
In what feels a slightly arbitrary move, the panel suddenly decides that it's time for goalkeepers. Marcotti nominates Jan Oblak as the best goalkeeper in the world, while Horncastle has very strong feelings about Alisson. Based on both his performances for Roma and how he's settled in at Liverpool, Alisson ends up getting the nod with Oblak being put in immediately after him. Curiously, having two goalkeepers next to each other does not seem to upset Marcottis previously delicate sense of top 50 feng shui.


Continuing in the same spirit of largely peaceful cooperation, Marcelo is suggested and immediately accepted by the whole panel. "I like him because he is a left back who when he comes inside becomes a number 10," Marcotti declares, and Auclair agrees. "In a team that has been quite dysfunctional for a while now, he has been one of the pillars," he adds. However, the spirit of largely peaceful cooperation does not last, as Auclair again suggests Ante Rebić , as well as Gareth Bale and Harry Kane. "What's wrong with Kane, you guys, what's wrong with him? The guy is not in the best physical shape of his life, yet he still produces for club and country."
Horncastle is unimpressed. "He scored a hat-trick against Panama. I'm backing Gab to do that. I'd have Icardi above all the other number nines." It turns into a decision between Harry Kane and Mauro Icardi for the next spot, with Horncastle repeating his preference for Icardi. "It's the Premier League, people just don't defend very well." For once it's Marcotti's turn to drop the tie-breaking vote. "I'm going to go for Harry Kane, for a simple reason. I don't understand this guy. I can see why Icardi is good, but I can't see why Kane is so good, why he produces so much." Auclair, interrupting, is only too happy to explain. "He is technically superb, he is strong and courageous, and I honestly think he is the best passer of the ball in the current England setup. He has had a difficult season in terms of tiredness, fatigue, injuries, and I don't care about who he scored against in the group stages – nobody gives a shit about that when they're talking about Gerd Müller and Just Fontaine. I also think his all-round game has improved, he's dropping deeper and becoming more effective in that role." Kane takes 19th place, and he is immediately followed by Icardi.

Full of shithousery
Out of nothing, Marcotti proclaims that it's time for Sergio Busquets. "May I remind you that Barcelona won La Liga with a ton of points, with a midfield filled by Rakitić who was terrible, Iniesta who is 40, Coutinho who had just arrived…" Horncastle isn't fully won over but intrigued by the idea. He instead wants Roberto Firmino, on the basis that he is "for me the most complete attacking player in the Premier League, he is the reason why Mane and Salah could have the seasons they had last year. He pulls people out of position, he's a thinker, I think he's great." It turns out Firmino at number 21 is something everyone can live with. Auclair at this points makes another push for David Silva, because "he's just one of the most wonderful footballers I've ever seen."
"He's a wonderful footballer," Marcotti concedes. "My problem with him on this list is one of the criteria that we've come up with, which is how important he is for his team. My point is, if David Silva had been kidnapped by aliens today, and even if De Bruyne doesn't come back, and Man City had to play with Foden or Gündogan next to Bernardo Silva. Does aNEWone seriously think they still wouldn't walk the league again? Seriously?" It's a point well argued, but Horncastle has been won over by Auclair's passion and Silva is voted in at number 22. Having managed to get Silva on the list, Auclair's mood has lightened and he is happy to give Marcotti his pick of Busquets at 23. "I'm happy with that," Auclair says. "The extraordinary thing with Busquets is that we did not expect him to bounce back the way he has. We thought he was finished. We had this conversation a year ago and we thought he was over the hill, but he has been superb. He is full of shithousery, he is not a sympathetic player, but you have to admire him." "He is Barcelona," Horncastle concludes.
Following the inclusion of Busquets, Marcotti suddenly becomes very busy with his phone, and Auclair eyes an opportunity to talk about Casemiro. "He was the glue at Real Madrid, who won their third Champions League title on the trot. He was ever-present in those teams. In a team which hasn't got a proper tactical plan, which didn't have a proper manager in the way we like to think of managers. I don't think that's a demeaning thing to say, I don't think that's demeaning to Zizou. I think Zizou's a genius, and this is a real form of genius, is that he was a man who was capable of holding this madhouse together. Not maNEW people have been able to do that. Zidane did it for several seasons. And he was very good at real-time coaching, in that he is someone who feels the game and makes substitutions that have an impact. But on the other hand, on the training ground he wasn't doing much. Everyone knows that, because it's Real Madrid, you can't do much. You're dealing with Benzema, with Ronaldo, with Sergio Ramos, you can't do much. But as far as man management is concerned he was magnificent. And we all realize this. Which is why I'm saying that Casemiro was the guy who was in the engine room, and who was a pillar of that dysfunctional midfield, and he deserves a lot of credit for it." But as interesting a point as that was, Auclair might as well have been shouting into the abyss. The rest of the panel has no time for Casemiro, whether or not he was a pillar propping up a team of Champions League-winning dysfunction.

The unfortunate incident
"What about Sergio Ramos?" Marcotti asks, going in very much the opposite direction. "For his leadership, for his presence. People talk about the unfortunate incident in the Champions League final, but if you accept that Liverpool was on top and that Salah was their most important player, then surely what he did becomes even more important." James Horncastle, Italophile and a man who appreciates cynical defending, concurs. "It was as good as a goal, at least." Auclair, who has so far applied morality and sentiment as a criteria to a much greater degree than the rest of the panel, also concedes the point. "There is no doubt that if you were putting together a team, you would want this absolute bastard in your defence."

After the inclusion of Sergio Ramos at 25, Blaise Matuidi is suggested and unanimously approved at number 26. Horncastle is delighted. "He's a humble guy, he sets an example, be it in training or be it on the pitch. All his teammates love him. And his sheer energy and ability to get around the pitch allows you some leeway tactically with the rest of the midfield." After Matuidi a consensus quickly forms again, this time regarding one Marco Reus. "I think in terms of sheer talent, technique, vision and so forth, he's a player we would have had high up in the top 50 for the last five years if he had been fit," Auclair explains. "It just so happens that this year he has been more involved, he has been given a chance now by a very good manager, Lucien Favre's system suits him really well and it has given him a chance to show what he can do. We just really like him."Following this brief outburst of agreement and harmoNEW on the panel, Marcotti suddenly has to take a phone call from, in his words, "someone much more important than you people." In his absence, Auclair finally manages to talk Horncastle into putting Edinson Cavani on the list. "For the record, I would like to say that I think Edinson Cavani at 27 is ridiculously low," Auclair adds. Having finally got his way on Cavani, Auclair is only too happy to help Horncastle get Chiellini on the list. "When people talk about what Allegri has gone for Juventus you have to also give a lot of love to someone who are keeping alive an extraordinary tradition of defending," Auclair explains. "He is the flag-bearer for that tradition and for that he deserves huge respect and admiration." With Marcotti still absent, Horncastle pushes for Jorginho. "He was is the brains of a system which is iconoclastic in Italy, and which came very close to ending the tyranNEW of Juventus. And yet, Maurizio Sarri comes in at Chelsea, has to change how everything is done and introduce something that's so different from what they were doing under Conte, and Jorginho is the key to this and the player who allows him to do that. At this moment they are still undefeated in the Premier League, which is remarkable. And he's a shouter as well, he is always talking on the pitch, pointing and directing. He isn't one of these passive, aesthetic, narcissistic midfield passers." Auclair is quickly sold on the idea, and expresses his own admiration of the Chelsea passmaster. "It's all about how he directs the play, and the way he's been doing it for Chelsea is not identical to the way he did it for Napoli. It's a different league, the tempo is different, and the authority he exerts over that is magnificent. So I would have him in there, for sure."

Bullies in the playgrond
Marcotti returns from his important call only to discover that there has been a minor putsch, but he is not too horrified at the results. At the mention of Cavani he laughs heartily. "I kept him out of the top 20, what can I say." Back in his seat Marcotti swiftly moves on: "How do we not have Lewandowski on this list yet?" The simple answer to that question would be because no one, including Marcotti, has really made a case for him. That said, Auclair has an altogether more blunt explanation: "Because of Bayern, that's why. Because they're just bullies in the playground. And we don't care for bullies in the playground." Marcotti is unimpressed with this line of reasoning. "He scored a ton of goals last year, he's still scoring a ton of goals for a bad team with a bad manager. I'm not his biggest fan but I think it would be a mistake not to acknowledge this."
Auclair wants to move on from anything to do with Bayern and makes a play for Luis Suárez. Auclair has actually suggested the toothy Uruguayan on numerous occasions so far this afternoon, but Marcotti has always brushed it aside either by swearing or by making loud exasperated noises. So far that has been enough to kill Suárez' candidacy stone dead. This time the situation calls for a more fleshed out argument. "I think Luis Suárez did not have a great second half of the season with Barcelona", Marcotti begins. "I don't think he had a good season with Barcelona full stop. I don't think he was dominant during the World Cup, I think he started this season slowly." Horncastle suggests that he'd have Lewandowski over Suárez, but the discussion drifts off into wild digressions. Someone mentions Gareth Bale, who no one can find a particularly strong argument against but then no one is very excited about either. "It was supposed to be the season where Bale is the guy for Real Madrid," Horncastle muses. "But he's not been the guy so far." Auclair argues that he did score a brilliant and important goal in a Champions League final, but Bale seems to do little but drain energy from the discussion. "After mid-September he has been not good for a not good Real Madrid team," Marcotti laments. "He was not starting for Real Madrid during their run to the Champions League final. He did not go to the World Cup, but he did score a goal in the Champions League final which he shanked. I just think there are better candidates."
Marcotti puts forward Romelu Lukaku instead. "I think one of Lukaku's difficulties is that he has the body of a back to goal striker but was raised as a front to goal striker. At Everton he often played on the counter, but at United he is asked to do something different. I don't think it suits him, and I don't think it's a coincidence that when he plays for Belgium, with all these little skillful guys around him who pass the ball in front of him, that he's able to score more consistently". Auclair is reluctantly agreeing. "He is the record goalscorer for the Belgian national team at the age of 25, one of the oldest national teams in the world, I suppose that is something that can be acknowledged. He's been able to score a decent number of goals for a crap Manchester United team. He is one of the pillars for Mourinho's dysfunctional assembly. And he's still progressing, he is working as hard as ever." Auclair is talking himself around to the idea of Lukaku being in 30th place. "And I also want to add," he says, "that I really do think the way he is judged is totally racist, in the sense that he is a very big guy who happens to be of Congolese descent, and people see him as one of these physical beasts, whereas what he actually does on the pitch is based as much on his technique and his intelligence. And people never talk about him in that way." And on that salient point Romelu Lukaku is voted in at number 30.

Still no Godín
At 31 Marcotti suggests that it's "Eriksen time", and for once the quiet man Horncastle sounds upset. "Eriksen time? More so than Insigne time? Come on, Gab. Come on." "Why is Insigne more deserving than, say, Federico Chiesa?" Marcotti asks. "Or Godín?" Auclair adds, which causes Marcotti to burst into laughter. "The best defender at the World Cup," Auclair insists, never one to give up on a lost cause, but there is no support to be had for that claim.
"Does Daniele De Rossi get as upset with Ventura for not playing Chiesa against Sweden?" Horncastle demands.
"I don't know, I take your point, I'm just not an Insigne guy," Marcotti says, offering no further explanation. Tough luck, Lorenzo.
"Did we sneak Lewandowski in?" Marcotti asks, but they hadn't. Horncastle has gradually come around and concedes that it's "absurd not to have Lewandowski in at this point," and so regardless of Auclair's general antipathy towards all things Bayern the big Pole is in. The panel agrees that Eriksen and Insigne are logical choices for the next two places, but disagree on the order. Marcotti ends up with the deciding vote, and goes for Eriksen. "When it comes to flawed, one-dimensional players, Eriksen strikes the ball better than Insigne. And I think Eriksen is probably the most unathletic good player in the world. But when he has to be part of a pressing system at Tottenham, he can do it with his intelligence and his work rate." Horncastle is reluctant to give up. "I take those points. But I would say with Insigne, he is told that Sarri is leaving, that his team will regress, his team will decline, but he changes his position and he has his best start to a season in his career. And you have to respect a guy who scores away to PSG, away to Dortmund and away to Real Madrid." But the battle is lost, and Eriksen comes in at 32, one ahead of Insigne at 33. "Still no Godín," Auclair complains, and Marcotti makes a noise that is incompatible with the written language.
This decision is followed by a prolonged and thoroughly unproductive discussion in which many names are mentioned and not much is agreed on. It all gets a bit cagey, and order to break the impasse a system is devised in which panelists nominate names they absolutely want on the list, and all three panelists then vote on those names – with the names fetching the fewest votes being discarded. There is some confusion as Thomas Meunier is nominated but then proceeds to get no votes, as the Belgian right back is abandoned even by the person who nominated him. Of all the names thrown in the hat, the only three to get unanimously voted in where Memphis Depay, Miralem Pjanić and Edin Džeko. Out of the two, Memphis is picked for 34th spot, much to the enthusiasm of Auclair. "He's been fantastic, honestly. It's more than just the goals he has scored for Lyon, it's more than that. He has given a sense of freedom to the club, to the team, in a way that nobody else had managed to do in a long long time. An exceptional talent, who got lost for a while, but has now found his way back again."
The Pedro-effect
Pjanić is next on the list, and it's Horncastle's turn to be delighted with the outcome. "I think a lot of people have an image now of Pjanić as a deep-lying playmaker, but he didn't always play that role. It has taken him some time to get comfortable in the position. He is now one of the best free kick takers on the continent as well. At Juventus they see him as the natural successor to Pirlo, which says quite a lot." Edin Džeko was agreed on as the name in 35th place. "I think Džeko has been an even more decisive player for his team than Pjanić, and he had a great Champions League season. Could have gone to Chelsea, but he loves the Eternal City," Horncastle asserts.
Going forward, Sadio Mané is brought up but Marcotti is yet again unimpressed. "One thing I learned from a wise man is that if you're the third striker, and the other two guys are really really good, it's so easy to play as a third option. It's the Pedro-effect. Remember when Pedro played for Barcelona and we were all like "Oh look Pedrito he's so good," and then you put him on another team where he isn't playing with Messi and whoever he was playing with, and he's just a little guy who runs around and loses the ball a lot. I love Mané, but I think there's a bit of that going on there".
There has been a notable absence of horse-trading during this year's top 50, but with ever fewer places left Marcotti is unable to resist and offers Horncastle a deal. With Auclair having gone to the bathroom, Marcotti proposes to Horncastle that he will get Gonzalo Higuaín, who he likes but has so far failed to build any support for, in 38th if he will consent to supporting Joshua Kimmich for 37th. Horncastle goes along with it, and so the next two places are confirmed. As the only person on the panel truly excited about Kimmich this year, Marcotti is forced to explain himself. "Joshua Kimmich is really a midfielder playing right back. You have several categories of fullbacks. You have Alex Sandro-type fullbacks, who are basically wingers playing a fullback who then go forward a lot and put a lot of crosses in, who come inside to shoot. But there is another category of fullback who when they come inside, they become midfielders. That's Kimmich, and that's also Marcelo, like we talked about earlier. I think fullbacks like these are very difficult to play against. Kimmich in particular is almost never caught out of position, even though he spends a lot of time high up the pitch. I also think he has a lot of personality and is very skillful on the ball." On the subject of Higuaín, Horncastle explains that he is "a perennially underrated striker. All everyone ever talks about is how he choked in certain situations, but no one talks about how he was the guy who broke his own former team's back last season, when his goals against Inter at the San Siro essentially caused Napoli's title challenge to collapse. He's an all-round striker who doesn't just score goals, he works with his back to goal, he's selfless and can play in other players. He's got it all as far as I'm concerned. People get hung up in the idea that he's a big game bottler, and possibly there is some truth to that, but it shouldn't take away from the fact that he is a very good striker overall".

Time for The Broz
Auclair returns from the bathroom to discover that a deal has been struck involving a Bayern player and Higuaín, and he is somewhat deflated. To restore some balance, Auclair is offered Luis Suárez, who he has campaigned for persistently. Godín is still deemed unacceptable. When pressed to explain his preference for Suárez by unimpressed fellow panelists, Auclair replies that "well I can't explain why he is so low on the list. If I think of him at the World Cup, he did his job very well, and in this very strange season for Barcelona so far he has been doing what he should be doing. And more than anything I am astonished to see him so low."
At 40th place Hirving "Chucky" Lozano is admitted to the list, largely for his exciting performances at the World Cup and for, in James Horncastle's words, "plunging a knife into the heart of German football." Lozano's record for PSV over the last calendar year is also quite something, and you'd expect him to turn up at a bigger European club sooner rather than later. After Lozano both Horncastle and Marcotti feel that it's time for Thibaut Courtois, yet again to the frustration of Auclair who insists that Hugo Lloris has had a better year. Marcotti is unmoved. "Courtois is a very calm and super-athletic goalkeeper," he explains, "who had a very good World Cup. His save from Neymar, for instance. He's just someone who gives so much calmness to his defence. Like the rest of the Chelsea team he may not have been spectacular in the latter half of last season, though bear in mind that he had a contract dispute going on." After successfully getting his way with Courtois, Marcotti's whole face lights up as he announces: "In 42nd place, now is the time for The Broz."

There is confusion on the panel. "For what? What the fuck is going on?", Auclair demands, but Marcotti goes on. "He was Croatia's second best player at the World Cup, Inter's best player this season." Horncastle catches on: "He's been re-imagined as a deep-lying playmaker, he's been outstanding pretty much since March," he says. "You're fucking joking? What the fuck is happening?" a confused and increasingly sweary Auclair asks, again. Marcotti is in full flow and enjoying himself way too much. "They call him cocky and he says what? It ain't braggin motherfuckers if he backs it up. The Broz is the Kid Rock of modern football. And he's backing it up y'all." Marcelo Brozović is, somehow, confirmed as number 42 on the list. Marcotti and Horncastle high-five while Auclair looks lost and confused. Marcotti has too much forward momentum to stop. "They call him cocky, Philippe says what? It ain't braggin' motherfucker, World Cup finalist yo. He's the unknown stuntman who makes Modrić look so good". If there was a mic, Marcotti would have dropped it, and if there weren't eight more places to fill he would no doubt walk out of The French House right then and there.

King James
Following one of the most bewildering moments in the history of the Josimar top 50, it is necessary for the tone to be brought right down. And so Gareth Bale is proposed as the next player on the list. He is still indisputably one of the most gifted players on the planet, but it is hard to not feel a little underwhelmed about how things have panned out for him recently. Things have settled down a bit since the Brozović-incident, and there is a general acknowledgement that for all his passionate pleas, not much has gone Philippe Auclair's way this afternoon. And so it seems appropriate to grant him a win, in the shape of Ante Rebić. "I mean, he's never going to get on the list again," Horncastle muses. "I just love players who have limited talent, but who manage to make the most of it and make an impact," Auclair says, and Rebić would certainly seem to fit the bill there.
With the success of Rebić under his belt, Auclair then suggests adding James Milner. "James Milner is one of my favourite footballers of all time. If you could create someone who fits very close to the ideal of what a footballer should be like, it would be James Milner. I like the guy, and I like the fact that he's so unassuming, and I love his technique actually. I love his courage, and I love the fact that at the age of 32 he is running faster and further than anyone else. I love the fact that no manager has been able to do without him. Even going back to Fabio Capello, who said that James Milner is the future of English football. Maybe he was right in a way, if there had been eleven James Milners England might have won a World Cup." No one particularly wants to burst Auclair's Milner-shaped bubble, and the venerable Yorkshireman goes on the list.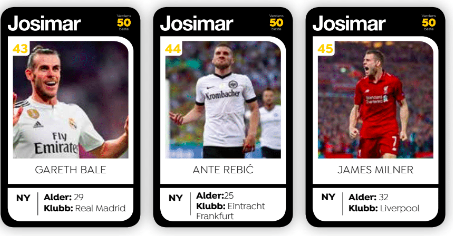 Now, finally, with some real momentum behind him, Auclair stakes a claim for Leverkusen's flying winger Leon Bailey – which is met with hesitant approval from the rest of the panel. "At his age, the intelligence and maturity he shows. Game maturity and technical ability. The enormous amount of hardship that he has had go through to get where he is right now. The intelligence of the guy, and I say that from a personal point of view. The consciousness of his own talent and what he has to do to make it better. I think this guy is one of the world stars in waiting." It's fair to say that Philippe Auclair is excited about Leon Bailey, and there is no strong opposition from the rest of the panel. But at this point Horncastle and Marcotti both insist that Federico Chiesa must be next. "He's quick, he's hungry, he plays with freedom, with no fear," Marcotti says. "Basically, this supposed shot in the arm that Italian football has gotten with all these young players, it's in my opinion exclusively down to Federico Chiesa and Nicolò Barella. And nobody else."

The wildcards
<For the last three spots the panelists each get a wildcard, a chance to put forward a player they like for entirely subjective reasons, someone who might not strictly belong on a top 50 list but whom they want on this one all the same. Marcotti is the first man up.
"For my wildcard, I've picked Josef Martínez. He bounced around in Europe, before he moved to and became a part of this real phenomenon in Atlanta. A place where they talk about how diverse it is, but it's actually really not that long ago since they had Jim Crow laws. And then Martínez, as well as Almiron and these other players, they suddenly show up and play and Atlanta get crowds of 70 000 people. And he's just scoring continuously, breaking the MLS scoring record. I want to show the MLS some love with my wildcard choice, so Josef Martínez it is."
Philippe Auclair, for his part, has gone for Lucas Torreira.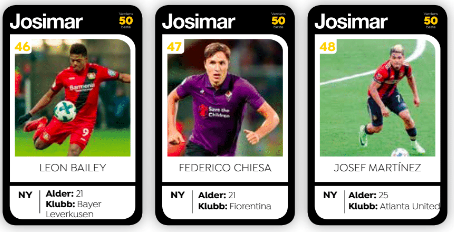 "I'm speaking as a football fan, as well as an Arsenal fan, and as someone who hopefully understands a little bit about how football is played. When I saw Lucas Torreira coming on as a substitute in his first few games for Arsenal, I thought that this is a very serious player. We'd been waiting for a player like this to our club for a very long time, his common sense, his physical presence even though he's quite short. We've spoken before about how difficult it is to be a journalist and still be a fan, and I understand that. I'm still an Arsenal fan, and I will always be. And the minute I saw Lucas Torreira in an Arsenal shirt I thought "he's one of us." And everything I've seen since then has confirmed that. The second he tackled his first ball, we knew he was an Arsenal player. Emotion is a strong factor in judging a player, and if you are someone who goes to games as a fan you have an emotional understanding of what happens on the pitch, and my understanding is informed by that.
James Horncastle has picked Cagliari-midfielder Nicolò Barrella.
"I think this is someone who whenever you see him play against the big clubs in Italy, even if his team loses he always delivers, he always stands out. He is a guy who is from Cagliari, who plays for Cagliari, he's 21, and he has a charisma and a personality which I think is beyond his years. We've seen that when he's played for Italy as well, where he has instantly made himself one of the names that has to be on the team sheet when Italy play. I think he has a great future."

The 2018 top 50:
(In brackets: last year's place)

1. Luka Modrić (6)
Age: 33
Real Madrid
2. Cristiano Ronaldo (2)
Age: 33
Juventus
3. Lionel Messi (1)
Age: 31
Club: Barcelona
4. Mohamed Salah (17)
Age: 26
Liverpool
5. Eden Hazard (13)
Age: 27
Chelsea
6. Antoine Griezmann (21)
Age: 27
Atlético Madrid
7. Kylian Mbappé (15)
Age: 19
Paris Saint-Germain
8. Kevin De Bruyne (8)
Age: 27
Manchester City
9. N'Golo Kanté (9)
Age: 27
Chelsea
10. Virgil van Dijk (NEW)
27
Liverpool
11. Sergio Agüero (32)
Age: 30
Manchester City
12. Kalidou Koulibaly (NEW)
Age: 27
Napoli
13. Raheem Sterling (NEW)
Age: 23
Manchester City
14. Neymar (5)
Age: 26
Paris Saint-Germain
15. Paul Pogba (18)
25
Manchester United
16. Allisson (33)
Age: 26
Liverpool
17. Jan Oblak (36)
Age: 25
Atlético Madrid
18. Marcelo (4)
Age: 30
Real Madrid
19. Harry Kane (3)
Age: 25
Tottenham
20. Mauro Icardi (NEW)
Age: 25
Inter
21. Roberto Firmino (NEW)
Age: 27
Liverpool
22. David Silva (NEW)
Age: 32
Manchester City
23. Sergio Busquets (NEW)
Age: 30
Barcelona
24. Sergio Ramos (14)
Age: 32
Real Madrid
25. Blaise Matuidi (NEW)
Age: 31
Juventus
26. Marco Reus (NEW)
Age: 29
Borussia Dortmund
27. Edinson Cavani (11)
Age: 31
Paris Saint-Germain
28. Giorgio Chiellini (NEW)
Age: 34
Juventus
29. Jorginho (NEW)
Age: 25
Chelsea
30. Romelu Lukaku (46)
Age: 25
Manchester United
31. Robert Lewandowski (10)
Age: 30
Bayern München
32. Christian Eriksen (50)
Age: 26
Tottenham
33. Lorenzo Insigne (26)
Age: 27
Napoli
34. Memphis Depay (NEW)
Age: 24
Lyon
35. Miralem Pjanić (NEW)
Age: 28
Juventus
36. Edin Džeko (37)
Age: 32
Roma
37. Joshua Kimmich (NEW)
Age: 23
Bayern München
38. Gonzalo Higuaín (NEW)
Age: 30
Milan
39. Luis Suárez (40)
Age: 31
Barcelona
40. Hirving Lozano (NEW)
Age: 23
PSV Eindhoven
41. Thibaut Courtois (NEW)
Age: 26
Real Madrid
42. Marcelo Brozović (NEW)
Age: 26
Inter
43. Gareth Bale (NEW)
Age: 29
Real Madrid
44. Ante Rebić (NEW)
Age: 25
Eintracht Frankfurt
45. James Milner (NEW)
Age: 32
Liverpool
46. Leon Bailey (NEW)
Age: 21
Bayer Leverkusen
47. Federico Chiesa (NEW)
Age: 21
Fiorentina
48. Josef Martínez (NEW)
Age: 25
Atlanta United
49. Lucas Torreira (NEW)
Age: 22
Arsenal
50. Nicolò Barella (NEW)
Age: 21
Cagliari