For two decades players, referees and employees of the Haitian football federation were forced to have sex with visiting football officials. One of the visitors who accepted this "gift", was the then Fifa president Sepp Blatter.

By Romain Molina
For almost two decades, leading officials at the Haitian football association (FHF) built a vast network of sexual exploitation. This included rape of teenage girls and boys, abortions, blackmail and death threats. According to Haitian court documents in Josimar's possession, at least one victim has committed suicide.
The Fifa Goal Centre of La-Croix-des-Bouquets was like "hell on earth" according to victims. Concacaf or Fifa delegations visiting Haiti to attend refereeing courses or to inspect the progress of the Fifa Goal Centre were offered a player, a referee or an employee to have sex with. Some of football's most senior officials, including Sepp Blatter, took advantage of this system.
"You came to Haiti, you received a girl from the federation at your hotel. This is how it worked," says the former captain of the national team and president of the players' union, Ernso Laurence. He is one of the few who has spoken publicly about what went on inside FHF.
"I've been fighting against former president (Yves Jean-Bart) and his corrupt administration since 2007. I've spoken about all kinds of abuses, including the sexual ones."
After a Guardian investigation, Yves Jean-Bart (74), was banned for life by Fifa in november 2020 for sexual abuse of 14 players, many of them minors.
"Mr Jean-Bart's behaviour is simply inexcusable, a disgrace for any football official," said Vassilios Skouris, chairperson of the adjudicatory chamber of Fifa's Ethics Committee. "Whilst claiming he was developing Haitian football, in particular women's competitions and teams, Mr Jean-Bart did the exact opposite – he abused his position in order to satisfy his personal attitude of domination over the most fragile people, destroying the careers and lives of young promising female players."
"The Ranch"
At the Fifa Goal Centre – known as "The Ranch" – some of the best young Haitian players, girls and boys, lived, trained and went to school from the age of 14. Dreaming of becoming professional footballers, these teenagers left their families to pursue their goal. The majority of the players came from some of the financially worst off families in Haiti, one of the poorest countries in the world. Today, several of these once promising players make their living as prostitutes after their experiences at "The Ranch". When becoming part of the training programme, they had to surrender their passports to FA president Jean-Bart. From day one Jean-Bart held leverage over the vulnerable children who believed they were on their way to a career within the game they loved.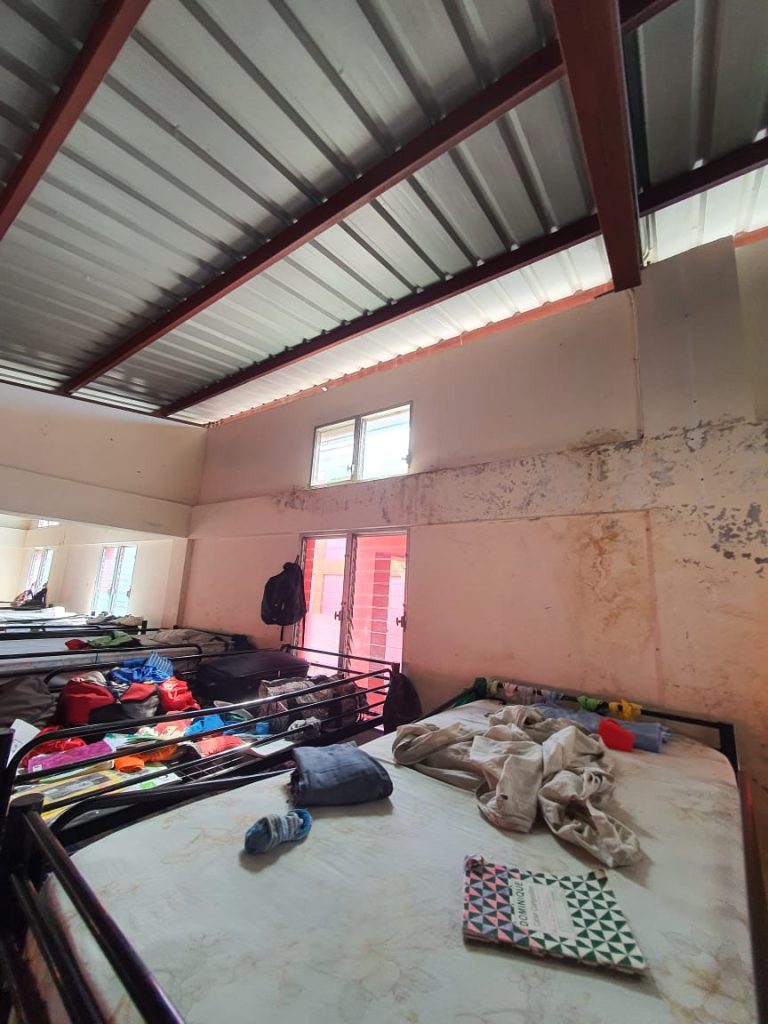 "The only thing we knew was the centre and nothing outside of it. It was easy for him to manipulate and brainwash the young girls," says one of the victims to Josimar.
"Football is maybe the only option for these kids to make it out of extreme poverty," remarks the former captain Ernso Laurence. "That was the leverage 'Dadou' (Jean-Bart's nickname) held. With it, he could get what he wanted."
If you wanted to travel with the national team and obtain a US visa, a dream for millions of Haitians, Jean-Bart and his administration asked you for something in return. Most of the time, sex.
"Our passports were confiscated all the time. That's how they kept us. They took our passports, they blackmailed us for visas, for everything," explains a former resident at "The Ranch".
"It was a nightmare. Our parents had to give us help but we couldn't tell them the truth. We were also their hope for a better future."
So far 34 victims, many of them minors, have been identified. Compared to a 'cartel organisation' in a 45-page report by Fifa's Ethics Committee, this system involved many predators and accomplices, like Rosnick Grant, president of the FHF's referees commission and banned for life by Fifa for sexual abuse in july 2021. A report by Fifpro identified ten perpetrators. According to the survivors, at least twenty FHF employees were directly involved – as predators and/or facilitators.
"What I don't understand is how Fifa didn't see what was happening," says one of Jean-Bart's victims. "We're talking about two decades of abuse. It was an open secret in Haiti. How and why did Concacaf and Fifa close their eyes? It was impossible not to know."
As another victim points out: "They closed their eyes because they received girls when they came to visit us. It's as simple as that. It was an entire system."
Boys and girls raped at the Fifa centre
As already reported by Josimar, Rosnick Grant used young Haitian referees as sexual gifts for several Concacaf and Fifa officials, like Ronald Gutiérrez, the former director of development of referees at Fifa. For Jean-Bart, it was different. "He didn't like to share the girls," recalls one of his victims. "He was very jealous. He wanted us only for himself and his sexual impulses."
Jean-Bart did make an exception for a dear old friend, Sepp Blatter. "He loved president Blatter very much," says a former board member of FHF. "He called him his personal friend."
They had known each other for years. Sepp Blatter was first elected Fifa president in 1998 and two years later, Yves Jean-Bart became president of the FHF. Over the years the two developed a close relationship. Since the very beginning of Blatter's tenure, Haiti and its federation's president were cherished by Zurich. The FHF was also one of the first federations to receive funds from the Goal programme.
In April 2002, a ceremony was held to mark the completion of the first phase of the new Fifa Goal Centre, which included an administrative office, an auditorium with seating for 300 and a dormitory for up to 32 players in 16 air-conditioned rooms. It was in this centre, financed by Fifa at the cost of almost 1.5 million euro, that Yves Jean-Bart raped some of Haiti's the most promising teenagers. According to court documents in Josimar's possession, the former sports minister, Evans Lescouflair, along with other coaches under FHF contract, raped underage boys at the centre.
"The three months I spent there were a nightmare," recalls one of the victims who officially complained against Lescouflair and other FHF officials. "I was 14 when it happened. I ran away one night with some of my friends. I didn't have a choice."
Evans Lescouflair has been accused by several underage alleged rape victims, including the family of a former youth international who committed suicide after having been sexually abused by the former sports minister.

On Thursday 12 May, Lescouflair was summoned by a Port-au-Prince court, but didn't show up. His lawyer wrote a letter saying his client was overseas for health reasons. However, Jacques Lafontant, Haiti's government commissioner, issued an arrest warrant against him for raping children and other counts of sexual assault.
"On this matter, everything happened at the ranch," says Franck Vaneus, one of the lawyers of the victims, to Josimar. "The boys were facing a network of abusers there."
Whilst underage boys and girls were raped repeatedly at the centre, Yves Jean-Bart received the special Fifa Presidential Award in December 2004. Acknowledged for "his dedication," he was also praised for organising a friendly game against Brazil the same year as a way "to bring together people and fight against discrimination in all its guises."
In 2011, after the terrible earthquake that killed more than 220 000 people and destroyed a large part of the country in 2010, the Haitian U17 women's team received the Fifa fair play award in Zurich. Jean-Bart received the trophy, smiling together with the captain of the U17 squad at the time, Hayana Jean-François, a player that was one of many that was deprived of bonuses and had her passport seized by the federation.
Three months later, in an interview with CNN, Jean-Bart claimed that 32 of the 50 people present at the national headquarters died during the earthquake
In reality, only two FHF employees died, including the U17 coach, Jean-Yves Labaze. Sepp Blatter and Fifa didn't say a word about the false claims and instead gave Jean-Bart more than 3 million US dollars to rebuild the federation.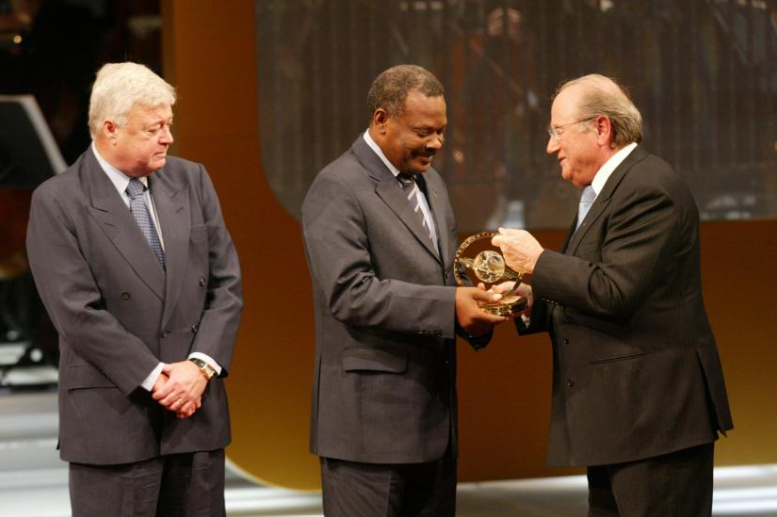 Blatter's homage to Jean-Bart
Former journalist, doctor and owner of Radio Galaxie, Yves Jean-Bart became one of the most powerful men in Haiti thanks to the beautiful game. "Football gives you access and political connections like no other sport," comments Ernso Laurence. "You can't imagine what it represents for us. Haiti is mad about football, absolutely mad. Jean-Bart knew that and with Fifa on his side, he was untouchable."
Jean-Bart had enjoyed a good relationship with the former president of the country, the late René Preval. In 2011 Michel Martelly was elected president and he wanted Jean-Bart ousted from the Haitian FA.
"It wasn't a secret that Martelly wanted to get rid of him," says Pierre Richard Midy, an investigative Haitian journalist living in exile in South America after receiving death threats. "He didn't like the way Jean-Bart was handling the federation. Jean-Bart was acting like a dictator who always wanted more money. Martelly didn't like his attitude."
According to three presidential advisers at the time, Martelly personally asked them to find enough evidence to make a strong judicial case against Jean-Bart. Feeling the pressure, Jean-Bart asked Fifa for help on the grounds of political interference. So, in April 2013, during Sepp Blatter's trip to Haiti, he paid a visit to president Martelly to "defend at all costs the work done" by Jean-Bart and his federation. Pressuring the state, Sepp Blatter even asked the government to give financial help to the FHF and appease the tensions. "Martelly knew he couldn't do anything after that," recalls one of his advisers. "Otherwise Haiti would be suspended for political interference and he couldn't face it. It could've led to huge protests against him and his government."
Talking to the local press, Sepp Blatter heaped praise on Yves Jean-Bart, describing him "as not only a great doctor, but also a great president […] In the moments of turbulence in Haitian football in the last couple of years, it was necessary to be a good doctor to have the tenacity, that faith in the future, that formidable and exceptional energy, and that's why I pay homage to you, Yves Jean-Bart."
Blue pills for the president
Before Sepp Blatter's visit to the Fifa Goal Centre, Jean-Bart summoned all personnel and players. "It happened a week before," remembers a former female youth international. "Every time a delegation came, we were summoned by the president. He gave us specific instructions about what we had to say in case anyone asked us a question. We needed to say that 'Dadou' treated us well, that he was like a father to us and that we needed more money to improve the centre. 'Dadou' used us as a way to earn money also."
The federation called cleaners to polish the centre, hiding evidence of dirt, mould and collapsed walls. "I don't know where the money went because we lived in a pigsty," former residents tell Josimar.
"We didn't have sanitary towels, for the love of God. I'm not talking about the toilets because they weren't clean either most of the time […] Some days, we ate once a day, a shitty meal, whereas the directors had really nice food. But when Concacaf or Fifa came, they made sure we all ate well and everything was clean. Especially when president Blatter came. It was a special moment for all of us and 'Dadou' was very clear about the way we had to behave."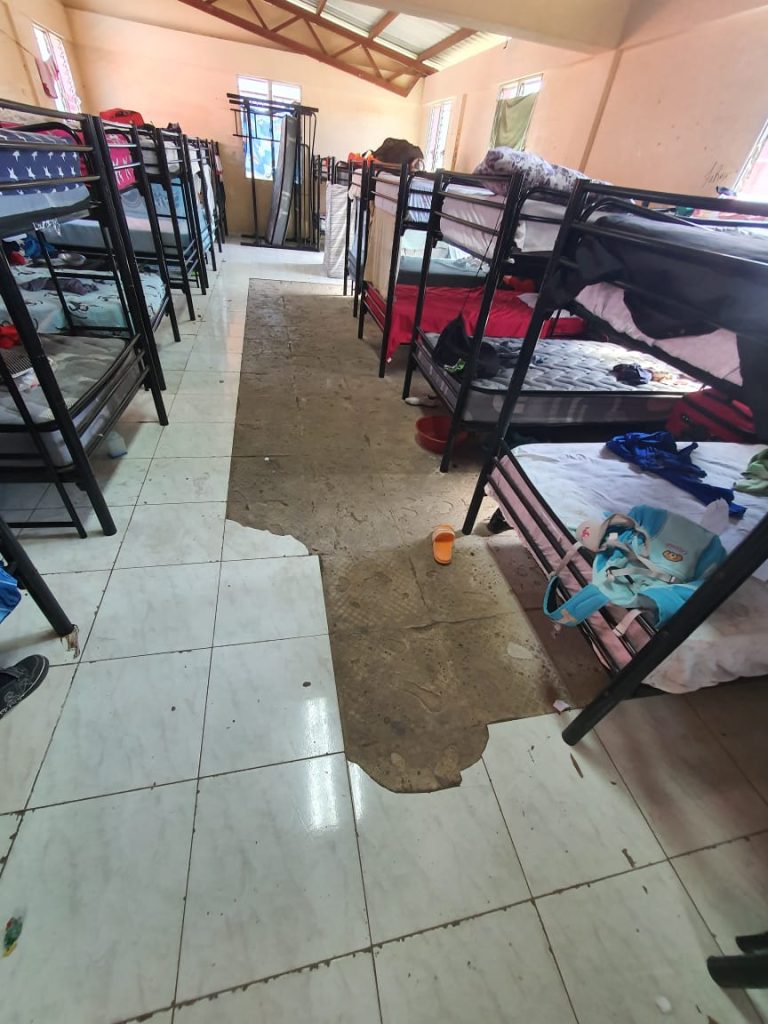 Housed at the Oasis Hotel in Pétion-Ville, a western-style neighbourhood of the capital, Sepp Blatter greeted the staff and some players. Yves Jean-Bart was standing beside his dear friend "president Blatter", as he liked to call him. The girls were smiling, and a promise of new Fifa funds emerged. Everything worked according to plan, and Jean-Bart would order a "present" for his good friend from Switzerland.
"'Dadou' ordered an employee to pay a visit to Blatter at his hotel," recalls an upper-echelon member of the federation. "He basically told her to sleep with him. It was an order. She hesitated because she was afraid of her husband's reaction. 'Dadou' didn't understand that she could defy his authority, but he asked another woman. She agreed. She didn't really have a choice."
Yves Jean-Bart asked a member of the federation's medical team to buy blue pills for Fifa's president. That night an employee at FHF spent the night with Sepp Blatter at the Oasis Hotel.
"'Dadou' was so proud of it," remembers the member of the medical staff who brought the blue pills. "He told the story to everyone using the name of the employee even when she was next to him. He said 'President Blatter loves Haitian women! He loves Haitian women! I got one for him'."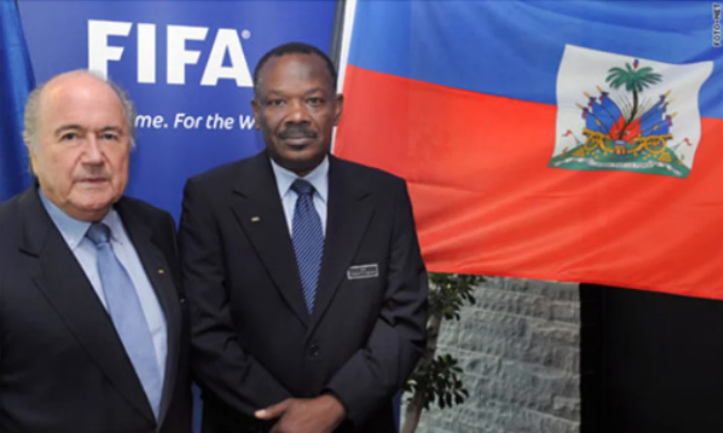 Contacted by Josimar, the employee denied knowing Sepp Blatter personally. However, after sending a picture of them together – meaning that Blatter knew perfectly well she was an employee and not a stranger – she admitted to having "a great fondness for him […] We met at a conference, I remember now." She also denied any relations or orders given by Jean-Bart.
"Mr Jean-Bart is a great man. He would never do such a thing. I don't understand why you're talking about him. He's an honest man."
Three of Jean-Bart's victims responded to this statement with the following: "It's not a surprise because she's one of Jean-Bart's biggest accomplices."

The auditor also received girls
Alerted more than a year ago of this system of sexual exploitation, Fifa didn't open any investigation against Sepp Blatter or Yvon Avry, the Frenchman sent to Haiti in 2011 by Fifa to verify if everything was in order at the centre.
"He slept with several of my teammates," a disgusted former youth international says. "He slept with us! Fifa sent someone to check on us and he ended up having sex with the players that 'Dadou' gave him."
Like Blatter, Yvon Avry received the girls on Jean-Bart's orders. "It was a way to close the eyes on everything that was going on there," a coach points out. "Like everyone else, I can't speak publicly because the country is too dangerous and these people are too dangerous."
A gangster only known as Bozom visited Jean-Bart and the centre regularly. With a gun visible in his pocket he came to collect money, and shared laughs with the boss. "We were terrified," a victim of other FHF officials says. "It was a place… it was a place where it was normal to be raped. Some of my friends are now prostitutes or junkies because they have been broken."
Recently, Dulia Dupont, a former right-hand of Yves Jean-Bart, attacked the FHF doctor Martial Bénech for facilitating an abortion in 2015. A 15-year-old girl had become pregnant after being raped at "The Ranch". Five months into her pregnancy, she had an abortion.

"How dare you still be there, docteur Bénech, after sending her to the abortion clinic?" she asked furiously. Martial Bénech is still an employee at FHF, travelling with the national team. Just like the secretary general Carlo Marcelin, who covered up Jean-Bart's crimes, the former technical director Wilner Etienne, accused in a Guardian investigation of raping minors, and Fenelus Guerrier, the former executive secretary, accused of sexually blackmailing girls in exchange for US visas. None of these individuals have been banned by Fifa.
"This is maybe the biggest scandal in Fifa's history, but no one is paying attention," a victim of four different officials says.
"Otherwise, they would suspend at least 20 or 25 officials. For me, Fifa is as complicit as the others. They let 'Dadou' and Grant abuse us, like the others, because they also received girls. I risked my life and I'm still at risk. What did Fifa do to help me? What did Fifa do by letting Carlo Marcelin and the others stay? What's the point of all this?"
Since The Guardian published its first investigation in April 2020, Fifa has repeatedly been told about the widespread abuse inside Haiti. Victims, witnesses, Fifpro, Human Rights Watch, everyone warned Fifa about the risks players and whistleblowers take.
The Ethics Committee, along with Mario Gallavotti, senior adviser to Gianni Infantino and former director of Fifa's independent committees, and Joyce Cook, who until April of this year was Fifa's chief social responsibility and education officer, has been overseeing Fifa's investigations into Haiti since 1 May 2020.
But two years after the investigation started, victims have become increasingly frustrated with Fifa. Football's governing body has lost the confidence of the majority of the survivors. One of the victims even thought of taking her own life because of Fifa's negligence and refusal to act. No investigative team was sent to Haiti except an ad hoc panel chosen by Gallavotti. The panel included Jacques Letang, one of the best friends of Yves Jean-Bart's lawyer, Stanley Gaston.

At the time, Fifpro questioned Letang's suitability.
"We received information we believe to be credible that he had on at least one occasion mixed in the same social circle as Mr Jean-Bart," said the world players' union in a statement. "Fifa informed us that it had conducted extensive due diligence on Mr Letang and it remained confident that he has no ties to Mr Jean-Bart."
There wasn't any extensive due diligence according to Josimar's sources.
In January 2021 Fifa appointed a normalisation committee. The following month Jacques Letang was appointed chairman, alongside members Monique Andre and Yvon Severe. In March Jacques Letang on behalf of the FHF made a 51 000 US dollars payment to a travel agency based in Florida, Pleasure Travel and Logistics, to book plane tickets for the national team. The agency, registered in Florida to Diamy Camacho and Jenny Nunez, is in reality controlled by Miguel Trujillo, a former agent banned for life by Fifa in 2018 for match-fixing, and Jean-Bart's own son, Yves-Robert, who also was part of the federation and has never been sanctioned by Fifa.
Multiple sources say Jean-Bart is still running the federation from the shadows, despite his ban. His own people are still at the FHF.
"It's a shame, right," an international player tells Josimar. "Nothing has changed."
Today the academy is closed and Jean-Bart's people are still there threatening people who want to speak up.
"I'll be honest with you, we've already prepared your coffin because I'm personally going to crack your skull open," said one text message sent to a victim.


"Everyone knew"
"Since May 2020, Human Rights Watch (HRW) has interviewed more then a dozen male and female survivors of sexual abuse in Haiti. We collected evidence of systemic human rights abuses in Haitian football, including confiscation of players' passports, labour right abuses, grooming child athletes for sexual exploitation, and threats to kill witnesses and survivors. These survivors – many of them children at the time of the abuse – uniformly say 'everyone knew, everyone knew about the sexual abuse and did nothing to help us players'," says Minky Worden, director of global initiatives at HRW.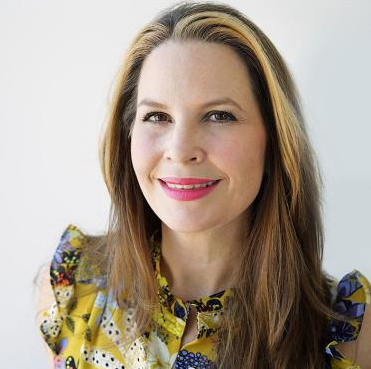 "Athletes, referees and women employed by football federations have a right to a safe work environment, and not to be abused, coerced, or exploited by the Haitian federation leaders or visiting Fifa officials, " Minky Worden of HRW says. "If true, Fifa and Haitian authorities need to investigate these complaints immediately, and prosecute anyone in the Fifa hierarchy who participated in it or knew about sexual abuse of children and athletes. There must be a survivor-centred justice process. Fifa has a duty to care for anyone harmed on its operations."
According to survivors and witnesses Josimar has spoken to, Fifa isn't willing to properly investigate what the teenagers at the Fifa Goal Centre went through. Employees like Mickelange Pierre, one of Jean-Bart's most active accomplices, are still working for the FHF. She bought underwear for the girls and convinced them to sleep with Jean-Bart. According to a message seen by Josimar, Mario Gallavotti said "she wasn't important" and "left". Mickelange Pierre is on the list of witnesses who will give testimony in Jean-Bart's favour at his CAS appeal. She has not been sanctioned. Neither have the doctors working for the federation who sent the girls to have abortions, nor Concacaf or Fifa officials who had sex with employees, players or referees.
Fifa's response
In the decision taken on 18 November 2020 by the adjudicatory chamber of the Ethics Committee of Fifa, they acknowledged Jean-Bart had implemented a system of facilitators and accomplices who made the abuse possible.
"Another aspect the panel would like to refer to in the respective conduct of Mr Jean-Bart is the use of accomplices, proxies and facilitators, who would aid him in implementing the despicable system of abuse within the Centre and FHF," the report says.
Josimar sent the following questions to Fifa:
Does FIFA plan to expand the Haïti investigation to include other officials?
FIFA has for over a year been aware of Sepp Blatter receiving "sexual gifts " – an employee in his case – from Yves Jean-Bart in Haiti. Have you opened an investigation into this? If not, will you investigate him?
Which FIFA position did Yvon Avry hold? Mr Gallavotti has told us Avry only was under contract at the time. Will FIFA investigate him?
Fifa didn't answer the concrete questions, but instead returned with a statement that can "be attributed to a spokesperson":
"First of all, FIFA takes any allegation reported to it very seriously. FIFA encourages anyone who is aware of abuse or unethical behaviour in connection to football matters to immediately report it to through our confidential whistle-blowing hotline BKMS. For further information on BKMS, please link HERE.
"Please note that as a general policy, the independent Ethics Committee does not comment on whether or not investigations are underway into alleged cases. As usual, any information the Ethics Committee may like to share will be communicated at their discretion.
"When it comes to misconduct in football, we would like to reiterate that FIFA's position is clear: anyone found guilty of misconduct and abuse in football shall be brought to justice, sanctioned and removed from the game."
Josimar sent several questions to Sepp Blatter through his spokesperson Thomas Renggli. He did not respond before publication.
Josimar sent several questions to Yvon Avry. He has not replied. 


Statement from Sepp Blatter
On Friday 20 May at 15:20 we received the following statement from the former Fifa president through a spokesperson:
According to an article by the French journalist Romain Molina published on the internet site Josimarfootball.com, Sepp Blatter, the former Fifa president, during an official visit to the Haitian Football Federation (FHF) in 2013, is said to have received "sexual gifts" from FHF president Yves Jean-Bart.

Sepp Blatter vehemently rejects these allegations: "These allegations and accusations are wrong. I assume that this is a coordinated attack by my opponents. The fact is: I was in Haiti in 2013, and as always on official visits, I was received by the country's president, Michel Martelly. Regarding my visit to the national football federation, the president of the Haitian federation, Yves Jean-Bart, was also present.
This reporting is baseless defamation. Media that spread these allegations must be prepared to face legal consequences. My lawyer Lorenz Erni says: "These allegations are blatantly insulting – and Mr Blatter is determined to take vigorous legal action against the spread of these untruths."
This is the fourth instalment in a series of articles about sexual abuse in football. If you have any knowledge about sexual abuse, please get in touch with Romain Molina using romainmolina@protonmail.com.