In July of last year, a top Mauritanian club which had been defrauded by its own FA completed its 4-year long quest for justice when its claims were validated by the Supreme Court. Yet the man at the centre of the  scandal, FA president Ahmed Yahya is allowed to stand in CAF presidential elections, with the blessing of Fifa. How can this be possible?


By Philippe Auclair
The news shook Mauritania but was barely mentioned outside the immediate region: Ahmed Yahya and his federation had been found to have illegally withheld money owed to ASAC Concorde, one of the country's top clubs, then transferred that money to a body that wasn't entitled to it. If this did not constitute embezzlement, it looked suspiciously like it. Mauritania's Supreme Court threw out Yahya's federation's last appeal in July 2020, marking the end of a 4-year-long dispute with the club, a judgement which was then followed by an order of execution at the end of December. The verdicts vindicated the claims made by ASAC Concorde, that Yahya's FA, The Football Federation of the Islamic Republic of Mauritania (FFRIM), had pocketed the proceeds (amounting to €75,000) of the transfers of two young Mauritanian internationals to Spanish club UD Levante back in January 2016, and this, under the direct and active supervision of Yahya himself.

Josimar understands that these court decisions led the Governance Committee of the African Football Confederation (CAF) to make supplementary checks when it considered Yahya's eligibility, a decision which infuriated the Mauritanian FA boss, now in the 10th year of his presidency. Yahya was subsequently cleared to run as a CAF presidential candidate when Mukul Mugdal, the chair of Fifa's Review Committee, concluded his eligibility check on 26 January of this year and informed the Mauritanian that he had cleared this hurdle in a six-line, three-sentence-long email.

It is unclear at this stage whether Mugdal was in possession of all the facts or not, as the matter was only brought to the attention of Fifa's Ethics Committee very recently; but Josimar understands that CAF's Governance Committee, chaired by Michel Brizoua-Bi, was apprised of the dossier and decided not to pursue its own enquiries after Mugdal's decision. When approached by Josimar, Brizoua-Bi said that, as far as he was concerned, "the matter was closed".

Yet it emphatically is not. Documents which Josimar had access to indicate that FFRIM, under the guidance of its president Ahmed Yahya, wrongly appropriated the transfer fees due to ASAC Concorde. It is a story of deception, abuse of power and dishonesty, backed by very strong, in fact seemingly incontrovertible evidence, which should ensure that CAF and Fifa look into the matter again as a matter of urgency, as the CAF election is only three weeks away.

Gianni's favourite, Africa's Golden Boy
It is not by chance that the first country which Gianni Infantino visited during his recent whistle stop tour of Africa was Mauritania. The staging of the U20 African Cup of Nations in the West African islamic republic provided a perfect opportunity for the Fifa president to express the admiration he feels for the youthful president of the Mauritanian FA (FFRIM) Ahmed Ould Yaya, one of the four candidates who are vying to succeed incumbent Ahmad Ahmad at the head of the African Confederation (CAN) when the election is held in Rabat on 12 March.

Infantino, who inaugurated a Fifa-funded artificial pitch on this occasion, didn't miss this chance to praise Yahya's leadership and achievements, which he said might be 'the best in the world', one of a number of such comments which were felt by many, especially on the African continent, to be out of place just a few weeks before CAF chooses its next president. This happened after multiple sources (including an eyewitness whom Josimar has spoken to) claimed that Yahya was one of the key instigators of the 'putsch' which saw president Ahmad Ahmad, banned for 5 years by Fifa's Ethics Committee but reinstated by the Court of Arbitration for Sport, barred from running for re-election by his own Executive Committee when it convened in Yaoundé on 6 February, ignoring that CAF's own Governance Committee had indicated that Ahmad should be able to stand after all.

The image of a dynamic, young, 'modern' African football leader which Yahya has been careful to cultivate over the years, and has earned him many vocal admirers in Africa as well as in Zurich, shouldn't hide that he is also a controversial figure at home. His father, a colonel in the Mauritanian army, is claimed to have been involved in the killings of black Mauritanians which took place under president Ould Taya's dictatorial rule. According to a 1993 Human Rights Watch Report, at least 500 prisoners were summarily executed or tortured to death between November 1990 and January 1991. His son Ahmed, a teenager at the time, clearly bears no responsibility whatsoever in these atrocities, but his family links have led a survivors' organisation called CCRM (Cadre de concertation des rescapés mauritaniens) to call for the invalidation of his CAF presidency bid. It should be added that this view is not shared by the majority of Mauritanians, many of whom take great pride in the personal successes of the founder of FC Nouadhibou, a team which is now one of ASAC Concorde's greatest rivals in the country's top league. At the time of his election to the FFRIM presidency, Yahya was only 35, making him one of the youngest FA chairmen in the world. Yahya is also a successful businessman who runs a fishing company in Nouadhibou, Mauritania's second-largest city.

Which begs the question: why would a man of Yahya's status and stature get involved in the embezzlement of a sum which he himself has called 'derisory'?

The Facts
Mauritania is not known as an outstanding exporter of footballing talents. Its national team has been hovering around the 100th place in the Fifa world ranking for the past five years, has never qualified for the World Cup or the Olympics and has only taken part in the African Cup of Nations once, in 2019. None of the players in its current squad plays in a top league in Europe (or, indeed, any other continent), whilst its biggest clubs haven't fared better than the Al Murabitun in continental competitions. This made the performance of the country's U20 at the 2014 L'Alcúdia International Under-20 Football Tournament, a prestigious youth tournament which has taken place annually near Valencia since 1984, all the more remarkable.

Against strong opposition, which included FC Barcelona (against whom they drew), the young Mauritanians played four games there, swatting Indonesia 4-0 along the way. One player in particular shone throughout, the captain of the young Al Murabitun, a midfielder who hadn't turned 17 yet: Moctar Sidi El Hacen El Id, also known as El Hacen. El Hacen, who played his club football with ASAC Concorde, had been singled out as a special talent very early on: he'd earned his first cap with the senior national team when he wasn't yet 16, and taken part in every single of the six senior games Mauritania had played in 2014 before the tournament. He was without a doubt his country's most gifted and most promising teenage footballer.

By the time El Hacen impressed in Valencia, ASAC Concorde had already received five offers of trials – all expenses paid – for its star player from foreign clubs from Morocco (Fath Union Sport Rabat), South Africa (Ajax Cape Town), Italy (USD Vis Ariano) and France (Football Club Mantois 78 and RC Lens). Levante UD now joined the ranks of the suitors. Based in Valencia, the La Liga club had struggled to beat Mauritania 1-0 at the summer tournament. El Hacen had caught their eye, as had his team-mate, left-back Aly Abeid who, while not quite as precocious, would make his senior debut with the national team nine months later.

Yahya had recently appointed a Valencia-born Spanish coach as head of the country's U17 and of Mauritania's national football academy: Luis Fuertes Sastre, who would later be promoted to the rank of national technical director before abruptly resigning in January 2020. Fuertes Sastre advised the chairman of El Hacen's and Abeid's club, veterinary surgeon Dr. Mohamadou Ba, to employ another Spaniard, former Valencia CF president Pedro Cortes, to represent ASAC Concorde's interests in the negotiations. Cortes then became the intermediary, and arranged for the two players to remain in Spain in order to find the best possible club for them.

Dr Ba had also enlisted the help of Ahmad Yahya, who has a good command of Spanish, to serve as a conduit in the final negotiations between ASAC Concorde, its two players and Levante UD, and the transfer agreement was finalised at the end of 2015. The Mauritanian club would receive €75,000 – €50,000 for El Hacen, €25,000 for Abeid -, a sum which included the €5,000 signing-on fees of the players. The amount will seem modest by European standards, but was enough to cover the wages of a full XI in the top division of the Mauritanian league for a whole season. It was also a first for ASAC Concorde, who'd never sold one of their players to a top Spanish club before, and for whom this could constitute a springboard for an even more fructuous relationship in the future. What's more, one of the clauses in the contracts of both players specified that UD Levante would pay an extra €100,000 should they take part in a certain specified number of games for the Spanish club.

It is at this stage that the whole operation unravelled for ASAC Concorde.

Dr Ba had entrusted Yahya with all the documents needed to close the deal, including a copy of his passport, ASAC Concorde's bank details and an invoice for the transfer fees, drawn on 11 December 2015, which Josimar has seen. The contracts were drawn and duly signed in Valencia on 4 January 2016. But the money did not turn up. Or rather, it did not turn up in ASAC Concorde's account, but in the federation's.

The Sting
Unbeknown to Dr Ba, his invoices had apparently never been passed on to Levante UD. The invoices which the Spanish club did receive on 20 January 2016, which Josimar has seen, purported to come from his club and even bore the stamp of ASAC Concorde. But they were not signed by the club's president. They bore the signature of Sy Aboubacar Alefa, a friend of Yahya's, who held the rank of 3rd vice-president of the Mauritanian federation and also sat on ASAC Concorde's board. Dr Ba insists that Sy Aboubacar Alefa never received any mandate of any kind from him.

Documents which Josimar has seen show that Levante tried to transfer the fees due to ASAC Concorde on two occasions, on 27 January and 12 February 2016, to no avail. The money transfers failed both times for the simple reason that the bank details which had been given by Sy Boubacar Alefa were not those of ASAC Concorde, but of the Mauritanian FA. On 13 February, Levante, who were frankly nonplussed by the whole affair, received a letter purporting to be from ASAC Concorde, bearing the club's stamp, but not signed by its president. It read: "the invoice is in the name of the club, but the payment must be made to FFRIM" – a specification which was nowhere to be seen in the contracts signed by the two clubs. The letter, which Josimar has had access to, had, again, been sent and signed by Boubacar Sy Alefa.

Levante, who acted in good faith throughout, did as they were instructed, and transferred the money into FFRIM's account on 25 February, something which Dr Ba only discovered three weeks later. Yet, there was still no suspicion of a possible sting at this stage. On 17 March, six of the nine members of ASAC Concorde's board wrote to Yahya, thanking him for his role in the successful transfer of El Hacen and Abeid to UD Levante, and requesting him to transfer the funds to their club's bank account. The three non-signatories of this letter were Boubacar Sy Alefa, his brother Sy Aly and one Dieng Amadou Farba, who has since joined the FFRIM's federal office.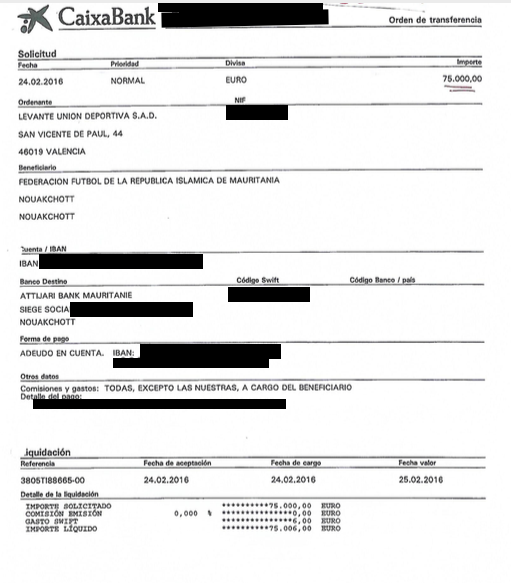 Dr Ba and his team never saw the colour of the €75,000. And they were about to lose their club.

The Coup
On 19 January, FFRIM had sent a seemingly anodyne circular to all First Division clubs, in which it requested them to provide the Association with copies of their statuses and other administrative documents. But ASAC Concorde's board, who got this letter on 22 January, soon discovered that this was not a routine communication, not for them anyway. The last paragraph read: "Moreover, the clubs whose board officials have come to the end of their mandate must imperatively hold their General Assembly to renew [those mandates] under FFRIM's supervision".

On 31 March, Yahya, replying to the request made by the board of ASAC Concorde two weeks earlier, explained that Levante UD had paid the transfer fees, that the money was safely deposited in a 'local account', but that it could only be passed on to the club once the 'formalities' of the annual general meeting (AGM) and the renewal of the board's mandate had been completed.

This was despite the fact that, with the assent of FFRIM, the club's AGM had been set to take place at the end of the 2015-16 season, and that the current board's mandate had not expired. Still, it could be hoped that this would soon be sorted out, as the said AGM would take place on 29 July at FFRIM's headquarters, which had been put at the disposal of ASAC Concorde free of charge by Yahya himself.

Ba and his board were in for a surprise. On the eve of the AGM, they discovered that FFRIM had added seventy-one new members to the forty-nine which made up the electoral college of their club. The result was chaos. The hammer blow soon followed.

On 31 August 2016, Yahya decreed that a normalisation committee (of which he handpicked the members) would be put in charge of the affairs of the club for three months, in order to address the 'legal void' the club found itself in and organise new elections.

Interestingly, article 3 of this normalisation order, which Josimar has seen, makes specific reference to the transfer of El Hacen and Abeid, instructing the normalisation committee to open a new bank account for the club (which it did), to which the money still held by FFRIM would at long last be transferred.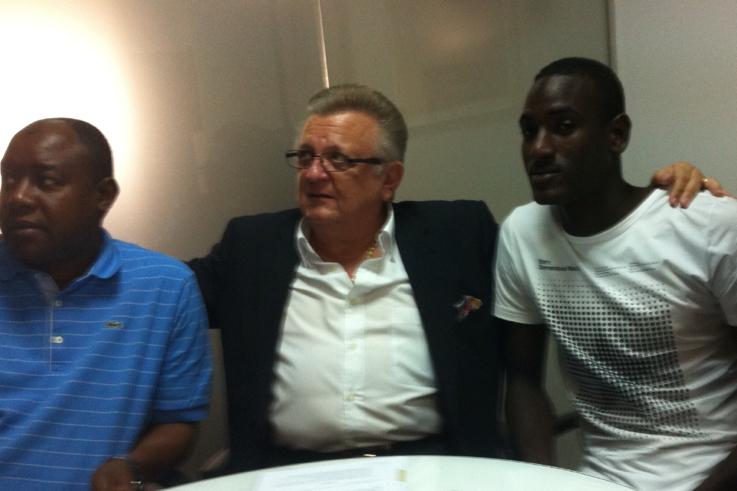 ASAC Concorde's board rebelled against Yahya's decision, but to no avail. Ba was ousted on 26 November and Yahya's third vice-president Boubacar Sy Alefa put in charge of the club. The proceeds of the sale of the ASAC Concorde players, both of whom had received their share of the transfer fee several months previously, had already been transferred to the account opened by the normalisation committee, on 7 September 2016.

The Verdicts
The end of the story? Its beginning, rather. It's unlikely that Yahya and FFRIM could have foreseen what followed: Dr Ba decided to fight on, turned to the courts, and was to prove remarkably successful there.

On 27 October 2016, the Civilian Tribunal of West Nouakchott ordered the 'precautionary seizure' of the €75,000 which had been paid into the FFRIM account.

On 14 November, the Appeal Court of the same tribunal threw out FFRIM's appeal against the first decision.

On 28 February 2017, the Civilian Tribunal ordered FFRIM to pay €75,000 into ASAC Concorde's original bank account, as well as legal costs linked to the case.

On 22 February 2018, the Appeal Court rejected FFRIM's appeal against the 28 February decision.

The matter was then referred to Mauritania's Supreme Court. But there, too, Dr Ba won his case. FFRIM's appeal was thrown out on 14 July 2020. The decision of Nouakchott's Civilian Tribunal could no longer be contested and, following another judgement (given on 20 October 2020) which found in favour of ASAC Concorde, is now subject to an order of execution. In other words: Mauritanian justice has ruled that Yahya's FFRIM was consistently in the wrong in its dispute with ASAC Concorde and, therefore, must pay.

Ba scored another resounding win in a related case, when Boubacar Sy Alefa sued him for 'usurpation of title'. The Public Prosecutor dismissed the charge on 28 September 2020.
Even more importantly, Mauritania's Interior Ministry certified, on a document dated 7 October 2020, that Dr Ba's executive board, as elected in 2011, could legitimately aspire to run the affairs of ASAC Concorde.

This must have been one of ASAC Concorde's most comprehensive victories ever. They'd taken the FFRIM and its president to court, and won, time after time. Four years of fighting had been vindicated. Could their victory endanger Yahya's presidential hopes, now that some Mauritanian journalists were openly accusing him of abuse of power and embezzlement?

The Case For The Defence
The problem for Yahya is that it was impossible to dissociate him from his own FA in this instance. If FFRIM was guilty, so was he. To start with, he had personally acted as an intermediary in the transfer negotiations, something he acknowledged and, in fact, was proud of, judging by a lengthy response to an accusatory article published in the summer of 2016 on the mauritaniefootball.com website, in which he unpicked the claims levelled at him at great length.

In this response to what he called "mendacious allegations", Yahya said that the two players, El Hacen and Abeid, "called on me to supervise the contacts with interested agents" (Dr Ba insists that it was at his behest that Yahya was involved) as "no currently valid contract or registration linked [them] to ASAC Concorde" at the time. This was disingenuous. While it's true that both players were already in Spain at the time of their transfer, there was no doubt whatsoever in anybody's mind that both were still ASAC Concorde players, whether they'd featured in the games of Levante's youth team or not. Why would Levante have bothered with negotiating with ASAC Concorde if El Hacen and Abeid had been genuine free agents? Why would they have drawn a transfer contract with the Mauritanian club? Why would they have agreed to pay a €75,000 fee to an entity that held no registration rights? This was clearly nonsense.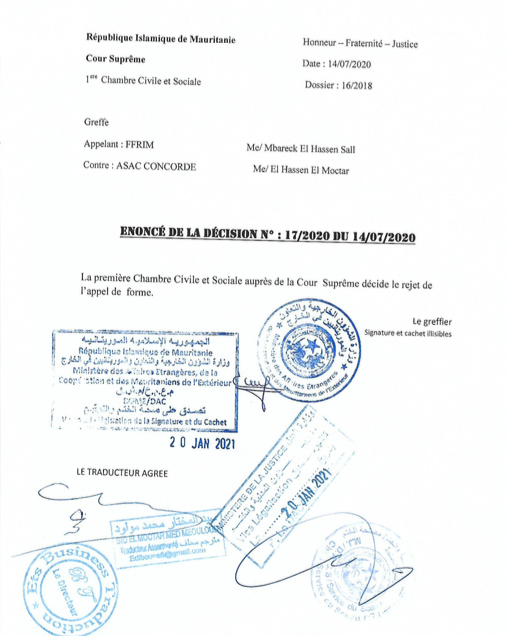 Yahya went on to justify that the transfer funds had to transit via FFRIM in respect of Fifa's 'new regulations which demand that all money owed in regard to a transfer of a player should go through his federation'. This is incorrect. There was no such stipulation or obligation in Fifa's transfer regulations in January 2016, and nor is there any today. Clubs must use Fifa TMS as a 'clearing house' for the paperwork related to international transfers, and this paperwork must be lodged with their FAs, but when it comes to payments, clubs are free to do their business one-to-one without having to process payments through their national associations. Mauritania was and is no exception to the rule in this respect. To illustrate this, when another ASAC Concorde footballer, El Moustapha Diam, was transferred to Omani club Fanja on 4 February 2016, the full amount of the transfer fee was wired directly into the club's account without transiting via FFRIM (Josimar saw the BACS).

Yahya went on to explain that the decision to withhold the funds owed to ASAC Concorde was taken following a request made by the club and its president themselves on 25 January 2016. If such a request was made, it never was with the consent of its then president, as Yahya himself appears to acknowledge when he omits Dr Ba's name from the list of signatories of that letter (*).

It has also been said by supporters of Ahmed Yahya that the cases of El Hacen and Abeid had already been referred to Fifa's Players Status Committee and to CAS, the Court of Arbitration for Sport and that, in both cases, the bodies had found that FFRIM had acted properly. This is also incorrect. CAS confirmed to Josimar that it had issued no ruling on the subject, whilst we have seen correspondence which show that Fifa's Players' Status Committee (which is apprised of the matter) has yet to communicate their decision, despite repeated assurances made to Dr Ba that it would soon do so.

CAF and Fifa did come to a decision, however: Ahmed Yahya was eligible for the most powerful position in African football, regardless of what Mauritania's courts had ruled. It is a decision they might come to regret, just as Yahya might come to regret ever getting involved in the transfers of two unknown players to a Spanish club.

Post Scriptum
As to El Hacen and Abeid, neither has quite hit the heights which some hoped they could reach; but, at least, they got their €5,000 and are still plying their trade in Europe. El Hacen left Levante for Real Valladolid, then was loaned out to Segunda Division CD Lugo, for whom he's made sixteen appearances this season. Abeid, now valued at €0.5m, was loaned by Levante to Alcorcón before becoming a free agent and joining French Ligue 2 club Valenciennes, for whom he's become a regular starter in 2020-21.

(*) Josimar asked Ahmed Yahya whether he had any comments to make on the final decision of the Supreme Court or if he wished to add anything to the statement he published in 2016. No response has been forthcoming yet.