Using models posing as directors, football's latest betting sponsor has concluded deals with major clubs and leagues. This enables its owners to hide behind a myriad of companies, licensors and brands.

By Andy Brown
Additional reporting by Philippe Auclair and Jack Kerr

Fierce Midlands rivals, separated by the River Trent. But linked by deals with a mysterious Asian betting partner, which neither Premier League club has made a formal announcement to confirm. 6686.com's rapid partnerships with Leicester City, Nottingham Forest, Lazio and a number of other leagues and clubs is the latest illustration of just how out of control football's relationship with the betting industry has become. 
Josimar has discovered that 6686 is linked to 8XBet, which last year agreed a partnership with Premier League champions Manchester City. As Josimar reported, 8XBet's CEO hid behind a stolen avatar and was supported by a marketing company that only had one client – 8XBet.
Want to convince people that your gambling brand is legitimate? Hire a model to front the deal. The Mail on Sunday found that 'Jasmine' had posed as a company executive in order to announce 8XBet's deal with Manchester City. History has repeated itself. Models posing as company executives were also used to promote 6686's deals with Leicester City and Juventus.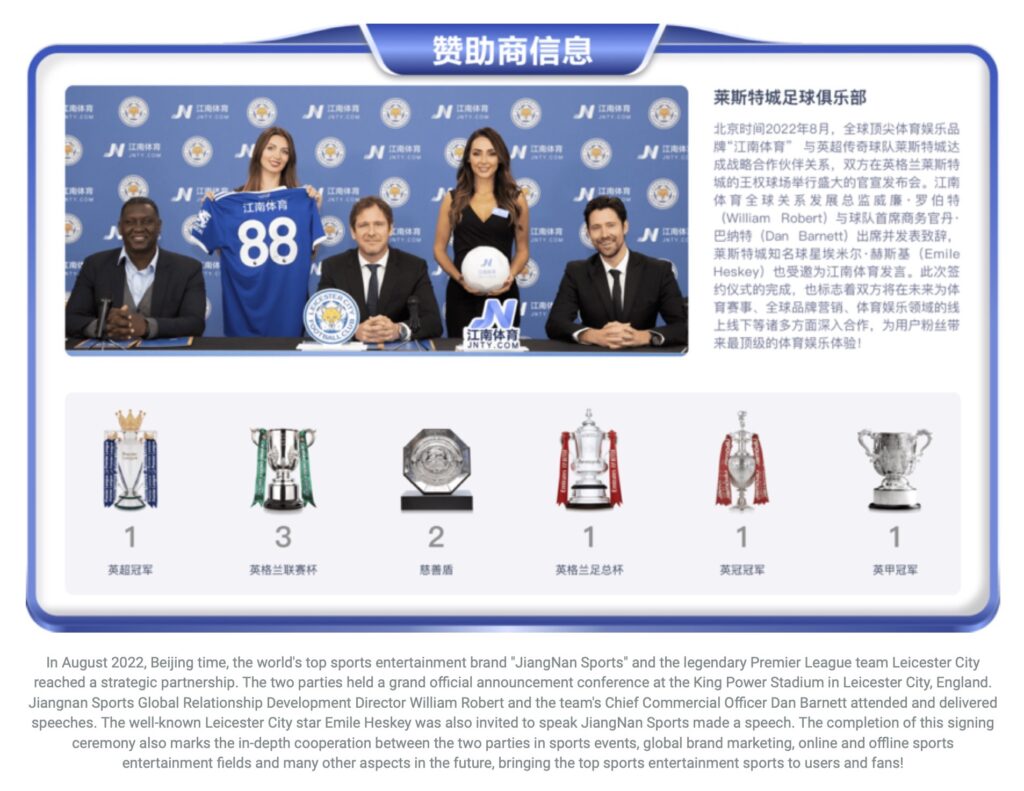 Heskey and the fake director
Leicester City didn't announce its deal with 6686, but reports were published in Asia. The club also held a sponsorship signing ceremony at King Power Stadium. Not with 6686, but with JiangNan Sports.

Flanked by Leicester legend Emile Heskey and the Global Relationship Development Director of JiangNan Sports 'William Robert', the club's Commercial Director Dan Barnett agreed the deal.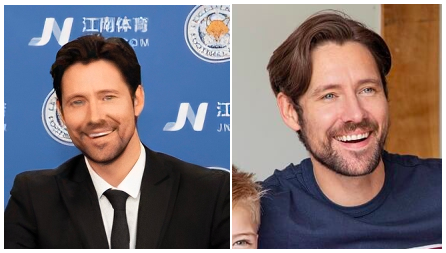 No trace of 'William Robert' can be found on the internet. This isn't surprising. 'William Robert' is a model, as is the lady next to him holding the football. His real name is Tom Coulston, he and JJ Bray can be booked through a number of modelling agencies, some of which represent both.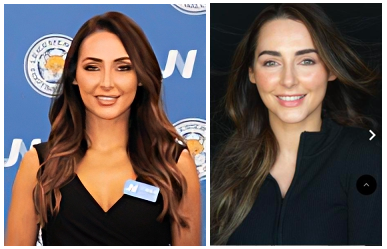 "I applied for the job via StarNow, and was paid in cash on the day," JJ Bray told Josimar, adding that she had no idea the company she was working for was anything other than legitimate. She confirmed that she knows Tom Coulston – or 'William Robert' – and remembers working with him on the job. She added that the third girl pictured was an Asian model. Our efforts to contact Coulston were unsuccessful.
Eagle-eyed readers may notice that the picture of the signing ceremony features the internet site of Leicester's new partner, JNTY.com – not 6686. That link fails to open when accessed from the UK, but works when accessed via a VPN, and features the Leicester City sponsorship prominently.
The parent company of JNTY is JiangNan Sports, as evidenced by its website, which features model Tom Coulston – posing as JiangNan Sports global relationship director 'William Robert' – agreeing the deal with Leicester City's Commercial Director Dan Barnett. 'The large scale sponsorship activities of JiangNan Sports are also an endorsement of brand strength,' boasts the site. 'Manchester United, Bayern Munich, Paris Saint-Germain, AC Milan, Lyon, the Argentine national team etc., all of these brands have the shadow of JiangNan Sports behind them, bringing you full confidence that safety is guaranteed.'
At the bottom of the webpage, users are told how to circumvent measures to block users from jurisdictions where online gambling is illegal. Users are encouraged to download the company's mobile application, which 'does not restrict users to log in by region,' or to use a VPN set to China in order to illegally access its gambling services. The company also uses borderline pornography to promote its services.

Red mist
Neither Leicester City nor Nottingham Forest list 6686 as an official club partner. Both City and Forest initially failed to respond to questions about their deals with 6686, until we turned up at their grounds and left messages at reception and with security guards. 'There will be no comment from Leicester City,' a club spokesperson wrote in reply to a long list of questions.
"6686.com is a business which is recognised and registered with the UK Gambling Commission and satisfies all relevant UK Regulatory Rules," said a Nottingham Forest spokesperson. "Nottingham Forest commissioned an independent due diligence report which returned no specific concerns regarding their business. The agreement with 6686.com is of the same nature as the betting company's existing sponsorship deals with a number of clubs in the Premier League and across Europe. The deal is limited to Asian-region rights only and the extent of their activation comprises pitch-side LED and media backdrop branding."
Forest was not prepared to divulge which company conducted due diligence on the deal. 6686.com is not yet accessible from the UK, and entering it from a UK IP address brings up a TGP Europe holding page. 6686 is licensed through TGP Europe, a service provider based on the Isle of Man and regulated by Great Britain's Gambling Commission.
This basic information was apparently enough to satisfy Forest and its due diligence auditors. But, as shall be explained, 6686 is only one brand among a matrix of different gambling operators that are interconnected, which have hijacked football in order to advertise globally, including in jurisdictions where gambling is illegal.
Black and white
Another club, another country, another model. But the same gambling company. 
On 10 March, JiangNan Sports announced a partnership with Serie A giants, Juventus. 'On the official website of Juventus Football Club, the brand logo of JiangNan Sports has been seen everywhere,' reads a translation. However, a search for 'JiangNan' on the club's site returns no results, and the company is not listed as one of its partners, even on the Chinese version of the club's website.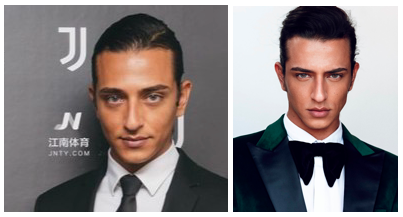 Once again it appears that a model, Aladin Ayadi, has been used as a front for the sponsorship signing ceremony. He isn't tagged in the announcement, but his TikTok profile reveals he is based in Hong Kong, as does his cosmetics business. Our efforts to contact him were unsuccessful.



Born in 2011?
As well as its deals with City and Forest, 6686 is also the Asian betting partner of Juventus's Serie A rivals Lazio. 
In similar fashion to City and Forest, Lazio didn't make a public announcement about its new sponsor. City and Forest don't have Chinese versions of their internet sites. Lazio does, and the 6686 deal is proudly displayed on the home page. This mentions that 6686 is regulated by the Philippine Amusement and Gaming Corporation (PAGCOR).

PAGCOR regulates gambling in the Philippines. 6686 isn't mentioned on its List of offshore gaming licensees, or its List of 117 'accredited service providers'. PAGCOR confirmed that 'the subject website [6686] is not registered/declared by any of our licensees'
The World Intellectual Property Organization (WIPO) operates a searchable global database of registered brand trademarks. None of the 117 PAGCOR service providers have registered 6686 as a Trademark. We checked all of them.
This is odd, as the 117 service providers have registered trademarks for over 50 gambling brands. This includes 26 gambling trademarks registered by BOE United Technology Corporation alone.
So 6686 isn't registered with PAGCOR, as it claims. Its brand isn't registered as a trademark anywhere in the world. Yet it has existed since 2011, according to Lazio's Chinese homepage.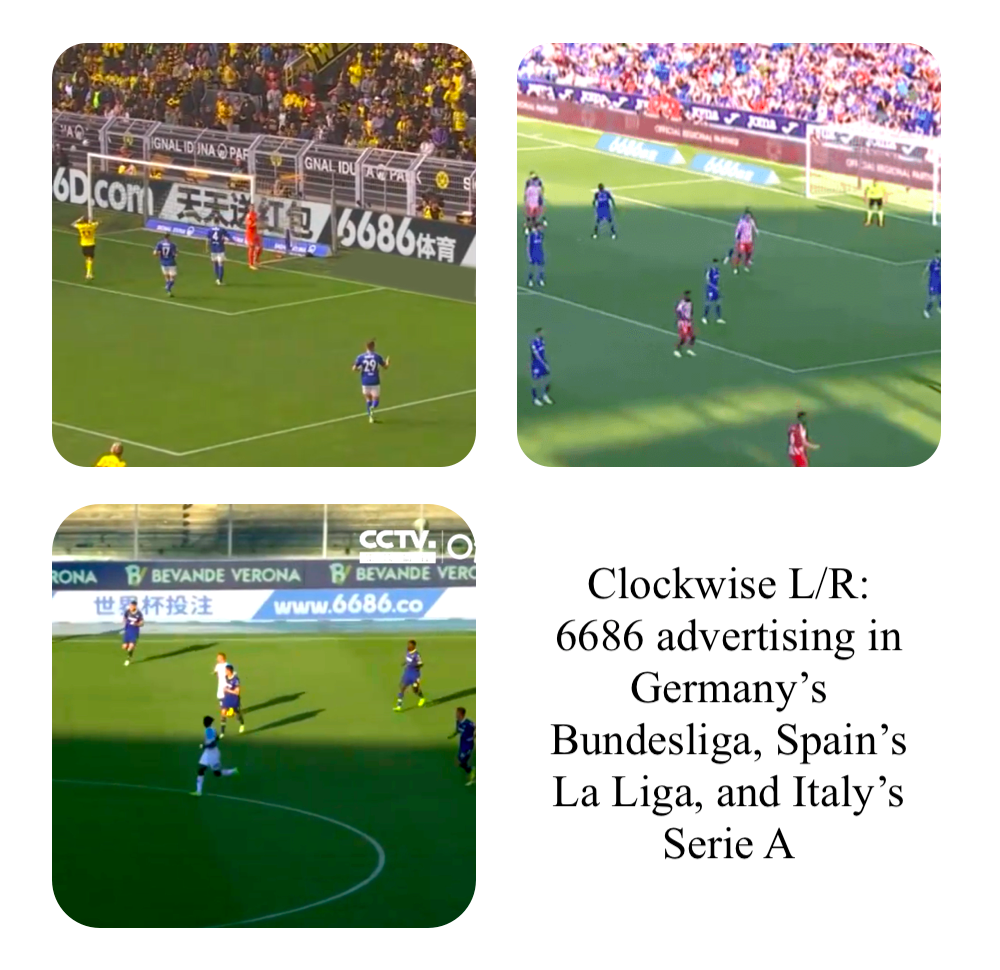 Red pill
On its internet site, 6686 also boasts that it has agreed an Asian advertising partnership with Italy's Serie A; a Chinese sponsorship partnership with Spain's La Liga; and 'home sponsorship' of Germany's Bundesliga. The company's signage features in football matches across Europe that are beamed around the world.
Linking the Leicester City and the Juventus deals is the number 88, which features on signed shirts presented at both sponsorship unveiling ceremonies. The number also features in a video promoting the Lazio deal, where two number 8 shirts are presented side by side.
In March 2018, gambling operator W88 appointed former Leicester City striker Emile Heskey as its brand ambassador. The company became a betting partner of Leicester City in June of that year. Heskey was present at the 6686 signing ceremony in August this year. A Google search for 'W88 JiangNan' returns a website that redirects to 677879.com first and then – voilá – to 8XBet.
As mentioned, none of the clubs made a formal announcement regarding their deals with 6686, but 6686 did announce its deal with Lazio via its Instagram page in August 2022. The date? August 2022. The same month in which 6686 announced its deal with Leicester City.
Lazio's slick promotional video bears more than a passing resemblance to a video announcing the appointment of Teddy Sheringham as 8XBet's global ambassador. The similarities don't stop there.
Using a virtual private network (VPN), the 6686 website redirects to https://66867.app, which was registered on 18 November last year. Clicking to enter the 'WAP Version' of this site again redirects to 286686.app, which was created on 12 January this year.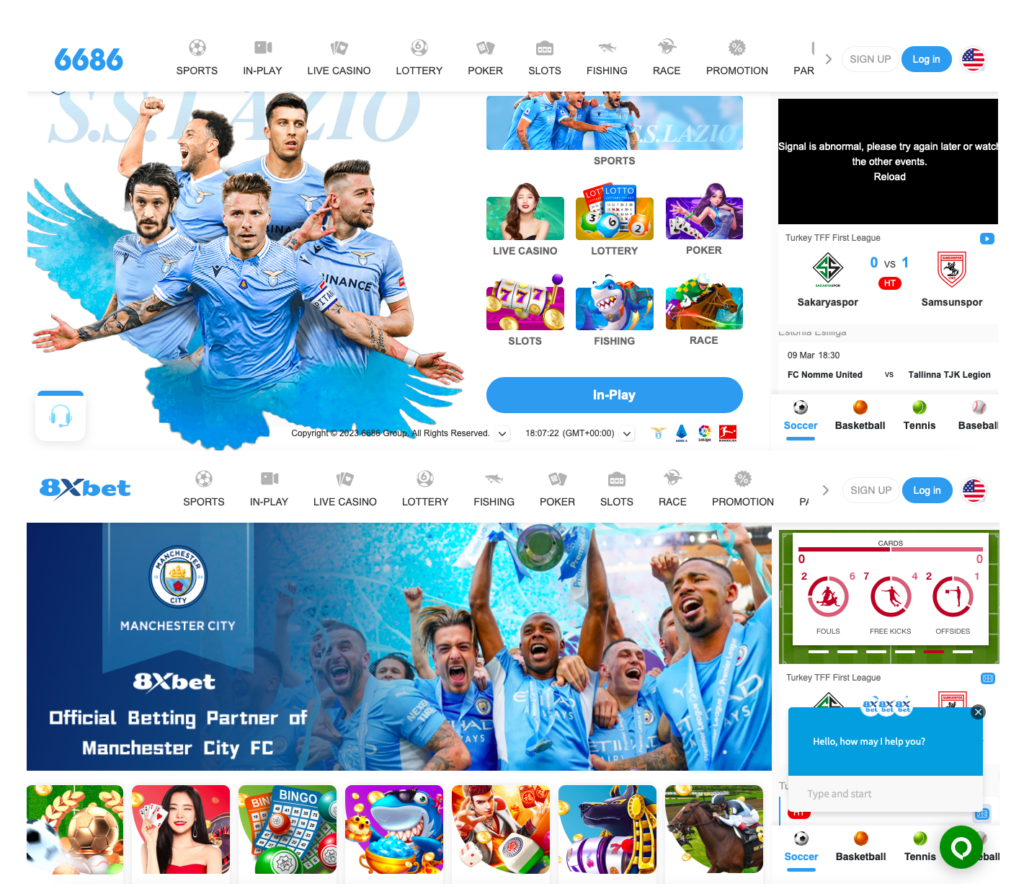 The websites of 8XBet and 6686 are almost identical; have the same 'loading' wheel; and the same affiliate programme offering the same payment terms for social media darlings willing to prostitute themselves to promote either site. The 8XBet mobile app even features 'Mark6686', a 'professional', who encourages users to place bets.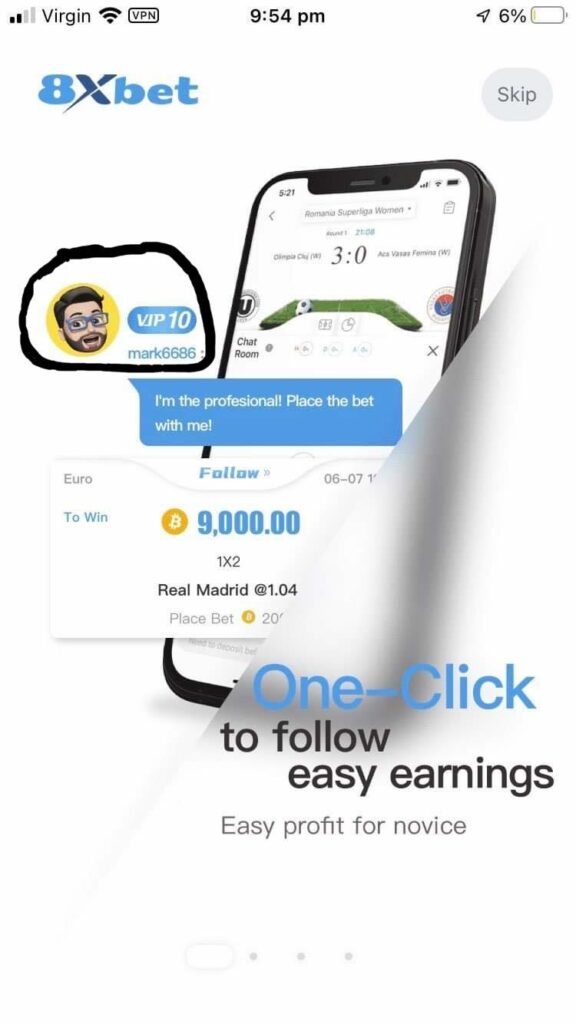 The owners of 6686 have gone to significant effort to conceal their identity. Content for both websites is stored by hijacking defunct websites. YsyxStudio.com was the website for Senlin Media, a photography studio based in Hohhot, the Capital of Inner Mongolia. Juliette Chenais is a French photographer who changed her site from juliettechenais.com to juliettechenaisdebusscher.com.
Anybody clicking on the old website links today is directed to what appears to be the homepage of the Chinese Communist Party. This conceals the true purpose of both sites – storing content used by gambling brands including both 6686 and 8XBet.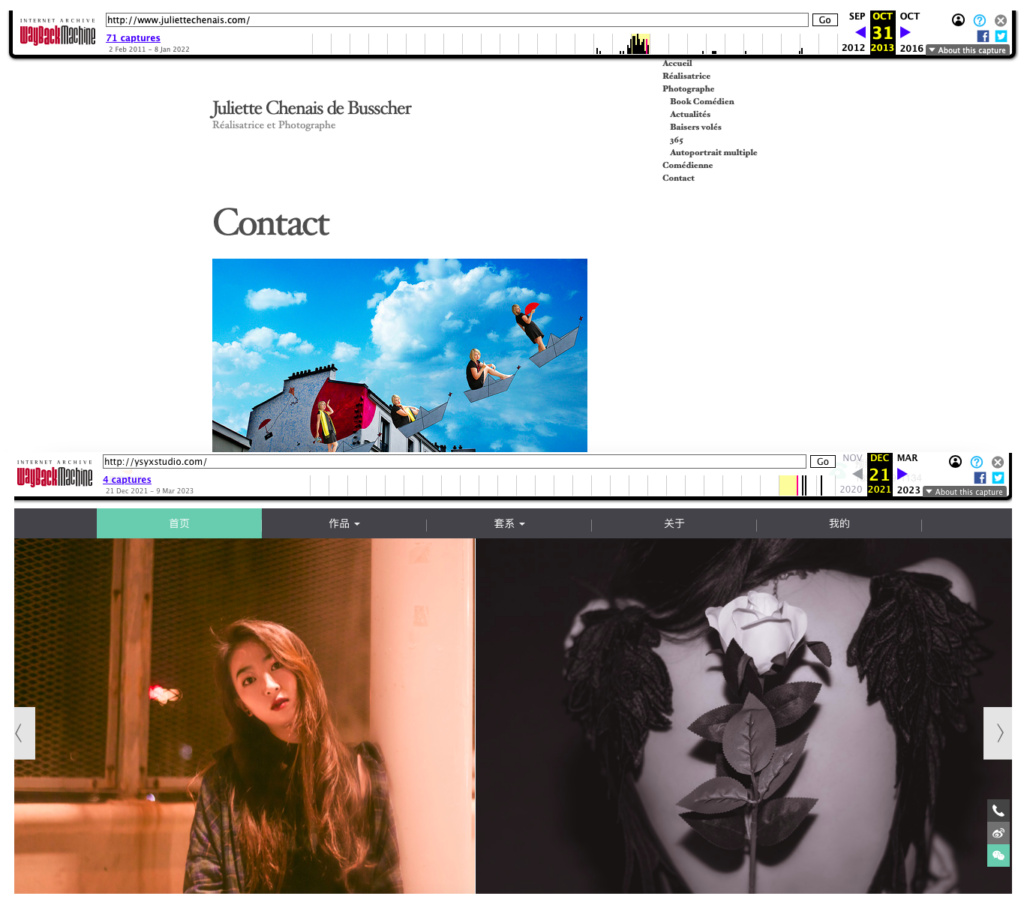 The source code of 6886.hk, accessed using a VPN, shows that the website is linked to 8XBet and a number of other gambling brands via a backend system that interchanges between utilising both YsyxStudio.com, juliettechenais.com, and a number of other defunct websites. Using a VPN, entering either https://vd004-tiger-dwnl.ysyxstudio.com or https://vd004-tiger-dwnl.juliettechenais.com takes you to 6686's internet site.
Changing the number four to one will take you to 8XBet's internet site. Swapping the numbers shows links to many other gambling websites, as shown above. None of these linked gambling brands have registered trademarks, according to the World Intellectual Property Organization.
The Prime Program
So who controls 6686, 8XBet, JiangNan and the matrix of gambling brands connected to them? Entering 'JiangNan Sports' in Chinese characters (江南体育) brings up dozens of other gambling brands, including a bizarre website purporting to sell construction machinery, but also advertising JNTY's gambling services. 
l-v-0.com is a mirror site of JNTY. When the site is opened, note the name that appears on the browser tab. 6686. The tab translates as '@6686 Sports One (World Cup) Group official website.'
Searching that name in Chinese brings up another raft of hijacked internet sites such as vetta-china.com, which appears to have had a former life as a health food store. The page footer is the same as the JNTY mirror site.
That footer mentions that the website is owned by BD Sports, which is licensed by the Malta Gaming Authority (MGA) and PAGCOR. BD Sports doesn't feature on the MGA list of licensees; neither does it feature on any of PAGCOR's licensee lists. We checked.
Just like Neo in the Warner Brothers film franchise, we can see the Prime Program that controls The Matrix, but obfuscation means that determining its true owner is almost impossible. Navigating through the myriad of companies, licensors and brands only opens more rabbit holes to get lost inside. And that is exactly the point.
Local solution, global issue
Despite its apparent brief existence, 6686 has managed to fund and secure sponsorship deals with some of Europe's major football teams and leagues. But 6686, 8XBet, JiangNan and the other linked gambling brands are not newcomers to the market. They are owned by the same people, since 2011 according to Lazio. They continually launch new brands to advertise their product and stay one step ahead of the regulators, who are tied to one country within what has become a global industry.
Football clubs are complicit in allowing this to happen. As shown, they accept money for partnerships fronted by models purporting to be executives from these opaque companies, without knowing who the real owners are. In addition, as reported by Josimar yesterday, 8XBet also has a recruitment partner based inside a Cambodian compound notorious for slavery.
It is perhaps conceivable that a club or its due diligence partner might not discover the dozens of connected gambling brands that appear to be operated by the owners of 6686, JiangNan Sports, 8XBet, and W88, many of which appear to be unregulated and targeting markets where gambling is illegal. But that's perhaps taking 'benefit of doubt' to a whole new level.
None of the clubs publicly announced a deal. Only Nottingham Forest answered questions about their deal – and then only when pushed. Did the clubs know that publicly announcing agreements through photoshoots fronted by models playing betting executives might attract scrutiny?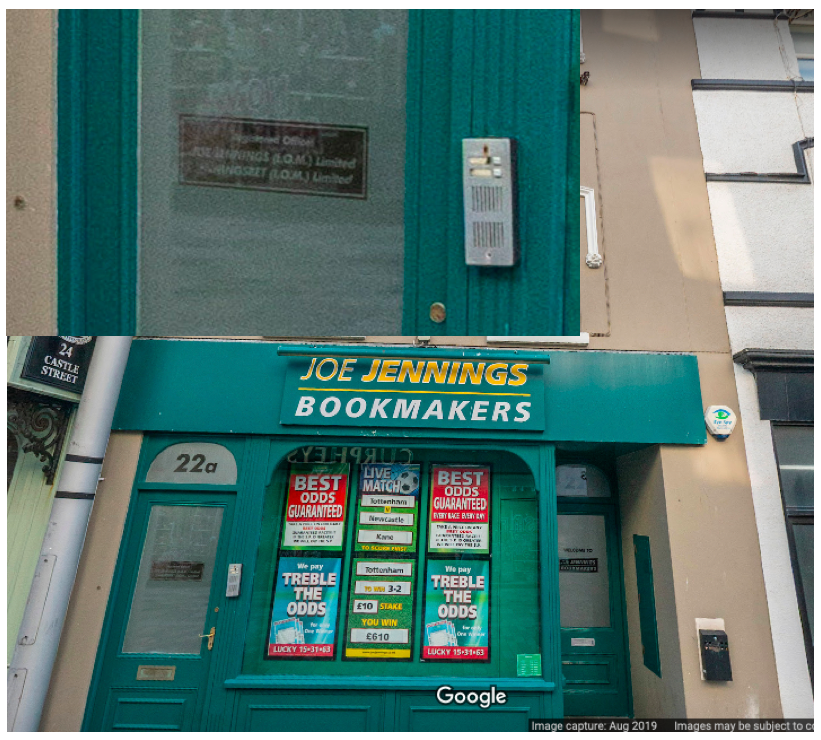 Were they blind to the role of TGP Europe? 6686 features on TGP Europe's Gambling Commission licence page, and 8XBet is among the 17 gambling brands listed as partners of the company on its internet site. TGP Europe apparently administers 31 gambling brands from a tiny office above a Joe Jennings betting shop on the Isle of Man, which still features the bookmaker's name on the office door.
Josimar previously found links between TGP Europe and the Suncity Group of Alvin Chau, a suspected triad member who has recently been sentenced to an 18 year jail term in China for fraud and gambling related offences. Yet despite these obvious red flags, the UK Gambling Commission has never taken regulatory action against the company. Why?
Advertising and money. The Gambling Commission regulates the provision of gambling services to customers in Great Britain through the Gambling Act. This permits companies that do not hold a licence from the Gambling Commission (6686) to provide a 'brand' for a gambling website operated by an existing licensee (TGP Europe). Concluding such a so-called 'white label' agreement allows that brand to advertise in Great Britain.
So all 6686 has to do is conclude an agreement for TGP Europe to produce a British-facing website for its brand, and it can then use Premier League football's worldwide television coverage to promote its brand – and the dozens of associated Asian-facing betting brands – across the world. It doesn't matter if that brand never secures a single British customer, or if those other brands aren't regulated, as the goal isn't to target customers in Great Britain, but in Asia.
So why is the Gambling Commission allowing the advertisement of a gambling brand which has clear links to a company that instructs users how to circumvent laws prohibiting gambling? "We do not talk about individual operators or cases," said a spokesperson in response to a list of questions. "Where an operator contracts with a third party, we expect the operators that we licence to carry out all necessary due diligence to satisfy themselves that the proposed relationship will not in any way compromise the operator's own compliance."
In November, the Gambling Commission did take action against AG Communications, which is responsible for 95 white label domains, for failing to carry out anti-money laundering checks on a white label partner. In May last year, it came to a 'settlement agreement' with Progress Play, which operates 189 white label domains, for the same reason.
The UK Government is currently undertaking a review of the Gambling Act and so-called 'white label' agreements are included. 'Concerns have been raised that the companies who provide the brands may be seeking to use white label arrangements as they would be unable to meet the GB regulatory standards required to obtain a licence themselves, and that this therefore poses risk to consumers,' reads paragraph 30 of the review. 'There are currently over 700 white label partners in the industry', it adds.
This appears to miss the point. Which is that illegal gambling brands are piggybacking on white label deals with UK licensees in order to use Premier League football to advertise illegal gambling overseas. Josimar has raised this point with those responsible for the review, but has yet to receive a reply.
Also, take that figure in for a moment. Over 700 overseas gambling brands are being promoted to British customers via 'white label' agreements with Gambling Commission licensees. They are also permitted to advertise their brands in Great Britain because of these 'white label' agreements.
The Premier League is broadcast to 800 million homes in 188 countries, involving 90 broadcasters and over 400 channels, reported Reuters last year. That's not taking into account internet streaming. In summary, Premier League advertising could be one of Great Britain's most valuable industries. Just imagine the global advertising reach that 6686 and its partners are getting from its agreements with the Bundesliga, Premier League, Serie A, and its various partner clubs.
So is the Premier League concerned about this situation, or does it just want the money? "Gambling partners of Premier League clubs are regulated and licensed by the Gambling Commission and are required to adhere to the rules of the Advertising Standards Authority," said a spokesperson in response to specific questions.
Any Premier League club that concludes an agreement with a gambling brand is required to ensure that that brand signs a memorandum of understanding with the Premier League, in order to protect against the risk of match-fixing. When we asked if the Premier League had concluded an agreement with 6686, we were told that it doesn't comment on such deals.
Gambling companies used to sponsor football clubs. Football clubs now sponsor the gambling industry. The sport has been hijacked by poorly regulated or unregulated operators who use worldwide television and internet coverage to target markets where gambling is illegal. It would appear that the licensing process that allows this to happen has been utilised by criminals, and football clubs and leagues are happy to take their money. The tragedy is that nobody seems to care.