A football player or official in England is being charged once every three weeks on average by the Football Association in one of the sporting world's biggest probes for betting on matches.
By Steve Menary
The focus of the FA's purge is below the Football League in the National League System, which starts at Level 5 and is often known as non-league. Players and officials as low as the eighth tier, some of whom do not even get paid, are being charged often for betting on games at the top of the football pyramid, which is swamped with gambling adverts.
"The increasingly intertwined relationship between football and gambling cannot be overlooked as a factor in these offences," says James Grimes, who runs the Big Step campaign aimed at stopping gambling advertising in football that has support from 27 clubs including many non-league teams.
"Gambling culture is reportedly rife in professional football, and it seems this harmful environment is facilitating addiction amongst both fans and players. Given that it affects many supporters, it would be naïve to think that the incessant promotion of gambling doesn't affect the players."
Bowers & Pitsea
The sanctions began in 2014, when the FA responded to a number of non-league match-fixing scandals by introducing a rule banning players from the Premier League down to the bottom level of the Isthmian, Northern and Southern Leagues – Level 7-8 and known collectively as the Trident Leagues – from betting on any matches anywhere in the world.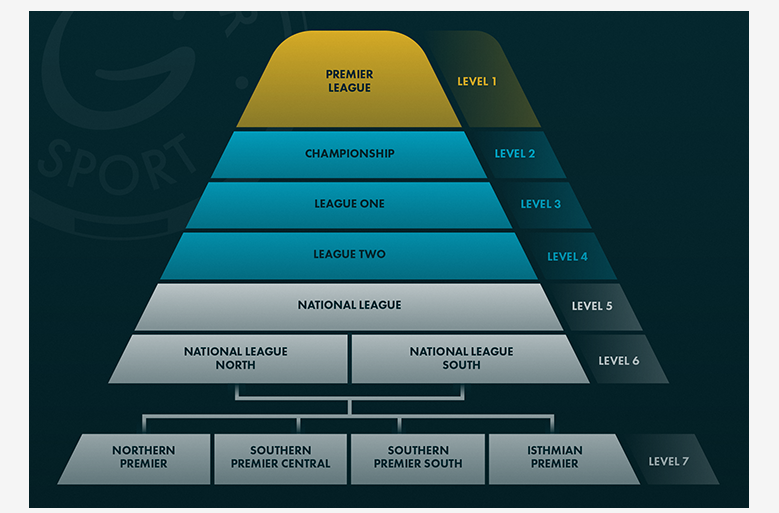 Since the ban started, 179 players, club staff and officials have been charged with betting offences between August 2014 and May 2022.* Three quarters of those charged were from clubs at Level 5 or below or unregistered at the time of the charge and had mainly been involved with non-league clubs.
These 139 non-league players and officials had made more than 69,000 bets and the FA collected nearly 80 000 pounds in fines.
The club attracting the most FA charges was Bowers & Pitsea. Nine players and officials from the Essex-based club, which plays in the Isthmian League Premier Division (Level 7), have been charged or warned by the FA in the last two years. A number of other players charged by the FA, and described as unregistered, had also played for Bowers & Pitsea.
The raft of charges against Bowers & Pitsea and other clubs that attracted a number of FA charges – such as Ashton United (Level 7) and Spennymoor Town (Level 6) – suggest a betting culture, but 66 different non-league clubs are identified in analysis of the FA charges.
Most players and officials banned by the FA appear to have been punished for simply betting on football in contravention of FA Rule E8. Players and clubs at this level understand that no-one should bet on their own games, but the FA rules mean that a player in the eighth tier, such as the Southern League South (Level 8), cannot even bet on the Champions League final.
Up to this month, 130 of these cases have been brought before regulatory commissions and 94 were in non-league (Level 5 and below).
Gambling harms
'Evening the Odds', a report published last year by sports lawyers Level, analysed the 101 betting cases brought before regulatory commissions and with details published on the FA's website up to March 2021.
This report found that many players at non-league level did not fully understand the FA's rules and that gambling addiction was a mitigating factor.
The report said: "Many participants, particularly in the lower steps of the National League System (where The FA's education initiatives may be less ubiquitous), pleaded that they were ignorant of the rules and thought that they were only prevented from betting on their own teams or leagues."
This research found that in 26 percent of cases, "problem gambling" was cited as a mitigating factor. "More worrying still, this number does not include cases in which gambling addiction was raised as an issue but, ultimately, did not contribute to the mitigating factors in the case," the report concluded. "It is therefore likely that addiction is a factor in around a third of cases."
Premier League advertising
Non-league players are swamped with betting advertising when they watch games at the highest level.
Research by Josimar found that there were 63 separate sports betting company adverts on Premier League perimeter boards during the 20 games played over the 2021 Christmas period.
James Grimes adds: "It would be naïve to think that the incessant promotion of gambling doesn't affect the players."
Many adverts at Premier League games are for Asian facing online betting companies. These sites are geo-blocked in the UK, but football players at any level can easily download a VPN (virtual private network) to re-route their internet connection around the geo-blocking. They can then open an account and bet without any fear of detection with these betting companies, which do not collaborate with sporting or legal authorities.
Former Dutch internationals Dirk Kuyt and Wesley Sneijder both bet on a banned website Edobet, which has since closed, according to evidence in a trial of an alleged gangster in the Netherlands last year.
Ban all betting?
The FA's harshest sanction is, understandably, for players betting on their own games, particularly when betting to lose.
The 130 overall cases brought before regulatory commissions involved 76,888 bets and 9,902 of these bets were categorised as being on a player or officials own games.
However, a non-league player from Level 8 who plays in the early qualifying rounds of the FA Cup then places a bet on the final would be categorised as betting on their own competition.
Some non-league players are also fined for betting on their own games that are part of accumulator bets that cover a number of games and simply looking for an extra bet rather than targeting their own games.
In these cases, the Level report found that sanctions were less severe but non-league players are only able to bet on their own games anyway because these fixtures are increasingly being targeted by the betting and data industries.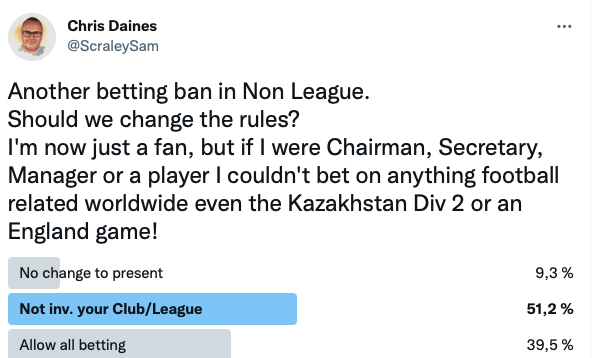 The FA were asked what proportion of the 69,000 bets placed solely by non-league players and officials in charges brought since 2014 were on games at their own level but did not address this question.

The FA's stance
The crackdown on the English non-league game has increased since the FA re-engaged with the betting industry
In 2017, after a three-month review, the FA decided it was not appropriate to have an official betting partner while enforcing such strict rules and ended a deal with Ladbrokes, part of the Entain Group, reportedly worth 4 million pounds a year.
However, in 2019 the FA agreed a sponsorship deal for the Trident Leagues (Levels 7-8) with Gibraltar-based betting operator BetVictor, which attracted criticism on social media.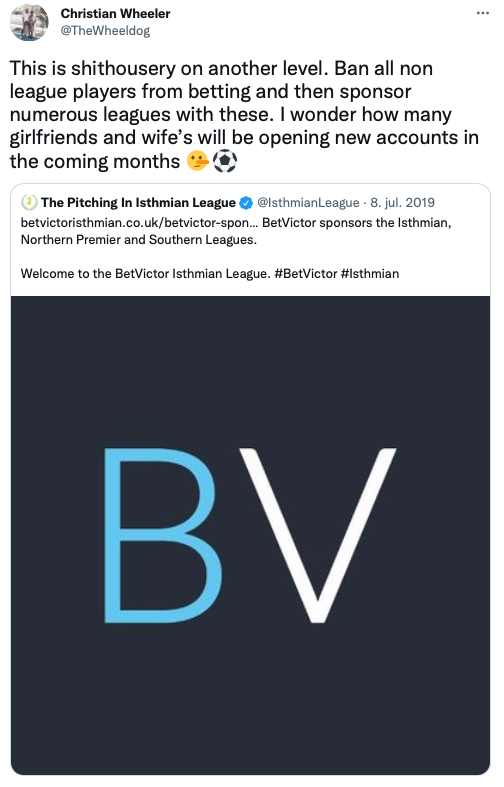 After the BetVictor deal was agreed, there was a huge upturn in charges against the non-league community for betting.
Between August 2014 and January 2018, 23 non-league players and officials were charged. That figure virtually doubled in the first year of the BetVictor sponsorship but in April 2019 the company activated a break clause and ended the deal a year early, citing 'escalating negativity towards betting in football' and compliance breaches by clubs in the Trident Leagues (Level 7-8).
Entain, which also owns betting brands Coral, Eurobet and Sportingbet, took over under the 'Pitching In' banner with annual funding of 150 000 pounds. There is no direct advertising of any Entain betting brands and Trident League clubs can apply for grants of up to 5 000 pounds. The FA's probe has stepped up. 
Since the start of the 2020/21 season, 67 non-league players and officials have been charged by the FA with betting offences.
One integrity expert described the FA's approach as "heavy handed" and "just going for the low hanging fruit."
In response to issues raised in this article, an FA spokesperson said: "We are committed to ensuring that the integrity of football is maintained in partnership with the whole game and stakeholders from other industries.
"All participants in the National League System and above are prohibited from betting, accepting bribes, sharing inside information or match fixing on football or football related activity. If any participant is found to have breached our Rules and Regulations, we will seek to ensure that appropriate action is taken against them."
All these non-league players and officials being charged are not only swamped with betting advertising when they watch football but many of their own games are also on gambling markets around the world – often without club officials even realising – which illustrates how out of control the game's relationship with betting really is.
*Data note: Information on player betting charges is taken from the FA website, www.thefa.com. Information on charges comes from the monthly Charges, Responses and Suspensions updates but was not available and cannot be 'tracked down' by the FA for the following months: December 2014, June 2015, August 2015, April 2017, July 2017.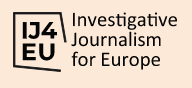 The production of this investigation was supported by a grant from the Investigative Journalism for Europe (IJ4EU) fund.