Are we getting closer to a World Cup in Saudi Arabia? The Saudi football federation recently signed a deal with Caf that may have earned them 54 votes in the race to become the host nation in 2030.

By Philippe Auclair
SAFF president Yasser Al Misehal is a very busy man. The 49 years old graduate in Sport Management Studies from Abu Dhabi's Sorbonne university, who's been in charge of his federation since June 2019, was recently elected as one of the Asian Confederation AFC's representatives on the Fifa Council, another forward step in what has been a swift ascent to the top of football officialdom since Crown Prince Mohammed bin Salman became the de facto ruler of the kingdom in 2017. This made Al Misehal one of the key figures in his country's ambition to become the second Muslim Arab country to host a World Cup, eight years after Qatar organised the 2022 edition. He is not just the president of a football federation and a member of Fifa's supreme committee: he is one of the main architects and ambassadors of the Saudi bid for the 2030 tournament, with Egypt and Greece very much the minor partners in this tri-continental effort.
As was the case with its Gulf neighbour, money is no object for a country which envisions spending 500 billion dollars to make a new "smart" city, Neom, rise from the sand by 2039 near the Egyptian and Jordanian borders. Money alone is not enough, however. Al Misehal's main task is to ensure that a majority of Fifa's 211 Member Associations tick the right box when the 74th Fifa Congress (*) decides where the 'Centenary World Cup' is staged. he exact dates of the Congress have yet to be finalised, but it is expected that it will take place in early September 2024, probably in Zurich.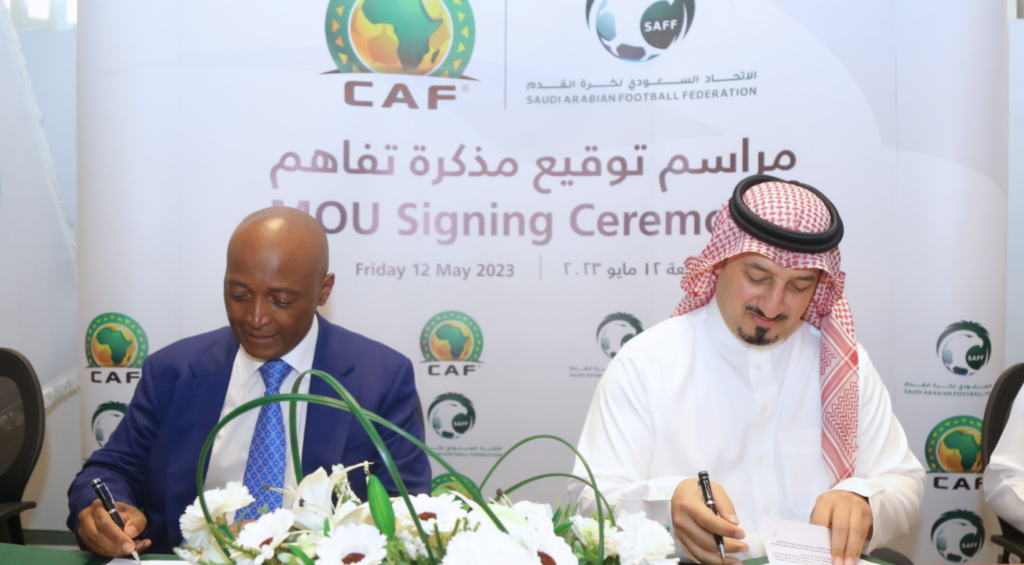 Time And Timing Are Of The Essence
There isn't much time – and there are some serious obstacles on the way. Saudi Arabia's human rights record is one, and guarantees that there will be fierce opposition, at least in the West, to granting such a prestigious sporting event to an autocratic regime whose attempts to portray itself as embracing "modernity" have met with widespread scepticism. Yet, as Qatar's example has showed, this in itself needn't be enough to derail the Saudi bandwagon, especially since most of the criticism is likely to come from old Europe, which accounts for only a fourth of the members of the Fifa "family" – and where oil-rich Saudi Arabia counts a number of allies anyway.
The prospect of staging the tournament in winter, which seems unavoidable, as the average day temperature passes the 40C mark from May to September in Riyadh, will cause alarm in some quarters but, once again, European clubs and leagues, who would be the most adversely affected stakeholders, do not hold strong enough a hand to prevent it from happening. Once again, Qatar showed the way in this regard.
The main problem for the Saudis is the strength of the two officially declared rival bids for 2030: a CONMEBOL quartet composed of Uruguay (organisers and winners of the first-ever World Cup), triple world champions Argentina, Paraguay and Chile, a proposal which holds unique appeal in terms of football history, heritage and symbolic value; and the Spain-Portugal-Morocco trio, whose bid in the most convincing in terms of compactness and green credentials, as the infrastructure is by and large already in place, be it in terms of stadiums or hotels. The 'Mediterranean bid' also benefits from associating historically high-performing football nations from two confederations which, by 2030, will not have hosted the tournament for twelve (UEFA) or twenty (Caf) years and could theoretically count on the support of 109 Fifa Member Associations – more than the required majority – should these confederations support their joint bid.
In this context, it has been said that the Saudis, who are aware of the magnitude of the task at hand, saw 2030 as a trial run for future bids, with the Olympic Games – in Neom? – a possible target in the not-so-distant future just as, in reverse, Qatar built upon its failed bid for the 2020 Olympics to compete for the 2022 World Cup hosting rights. This would make sense; but this would not be congruent with the huge amount of work they've done and are doing (now more than ever) behind the scenes to build up support for their cause within world football. It is not just about 'sportswashing', 'soft power' and exerting increased diplomatic influence globally. 2030 is not an abstraction. 2030 is a credible horizon.
Not All About Ronaldo And Messi
Some of Saudi Arabia's moves have grabbed the headlines: the protracted but ultimately successful purchase of Newcastle United, Cristiano Ronaldo choosing to play out his career at Al Nassr in the Roshn Saudi League, Lionel Messi becoming the 'face' of the Saudi tourism authority (and being excluded from the PSG squad when he did an unauthorised trip to Riyadh before the Ligue 1 season was over). What has been barely noticed until now is the groundwork done by Al Misehal over the last couple of years with the people who really matter: the presidents of the Fifa Member Associations who will cast a vote when the time has come to decide where the 2030 World Cup will be played.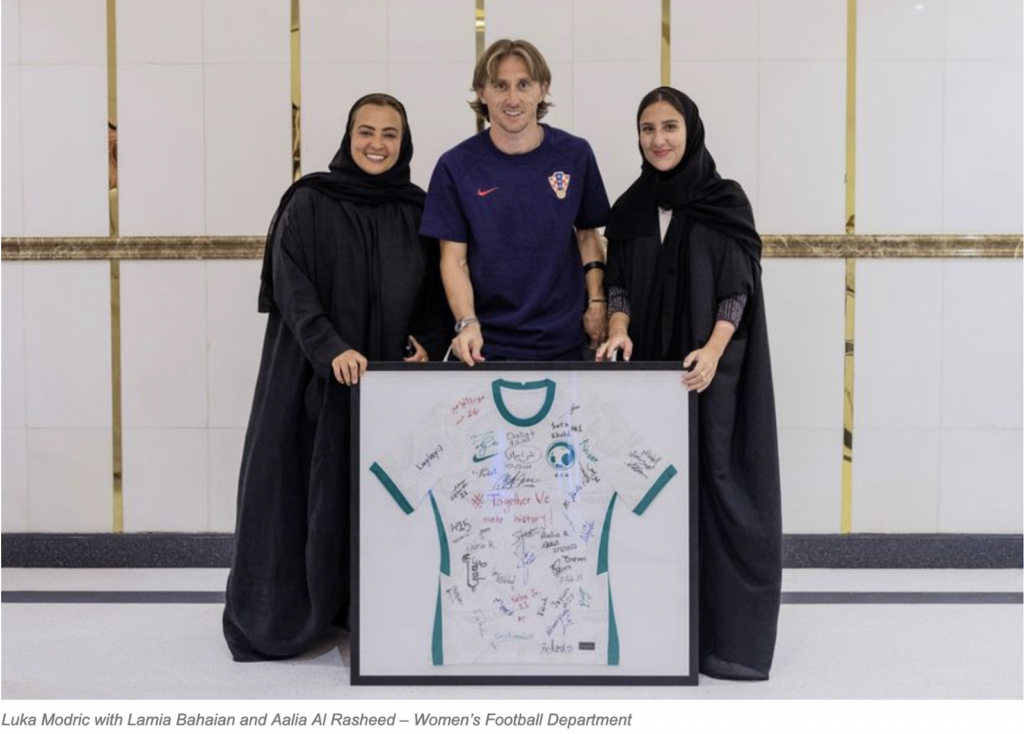 Josimar has found that since September 2021, Al Misehal has signed no fewer than sixteen new "Memorandums of Understanding" (MOUs) on behalf of SAFF with national federations from four of the six continental confederations, namely AFC, Caf, UEFA and CONMEBOL (*). The Maldives were first, on 2 September 2021, followed by Tajikistan five days later. Mali, China and Brunei were next. The process accelerated from October 2022 onwards, with India, Kuwait, Ghana, Croatia (with Ballon d'Or winner Luka Modrić as the star attraction of the signing ceremony, bang in the middle of the Qatar World Cup), Singapore, Ecuador and Bangladesh all signing agreements before the end of the year. 2023 has been just as busy. Mauritius – where Saudi Arabia part-financed the construction of the country's National Sports Complex in 2019 – were first to conclude a cooperation agreement, closely followed by Sudan, Nepal and Botswana. Then came the really big deal, with Caf. 
Big Bang
On 12 May, Caf President Patrice Motsepe and Yasser Al Misehal signed their names at the bottom of an MOU which, in its scope and significance, had no precedent. Caf is, at least potentially, a block of 54 votes, the second-largest in the world after UEFA. Caf has long been a kingmaker in Fifa presidential elections. Sepp Blatter knew it, who cultivated close links with its main figures and somehow convinced many of its lesser ones to vote for him to beat Lennart Johansson in their duel for the Fifa presidency in 1998; and, had Gianni Infantino not been able to wrestle Caf's support away from Bahraini candidate Sheikh Salman in the 2016 election, he wouldn't have prevailed then. Caf matters, a lot.
The paradox is that the African organisation has never been weaker as an independent entity than it is now. Its fragile finances have taken a turn for the worse following the cancellation of its 1 billion dollars marketing rights deal with Lagardère in November 2019, on Fifa's advice – some would say orders. Fifa has increased its direct influence in the running of the confederation since it engineered the ousting Caf president Issa Hayatou and his replacement by Ahmad Ahmad in 2017, to such an extent that it now more or less functions as a vassail of the Zurich administration.
First, Fifa Secretary-General Fatma Samoura became the de facto regent of Caf in August 2020. Infantino's university friend and former Head of Fifa Member Associations Véron Mosengo-Omba was parachuted in the Secretary-General position almost immediately after Fifa-supported Patrice Motsepe took power in March 2021. Almost all of Caf's African executives were removed shortly afterwards, to be replaced with executives recruited in Zurich as much as in Cairo, with external consultants picked by Fifa, a surprising number of them Italians or Swiss-Italians, taking over a large part of the day-to-day running of the confederation. In other words, it is hard to believe that Caf would have signed its MOU with Saudi Arabia if Fifa had not approved of it.
It should be understood that, in this case, a MOU is far more than a plain 'declaration of friendship' between two equal parties. It is the equivalent of a 'Big Bang' in their relationship. As Motsepe said after signing the document on 12 May in Riyadh, "Caf is excited to work together and partner with the Saudi Arabian Football Federation to develop and grow football on our continent and globally. There are also specific areas for mutually beneficial partnerships that we are discussing and announcements will be made in due course". The question is: what could those 'mutually beneficial partnerships' be?
Encouragement or enticement?
Looking at previous MOUs signed between SAFF and other national football associations and what they entailed on the ground, it is clear that the Saudis were the senior partner in almost every single case, as could be expected when gauging the financial power of one party against the other's. They ingratiated their associates by hosting training camps for their national teams across all age categories, organising workshops and seminars for their officials, setting up friendlies which, sometimes, involved Saudi teams (as when Saudi Arabia's U17s played against Ghana in May of this year), and sometimes not (as when the women's teams of Comoros and Mauritius faced each other in Saudi Arabia in January). In every case, the Saudis footed the bill. One side, short on cash, had access to facilities and took part in events they couldn't have afforded otherwise; the other, Saudi Arabia of course, could count on the gratitude of their partners, which will come in handy when their support will be needed – at a Fifa Congress, for example.
But what of Caf? Caf needs money; and it needs it now, especially as it prepares to launch its 'Super League', a pet project of Patrice Motsepe's and Gianni Infantino's of which hardly any detail was known until now. To get off the ground, this new competition, which its proponents have assured would transform the economy of African football, required an investment of 200 million US dollars per season. Caf does not have that money. But the Saudis certainly do.
It is hard to believe that it is a mere coincidence that on 14 May, two days after Patrice Motsepe and Yasser Al Misehal had put pen to paper on their MOU, Egyptian news website YallaKora (who'd been tipped off by an unnamed member of Caf's Executive Committee) revealed that the draw for the first edition of the Super League would be held in Tanzania "under the auspices of Fifa and its African counterpart" in late July, in a ceremony organised by an Italian agency (*), which would also ensure that the stadiums used for the new competition were up to scratch. The competition itself would be held from 17 October to 30 November and would involve eight clubs. It would happen: the Super League had found a backer.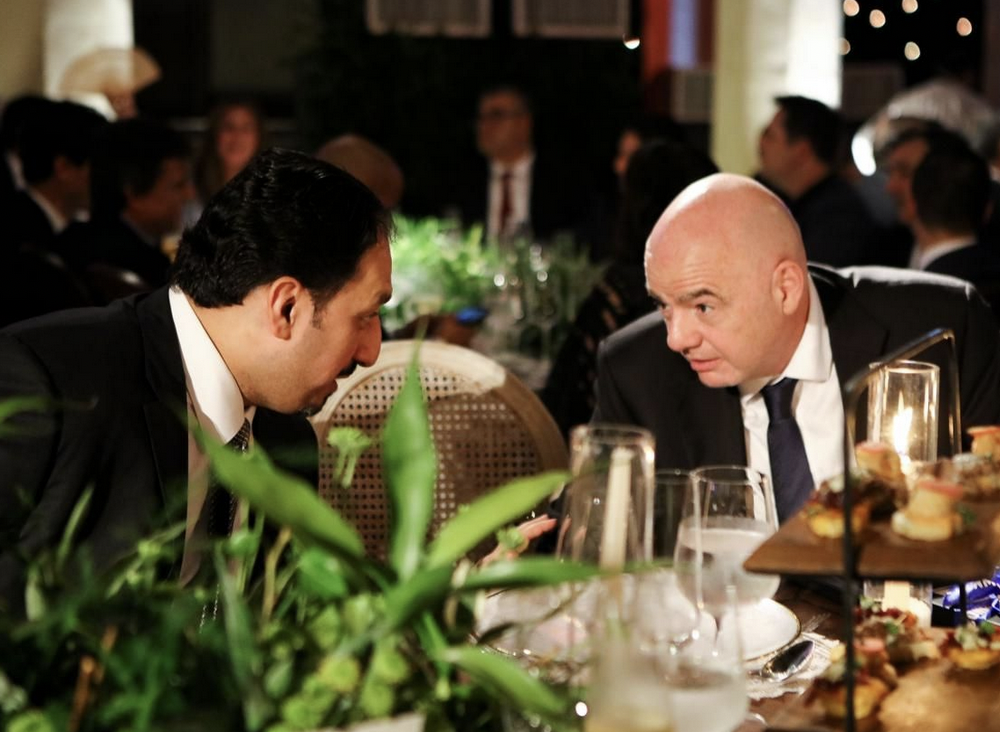 SAFF President Yasser Al Misehal and Fifa President Gianni Infantino at CONMEBOL's 76th Ordinary Congress, Asuncion, Paraguay, March 2023.
Who this backer or backers are is yet unknown, but one plausible hypothesis, one which has been mooted for months, is that it or they hail from Saudi Arabia, who would also propose a TV rights deal for the tournament. Up until now, this hypothesis was based on plain logic. Saudi Arabia is widely thought to have been Fifa's financial backer in Gianni Infantino's proposed enlarged Club World Cup, whose 2023 edition will be hosted by the kingdom in December of this year. Saudi Arabia, which will also host the 2027 Asian Cup, is aggressively looking at expanding its portfolio of partners and competitions, and has significantly increased its presence in African football through the signing of multiple MOUs with African FAs.
Who else, today, has the means to invest 200 million US dollars – more than sixteen times the budget of the 2022-23 Caf Champions League – in a new competition whose commercial potential is unknown? 
And how better to engineer support for the 2030 Saudi World Cup bid than to formalise the cooperation between the vote-rich African confederation and the Saudi FA in the form of an MOU?
(*) As it stands, the 74th Fifa Congress would be composed of two distinct events, the first one to be held in Mumbai in the spring of 2024, the second, which will deal specifically with the hosting of the 2030 World Cup, to be staged towards the end of the summer.
(*) SAFF had already signed MOUs with several other MAs by this stage, Mali, Comoros and Malawi among them, whose teams were invited to hold training camps in Jeddah before the African Cup of Nations which took place in January and February 2022.
(*) YallaKora does not specify which 'Italian agency' would be brought in to take care of the draw, but it is worth remembering that Fifa had tried to impose an Italian company, Angelini Design, to take care of the ceremony for the draw of the 2021 AFCON in Cameroon, a move which was resisted by the Cameroonian organisers, and that Italian Gruppo Piccini S.A. had been tasked with building the Olembé Stadium in the outskirts of Yaoundé by the Cameroonian government, which then cancelled its contract after work on the site had been held up for a year. The Olembé Stadium was the theatre of Africa's worst football tragedy when eight people died in a stampede on the occasion of a round of 16 game between Cameroon and Comoros on 24 January 2022.
(*) According to YallaKora: Al Ahly (Egypt), Espérance de Tunis (Tunisia), Patrice Motsepe's club Mamelodi Sundowns (South Africa) and Wydad Casablanca (Morocco) in Pot A; Petro Atletico (Angola), Simba (Tanzania), TP Mazembe (DRC) and Enyimba (Nigeria) in Pot B.