A company promising work with Manchester City's betting partner is offering great pay, safe work and "no human trafficking".

By Jack Kerr and Philippe Auclair

So advertises an eye-catching job post from November, auto-translated from Vietnamese, one of dozens on social media trying to entice passport holders across the Cambodian border to work with 8XBet. 
Anyone who has followed the Premier League might be familiar with the 8xBet brand: its logo has been beamed around the world thanks to a regional partnership with Manchester City, which has given it prime advertising space at home games.
Readers of Josimar will know the name too. Our September investigation lifted the hood on the secretive bookmaker and found substantial links to a Dubai-based marketing firm.
This has led some to accuse 8XBet of being a "ghost" sponsor – a fictitious entity created for the sole purpose of inflating the club's commercial revenues.
But could 8XBet's real story involve something else altogether, like the human trafficking that one recruiter felt compelled to distance the company from?
Half-a-million scammers
Two-hours north of Ho Chi Minh City, across the Cambodian border, lies Bavet.  
Home to special economic zones that have been set up to facilitate cross-border trade between Cambodia and Vietnam, its main street looks like a would-be Las Vegas, a haven for casino operators in a country overrun with them (despite locals being prohibited from using them).  
It is also becoming known for its cyber scam slave compounds.
"Bavet is one of several locations in Cambodia and the Mekong region where organised crime have migrated casino, online gambling and scam operations," says Jeremy Douglas, a regional representative for UNODC, the United Nations Office on Drugs and Crime.
Across South-East Asia, there are an estimated half-a-million people working as scammers, the Global Anti-Scam Org told a recent BBC documentary.
Some are there willingly, happily luring in victims by building up trust over many months, before convincing them to put their money into an illegitimate crypto scheme or a casino that doesn't pay out.
But many others are not, and the documentary – just one of many investigations into the problem – shows workers being handcuffed to chairs and poles and then being tortured with an electroshock weapon, or forced to the ground and beaten with sticks, or locked behind bars.
Douglas says "prison-like conditions and torture have been well documented and corroborated" in cyber scam compounds across the region, and that the syndicates behind them, while the subject of occasional crackdowns, migrate to places "where they've been able to do what they want".
Places like Bavet.
The town is home to a little-known company called Great Wall Corporation. It first appeared online in mid-2022 and it seems to have no other clients than 8XBet.
It's also the company that 8XBet recruiters, like the one who declared there was no human trafficking, work with.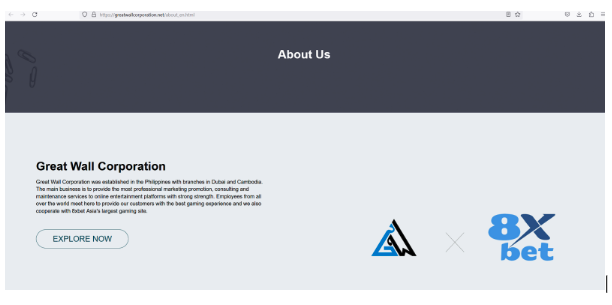 Great Wall lists Bavet as one of three branches where it operates (along with Manila and Dubai), but the bordertown dominates the few pieces of content the firm has released online.
On its YouTube channel, for example, are three videos, two of which show the induction process for workers on arrival in Bavet.
In one, a newly arrived worker hands over her passport and is given a Great Wall staff pass in return.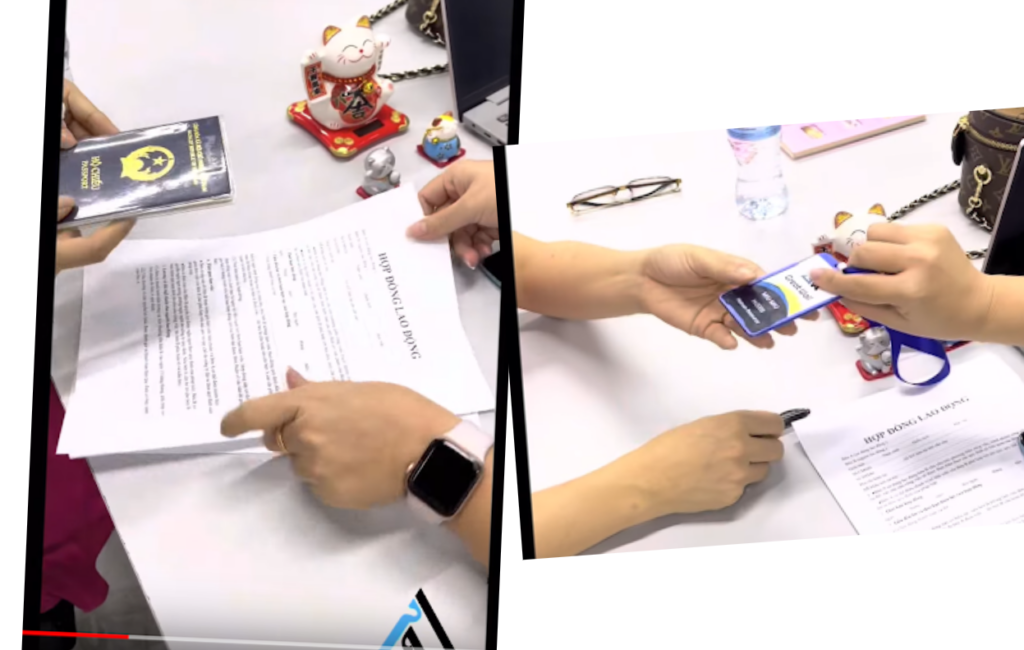 Earlier in the video, she hops out of an SUV after it pulls up outside a row of four apartment blocks. As she is chaperoned towards her new workplace, the camera pans to the left for a fraction of a second to reveal a bright yellow tiled building.

Using open-source intelligence and geo-location analysis, Josimar has been able to establish that these buildings are located in a recently built compound to the south of the town's border crossing.
While Google Street View for the area, which has not been updated since 2014, shows buffalo wondering in what were fields at the time, the archive of satellite imagery in Google Earth shows development of the area taking place in 2018-2019.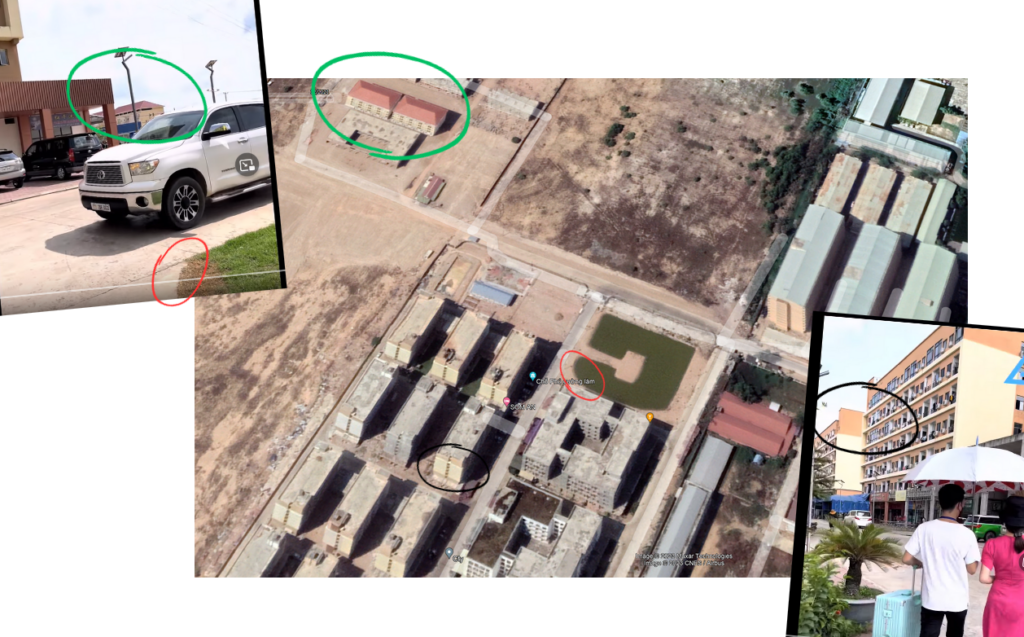 The bright yellow building cannot be seen (possibly due to the timing and angle of the most recent shots), but videos from social media and photos from Cambodian news service VOD, which has covered the issue of cyber scam compounds extensively, confirm this is the location.
Off-limits for police
The area – known alternatively as Kim Sa, Heng He and Heng Heng – is one of the "most notorious" in Bavet "for keeping workers in captivity", according to Vietnam's ZingNews. 
"It has 12 dormitory buildings and 4 office buildings, which are completely isolated from the outside by a barbed wire fence system," an unverified translation of its reporting reads. "Workers in the Kim Sa area have reflected on being beaten and tortured when making mistakes."
It says Bavet is advertised as "a promised land for many Vietnamese workers", but the reality is somewhat different. Speaking generally about the situation in the town, it says: "Through brokers, many people have crossed the border to Cambodia and are immediately sent to captivity to work for an online gambling company. Their main job is to contact and entice Vietnamese people in the country to play online gambling and betting games."
Cyber Scam Monitor, an anonymous group archiving and publicising abuses that take place in cyber scam compounds, says it fears the worst about Kim Sa/Heng He.
"We have seen a number of reports indicating that foreign workers have been forced to work at this site, which appears to be tightly controlled and surrounded by high walls and barbed wire fencing," a researcher said. "We are currently in the process of investigating these claims."
The Global Anti-Scam Org, however, says the location is not on its radar, and videos posted on Tik Tok from the location show people smiling and laughing, having dinner, singing and dancing for the camera, or going out to the complex's nightclub.
Many appear to be having a good time – and to be well rewarded for their work: TikTok videos frequently show off large amounts of cash. One video even features a passionate war cry about working to triumph.
While some TikTok posts from the compound talk of missing home, Josimar has not seen any examples of people being held against their will, or being tortured, or carrying out scams.
But nor have we come across anything that resembles a legitimate gambling operation taking place in the compound, and we saw no one promoting the 8XBet brand (though unrelated brands Luck8 and BK8 were mentioned.)
Multiple sources claim the Kim Sa/Heng He site is owned by the same well-connected gangsters who have compounds in other parts of the country that have been exposed as running cyber scam slave operations.
Senior police in Bavet, quoted by VOD, have suggested it is off-limits to them.
"This location, I have never entered there because it is very difficult to go in and out," said one. "We don't know how many people live inside there," added another, "and they have never been friendly with us."
Stacks of passports 
In incidental footage of Kim Sa/Henghe posted by one Tik Tok user, who appears to be a HR recruiter living in the complex, security guards are sighted at the spiked gates of the compound. 
More conspicuous in her videos are the stacks of Vietnamese passports she has, which appear in post after post after post.
Presumably meant to show off how successful the business is, it also has more sinister implications: the Australian Federal Police says the surrendering of a passport to an employer – if the worker is then unable to access it – is a key sign that a person may be a victim of trafficking.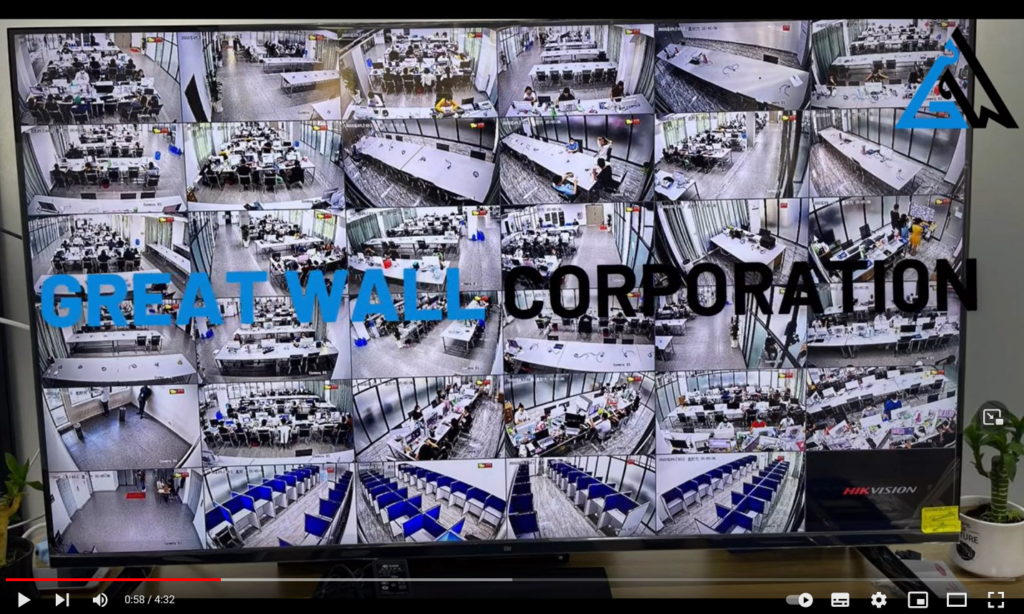 In videos from other users, a double rolls of razor wire can be seen running atop the compound's tall and solid perimeter wall.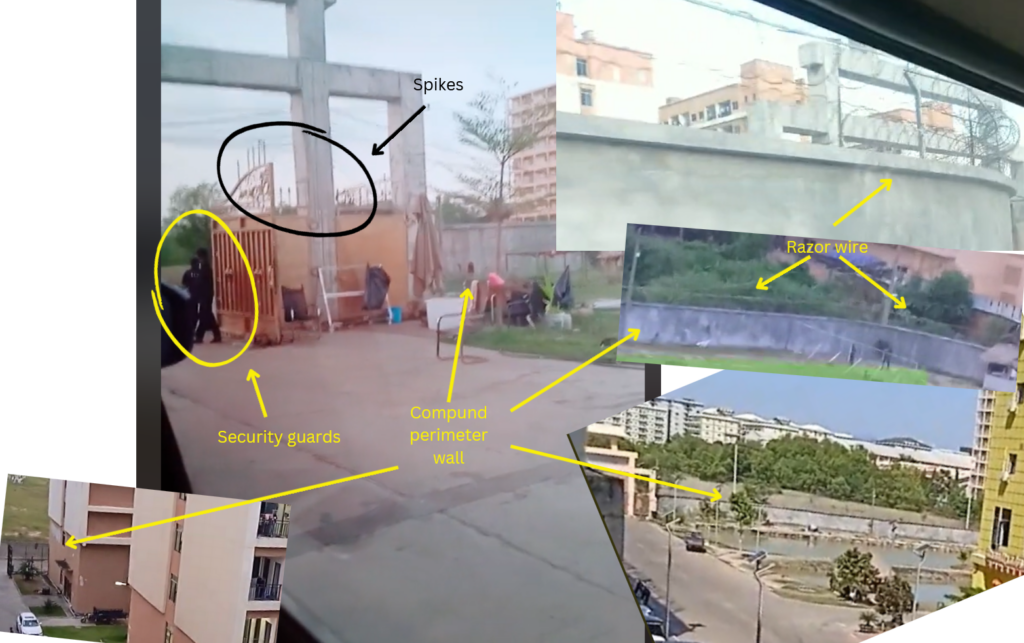 One source described the security measures seen at this location as "trademark" for scam compounds.
"Many compounds have been fortified with high perimeter walls with razor wire and spikes, barred windows, surveillance cameras and armed private security," said the UNODC's Jeremy Douglas.
"In other words, facilities that appear to be very purposely designed to keep people inside from getting out, or authorities from being able to get in."
Another source said that "given the scale of the crisis and the location of the images, barbed wire and guards could definitely raise red flags and be a cause for concern, especially if workers are on site."
The crisis of human trafficking in Cambodia has become so immense that the US Department of State last year downgraded the country to the lowest tier in its Trafficking in Persons report.
It also warns American businesses that dealing with Cambodian casinos is a high-risk activity due to "endemic" corruption and the involvement of triad gangs.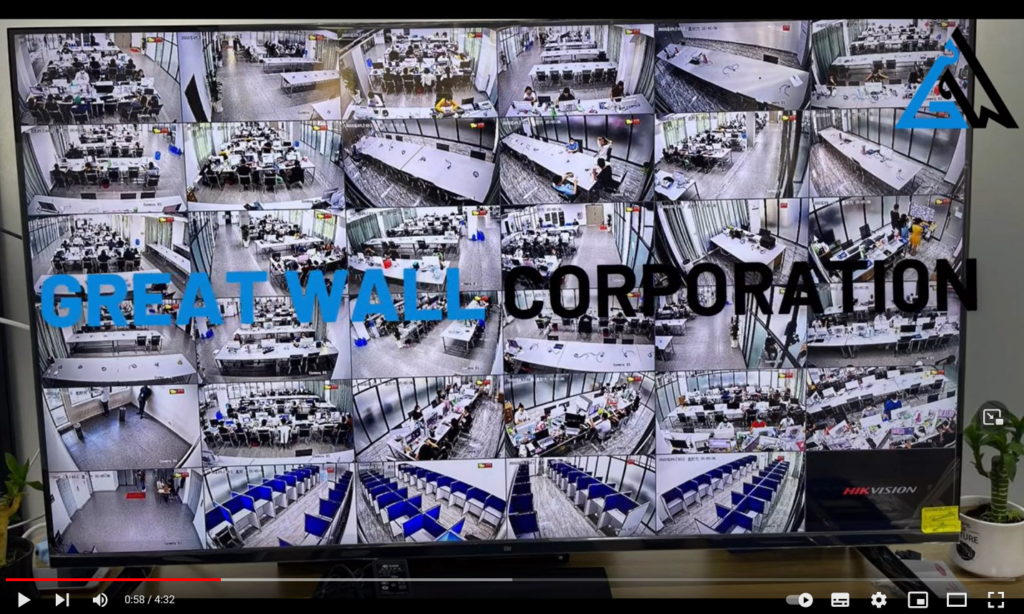 A still from a video posted by Great Wall Corporation shows almost three dozen security cameras in operation in its Bavet office.
Josimar does not know if the business and individuals using the complex or connected to it are involved in anything illegal or immoral, but experts in international humanitarian and intelligence organisations said there are multiple red flags, and warn that businesses working with operators in the town need to have done their homework.
"Even a cursory internet search of news reports reveals that there are human rights risks doing business in Bavet and other parts of Cambodia vulnerable to human trafficking networks," a regional spokesperson for Amnesty International told Josimar.
"All businesses have a responsibility to respect human rights wherever they operate. This includes doing human rights due diligence."
Manchester City's parent company, City Football Group, says it has a "zero tolerance approach to modern slavery of any kind" in a strong policy statement on the club's website.
"We are committed to opposing modern slavery in all forms and preventing it by whatever means possible. We demand the same attitude of all who work for and with us."
The connection to QOO Global
When asked about the location and the possible connection to a sponsor, a spokesperson for the club provided a quote from an 8XBet spokesperson. 
"These allegations are completely false," said Jet Zhu, CEO of QOO Global, the Dubai-based marketing firm that Josimar has previously reported is so tightly entwined with the bookmaker that it seems to be its only client and played an active part in getting it off the ground.
"8Xbet does not and has never had any operation in Heng He and has no links to human trafficking or enslavement," he said.
However, Josimar has found points of connection between Great Wall and QOO Global that would seem to legitimise its claim to be working with the bookmaker.
One of the simplest examples is a repurposed graphic, shared by one recruiter on Telegram in May last year and by another on Facebook two months later.
Originally bearing the name QOO Global, it then changed to Great Wall.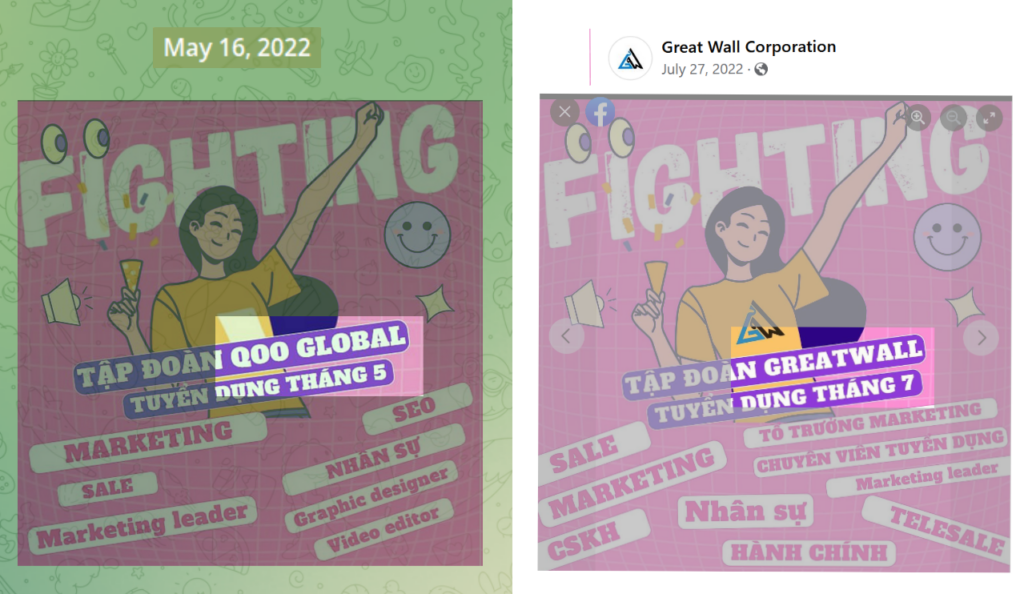 Two days earlier, in its first real post on the platform, on which it had only just become active, Great Wall promoted its ties to 8XBet.
"The main business is to provide the most professional marketing promotion, consulting and maintenance services to online entertainment platforms with strong strength," the post's caption read.
"Employees from all over the world meet here to provide our customers with the best gaming experience and we also cooperate with 8XBET Asia's largest gaming site."
The post barely caused a ripple and received just two likes, one being from a young man whose social media activity reveals two other details about him.
Firstly, he has access to large amounts of wealth. Aged 23, he's wearing Rolexes, driving luxury cars and moving across continents in a Gulfstream 600 private jet.
The source of his money is unclear, but the existence of it is not. Shortly after he arrived in Manila as a teenager, he posted a handful of shots showing large stacks of cash on his Instagram and Facebook accounts.
In one picture, around 20,000,000 Philippine pesos are laid out in notes, a sum worth a third of a million US dollars. There must be closer to a seven-figure sum in another shot that shows a safe heaving with cash.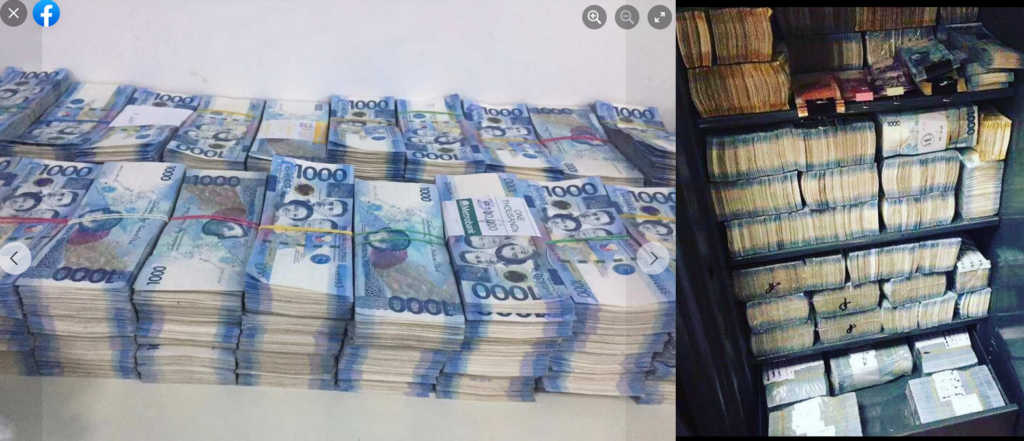 His social media activity also indicates a possible employer: QOO Global.
Just months after its launch, he is one of the few people to attend QOO Global's inaugural Christmas Party, where he is photographed alongside the company's operational director.
On a post that shows him leaving the event, the two exchange banter, as they do on other posts, like one for the company's first year anniversary, which he was disappointed to miss.
He also liked another post from Great Wall, this time on Instagram and looking for workers for unspecified roles. It shows the Dubai skyline in the background.
He himself posted a recruitment ad for Chinese, Malay and English translators who are willing to move to Dubai and live in 4-6 person dormitories to work for QOO Global at around the same time. This has been shared by recruiters working with Great Wall.
When we called the Telegram account listed in the ad, we received no reply and were then blocked after sending a message asking about QOO Global and Great Wall.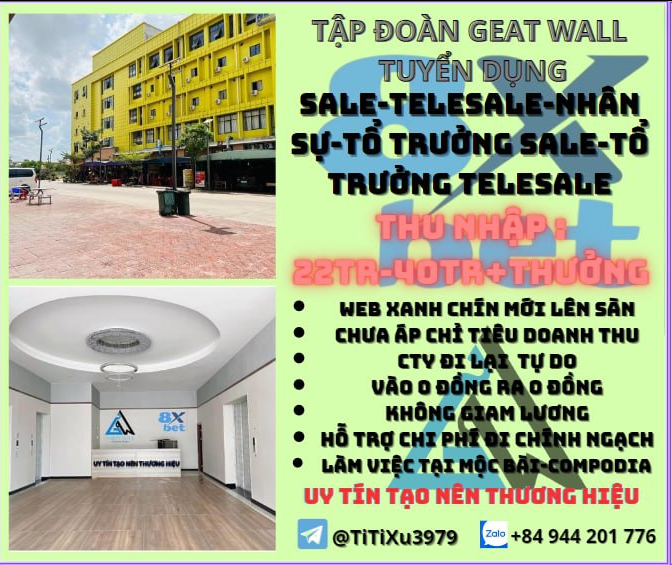 This activity does not imply illegal activity, but it does show the connections between Great Wall and QOO Global, and therefore 8XBet, would appear to be real.
"Sport and particularly football betting is massive in Asia, and it is no surprise gambling and casino operators would want to advertise on the jerseys of the world's biggest clubs. Punters would notice," Douglas says.
"But it also needs to be clean, and if there is any connection to the illegal online casinos, cyber scams, money laundering and human trafficking we have been dealing with here in Southeast Asia it is more than concerning – it warrants investigation."
Great Wall was contacted to discuss the details of this story, but we received no reply.

Additional reporting by Andy Brown.