Jim Solbakken has repeatedly confirmed to the state prosecutor that he is the agent of Babacar Sarr. Last week Sarr was due to appear in court facing a rape charge, but failed to show up.
An international arrest warrant has been issued for Sarr. And Solbakken suddenly denies being Sarr's agent.

By Lars Johnsen and Håvard Melnæs
Photo: Dylan Martínez/Reuters

Just days before the footballer Babacar Sarr was to stand trial accused of rape in Norway, Jim Solbakken confirmed to the state prosecutor Ingvild Thorn Nordheim that he was the agent for the Senegalese player. Solbakken assured the prosecutor that he had passed on the relevant information about the court appearance to his client.
But when trial in the Court of Appeals started 12 June in Molde, Babacar Sarr was nowhere to be seen.

On 11 June, the day before the trial, Damac FC, a club in the second tier in Saudi Arabia, announced on Twitter it had signed Babacar Sarr. The player had been released by his former club, FC Yenisey Krasnoyarsk in Siberia, after the club's relegation from the Russian Premier League.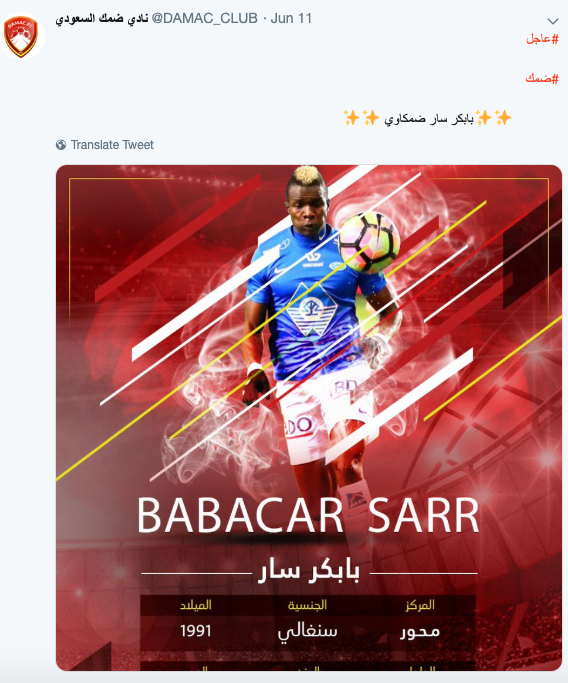 Last week, the day after the trial was scheduled to take place, agent Jim Solbakken, Manchester United manager Ole Gunnar Solskjær's best friend and adviser – and agent for several of the players on the Norwegian national team – claimed in a text message to the local newspaper in Molde, Romsdals Budstikke, that "I haven't been representing the player since he was with Molde. Neither when he went to Russia or if he happens to have signed in Saudi Arabia."
This contradicts what Jim Solbakken told the Norwegian prosecutor a few days before, and also what he told the prosecutor when the court case was originally supposed to take place, in February this year. The comment baffled state prosecutor Ingvild Thorn Nordheim, who shortly before had been in touch with Solbakken regarding Babacar Sarr's appearance in court.
"It's Solbakken we've been in contact with all along. But now he says that he isn't his agent, that he wasn't his agent back then [when he signed with FC Yenisey] either. Solbakken has not communicated to us that he does not represent him," state prosecutor Ingvild Thorn Nordheim tells Josimar.
"The uncertainty is tormenting for my client. The rape has caused her documented injuries. Her recovery suffers when delays of this kind happen," lawyer John Christian Elden, representing the victim, has said.
He tells Josimar that Babacar Sarr's defence team as late as May had stated on the record in a court hearing that "Sarr's agent Jim Solbakken would testify in court on behalf of the player."
State prosecutor Ingvild Thorn Nordheim confirms that Solbakken would testify on behalf of the defendant.
International arrest warrant
Three days before the rescheduled 12 June Court of Appeals trial against former Molde FK midfielder Babacar Sarr, Norwegian news site Nettavisen reported an international arrest warrant had been issued for the Sengalese player. The state prosecutor's office had not been able to get hold of Sarr despite reaching out to his lawyer Jørgen Løvdal and his agent Jim Solbakken.

"We have done all we can, gone through all possible channels to reach him. We have been assured by both his lawyer and his agent that he is aware of the court date," state prosecutor Ingvild Thorn Nordheim told Nettavisen.
But the day before the trial, Damac FC of Saudi Arabia announced on Twitter it had signed Babacar Sarr who had been released from the Russian club FC Yenisey Krasnoyarsk.

Babacar Sarr had signed for the Siberian club just nine days before the original Court of Appeals case was due on 14 February. Russia does not have an extradition agreement with Norway. Now, shortly before the rescheduled June court date, Sarr moved on to Saudi Arabia – another country Norway does not have an extradition agreement with.
According to Josimar's sources in Molde, Jim Solbakken acted as Babacar Sarr's agent when he signed for FC Yenisey.

FC Yenisey travelled to Molde for contract negotiations with the player. The negotiations on behalf of Sarr were carried out by the person who has been Sarr's agent all along, a spokesperson for FC Yenisey confirms.
So why would Ole Gunnar Solskjær's best friend suddenly claim that he isn't the agent of Babacar Sarr, when all evidence – even the agent's own social media behaviour – points to the fact that he is?
FOR THE FULL BABACAR SARR BACK STORY READ The B. Sarr transfer to Siberia
The alleged rape took place in Molde, northwestern Norway in May 2017. After the state prosecutor had formally charged Babacar Sarr, then Molde FK manager Ole Gunnar Solskjær, against fierce criticism among Norwegian football supporters, continued to field the Senegalese midfielder, even honouring him with the captaincy.
In August 2018, Babacar Sarr was found not guilty of rape in the district court. The court had been split in its decision. The two laymen were of the opinion that the question of guilt had not been proven beyond a reasonable doubt. The professional judge disagreed. Using balance of probabilities, the court ruled that Babacar Sarr had to pay compensation of 150 000 kroner (around 15 000 euro) to the victim. The prosecution appealed the split not guilty verdict on the spot.

"A difficult time"
Less than four weeks before the appeal was due in court on 14 February, Molde FK suddenly released Babacar Sarr, one of their key players, from his contract a full year before it expired. On its website, the club thanked him for his contribution to the club "through a difficult time for him and the club."
The club had stood by him throughout the investigation and trial citing "presumption of innocence." Why did the club release a player that was due to stand trial, accused of rape, just a few weeks before his case was up in court?
We have sent several questions to Øystein Neerland, Molde FK's managing director. We asked whether Jim Solbakken took part in the negotiations when Sarr's contract was terminated. He has not replied.
Nine days before he was due in court, Babacar Sarr signed with the Siberian club FC Yenisey Krasnoyarsk, who were midway through their first ever season in the Russian top division and fighting relegation.
On his own instagram account, Babacar Sarr thanked Jim Solbakken for the move to Siberia.
"Thanks boss for the hard work," the midfielder wrote.
"Congratulations signing with Yenisey," Solbakken replied.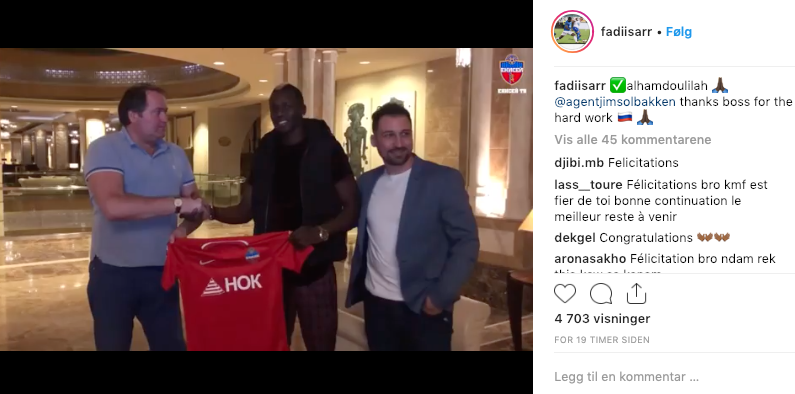 Thanking and congratulating each other on social media in this manner is unheard of if the player and agent does not have a working relationship, several sources within the player agent community tell Josimar.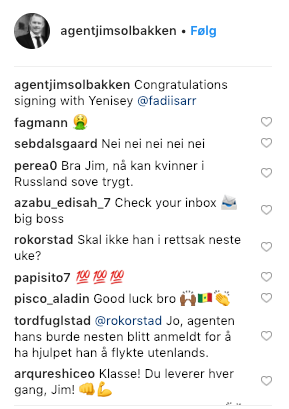 Rather, they say, such behaviour is a clear indication that the player is a client of the agent.
Russia does not have an extradition agreement with Norway, begging the question of whether Sarr would show up at all for the Court of Appeals trial.
Ingvild Thorn Nordheim from the state prosecutor's office told Josimar before the February trial that she had received assurances from the player's agent Jim Solbakken that the Senegalese would show up.
If Babacar Sarr would show up was a question that was never answered. The trial was postponed because Sonni Nattestad, a former teammate at Molde FK and a key witness for the prosecution, preferred to play a midwinter friendly for his new Danish club FC Fredericia (second level) against Middelfart (third level) the day he was due to give testimony.
"Showing up for a trial, that's a duty. If you're legally subpoenaed it's not wise to play a friendly instead," Per Larsen, head of the Ethics Committee of the Danish FA, told Josimar.
The trial was then rescheduled for 12 June.
Between the two no-show court appearances, Jim Solbakken had been busy in Manchester.
FOR FULL INSIGHT INTO THE SOLSKJÆR AND SOLBAKKEN FRIENDSHIP READ The double agent

Permanent deal at Old Trafford
Babacar Sarr isn't Jim Solbakken's only client. The biggest name in his roster is Manchester United manager Ole Gunnar Solskjær.

After having negotiated on behalf of Ole Gunnar Solskjær when he was appointed as caretaker manager at Manchester United in December 2018, Solbakken was a frequent guest in the director's box at Old Trafford or sitting beside the Glazer family at away games in the following months.

Manchester United went from strength to strength with Solskjær as interim boss at Old Trafford, winning 14 out of 19 games after taking over from José Mourinho. The fans were singing "Ole's at the wheel."
"Jim Solbakken is expected to sit down with Ed Woodward in the next two weeks as the club move closer to officially confirming the Norwegian's appointment," the Evening Standard wrote on 22 March.

"Manchester United have confirmed the appointment of Ole Gunnar Solskjaer as permanent manager […] The Norwegian's agent Jim Solbakken held talks with Ed Woodward during the international break, and the 1999 treble winner has now put pen to paper on a three-year contract," skysports.com stated on 28 March.
Five years after he'd failed to keep Cardiff City in the Premier League, signing three Norwegian Jim Solbakken clients in the process, Ole Gunnar Solskjær was permanently put in charge of the biggest club in the richest league in the world.

Josimar contacted Babacar Sarr's lawyer Jørgen Løvdal. He had "absolutely no comment."
Sarr's former lawyer Mette Yvonne Larsen has not replied to our enquiry.

We have contacted Jim Solbakken. He has not answered our written questions or returned our call.

We have sent several questions to Øystein Neerland, managing director at Molde FK. He has not responded.

We have also contacted Babacar Sarr, but not been able to get through.